Bukit Peninsula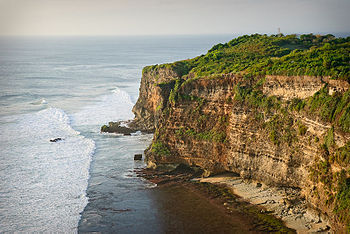 The
Bukit Peninsula
is southernmost point of
Bali
,
Indonesia
. Bukit means hill, and the peninsula has a dramatic landscape that if anything exceeds the promise of its name.
Understand
This is a large limestone peninsula which, bar a sliver of land just south of the airport, would be a separate island. It is rugged and dry, and pre-tourist development this was a real backwater of Bali.
The Bukit (as it is commonly referred to) includes the famous cliff-hanging temple at
Uluwatu
, a number of Bali's very best beaches including
Balangan
, and the top surfing spots on the island. As is so often the case, it was intrepid surfers who really opened up the eyes of the world to this part of the island.
The two main towns with strong local communities on the Bukit are
Pecatu
and
Ungasan
.
This article covers the whole of the Bukit Peninsula south of
Jimbaran
and west of
Nusa Dua
.
Get in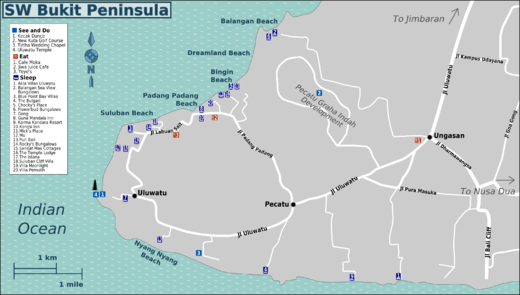 The Bukit Peninsula is connected to
Kuta
through
Jimbaran
by the busy Jalan Bypass Nusa Dua and this is the only route in. Take this main road south to the junction with Jalan Uluwatu II (the famous McDonald's junction), turn west towards Jimbaran Bay, continue about 2 km and at the four road junction make a sharp left up the hill (signposted for Uluwatu). Continue on this road into the heart of the peninsula.
A taxi from
Kuta
to Uluwatu for example takes 30–40 minutes on winding roads and will cost about Rp 120,000 one-way. If you are just visiting for the day, consider asking the driver to wait trip as it can be difficult to find transport back. Figure on paying the taxi driver Rp 20,000/hour to wait. Joining a tour can be a cheaper way of getting to Uluwatu and this destination is very widely offered by tour operators all over the island.
Get around

Exploring the Bukit lends itself very well to a rented motorbike. A number of the nicer beaches are reached via small roads or dirt tracks and a motorbike is the best method.
Taxis are not plentiful but can be found. There is a taxi stand at Padang-Padang just north of the bridge and one or two taxis are often sitting there waiting for customers.
A few bemos ply the main routes only but they are neither regular nor reliable.

See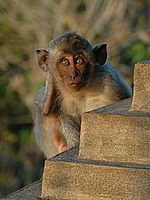 Uluwatu TempleOne of Bali's nine key directional temples. Though a small temple was claimed to have existed beforehand, the structure was significantly expanded by a Javanese sage, Empu Kuturan in the 11th Century. Another sage from East Java, Dang Hyang Nirartha is credited for constructing the padmasana shrines and is claimed to have attained Moksha here. Even more remarkable than the temple itself is its location, perched on a steep cliff 70 metres above the roaring Indian ocean waves. There are more steep headlands on either side and sunsets over Uluwatu are a sight to behold. You need to wear long pants, if not there are Sarongs and sashes available free at the entrance. Guides, once famously mercenary, hassle visitors less than they used to, although they may offer to "protect" you from the monkeys, for a tip of course. While you are free to walk around the temple grounds, the central courtyards can only be entered during special rituals. The temple is inhabited by large number of monkeys, who are extremely adept at snatching visitors' belonging, including bags, cameras and eyeglasses. Keep a very close grip on all your belongings and stow away your eyeglasses if at all possible. If you do have something taken, the monkeys can usually be induced to exchange it for some fruit. Needless to say, rewarding the monkeys like this only encourages them to steal more. Locals and even the temple priests will be happy to do the job for you, naturally in exchange for a tip (Rp 10,000-50,000).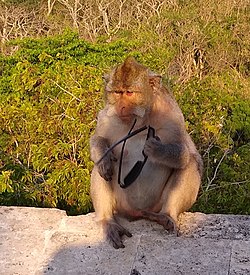 The cliff is fascinating but the temple itself is not as impressive as others in Bali. There is also a very scenic cave underneath with rock formations leading onto a beach close to the temple. This is a popular spot for surfers.
Beaches
There are number of good white sand
beaches
on the Bukit Peninsula which many consider the best in Bali.
PandawaFormerly was known as Secret Beach due to the beach is hard to access and behind cliffs. Local people call the beach Kutuh Beach because it's in Kutuh Village, a traditional seaweed farming area. It is the newest beach has developed by local government and attracts many domestic tourists, especially in domestic holiday seasons. Pandawa is a clan of five of wayang puppets and government built the beach with a Pandawa atmosphere. A 1.5-kilometer flanking access road cut the cliff. There are no hotels on the beach, because of local opposition, but food stalls and beach umbrella rentals are present.

BalanganRated by some as the single best beach in Bali, but receives relatively few visitors. It takes a bit of finding but from the main junction at Ungasan heading out from Jimbaran towards Uluwatu turn right (west) by Nirmala Supermarket. The road then twists and turns for about 6 km until you reach the beach. Keep following informal signs to "Balangan" or "Balangan Surf" and a west-northwest bearing. This is a stunning beach and well worth the effort required in finding it. There are a few very laid-back warungs on the beach and even a couple of bungalows where you can stay the night.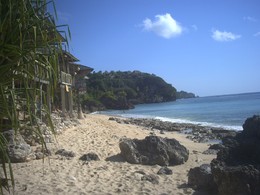 BinginAnother white sand beach north of Padang-Padang and south of Dreamland. The beach here is not easy to access as the cliffs are high but the ocean views alone make the visit worthwhile. From the village of Pecatu head towards Padang-Padang and look for informal signs on your right directing you to "Bingin Surf". Proceed down the maze of small roads here, paying a Rp 3,000 toll if the village attendant is there, until you reach the obvious parking areas at the clifftop. There are two sets of steps down the cliff to the beach which are known as the northerly and southerly steps. Don't be surprised if you have to walk through grassy fields with cows and narrow pathways. Women offering massages might chase you from the parking lot. They'll back off after a firm 'no'.

DreamlandFormerly a very beautiful beach which has been ruined by the adjacent Pecatu Graha Indah "New Kuta" development, sadly it has turned into "Nightmare-land". There are still excellent surfing conditions, especially for intermediate surfers & on days when other breaks are too big to surf. The break goes right & left, is not too shallow and has decent shape. If you do visit this beach, try to imagine how glorious it was before the bulldozers moved in. The entrance road to Pecatu Graha Indah is about 2 km southwest of Ungasan on Jl Uluwatu, and is impossible to miss adorned as it by huge statues and truly massive, intrusive billboards. The entrance fee to use the road down to the waterfront is now not available anymore. Visitors must go through the Klapa Lounge and pay Rp 100.000.

Padang-PadangA truly lovely beach with a big surf break offshore. Accessed from a stepped pathway on the north side of the obvious bridge 3 km north of Uluwatu Temple heading back towards Pecatu. The white sand beach here is a little bit narrow at the highest of tides but is otherwise very nice indeed.

Suluban BeachTo the west of Padang-Padang Beach is secluded Suluban Beach, also known as Blue Point Beach. Access is not as public as that for Padang Padang, hence it is generally very quiet here. Even at high tides with the rolling surf, Suluban Beach has a rather wide sand beach. As tide recedes some 100 m, Suluban Beach makes a nice exploratory wade among the rocks, corals and seaweed. The view from the Suluban cliff-line above is a show of spectacular ocean colours.
Do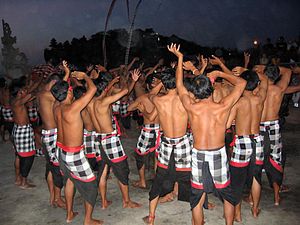 Uluwatu is a very well known destination among
surfing
enthusiasts. Most of the surf spots are only suitable for advanced or expert surfers though - the waves are big here. The main surfing spots are Uluwatu, Dreamland, Padang-Padang, Bingin/Impossibles and Suluban.
Kecak Dance
(
monkey dance
) performances are held at Uluwatu temple daily between 6PM-7PM. Tickets for the visually spectacular, if rather unoriginal show (it was invented in the 1930s), cost Rp 100,000(from Jan 2015). Buy them more than a few minutes before the show starts—they sell out.
Choosing to get
married
or renewing vows in Bali is increasingly popular, and the Bukit Peninsula is the most popular destination for such ceremonies. There is a stunning, modernist, purpose-built cliff-front wedding chapel close to Nyang Nyang Beach and the Bulgari Hotel, and a number of resorts offer specialist wedding packages and planning.
phone: +62 361 8471151

address: Jl Raya Uluwatu,Banjar Dinas Karang Boma, Pecatu

This impressive chapel was designed by leading architect Glen Parker and is stunningly located on the cliff top above Nyang Nyang Beach. The architecture is very modern indeed, and the chapel is essentially a series of glass-walled triangular pavilions surrounded by reflection pools. Full wedding planning services offered.

phone: +62 361 8481333

address: Kawasan Pecatu Indah, Jl Uluwatu, Pecatu

This golf course is stunningly located on top of the cliffs above Dreamland beach and is a top class venue. It is part of the highly controversial Pecatu Graha Indah development that was the brainchild of former dictator Soeharto's son Tommy. The dubious acquisition methods of the land here by his development company from the traditional landowners is still a huge bone of contention in Bali. That, coupled with the development ruining Dreamland Beach, has led to a lot of controversy. Anyone wishing to play at the course may wish to bear all of that in mind.
Spas
phone: +62 361 704555

address: Jl. Bingin Sari, Pondok Belong Jimbaran

Located with a view of Garuda Wisnu Kencana Culture Park. All treatment rooms have are equipped with a locker, large bathtub with hot shower and two jacuzzis.

Yoga Searcher Bali - Organic Spa

phone: +62811399150

address: Jl. Labuansait, Pecatu - Uluwatu

Offer 100% organic products for their spa menu (lulur full body scrub, manicure, pedicure, nail color, organic body waxing, traditional Balinese massage, wheat grass facial, and yogi surf burn relief. They also offer an infra red sauna and an herbal steam sauna.
Buy

There are the usual souvenir shops at the parking area at the entrance to Uluwatu temple. Otherwise, this is not an area of Bali known for its shopping.
There are convenience stores/small supermarkets in the villages of Pecatu and Ungasan for everyday shopping.

Eat
The growing number of five star resorts on the Bukit Peninsula all have top class restaurants (and prices to match). Alila and Karma Kandara are especially highly rated.
At a more humble level, there are a host of simple local roadside cafes catering to the young surfing crowd at Bingin, Padang-Padang and Uluwatu. A lot of these hardly have a name, let alone contact details, and the best advice is to follow the crowds. Expect cold beers and good, simple Indonesian food.
Cafe Moka

address: Jl Uluwatu, Ungasan

Excellent coffee shop and cafe in Ungusan village close to the main Nirmala Supermarket. Bread and pastries are fresh daily and salads are excellent. Free wireless internet for customers.

Jiwa Juice Internet Cafe

phone: +62 361 8470736

address: 108 Jl Labuan Sait, Pecatu

A full service internet cafe and wireless hotspot. Serves breakfast, sandwiches, salads and smoothies. Also acts as a business centre, has a bulletin board and is a well known local surfies meeting spot. Jiwa means soul in Indonesian.

phone: +62 0361-472-5225

address: Jl Raya Uluwatu No.88 Kuta Selatan, Ungasan

Pizza, BBQ teppanyaki, Oriental tapas, breakfast, lunch and dinner.

Yeye's

address: Jl Labuan Sait

Pizzas and other reliable fare is served at this simple cafe close between Padang-Padang and Suluban. Beware that it is sometimes closed all day in the off season.
Drink
This is certainly not an area in which to expect much nightlife, and visitors staying here wanting some late night bar or club culture might make the 45 minute journey up to
Kuta
or
Seminyak
.
You will almost always find somebody to join you for a relaxed beer on the beach though as there is a strong surf culture here. The beaches at Padang-Padang and Bingin are the best bets.
Single Fin

address: Uluwatu Beach

Sprawling multi-level bar/club with postcard sunset views high above the surf at Uluwatu beach. Trendy, with prices and patrons to match.
Sleep

As a tourist destination, the whole Bukit Peninsula area was popularised by surfers. There are still numerous small, cheap bungalows close to the main surf points at Uluwatu, Padang-Padang, Bingin and Suluban, and many visitors just turn up and take what is available.
The area has more recently sprouted an impressive collection of high-end villas and resorts as well. Beware false advertising though: only the most expensive "villas" are completely private and self-contained, while most share at least some facilities, and the cheapest ones are just clusters of bungalows.

Budget
Mid-range
Splurge
Private villas

All the villas listed below are standalone and feature private entrances, accommodation and their own swimming pools.


Connect
Internet
Most of the Bukit Peninsula is now covered by ADSL services and you will find WiFi available at most hotels and many cafes.
Bagus Internet

phone: +62 361 7498036

address: Jl Labuan Sait No 61, Pecatu

Broadband internet at Padang Padang beach. Speed Up to 6 Mbps.The Cheapest Internet In Padang-Padang beach area.
Go next