Bulawayo
Bulawayo
is a relaxed, elegant industrial city with wide tree-lined boulevards, in western
Zimbabwe
. Several
World Heritage
sites, including historic monuments from the precolonial era and national parks, are within an hour's drive from Bulawayo, making it a great tourist destination.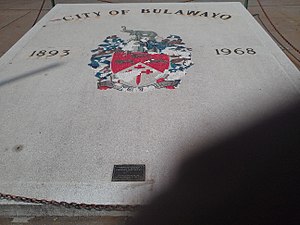 Understand
Bulawayo was founded by Lobengula, the last Ndebele king, who settled in what is now Zimbabwe around the 1840s along with a large number of fellow Ndebele who had trekked there all the way from
Zululand
. In 1893, the British South Africa Company invaded the area in a conflict known as the First Matabele War. The British troops destroyed the city and forced the king to flee. They then built modern Bulawayo over the ruins of the former royal Ndebele city.
Climate
Although by latitude, Bulawayo is in the tropics, by virtue of its fairly high elevation, its climate is subtropical. Bulawayo is cooled by a prevailing southeasterly airflow most of the year, and experiences three seasons.
With little rain and cool, refreshing temperatures during the day, the winter season from May to August is ideal for a visit.
Temperatures soar in the hot dry period from September to November, so it is advised to book accommodation with air conditioning if you plan to visit during those months.
Rains that moderate the temperature fall from December to March, mainly as relatively brief afternoon thunderstorms.
Get in
By plane
The main airport is Joshua Mqabuko Nkomo International Airport.
Visas available on arrival are US$30 for single entry, US$45 for double entry. For UK and Irish citizens, it is US$55 or double entry US$70. For Canadians, single entry is US$75.
If you're going to Victoria Falls and you plan to visit Zambia
or
Botswana, buy a double-entry visa. But if you plan to go to Botswana
and
Zambia, buy a single-entry visa. Then obtain a Kaza Univisa for US$50 at the Zambian border. This is then valid for daytrips to Botswana but only obtainable at the Zambian border.
A taxi from the airport into town should be US$10 as of July 2019 (price on Vaya app is
Z$
85).
The ATM in the airport does not work.
By train
National Railways of Zimbabwe
runs a daily train to and from
Victoria Falls
to Bulawayo. It departs Bulawayo at 19:30. From Victoria Falls it departs 19:00. The trip takes about 15 hr and is sometimes delayed. It costs Z$20 for first class sleeper and Z$9 for bedding as of July 2019. First class cabins have 2 or 4 bunks per compartment, second class generally has 6, although there are special "half compartments" with 2 and 3 bunks respectively. Economy class is also available. Electric lights are available and sometimes shaver sockets, but no normal plug sockets, running water or toilet paper. This train is sometimes without electricity, so take a flashlight just in case.
There is also a night sleeper train from the capital
Harare
three times a week. Sleeper class $12, seat $10.
Cross-border trains from
Botswana
has resumed after a long hiatus, with one daily morning departure from
Francistown
.
is just off Anthony Taylor Ave.
By bus
Minibus taxis run from the township outside Victoria Falls to Bulawayo in the very early morning and takes approximately 7 hours.
The five most commonly recommended bus companies running daily services from
Johannesburg
to Bulawayo are
Intercape
,
Greyhound
,
Intercity
,
Citiliner
,
Eagle Liner
. you can book tickets of the five bus lines on line. The journey costs R330–R470 (
South African rand
) on high quality luxury coaches. Eagle Liner buses depart Bulawayo for
Johannesburg
everyday at 14:30. the ticket cost R330. The Eagle liner booking office is at 5th Ave and G Silundika street.
Intercape also has buses from Bulawayo to Vic Falls,
Harare
. Intercape has the Largest intercity route network in southern Africa.
Extra City
also have buses going to/from Harare and Vic falls.
Get around

The city is fairly walkable.

By bus
Local transport is mainly by 18 seater minibuses called "kombis". The cost from the CBD to the suburbs is usually 50 cents.

By taxi
Taxis do not have a particular colour but are clearly marked. A taxi trip within the CBD costs US$2 and outside the city center limits it costs US$1 per km.

See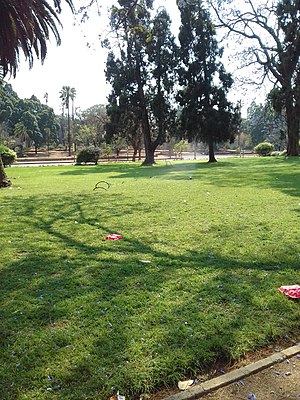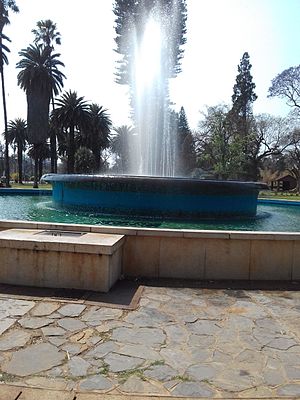 address: Corner of Park Road & Leopold Takawira Avenue

It has a large selection of stuffed and pinned animals, and an array of live constrictors and venomous snakes. It also has a section on the history of Zimbabwe. Photography not permitted.

address: Corner of J.M. Nkomo Street & Leopold Takawira Avenue

Many works are for sale. There are artists studios on-site; the artists are happy to chat about their work. They often invite visitors to local events and showcases. Craft shop and cafe as well.

Bulawayo Railway Museum

address: Prospect Ave. and Crew Rd

The historical exhibits are great. This includes Cecil Rhodes' private carriage, plus a range of decaying steam engines and other locomotives. Access is free to the innards of most exhibits.
Amakhosi Theatre Company.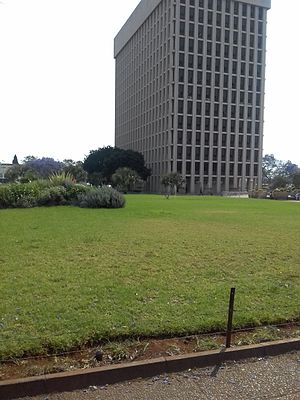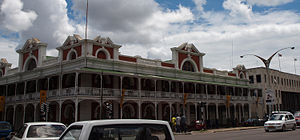 Do
Swimming pool

address: Samuel Parnenyatwa Street & 9th Avenue

The city's outdoor swimming pool is like something out of a 1920s movie, with its ranks of brightly painted changing booths. Lie on the grass and watch the cranes roost in the towering trees of the neighbouring botanic gardens.

phone: +277 833731455

address: 138 x Bulawayo Railway Sation

Inner City Tours organizes walks in the city with a very knowledgeable guide. They also organize trips to Matopos, Khami Ruins, Hwange National Park, and even to Great Zimbabwe. They are involved in a number of environmental projects too.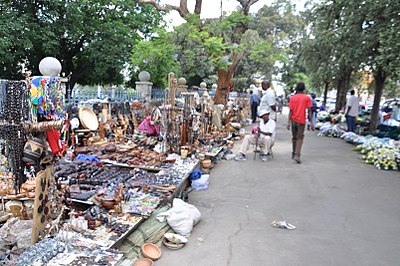 Buy
Jairos Jiri CraftshopSelling craft from the network of disabled people - great place to go for baskets.

AphrodisiacNice local crafts and art.
Shopping & supermarkets
The Bulawayo CentreA modern shopping centre with chic clothes shops, an internet cafe and a cinema.

Ascot shopping centerHas 1 TM supermarket & other general convenience shops, a restaurant and bar, and curios.

Zonkizizwe Shopping Complex

address: Hillside Road

The complex, opened in 2016, has a supermarket, bar, gift shop, boutiques, nursery and several other interesting shops.

Haddon and Sly Supermarket

address: Fife Street, 8th and 9th Avenue

TM - Pick N Pay Supermaket

address: Herbert chitepo street

TM - Pick N Pay supermarkets has well over 50 outlets around Zimbabwe.

Choppies supermakets

address: Fife street and 4th Avenue.

Choppies Supermarkets, a Botswana-owned supermarket, has 14 stores around Bulawayo.

OK supermarketThere are 59 OK stores nationwide.

Spar supermarkets there are many Spar supermarkets all over Bulawayao.

Zapalala SupermarketsA super low price Zimbabwe supermarket with many stores around Zimbabwe.
Banks & ATMs
As of July 2019, all ATMs in town have been disconnected from the international network and foreign cards do not work. You will not be able to withdraw any cash, so bring plenty of US dollars. In Bulawayo, shop assistants are not used to foreigners. You can pay for things by credit card but you will be charged 8 times too much, i.e. instead of Z$10 you will be charged US$10!
Some shops may accept US dollars in cash but will give change in Zimbabwean dollars.
Banks will not change US dollars into Zimbabwean dollars due to a shortage of paper notes, but they will change US dollars into EcoCash (you will need to get an EcoNet SIM card first).
Stanbic Bank

address: Cnr Main street & 8th avenue.

Has a MasterCard/Visa ATM.

Ecobank

phone: +263-9-886207

address: Cnr of Fife street & 9th Avenue

Has a MasterCard/Visa ATM.

Standard Chartered BankHas a MasterCard/Visa ATM.
Eat
New Orleans Restaurant

address: Banff Road, Hillside

Classy, for Bulawayo. Never had a bad meal there in seven years; great staff and reasonable prices.

Haefelli's Bakery

address: On Fife Street in Town: ask anyone for directions

Haefli's (pronounced hay-flees) offers a strange mix of food services. It is a bakery (offering various breads and pastries), it is a pizza shop (Pizza Inn), it offers ice cream (Dairy Inn), and sandwiches, mostly pre-made. It is a popular hang-out with the younger crowd and is open until 22:00 There are security guards at all hours. Alcoholic beverages are not served.

Bonne journeeNot really French, but reasonable meals, in town

K & S RestaurantCheap and tasty local food. $1 for samza and beans up to $5 for the best samza and meat dishes, with a range of liver, hooves and other animal parts in between. The name of the restaurant is no longer K & S, but it is still there with the same prices.

Bulawayo ClubOld fashioned club with a wood-panelled bar and an open-air atrium. Dinner is around $11, including a soup course. Must book in advance—-visit during the day or call 648689. Lunch is around $9 and does not require a reservation. Also a lovely place to go for a drink throughout the day.

River CafeChill out in the garden, great witrth kids, and nice curio shop attached

La PlazaA fdeli and coffee shop where you will find Mediterranean speciallties

The Coffee ShoppeLocated in the National Gallery, a limited menu offers sandwiches, pasta dishes, and salads. The food is freshly prepared and very good by the standards of Bulawayo. A wireless internet is available, but can only be accessed with local internet services offering with a pay as you go feature. The patio offers a pleasant spot for lunch and a number of local artists and ex-pats can be found there. It is only open for breakfast and lunch.

Indaba Book CafeA place to meet for coffee, food and connect with writers and poets.
Drink
Cape to Cairo

address: Robert Mugawe Way & Leopold Takawire Avenue

A pub featuring live music on the weekends. Food is served.

Cattleman's

address: 13th Avenue/Josiah Tongogara Street

The restaurant is a long time local favorite. Its slogan, "our reputation is at steak", says it all. It's a nice place serving beef, chicken and occasionally fish. It is the best steakhouse in Bulawayo, but don't expect the food to match first world standards.

HorizonsRight in town, with a lounge atmosphere, swimming pool on a terrace, drinks and light meals.

Brass Monkey

address: Zonkiziziwe Shooping Center

This is a large venue that has been a disco, a sports bar, a venue for weddings and private events, but is mostly closed. Check it out, because from time to time it reopens.

Cafe Baku

address: In the Bulawayo Center

Once a pleasant place for lunch and a drink, it is now mainly a late night disco with a noisy crowd in a fairly small space.

Walkers PubNice pub where you can relax and have a drink or two with friends. Situated on the first floor on Bulawayo Centre shopping mall, the pub boasts of a conducive environment for relaxation. If beer is your drink, then this is the place to be when in Bulawayo

Bulawayo Athletic ClubNow has a great bar on the back, with light meals, live music and drinks in a warm local atmosphere.
Sleep
Berkeley Place

phone: +263 9-67701

address: 71 Josiah Tongogara Street between 6th Ave & L. Takawira Ave

Close to Evelyn High Street and Central Police Station Twin room with a shower and sink. Friendly staff and close to the town centre.

phone: +263 9 67824

address: 14th Ave/Fife St

Rooms are spacious with ensuites and close to the city centre railway station and International Trade Fair.

phone: +(263 9)648 689

address: Corner Main Street and 8th Avenue

The Bulawayo Club has been completely renovated and reopened with accommodations. The current building was built in 1935 and the complete renovation has brought out the elegant grandeur of the building's interior. Every detail of the previous club has been renovated and maintained. The interior is the epitome of gentility and was the pride of Bulawayo for several generations. Among its previous members, for example, was Governor Sir Humphrey Vicary Gibbs, long time Bulawayo resident. The staff are attentive and kind, and the food is excellent.

phone: +263 9 246481

address: 11 Inverleith Drive, Burnside

Affordable clean backpackers hostel. Dorm bed is US$15 per person per night, single room US$25 per night, double room or twin room US$30/night, and camping US$7 per person per night. Self-catering kitchen available. Fast Wi-Fi access US$3 per 24 hours. It has a nice garden with a swimming pool, and is run by a very nice family.

Holiday Inn

phone: +263 9 252 464

address: Milnerton Drive, Ascot

Next to Ascot Shopping Center, has a tennis and gym.

Lilys Backpackers Lodge

address: 3 Masefield Road Malindela

Dorm beds and single/double rooms. has a facebook page. no wifi.

Manwele Backpackers Lodge

phone: +263-77-6531258

address: 13th Aveune and Fife street

Only single and double rooms with outside bathroom available. It is more of a lodge than a backpackers hostel. It has a facebook page.

Nesbitt Castle

phone: +(263 9) 282735

address: Percy Avenue, Hillside

This is a castle built in Victorian style by a local industrial figure. It is a Bulawayo favourite for venues and marriages, and also can be visited on request.

Zak's Place

address: 129 Robert Mugabe Way

Single/double rooms with own bathroom.

Y W C A

phone: +263 9-60185

address: 35 Lobengula street crn 9th Avenue

Single/double rooms. Accepts men and women. Breakfast US$4. It looks very run down.

Royal Hotel

address: Sibandika Street and Sixth avenue

Double room with own bathroom.

Bulawayo City Campsite

phone: +263 9 246059

address: 2 Banff Road, Hillside

The room décor is clean and simplistic. Offers free Wi-Fi, self-catering facilities, power & water backup, pool and 24-hr security. Suites and family rooms are large and have full DSTV, bath, and tea/coffee station.

The Greys Inn Hotel

address: Robert Mugabe Way & Leopold Takawira Avenue

The hotel may have seen better days, but maybe not. Bathrooms are especially dilapidated. Shaky Wi-Fi is included in the price.

Choice Backpackers Hostel

address: 4 Housman Road Malindela

A bed in a four-bed dorm, free Wi-Fi.

Choice Guest House

address: 7 Heyman Road Eight Street Junction

6-bed dorm & double rooms, free Wi-Fi.
Stay safe
There was an outbreak of cholera in 2008. Check on current conditions before you go, and make sure to avoid obvious possible sources of contagion, such as unboiled water that is not from a sealed bottle and raw fruits or vegetables, especially if they can't be peeled. Also, strongly consider washing toothbrushes only with water that has either been boiled or come out of a sealed bottle. Unfortunately, water shortages are also a strong possibility in Bulawayo and the rest of Zimbabwe.

Go next
to Chipangali Wildlife Orphanagea home to orphaned, abandoned and sick wild animals, great to visit with kids

to Khami Ruinsless than an hour out of town

to MatoposLocated 1h from the city, Matobo Hills National Park features amazing landscapes, interesting game (including the rare white rhino), and a historical site with Cecil Rhodes grave. You can book a tour from town or just go self-drive on a picnic, or book a stay.

to Hwange National ParkFor great safaris.