Bundi
Bundi
is in eastern
Rajasthan
.
Understand

Bundi rates highly in terms of attractions, the city is famous for the Taragarh fort which towers over the city, and it's more than 50 sunken step-wells used to draw clean water before the modern water mains were installed. The population of Bundi is approximately 105,000 people and was named after a Meena Chieftain Bunda, also notable the miniature paintings from the "Bundi School".
The city attracts a number of tourists in season and a multitude of guesthouses have sprung up near to the fort, ignore the hustlers in the street who try to lead you around or offer you services- you will be charged a higher rate which will go into the hustlers pocket.
The locals genuinely are a friendly lot however, and you can have a tea and make friends with almost everyone - even the shopkeepers and hustlers if you show some genuine intrest.
Famous visitors to Bundi include Rudyard Kipling (writer of The Jungle Book), Rabindra Nath Tagore, Virginia Fass, and film maker Satyajit Ray.

Get in
By plane
The nearest airports are in
Jaipur
and
Udaipur
.
By car
Bundi is well connected by road to cities such as
Delhi
(475km),
Jaipur
(215km),
Udaipur
(270km),
Chittorgarh
(150km),
Ajmer
(175km),
Kota
(40km),
Sawai Madhopur
/
Ranthambore
(120km), and
Agra
(400km).
By bus
Buses operate between Bundi and the major cities in Rajasthan, most leave from the old bus station in the south/east. For long distances, the train is recommended as it is faster and more comfortable. Buses operate regularly between Bundi and
Kota
(40 rupee), which has more train connections than Bundi.
By train
Direct trains are available between Bundi and
Delhi
(8 hours overnight, ₹315-1,915),
Sawai Madhopur
(2.5 hours, ₹170-1,230),
Udaipur
(5.5 hours, ₹210-1,230),
Chittorgarh
(2.5 hours, ₹170-1,230), and
Kota
(1 hour, ₹140-690).
Get around
By foot
Most of Bundi is very accessible by walking.

By auto-rickshaw / tuk-tuk
The only mode of public transportation is the auto rickshaw. Auto rickshaw charges are ₹30-50 within city and ₹100 to the railway station.

By bicycle or motorbike
Bicycle and motorbike (₹300/day) rental is available.

See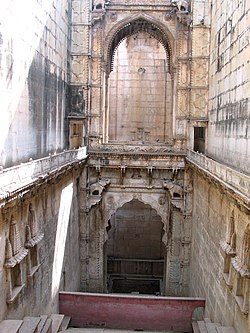 Step wells
Step wells, or baori in Hindi, were the only method of obtaining and storing water in this part of India. While there are over 50 step wells that rise and fall depending on the water table. Most of the wells have fallen into disrepair and some are probably not worth visiting,but are free to enter (closest two by the azar park market). the Rani Ki Ji Baori (Queen's Step Well) is in good condition and a must-see.
Rani Ki Ji Baori (Queen's Step Well)The most famous step well in Bundi, it was built in 1699 by the spurned queen. It is 46 metres deep and includes 200 steps.

(200 rupee foreigners)
Dabhai KundThe largest in Bundi. Though slightly overgrown, it is well worth a visit for the spectacular carvings on the numerous steps leading down to the water level.

Nagar Saga KundConstructed between 1871 and 1875, these are 2 step wells that have been extensively refurbished.
Forts and palaces
Taragarh FortBuilt in the 16th century, this is one of the most famous forts in Rajasthan due to its intricate structures and a highly-regarded painting gallery.

Garh (Bundi) Palace and Chitrashala - Ummed MahalThese adjacent structures are must-sees and include some of the most amazing paintings in India. It is a steep climb to get up to the palace, which needed protection from attacking elephants.

Sukh Mahal

address: On the southern tip of Lake Jait Sagal

A smaller palace built on a dam wall; Rudyard Kipling stayed here.
Memorial pavilions (Chhatri)
Chaurasi Khambon ki ChhatriConstructed in the late 17th century by the maharaja as a memorial.
Lakes
Lake Jait SagarOnce famous for louts flowers, this lake is adjacent to s small garden and Shikar Burj, an area used by kings for hunting.

Lake Nawal SagarA large square-shaped artificial lake containing many small islands. A temple dedicated to Varuna, the vedic god of water, is half-submerged in the middle of the lake. The lake feeds the numerous step wells in the old city by creating an artificial water table.

Lake Kanak Sagar

address: In the town of Dugari

An extremely beautiful lake and town.
Do
Wildlife safaris
Ramgarh Vishdhari Sanctuary

address: Bherupura Antri

A 307 km² park. Animals that live in the park include leopard, sambhar, wild boar, chinkara, sloth bear, indian wolf, hyena, jackal, and Fox. The best time to visit is between September and May. Safaris can be booked at several hotels, including Vrindawati, which is operated by the government.
Buy
phone: +91 96492 45667

address: Nahar ka Chouhta

A store where you can find local treasures such as antiques, artwork, old coins, etc.

phone: +91 9928948433

address: Near Surang Gate

Yug is a fine painter who captures the beauty of Rajasthan. Styles range from portraits to landscapes to comics.

Bundi Cafe & Crafts

address: Haveli Braj Bhushanjee

Best place to buy Bundi School Paintings
Eat
In addition to the restaurants below, most hotels in Bundi have restaurants. For those on a budget you can usually get samosas from 5-7rp on street stalls, bannanas are only 20-40 rp a kilo in season
Kipling Cafe

address: On Lake Jait Sagar

Fruit ingredients are grown next to the restaurant.

Lakha

address: Nahar ka Chouhta

A tiny place where you sit on cushions and the owner cooks you an amazing meal.

Namaste Cafe

phone: +91 96 36 932300

address: Fort & Palace Road, Nahar ka chohta

Soul food. Really nice ambience and service.

Ringo Star Bundi

address: Fort Street

Tom and Jerry

phone: +91 80 58 369455

address: Nahara Ka Chotta

Western food, popular with tourists.

address: below palace

Traditionally decorated Darikhana is being used as dining hall . One can enjoy best local vegetarian meals in traditional atmosphere. You can also have your meals on the terrace with magical view of illuminated palace and town.
Drink
Sathi LassiGood, thick lassis.

Krishna tea shop, watch the enigmatic owner prepare spice tea/coffee from scratch in a small shop decorated mostly by tourists, is expansive at 40 rupees, but worth it to say you've had a proper massala Chai. Late in the evenings "special tea" may be available - probably why it's famous
Sleep
Budget
phone: +91 99292 91552

address: 107, Balchand Parra

The rooms are comfortable.

Daulat NiwasBuilt in the early 1700s. The cheapest place to stay in Bundi - but only a few rooms are available.

phone: +91 96491 77628

address: Maaji Sahib Ki Haveli

Built by Deva Dhabai in 1684. Very luxurious for a budget hotel.

phone: +91 747 2442903

address: Sadar Bazar

Opened in 2006, the establishment is run by a friendly family. The food is good; so are the rooms.

phone: +91 747 244 2322

Haveli Braj Bhushanjee was built 200 year before and belongs to Bohara Braj Bhushanjee family, which gave Bundi as many as four Prime Ministers all in the 19th Century.Haveli Braj Bhushanjee offers traditional architect by way of tibaries and courtyards which are painted in Bundi School Paintings, consisting of Raganies , court scene, hunting scenes. Extensive painted courtyards are worth visiting. Each and every surface of this haveli are nicely decorated with old photographs and antique collection. The Haveli offers 24 well appointed AC rooms with all modern amenities. All the rooms have been renovated in such a way that the atmosphere of the old architecture is not disturbed. The rooms have been traditionally decorated and few rooms have some of the finest Bundi School Painting (murals) one can see in this region. www.kiplingsbundi.com

phone: +91 747 244 7244

A beautiful haveli run by a family.

Mangalam Guest House and Indian Restaurant

phone: +91 98295-44642, +91 98871-44642, +91 747-2442555

address: Nahar Ka Chota

A nice homestay with good food in a well-kept haveli.

R. N. Haveli Guest House

phone: +91 7475 120098

All-women run establishment. Good home style food (ask for the dal dhokla), decent rooms and a nice atmosphere.

phone: +91 89470 04590

address: Suraj Ji Ka Bad, Balchand Para

Clean, friendly budget hotel run and owned by two young brothers.

Tarah Homestay and Guest House

phone: +91 9602270491

address: Nahar Ka Choatta

Nice cosy rooms overlooking the palace. Home atmosphere with tasty cooking. Rooftop has great views. Manager's name is Jitu.

phone: +91 8769167702

address: Opposite Jait Sagar Lake

A 7-room basic hotel operated by the Rajasthani government.
Mid-range
phone: +91 747 244 3333

address: Kota Road

Very spacious rooms, swimming pool, on a noisy street.

phone: +91 747 244 2414

address: 1-Civil Lines

A 100-year old haveli previously inhabited by Maharao Raja Ishwari Singh, the ruler of Bundi. Rooms are decorated with paintings in the Bundi art style.

phone: +91 747 244-2397, +91 9414175111

address: Jait Sagar Road

A camping site formerly owned by the ruler of Bundi in the 18th century, it now provides accommodation in luxury tents.
Go next