Buon Ma Thuot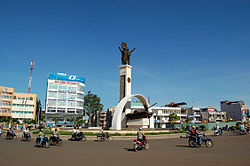 Buon Ma Thuot
or
Buôn Ma Thuột
(or sometimes
Buôn Ma Thuật
,
Buôn Ma Thuật
or
Ban Mê Thuột
), is the capital city of
Daklak
Province, in the
Central Highlands
of
Vietnam
.
Understand

Despite its quiet appearance, Buon Ma Thuot is very quickly developing. However, most of this development is from internal investment rather than the tourism industry. There are very few tourist sites, but the people are friendly, the coffee is great, and a stop here is well worth it to get off the beaten track and see Vietnamese city life that does not revolve around tourism. It is also an excellent base of operations to visit Yok Don National Park, Ban Don Village, and Lak Lake.

Get in
By road
Buon Ma Thuot is 194 km from
Nha Trang
, 197 km from
Pleiku
, 223 km from
Qui Nhon
, 350 km from
Ho Chi Minh City
, 396 km from
Dalat
and 1427 km from
Hanoi
.
===By air===
There are connections with
Danang
and Hanoi (via Danang) three times a week, daily flights to Ho Chi Minh City.
Buon Ma Thuot Airport

phone: +84 262 3862 248
By bus
There is a bus service to Buon Ma Thuot from Danang and Ho Chi Minh City (departs from Mien Dong Bus Station in Ho Chi Minh City). Buon Ma Thuot Bus Station is 3km east of the center. Several buses travel daily to Pleiku and Danang (buses will stop in Pleiku), Qui Nhon (11 hours), Nha Trang (6 hours), and Ho Chi Minh City (18 hours).
Mai Linh Express now operate their hunter green Mercedes Sprinters from Buon Ma Thuot, which cut down travel times considerably, even with short breaks at mealtimes. For example, the journey to Nha Trang is 90,000 dong four times daily and takes approximately 3½ hours.
Dak Lak central bus station

phone: +84 262 3951 704

address: 71 Nguyễn Chí Thanh

Southern bus station

phone: +84 262 3989 898

address: Võ Văn Kiệt, Ea Tam
Get around

Your usual selection of taxis operate here, including Mai Linh. The city is also eminently bikeable due to its compact size and flat terrain.
Mai Linh taxi phone number in Buon Ma Thuot is +84 500 381 9819, or 0500 381 9819 when using local mobile phone. Most drivers don't speak english, so prepare written notes or show them map on your smartphone screen.

See
Khai doan pagoda
Ako Dhong (buôn Cô Thôn in Vietnamese): A E-de minority community on the northern end of BMT. It's reachable on foot, but ask how to get there first. It's a nice part of town with longhouses surrounded by flowery yards, although now being part of town it can't really be called a village any more. Maybe 'longhouse suburbia' is more appropriate.

Lak Lakethe mother lake of the Central Highlands.

Dray Nur waterfallImpressive waterfalls and recreation area, especially recommended in wet season.

Đray Sáp waterfallAnother waterfall, located about 300 meters from Đray Nur. Looks less impressive in dry season, but still interesting area to explore.

Lady JiangshanBreathtaking views from the hill top and halfway to the top. Well worth a visit on the way to Lak Lake.
Do
Visit Ban Don village, ride elephants. From center of Buon Ma Thuot, you can catch a bus every 30 minutes to go to Buon Don (Ban Don). Note that you should wait for the bus at Coop Mart in order to have a seat. Otherwise, the bus is normally full.
Buy
Phượng shop

phone: +84 500 3852 981

address: 45 Ngô Quyền

Wood sculptures and bamboo souvenirs, cocoa powder, coffee - ground and in beans, assorted nuts and local spices. Tour to coffee roasting factory can be arranged.

Vincom Plaza

address: 78 Lý Thường Kiệt

Big shopping center with clothing stores, movie theater, fast food, supermarket and Baskin Robbins ice cream cafe. No local souvenirs there.

CoopMart

phone: +84 262 3957 988

address: 71 Nguyễn Tất Thành, Tân An

Supermarket and shopping center, check second floor if you are looking for non-food items. KFC restaurant is located on the first floor.
Eat

Despite what the guidebooks say, Buon Ma Thuot has a very solid selection of good eats. Fast development and not much tourist infrastructure mean that the guidebooks are behind the times and sorely misleading. A wander just northwest of the main roundabout after around 6PM will turn up a truly great selection of street stalls and small restaurants, offering up very tasty standards such as hủ tiếu, phở, bún, cơm, and nem. Check Ly Thuong Kiet nearby for a selection of roll-your-own spring roll joints.
A very tasty cơm hến, the Hue speciality, is available at a simple-looking place across the street from the Co-op Mart that also advertises Bún bò Huế. Walk past the shabby looking front room into a spectacular little back home, complete with garden, birds, and an internal waterfall.
Of course, KFC is available in the Co-op Mart building, if you really need it.

Drink
Coffee, coffee, coffee. Buon Ma Thuot is the capital of coffee in Vietnam, a country that is second only to Brazil in coffee exports. Because of this, cafes are on every street corner, and most are spectacular. Many offer several different varieties of bean and roast. Standouts include Emerald's Cafe in Tan Loi and, just east of town, Trung Nguyen's flagship coffee gardens (a huge pleasure garden complete with man-made mountains and waterfall, lined with coffee trees and boasting both traditional Viet and Ede designed buildings). However, it's very difficult to find a bad cup of coffee.
Drink the local brew "ruou can".

Trung Nguyên flagship restaurant

phone: +84 262 3958 868

address: 149-153 Lý Thái Tổ

Coffee, drinks and food available, nice gardens with a lot of coffee trees, artificial cave and pond. Coffee can also be bought here, beans or ground.

phone: +84 262 3865 221

address: 159/3, Nguyễn Văn Cừ

Another cafe with a nice garden, belonging to a coffee manufacturing company.
Sleep
Ngoc Mai Guesthouse

phone: +84 500 3853 406

address: B14 Dien Bien Phu

Great guesthouse/small hotel at the heart of the city. 200 m from the night market, plenty of restaurants around. Rooms with air-con, TV. Friendly staff speaking English and French. Indoor parking for motorbikes

Thanh Ngoc

phone: +84 913436427

address: 117 Nguyen Van Cu

Great little hotel, for 150 000 dong, inclusive air-con, TV and incredible friendly and helpful owners. Indoor parking for motorbikes, too.

Huong Khue

phone: +84 913498346

address: 32 Ngo Gia Tu

Simple but clean and conveniently located next to the bus station along with several other hotels on the same road. Rooms from 120,000 dong. Staff is helpful and friendly but knowledge of English is limited. You can take local buses to the center or walk for about 20 minutes.
Go next
Lak Lake is about an hour's bus ride to the south, on the way to Dalat. It's a beautiful lake with various minority villages all around. A few of them are reachable from Lak town on foot, others require a boat trip, motorbike, or longer hike. To cross the lake, you can choose between a boat or an elephant - it's so shallow that they can walk on the ground!
Between Lak and Buon Ma Thuot, a local bus runs every half hour or so. They have a couple of nice newer ones with AC (as of Jun 2013).
There are several Mai Linh buses a day to Dalat (coming from BMT), taking about 5 hours with the last bus leaving in the early afternoon. Buy your ticket (80,000 dong) at the Mai Linh office rather than Daklak Tourist who will ask a much higher price. (Update Nov 2018: Mai Linh Express only does HCMC and Danang, not Dalat. Tuấn Anh, 36 Nguyến Văn Cừ and Phuc Thai? have services to Dalat)
If you want to stay overnight in Lak, Mr Duc (+84 905 371633) from
Café Duc Mai
(dalateasyrider@gmail.com) can arrange homestays in Jun longhouses for US$5, half the price asked by Daklak Tourist. He can also arrange other activities, such as elephant rides and boat trips on the lake, for a much lower price than Daklak Tourist. The café serves an excellent set meal (US$3) for dinner.
To get to the café, call ahead to get picked up or consider taking a moto (10,000 dong) once you arrive in Lak as it's next to the Jun village and a bit hard to find from the main road. On foot, walk along the main road to the 3-way intersection at the market, then follow the alley going past the market all the way to the end. Turn left, where the road makes a right turn curving around some rice paddies. Follow this road until you see Café Duc Mai on the left side, 50 m in front of the Jun village entrance.
The people that provide you the service (homestay host, elephant rider, boat rower) get paid very little. For example, Daklak Tourist charges US$10 for homestay, Mr. Duc charges US$5, and the host only gets $0.50. You do need arrangement to be able to sleep in people's houses here as you're outsiders, but for other services (such as the boat tour of the lake), consider going directly to the locals.