Burgos (city)
Burgos
is a city of about 175,000 people in the heart of the
Burgos
Province, in
Castilla y León
,
Spain
.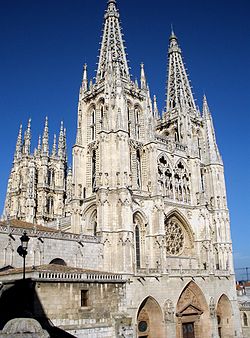 Burgos is 240 km north of
Madrid
and 160 km south of
Bilbao
and
Santander
. It is on the Castile Plateau and its average altitude is 856 m. Burgos is best known for its
cathedral
, that forms part of its
UNESCO World Heritage
designation, and for being a town on the French Route in the
Way of St. James
. Also it has an interesting old quarter, some ancient religious buildings, a lot of green parks, and Museum of Human Evolution.
Get in
By plane
Burgos-Villafria Airporthas daily flights to Barcelona. Air Nostrum, an Iberia-affiliated airline, has flights from Burgos to Albacete, Ibiza, Bolonia, Nice, and London (all via Barcelona). There you can take a taxi or a bus (L25) that costs €0.85.
Major airports near Burgos are Madrid (240 km), Bilbao (160 km), Santander (160 km) and Valladolid (125 km). There are several connections by train or bus between these cities and Burgos. If you are arriving from Madrid you can take a bus in the Intercambiador of Avenida de America or a train in Chamartin railway station. The trip takes less than 3 hr.
By train
Burgos has high speed connections with Barcelona, Bilbao, Hendaya, Gijón, Madrid, and Vigo. Also, it has connections with other cities like Salamanca, León, Vitoria, San Sebastián and international cities such as Lisbon, Coimbra, and Paris.
By bus
Burgos is well-connected by bus to many other cities in northern Spain, and taking the bus is often faster than taking the train. The bus station is in the center of the city, next to Plaza Vega in Calle Miranda No. 4-6, Tel. +34 947 265565. You can download
schedules of national and international services
. Taking a bus is the best option if you want to travel to Madrid. There are several coaches during the day and the trip takes only 2hr 45 min. The company that travels to Madrid is
Alsa
.
By car
Burgos is between the centre and the north of Spain. Several roads cross the city and it's easy to arrive in Burgos by car.
From Santander take Rte N623 and 627 or Hwy A231 and A67.
From Madrid take Hwy A1.
From Zaragoza and Cataluña take Hwy AP68. At Miranda de Ebro take Hwy AP1.
From Portugal and Valladolid take Hwy A62.
From France and the Basque Country take Hwy AP1.
From Galicia and Leon take Hwy A231.
There are car rental facilities in the city.
Distances to/from Burgos: Madrid 240 km, Bilbao 156 km, Santander 154 km, Valladolid 125 km
Get around
Walking is the best option to visit the main attractions of the city, but there are some places of interest you can take public transportation or rent a bike to get there.
By bicycle
Bicycle
is a good option for visiting all attractions of the city. Burgos has a very good bicycle lane that connects several points of the town. Also there is a
bicibur public rental service for bikes
. The terrain is relatively flat, and riding along the rivers or in Fuentes Blancas is an easy way to see the sights.
By bus
Burgos has an extensive system of
city buses
, which you can ride for just 85 cents. You can buy the ticket on board.
By taxi
Official taxis are white, and have a reddish stripe on the front door. The tariff is displayed on top of the car (a 1 during daytime, a 2 at night, which become 2 and 3 on holidays such as Christmas Eve). You can take taxis from the taxi ranks all around the city , also you can call in advance +34 947 277777 or +34 947 481010.
By car
Transportation by private car in Burgos is not difficult. Although looking for a place to park in the city centre can be very time consuming unless you park in private car parks.
See
CathedralThough not known as a tourist destination, Burgos is most well known for its gothic cathedral, a stop along the Camino de Santiago and a UNESCO World Heritage Site. Within the cathedral is the tomb of the Spanish hero El Cid.

You can also see the Saint Mary's arch near it. Not very far away you will find lots of churches, like San Nicolás, San Gil or San Lesmes. You can also visit La casa del Cordón, which was the residence of the Catholic Kings in Castille. The Monasterio de las Huelgas Reales is also a good place to visit in Burgos.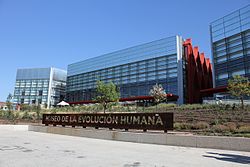 Eat
phone: +34 947 02 75 81

address: Calle Merced, 19

Cantabrian influenced dishes.

phone: +34 947 062 101

address: Plaza Francisco Sarmiento 1, 09005, Burgos

Vegan and Vegetarian restaurant attached to an organic grocery store.
Sleep
phone: +34947265000

address: La Puebla, 6

In the centre of Burgos, only a couple of minutes away from the Cathedral and the Museum of Evolution and right next door to the historical House of the Cordon.

phone: +34 947 222 300

address: Avda Reyes Católicos 30

Four star hotel.

phone: +34 94 7479900

address: Calle de la Merced, 13

The hotel is in the heart of the city, on the banks of the River Arlanzón, overlooking the cathedral, the Arco de Santa María and the Paseo del Espolón.
Go next