Burlington (Ontario)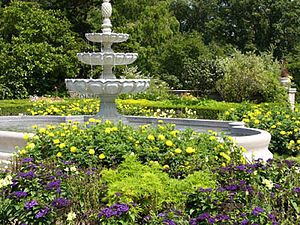 Burlington
is a city of 185,000 people (2016) in
Ontario
,
Canada
which lies across Burlington Bay from
Hamilton
. It's on the north shore of Lake Ontario, a 45-minute drive from Toronto and Niagara.
The city's waterfront features dining, water play, skating and model boating. Downtown, next to the lake, are many homes owned by middle to upper-class families, and many expensive homes of millionaires living in Burlington. Enjoy unique shopping, exquisite dining, the world-renowned Royal Botanical Gardens, museums, art galleries, golf courses, scenic hiking and biking trails and lively festivals such as Sound of Music and Canada's Largest Ribfest.
Understand
History

Before pioneer settlement in the 19th century, the area was covered by the primeval forest that stretched between the provincial capital of (York now Toronto) and the town of Hamilton, and was home to various First Nations peoples. In 1792, John Graves Simcoe, the first lieutenant governor of Upper Canada, named the western end of Lake Ontario "Burlington Bay" after the town of Bridlington in the East Riding of Yorkshire, England. By the time land beside the bay was deeded to Captain Joseph Brant at the turn of the 19th century, the name "Burlington" was already in common use. With the completion of the local survey after the War of 1812, the land was opened for settlement. Early farmers prospered in the Burlington area because of the fertile soil and moderate temperatures. Produce from the farms was shipped out via the bustling docks of the lakeside villages of Port Nelson and Wellington Square, and to Brown's Wharf in the nearby village of Port Flamborough (which was to become Aldershot). Lumber taken from the surrounding forests also competed for space on the busy docks. However, in the latter half of the 19th century, increased wheat production from Western Canada convinced local farmers to switch to fruit and vegetable production.
In 1874, Wellington Square and Port Nelson were incorporated into the Village of Burlington. However, the arrival of large steamships on the Great Lakes made the small docks of the local ports obsolete, and the increased use of railway to ship goods marked the end of the commercial wharves.
As more settlers arrived and cleared the land, cash crops replaced subsistence farming. Gradually, mixed farming and market gardens became the dominant form of agriculture, and in the early 20th century the area was declared the Garden of Canada. The first peaches grown in Canada were cultivated in the Grindstone Creek watershed in the city's south-west part. Today over forty percent of the Grindstone Creek watershed is still devoted to farms, orchards and nurseries.
Following the Second World War, cheap electricity from nearby Niagara Falls and better transportation access due to the new (1939) Queen Elizabeth Way encouraged light industry and families to move to Burlington. The population skyrocketed as new homes were built.

Climate

The climate is moderated by its proximity to Lake Ontario. Monthly mean temperatures range from 22.3 °C (72.1 °F) in July to −4.2 °C (24.4 °F) in January. The average annual precipitation is 878 millimetres (34.6 in) of rain and 109 centimetres (43 in) of snow.
Although it shares the temperate climate found in Southern Ontario, its proximity to Lake Ontario moderates winter temperatures and it also benefits from a sheltering effect of the Niagara Escarpment, allowing the most northerly tracts of Carolinian forest to thrive on the Escarpment that runs through western sections of city.

Get in
By plane
The Hamilton International Airport is the local airport which is just 30 minutes from Burlington. it is serviced by WestJet.
Mississauga's Toronto Pearson International Airport is located a short driving distance from Burlington, around 45 or more minutes.
Niagara Falls International Airport and Buffalo Niagara International Airport are each located about an hour's drive away, across the international border in, respectively, Niagara Falls and Cheektowaga (a Buffalo suburb). If you're coming from the U.S., flying into one of these airports usually presents considerable savings over arriving in Toronto (or even Hamilton).
By car
Burlington is easily accessible by highways 403, 407, and QEW.
By train
Burlington has three railway stations:
Aldershot GO Station

address: 1199 Waterdown Rd

Served by GO Transit trains & buses, Via Rail trains

Burlington GO Station

address: 2101 Fairview St

Burlington GO station, serving GO Transit trains, lies about 2KM north of downtown Burlington. Connecting GO Transit buses loop on the south side of the station, while connecting Burlington Transit buses loop on its north side.

Appleby GO Station

address: 5111 Fairview St

Served by GO Transit trains; more useful for residents than visitors.
Get around
By public transportation
phone: +1 905-639-0550
Burlington Transit is the transit authority for the City of Burlington. Most buses run on a 30-minute schedule, although some routes run more frequently during rush hour and/or less frequently on weekends or evenings.
Burlington Transit bus routes 1/1X run from Burlington GO Station stopping at the Royal Botannical Gardens and continuing onto downtown Hamilton (King and James streets). Route 1X also makes a stop at Aldershot GO Station; however, route 1X has no evening, weekend or holiday service. Bus routes 3 and 5 run from Burlington GO Station to Downtown Burlington.
If transferring from
GO Transit
(GO) to Burlington Transit (BT) to complete a trip, you may pay the reduced GO co-fare instead of the regular BT fare. For Presto cardholders, just tap your card on both transit systems to get the reduced fare which is calculated after the transfer. With Presto, the reduced fare is also available to transfer from BT to GO. If paying cash on BT, the reduced fare is available if you show your GO ticket to the BT bus driver when you pay the fare in exact cash.
A fare allows for 2 hours of travel on Burlington Transit including changing BT buses, or transferring to connecting HSR buses in
Hamilton
at certain stops. If paying by cash, ask for a "transfer" to use as a receipt. For Presto users, transfer info is automatically stored on your card when you tap on. BT accepts HSR paper passes and transfers only at the following stops:
King & James streets, Hamilton (BT Stop #679)
King & Bay streets, Hamilton (BT Stop #827)
Aldershot GO Station, Burlington
Downtown BT Terminal, 430 John St, Burlington
Plains Rd at Royal Botanical Garden, Burlington (BT Stop #698)
By car
The best way to get around Burlington is by car. Arterial roads are spaced about 2 km (1.25 miles) apart, and generally run on a 45 degree angle to the compass points. Main roads running northeast to southwest are (from southernmost to northernmost) Lakeshore Road (former Highway 2), New Street, Plains Road/Fairview Street, the Queen Elizabeth Way/Highway 403 (a controlled-access highway), Upper Middle Road, and Dundas Street (former Highway 5). Main roads running northwest to southeast are (from easternmost to westernmost) Burloak Drive, Appleby Line, Walkers Line, Guelph Line, Brant Street, King Road, and Waterdown Road.
By bike or on foot
Burlington is a pedestrian- and cycling-friendly city, although, as the city is somewhat sprawling, walking or cycling is sometimes impractical. There are several long-distance walking and cycling trails in Burlington, including the Waterfront Trail, a 23-km-long paved trail that offers beautiful views of Burlington's waterfront. In Burlington, you may ride your bicycle on sidewalks, except in the downtown core.
See
RBG Centre & Hendrie Park

address: 680 Plains Rd W, Burlington

The main park; cafe in the RBG centre and a teahouse in Hendrie Park.

Laking Garden

address: 1260 Spring Gardens Rd, Burlington

Rock Garden

address: 1185 York Blvd, Waterdown

Cafe on-site.

Arboretum

address: 16 Old Guelph Rd, Waterdown

The largest of the four parks with a Nature interpretation Centre.
address: 3023 Fairview St

The City of Burlington purchased this former railway station (built in 1906) for preservation, and had it moved from its original location.
Parks
There are 115 parks and 325 ha of parkland within the city. A complete list of parks can be found
here
Do
A great time to visit Burlington is in the summer, when numerous free festivals are held.
Discovery LandingA 14,200 square foot landmark building that faces out to the lake and offers prime storm and weather watching views. Designed by Baird Sampson Nuert it has given residents and visitors a unique place to discover, celebrate, play, and relax by our lake. Discovery Landing is open all day, daily and features The Observatory, Spencer's on the Waterfront, the Bite Café, and an information area to provide information on the park. Discovery Landing overlooks the Rotary Centennial Pond, a 10,000 square-foot year-round water feature. In the spring, summer and fall it is a reflective pool ideal for model sail boating and in winter it will have free ice-skating on an artificial ice surface.

Hike the Bruce TrailA portion of the Bruce Trail, the hiking trail that runs along the Niagara Escarpment from Niagara to Tobermory runs through Burlington. The Burlington portion of the trail starts near the intersection of Highway 6 and Mountain Brow Rd., skirts the escarpment before reaching Snake Rd., and then takes a winding path that isn't always easy to follow (if you find yourself in a cemetery near a convent, you've gone the wrong way), but leads to a few beautiful waterfalls just before entering Waterdown. East of Waterdown, the trail then runs through Kerncliff Park, crosses Dundas St., then runs for several miles through rural Burlington before entering Milton.
Festivals
address: Spencer Smith Park

Music, crafts and some of the best rib makers in North America.

phone: +1 905-333-6364

address: downtown, waterfront

Proclaimed as Canada's largest free music festival. Five day free music festival on several stages. Jazz, folk, rock, pop, country, blues, latin, celtic. Parade, carnival, marketplace, family zone and downtown streetfest. Held on Father's Day weekend in early June.
Events
During December, you can walk through an extensive Christmas lights display downtown at Spencer Smith Park. Showing the Eiffel Tower and various large displays of lights, this is the time when you can enjoy the beauty of Christmas.
On July 1, you can celebrate Canada Day in Spencer Smith Park and gather with dozens of others to wave the Canadian flag with pride and music.
Buy
Eat
There are many great dining establishments in Burlington. The restaurants below are just a few of over 200 establishments.
Budget
phone: +1 905-527-9679

address: 694 Spring Gardens Rd

Well-known for its footlong hotdogs (note that a "regular" hotdog here is a footlong) its ice cream and milkshakes are also good. The restaurant has been located at this location since 1930 and features a retro atmosphere.
Mid-range
phone: +1 289 337-9119

address: 2020 Lakeshore Rd

phone: +1 905 331-0033

address: 1250 Brant St

Chinese restaurant.

phone: +1 905 333-9449

address: 133 Plains Rd
Splurge
Sleep
Budget
phone: +1 905 639-1700

address: 3290 South Service Rd

phone: +1 905 639-2700

address: 2412 Queensway Dr

Beside the highways to Hamilton, Niagara, and Toronto.

phone: +1 905 336-5382

address: 3158 Pinemeadow Dr
Mid-range
Splurge
phone: +1 905 681-5410

address: 2020 Lakeshore Rd
Go next