Burnley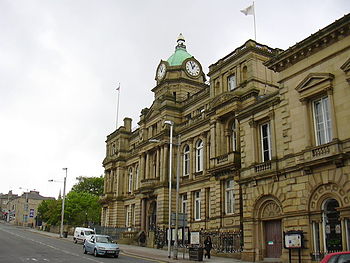 Burnley
is a town in
Lancashire
,
England
, 30 miles (48 km) north of
Manchester
, and 35 miles west of
Leeds
.
Get in
By car
Burnley has good road links from the west, north and south. The M65 runs through the town and is easily accessed from the M6 and M66(A56). Junction 10 is the main junction for the town with limited access from Junction 9 and 11. Access from the east using the A646 is slow, and from the north via Colne suffers from significant congestion. From the north it is often quicker to use the M6/M65.
By train
Rail links to the town are good. The town has two stations within walking distance of the town centre,
Burnley Central
and , with a third,
Burnley Barracks
serving a housing estate and the fringe of the town. The main station is Burnley Manchester Road Station which has been redeveloped. It has express services to Blackpool North, Preston, Leeds and York, taking approximately 35 minutes to Preston (with connections to London and Glasgow) and hour to Leeds. There is service to Manchester Victoria. From Burnley Central there is also an hourly stopping service from Burnley Central to Accrington, Preston, Blackpool South and Colne. The journey time is approximately 58 minutes to Preston but has earlier and much later trains than the service to Burnley Manchester Road. Safety on board the trains is usually good with a Guard onboard all services, however Burnley Central is located in quite an isolated area of town after the nearby retail park closes at night so those unfamiliar with the area should ideally arrange to be met or leave the area quickly.
By bus
Burnley has a comprehensive local bus service but fares are expensive for local journeys. Consider a day or weekly pass if multiple journeys are required, these can be purchased from the driver and are inexpensive compared to single fares. An excellent express bus service operates between Manchester and Burnley, the "X43", which is branded as "The Witch Way" with distinctive black and silver double decker buses. These operate every 15 minutes during the day and 30 minutes on evenings and Sundays. Journey times are approximately 1 hr 5 min but can be longer in rush hour. The bus departs from Chorlton Street in Manchester. They do
not
depart from the coach station but the street adjacent to it. Alternatively they stop on Deansgate outside the Moon Under Water public house. This is a request stop so give a clear signal to the driver that you want it to stop but generally there are people waiting for it anyway. Fares are £5 single and £8 return (valid for one month) or a day ticket can be purchased for £8 allowing unlimited travel on local buses in Burnley on the day of purchase only. Additional buses to Burnley can be caught from Halifax, Rochdale, Skipton, Keighley, Blackburn and Preston but these are local buses that can take a significant amount of time.
By coach
There is also a once daily Megabus+ from London using a coach and train to reach Burnley in approximately 5 hr 30 min. The coach leaves Burnley for London early morning and returns from London (train to East Midlands) late evening and arriving in Burnley around 3AM. However fares are very cheap, starting from £1 in advance and rarely breaching £9 for a single.
By plane
The nearest airports for Burnley are located at
Manchester
, Leeds/Bradford and Blackpool. Manchester has the largest number of services. Manchester Airport has rail services to Preston where connections to Burnley can be made. Alternatively a train to Manchester Picadilly and the X43 can work out cheaper but requires an awkward walk from Picadilly station. Pre-booked taxis start from £40 but expect to pay £60 or more on the day. Agree a fare beforehand. By road it takes approximately 50 minutes but allow extra time in rush hour. Blackpool Airport has an hourly stopping train to Burnley Central taking approximately 90 minutes. There is no viable public transport from Leeds/Bradford airport to Burnley.
Get around
There is an extensive bus service covering Burnley and the surrounding areas. The strikingly designed Burnley Bus Station, with its angular roof and purple/glass façade is worth visiting in its own right, but is also the place to find all the relevant information.
Taxi ranks are everywhere, both London cabs and independents. Expect to pay more in the London style cabbies, and make sure you agree the price at the independents, as they are not averse to trying to rip you off, especially if you're obviously out of town and/or drunk. Prices are mainly reasonable, though. Rough prices are £4-5 for a journey to/from the town centre from the suburbs and £6-8 for a cross town journey (as of July 2012) in a private hire but if in any doubt agree a price either over the phone or before the driver sets off. Unlicensed taxis are not uncommon (especially on Friday and Saturday nights) and even legitimate taxis must be pre-booked if they are private hire for the insurance to be valid. There are numerous taxi offices within walking distance of the bars and clubs. Females should be especially careful before getting into a taxi to make sure it is genuine, and even then, sensible precautions should be taken. Attacks aren't common but not unheard of.

See
phone: +44 1282 771004

address: Burnley Road, Padiham BB12 8UA

Imposing Elizabethan manor, built 1600-05 for the Shuttleworth family, and much renovated in the 19th century. Its owner Dr Kay admired the novel Shirley on publication, discovered that Charlotte Brontë was its author and lived nearby, and invited her over to stay. She admired the Hall but wasn't at ease with the company, however she later stayed with the owners in Windermere and met Mrs Gaskell, who became a good friend and afterwards her biographer. Charlotte returned to Gawthorpe Hall in early 1855 but caught a chill, never quite recovered, and died a few weeks later.
See Brontë Country for other nearby locations linked to that family. There are two other fine manors near Padiham, but they're privately owned and can't be visited.

phone: +44 1282 477130

address: Towneley Park, BB11 3RQ

Towneley Hall houses a museum. Opening times vary but Towneley gardens has no access restrictions and can be visited anytime.
Do
There is limited evening entertainment in Burnley other than having a drink. A standard bowling alley and cinema befitting a medium sized town are to be found, but don't expect anything exceptional.
Watch football (ie soccer) at

address: Turf Moor, Harry Potts Way BB10 4BX

They play in the Premier League, the top tier of English football. The 21,400-capacity stadium is about a mile east of the central railway station.
The pubs in Burnley are generally busy most of the time but don't expect very classy establishments or clientele.
Alternative the X43 is available to spend an evening in Manchester, the last one back to Burnley does not leave until 11PM.
However Burnley makes an excellent base to explore the surrounding countryside and villages which are very pleasant. Haworth, Downham, Barley among others and the market towns of Clitheroe and Skipton are well worth a visit. A car provides the most convenient way of visiting these places but even small villages have a bus service through most of the day but check when the last one is, most do not have an evening service.
Buy

Burnley has a medium sized shopping area, perhaps slightly bigger than might be suggested by the size of the town due it being a focus for those from some of the smaller places around. All the essentials can easily be found and a there are a few small versions of fashion chains such as River Island and Next. However, don't expect anything unique or different and there is little in the way of high class stores. For serious retail therapy, Manchester City Centre or the huge out of town Trafford Centre are the best bets where nearly every taste is catered for. Both are around a 40-minute drive.

Eat

Burnley has a new quality restaurant in the town centre which won an award as the best new restaurant in 2015. Its Shimla Spice an Indian Restaurant in Church St. Of the pubs around the centre Wetherspoons is probably the best bet also try the Inn on the Wharf further up Manchester Road. There are a couple of notable pubs that provide good quality food in attractive settings, these being The New Waggoners on Manchester Road and Sycamore Farm on Liverpool Road. Neither are walkable from the town centre but a taxi should be inexpensive. Given the lack of good restaurants in Burnley these both get very busy at the weekends. There are a couple of generic family pubs but these are best avoided if possible. Not because of anything desperately wrong with them but because of the souless nature of "family pubs" populated by weekend Dads in Burnley.
Alternatively there are some lovely pubs in the villages that surround Burnley that serve good quality food. Two notable ones are The Tempest Arms at Elslack and The Calf's Head at Worston. Also there are good restaurants in Fence, Roughlee and Downham, many specialising in Lancashire ingredients.
If you want chains then there are Frankie and Bennys, Pizza Express and Nandos at Bury, which is a 25-minute drive, and every chain you can think of in Manchester, a 40-minute drive.

Drink
Burnley has a very lively nightlife scene for a town of its size. Student night tends to be Thursday night, with the offers that brings. Friday's crowd is similarly youthful and Saturday sees a slightly older clientele.
phone: +44 1282 463720

address: 18 St James's St, BB11 1NG

A standard Wetherspoons establishment. Nice layout inside, good range of drinks and standard pub food fare.

Bootleggers

phone: +44 1282 453133

address: 8 Boot Way, BB11 2EE

Long-running bar that's had more comebacks than Lazarus. Has a huge HD screen, so great for watching the football and so on. Can attract some lively characters, particularly and Friday and Saturday nights.

The BridgeArguably the best pub in Burnley. Superb, friendly atmosphere with a mind-boggling range of ales.

The SwanBog standard pub and one of the few listed buildings in the area. Usual music blasted out at the weekends. Good beer garden if the sun shows up. Sometimes holds a few underground house nights which work surprisingly well.

Decadence at The Red LionUsed to be plain old "Red Lion" until new owners decided to go down the 'trendy wine bar' route with the pros and cons that brings. Blasts out club hits at the weekend. Always found it a rather characterless affair, but it is nice enough inside.

The Big WindowCheap and cheerful. You won't find a cheaper pint than this place, but that does bring a certain kind of clientele. Not bad for one or two cheap ones. Also has Sky Sports and, yes, a big window.

The BrunleaUsed to be a Wetherspoons, now a Lloyds No. 1 bar, which is essentially a Wetherspoons with incredibly loud music at night. Usual Wetherspoons range and prices. Looks disconcertingly like an airport departure lounge inside.

Inn On the WharfLovely pub next to the canal. Looks like a pub should - exposed stonework, roaring fire etc. Does nice food, too.

Smackwater JacksOr 'Smacks'. A Burnley institution. Quite simply, a must visit on any night out. It's been going for donkey's years and it's still packed out every weekend. Dark and dingy, with stone floors, but the atmosphere inside is undeniable. All ages, too. There's a basement floor, which tends to be quieter, the main, middle floor which gets rammed and the top floor. Party and cheese until 11PM and then more 'indie' stuff after that.

Bar BoogieHad various names over the years, but essentially the same bar. Bog standard, plays the usual club hits loudly.

PoshSome may argue this bar should be done under trade descriptions, but I couldn't possibly comment. There's a cover of around £2. Nice enough inside (there's even a VIP 'lounge' bar area) but the drinks are expensive. Music order of the day is R&B and hip-hop.

Inside OutAnother Burnley institution, formerly known as "Paradise Island". Huge inside, and can get very, very busy. Upside of that is a good atmosphere inside and the downside is that it can attract some less desirable characters. Chart and funky house are the order of the day.

The MixQuite a classy bar, which tends to attract an older clientele. Music is more 80s / soul / Motown. Two main levels and a top level for private functions.

BB11Named after the postcode of the area. Another bog-standard bar playing funky house.

PharaoahsAs you may expect, has an Egyptian style to it, though it's all a little half-hearted. Downstairs can get rammed but upstairs has a nice seating area. A lot of people go hear for the pre-club drink.

WalkaboutIf you've ever been to a Walkabout bar, you know what to expect. This one has gone downhill.

Bees KneesNew bar on the scene with a great cocktail selection and superb pool room downstairs, complete with posh seating area.

Guys As DollsBurnley's main gay bar. Also popular with groups of women/hen nights, etc. Often holds drag queen nights, etc. and plays the usual mix of disco and party.

Sanctuary Rock BarPremier alternative venue. Main soundtrack is rock (Rage Against the Machine, Slipknot, etc.) but it also has an eclectic playlist including dubstep, drum and bass, breaks, acoustic, etc. Also holds regular comedy and quiz nights and hosts a number of bands. Downstairs is a bar area with seating, pool table etc. and upstairs is the main room for bands/DJs. Cool smoking balcony.

Lave & IgniteChain nightclub. You know the type. Chart/funky house. Starting to struggle to get the punters in these days, mainly because of the, frankly, exorbitant cover charge (up to £7) and expensive drinks.

BarcodeStarting to become the end of night venue of choice for many of Burnley's revellers. Free entry and open until 5AM. Decent range of music, too, with the odd specialist night in the downstairs area.
Sleep
The Keirby Hotel is the only hotel situated in the town centre and is of an acceptable quality. There are no luxury hotels in Burnley, the nearest one being the Dunkenhalgh about 8 miles away. A couple of budget hotels are located on the fringes of town, a Travelodge and Premier Inn. Both are at least 15-20 min walk from the centre. A Holiday Inn Express is a well presented alternative with large carpark located 2 minutes from J10 of the M65 and 2 min walk from Burnley Barracks railway station. This to is a 15-minute walk from the town centre, although a shortcut is available but not recommended at night or for vulnerable persons.
Various Bed and Breakfasts are available for those on a budget but the quality is variable, although all should be clean and safe.
The Oaks Hotel, Leisure Club and Spa

phone: +44 1282 414141

address: Colne Road, Reedley, Nr Burnley BB10 2LF

50 bedrooms with free Wi-Fi, restaurant in the 'old house' offering locally sourced produce, lounge bar, conference suites (largest accommodates up to 200 delegates), extensive grounds and outdoor terraces. Disabled access level 2, accepts children of all ages, gym, health/fitness/ beauty facilities, indoor pool, sauna, solarium. Pets and LGBT accepted. Special provisions for cyclists and "Lone Female Travellers" (sic).
Stay safe
There are some rough areas so get local advice before going somewhere unfamiliar, but if you exercise discretion and stay in the main populated areas, you should encounter no problems.
Areas to be careful with include Burnley Wood, Stoops Estate and Stoneyholme, which have had problems with anti-social behaviour in the past.
It is generally safe at night in the town centre but stay with the crowds. With the exception of Sanctuary Rock bar, all bars and clubs are on main streets or surrounded by other bars so if it feels quiet you've gone the wrong way. Even Sanctuary is only just off a main street and should be no more than 2 minutes walk from the main "drag". Most people are friendly and approachable but a few are intent on trouble. The most likely cause of being attacked would be giving too much attention to a lady. Heavy drinking and drug use is fairly common in Burnley so reasoning with the male that you were just "having a chat" (regardless of your intentions) may not work. Avoid taking too much interest in ladies with male partners present if in any doubt, even if you have previously befriended the man.

Go next
Singing Ringing TreeSouth of Burnley is the Singing Ringing Tree, an award-winning wind-powered sound sculpture resembling a tree, set in the landscape of the Pennine hill range.