Buryatia
Buryatia
(
Russian
: Бур́ятия
boor-YAH-tee-yuh
) is a republic in
Eastern Siberia
, which borders
Tuva
to the west,
Irkutsk
to the northwest,
Zabaykalsky Krai
to the east, and
Mongolia
to the south.
Cities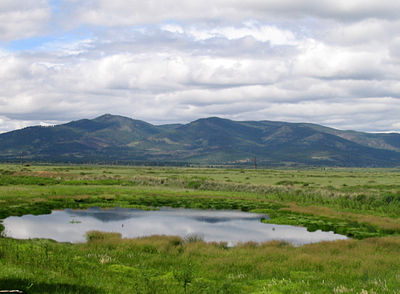 — the capital
— a hot springs resort town in the Tunkinsky National Park, with a nearby Buddhist Temple in the woods
— a large coal town on Lake Gusinoye
— a town near the border with Mongolia founded in the 18th century as a trade center between Russia and the Qing Dynasty
— the principal town of the beautiful Oka region on the Border with Tuva and a convenient base for exploring nearby rivers, volcanos, and hot springs; great destination for horseback riding, mountain biking, whitewater rafting, and mountain climbing
— a large Baikal-Amur Mainline town on the northern shore of Lake Baikal
— inhabited by the "heretical" Russian Orthodox Old Believers, this village is about 50 km south of Ulan Ude
Other destinations
— a mountain hot springs spa
— the deepest and oldest lake in the world and, by volume of water, also the planet's largest freshwater body or water.
— the largest island in Lake Baikal.
(Жемчуг) - a hot springs spa (bathing)
Understand
The republic was founded in 1923 with the joining of two territories. It is mow a republic within the
Russian Federation
. Russians constitute the majority of the republic's one million inhabitants, although the native Tibetan Buddhist and Shamanist Buryats (a race of Mongolian descent) remain a large minority (about 30% of the population); indeed, the Buryats constitute
Siberia
's largest ethnic group after Russians.
Aside from its cultural attractions and capital, Buryatia is a nature lover's paradise. Almost 80% of the territory is covered by mountains, and more than half the shore-line of Lake Baikal falls under Buryatia's jurisdiction. Outside the capital Ulan Ude, the major tourist attractions include hot springs, Lake Baikal and Mongolian-style Buddhist monasteries.
Due to several long-standing factors such as the lack of adequate natural resources, political inefficiency, etc., much of Buryatia's infrastructure still remains in a desperate need of repair. Nonetheless, with the largest Lenin-Head and beautiful scenery, there is plenty to do in Buryatia.
Talk
The indigenous Buryat language, which is related to
Mongolian
, is widely spoken by the Buryat minority. Nonetheless, everyone understands
Russian
.
Get in
Get around
Much of Buryatia's infrastructure still remains mostly poorly developed by Russian standards, and getting around can be quite tough for the average traveller. Railways are mostly absent, and Roads are very confusing and very winding, especially in
Ulan-Ude
.
Travelling around plane is also disrecommended due to airplanes and local airports wear.
Commercial bus lines will take you from Ulan Ude to most locations within the region. To get to the Oka region and
Orlik
, however, you will need to hire or rent a jeep to make it down the long dirt road.
The Ulan Ude–Naushki rail branch off the
Trans-Siberian Railway
will take travelers to
Gusinoozyorsk
.
See
phone: +7 301 402-33-77

address: near Verkhnyaya Ivolga village

A large Buddhist monastery outside of Ulan Ude; Buses no 130 leave from South Bus Station (Yuzhniy avtovokzal) on a regular basis, one after another. It will bring you to Ivolginsk, there is another bus or shared taxi waiting, it just says "ДАЦАН" (DATSAN) on it. It will bring you to the monastery. Expect to pay around each way (40 + 20). It takes 40-60 minutes one way
Do
Take a hot spring bath at Khoyto-Gol Warm Springs in the Sayan Mountains (simple cabin accommodation available) or at Zhemchug (Жемчуг), 100 km west of Slyudyanka.
Trekking, biking, and horseback riding in the Sayan Mountains - highest peak: Topographov Peak, 3044 mts.
Whitewater rafting
Stay safe
Buryatia in general is an extremely safe place, compared to regions such as
Moscow
,
St. Petersburg
and the
North Caucasus
. However, crime does exist, but on a little scale. Avoid coming in contact with drunks; just like in most of
Russia
, they are responsible for numerous fights.
It is also advised to take registered taxis - some illegal taxis may try to rip you off, by asking for foolish prices. Illegal taxis are common around the Trans-Siberian station.
Stay healthy

If you decide to camp in the forest, be sure to bring mosquito repellent, since ticks and mosquitos are widespread in the area.
Even though the economic conditions are improving, the health care system is still somewhat far from western-standards.

Go next