Butterworth
Butterworth
is the main town on the mainland side of
Penang
state in
Malaysia
.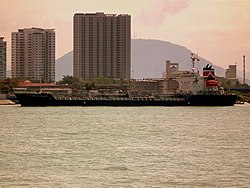 Smaller, more industrial and practical, Butterworth does not have any of the atmosphere which
George Town
across the Penang Straits has. However, it is an important transportation hub for all train and many bus services which do not go directly to Penang Island.
Butterworth is also the mainland terminal for the Penang Ferry.
Get in
By train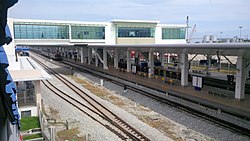 is next to the bus and ferry terminal, south of the town centre. It is a major rail terminal for
Keretapi Tanah Melayu
(Malayan Railways) ETS and Komuter trains heading south to
Kuala Lumpur
and
Singapore
and north to
Padang Besar
on the border with
Thailand
, where connecting trains to
Hat Yai
and
Bangkok
are operated by
State Railways of Thailand's
. In December 2015, electrifying and double-tracking is completed up to the Thai border. Although overnight express trains to
Bangkok
and
Kuala Lumpur
were canceled, new ETS and Komuter trains, capable of traveling up to 140 km/h, link
Kuala Lumpur
in just four hours and
Padang Besar
in less than two hours.
To/from Kuala Lumpur There are five ETS trains traveling to/from Kuala Lumpur. The fair is RM59 or RM79 depends on the service level. Seats on these trains are often sold out, and it is advisable to book in advance either at the KTMB office in the Georgetown ferry terminal, or on-line at KTMB website or other third party booking site such as Easybook.com.
To/from Thailand KTMB operates Komuter trains traveling to/from Padang Besar at the Thai border hourly from 05:25 to 21:25. The fair is RM11.40 and travel time is one hour and 50 minutes. From Padang Besar, State Railways of Thailand's operates twice daily shuttle trains to Hat Yai, that costs 80 baht and takes 50 minutes, and once daily express train to Bangkok. Alternatively, there are frequent local buses from the Thai side of the border to Hat Yai. Thai time is ::one hour behind: Malaysian time: check departure time of Thai trains are either in Thai or Malaysian time. Border formalities are done inside the Padang Besar station but there is no ATM or official currency exchange inside the station, and it is advisable to exchange some Thai baht before heading there. Refer to the KTMB site for schedule.
To/from Taiping KTMB also operates Komuter train south towards Taiping. It is also possible to make a connection there to more ETS trains to Kuala Lumpur and further south to Gemas. For schedule, refer to Train36 website
By bus
The is a few metres from the train station, under the highway overpass. Any train station representative can point you in the direction of the bus stop.
Buses go into many destinations throughout the country.
To/from Kuala Lumpur - almost hourly, journey takes 5 hours and costs around RM25. If you are in a rush to get to KL, the bus may be your best bet. The journey time can be half as long. Most of the coaches have air-con, as well as other comforts. The buses, in most cases, do not have restrooms. However, the buses make a number of breaks at rest stops, which have restrooms, food and drinks available. Much of the journey is very scenic.
Beware of the friendly and helpful touts preying on tourists at the bus station. They aren't selling tickets; they sell a voucher which you later exchange for a ticket, at which stage you'll find you've been overcharged by several ringgit.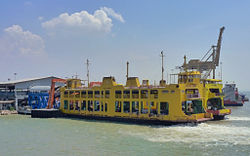 By road
City is accessible by the Butterworth Outer Ring Road and the Butterworth–Kulim Expressway, the latter is part of the North–South Expressway.
By boat
The much-loved Penang ferry departs regularly from the for George Town. The ferry terminal is connected with the railway station and bus terminal via covered walkways. In 2019 there was ongoing building work, making connections a little convoluted: in general, from the train station entrance take a left to the bus terminal, where the ferry terminal may be reached from the first floor, above the buses. Travellers may want to consider using toilets at their hotels or at restaurants as the ferry toilets are infamous for their overuse and offensive odours.
Get around
Rapid Penang
- bus service that covers most of the city as well as entire Penang state.
See
Temple of the Ninth Emperor God

phone: +60 4 331-8717

address: Jl Raja Uda

This is a very beautiful temple with impressive building architecture. The sculptures and carvings are very neat and nice. The temple was constructed in 2000 by about 50 craftsmen from China. It has three grand prayer halls, replacing an older temple that was built next to it in 1971. It's being decorated for the annual Nine Emperor Gods (Kew Ong Yeah) festival on every 9th month of Chinese Lunar Calendar.

Pantai Bersih Beach

address: Bagan Ajam

Sandy beach, famous for its seafood restaurants and a popular picnic spot among locals.
Outside of the city
phone: +60 4 399-1899

address: Jl Todak, Seberang Jaya, Perai

This is the first and the largest bird park of its kind in Malaysia, houses more than 300 species of birds from throughout the world, of which about half are of Malaysian species. Experience hand-feeding birds in the geodesic domes and two giant-sized walk-in-aviaries. Twice bird shows daily at 11:30 and 15:30. To get there take a 10-minute bus ride from Butterworth Ferry Terminal. Park receives fair bit of negative reviews due to the bad conditions in which birds are kept, although other people find it attractive enough and worths a visit.

Air Hitam Dalam Educational ForestA protected recreation park, mostly unknown to the public. It offers walks on boardwalks and suspension bridges through the forest, views from the observation towers and gazebos.
Buy
Hypermarkets such as Carrefour and Tesco Extra can be found in Seberang Jaya. Besides, in Seberang Jaya itself, there is a shopping mall called Sunway Carnival Mall. Other shopping complexes such as Megamal are in Perai. Jusco Bandar Perda and the Summit can be found in
Bukit Mertajam
.
Eat
Various cafes in Bandar SunwayOld Town Kopitiam, Swenz, Sri Wan are just a few. A very popular hangout for the locals
Many Chinese restaurants are available along the road to the sea
Pantai Bersih Seafood RestaurantsOnce a nice stretch of beach for locals to relax. Since the emergence of the BORR highway, only a patch of the beach survives. There are several very good and cheap seafood restaurants there.

Jalan Raja UdaUsed to be the longest road in Malaysia. Along this road there are various hawker centers and most of the Penang food can be found here. There are at least two main morning markets along this road as well, one is off to Jalan Ong Yi How and another one is further up north and more popularly known as 'Apollo'. New development along the south of Raja Uda is known as 'Wooly Avenue' and this houses new shoplots and restaurants.

Bukit TambunFamous for its relatively low-price fresh seafood.

Prawn Village

Times Moving Cafe

address: Jalan Ong Yi How

Famous for its relatively low-price fresh wafer and French Fries. You can try the nice taste wafer with many difference flavour and special French Fries with cheese, BBQ and chocolate at there. It is easily found by its sharp pink-coloured van.

Sweet Paradise Dim SumVery popular dim sum restaurant. Serving probably the best and largest variety of dim sum in the region.

Heap Hoe Hin

phone: +60 4 3239812

address: 6743, Jl Raja Uda

The shop sells more than 450 kinds of biscuits. Open since 1949.
Sleep
Butterworth has few hostels and star-rated hotels serving visitors:
Beach Garden Hotel

phone: +60 4 332-2845

address: 4835, Jl Pantai

Butterworth Travel Lodge

phone: +60 4 333-3399

address: 1, Lrg Bagan Luar 1, Bagan Luar

From Penang Bridge, it takes about 15 to 30 min for you to get to these hotels, depends on the traffic conditions.

phone: +60 4 332-2000

address: Lorong Cempa (Off Jl Telaga Air)

10-15 min driving distance from Butterworth Ferry & Bus Terminal. 5 min driving distance from Raja Uda Food enclave. 123 units of well furnished rooms and complete amenities. A/C, cableTV, coffee/tea maker, internet, and a mini-bar. Business centre, laundry service, and safe deposit boxes.

phone: +60 4 324-8899

address: 1, Lorong Jermal Indah, Taman Jermal Indah

Affordable hotel with quality services and facilities.

phone: +60 4 331-7532, +60 4 332-7532

address: 4802, Jl Bagan Luar, Bagan Luar

Free Wi-Fi in all rooms, hot water, televisions, private bathrooms - yet no toilet paper, at least not in twin rooms.

phone: +60 4 398-9888

address: 2933, Jl Baru

In Chai Leng Park.

address: 11, Lebuh Tenggiri Dua, Seberang Jaya

George Town
Go next