Buyeo
Buyeo
is a city in
Chungcheongnam-do
.
Understand
Buyeo, previously known as Sabi, was one of the ancient capitals of the Baekje Dynasty, established in 18 B.C. and has been existing for 700 years until 660 A.D. Buyeo is located southwest of
Gongju
and west of
Daejeon
. This town is not a major tourist destination, but it has many nice tourist sites. There are temples, graves, and quiet nature walks, and all of these with a relaxed and uncrowded atmosphere.
Get in
This town is not on the train line. If you don't have your own vehicle, you can take a bus for part or all of the journey.
By train
The nearest train station is in Nonsan. To get to Nonsan by train from Seoul, depart from either Yongsan Station or Gwangju. Once you've reached Nonsan, take a local bus to Buyeo.
By bus
Buyeo Inter-city Bus TerminalThe inter-city bus terminal. The staff here speaks little to no English.

Nonsan. A local bus goes from Nonsan to Buyeo. The bus leaves from the local bus terminal which is actually a collection of bus stops. There are no English signs, but conveniently the bus's final destination is Buyeo, which makes finding the right bus stop slightly easier because the destination is in large print. The driver might ask you to pay the initial fare when you board the bus and then an extra fare because you are taking it a longer distance. The trip takes around 30 minutes.
Seoul. Buses depart every 40 minutes from Nambu Intercity Bus Terminal between 6:30AM and 6:30PM. The journey lasts 2 hours 10 minutes.
Daejeon. Buses depart from Seobu bus terminal in Daejeon every 20 minutes from 6:10AM–9:40PM. It costs ₩6,600 (as of May 2011) for a one way ticket. The trip lasts about 1 hour 20 minutes.
Gongju. One can also take bus from Gongju terminal to Buyeo for ₩4,000 (as of May 2011), and the journey lasts about 45 minutes.
Get around
The town is small enough to be walkable. The bus terminal is located right dead center of the town, and most of the major sights are located about 2 or 3 "blocks" away from the terminal, making the town a very walkable place.

See
Several of the
world heritage listed Baekje sites
can be found in Buyeo and its surroundings, namely the Archeological site in Gwanbuk-ri and Busosanseong Fortress, the Jeongnimsa Temple, the Royal Tombs in Neungsan-ri and the Naseong City wall.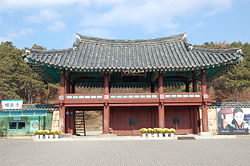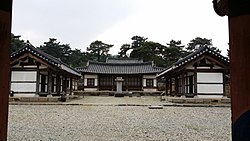 Buso Mountain FortressBusosanseong is a park showcasing the ancient fortresses through wooden-covered paths around the park. Some of the prime sights are: Samchungsa Temple (where they honour three servants from China), Yeongillu Pavilion, Soldiers' Huts, Banwolli Pavilion (with the best sights of the town of Buyeo below), Gungnyeosa Shrine, Sajaru Pavilion, Nakwaam Rock (where legends have it that 3,000 women threw themselves to death below into the river after their empire being invaded by the Chinese forces), and Goransa Temple (it is said that drinking a cup of the spring water at the temple would make you three years younger.)

Jeongnisima Temple and MuseumA complex with the ruins of the lotus pond, Buddha statue and a 1,500 years old five-storied pagoda, with a museum on-site showing some of the history of the Baekje Dynasty in Buyeo. There is an impressive 65% scale model of the temple grounds surrounded by a gate and perimeter walls, located inside the museum. It appears that they are undergoing excavation of the site, and possibly rebuilding the entire site again.

Buyeo National Museum

address: Geumseong-ro 1

Exhibition halls housing artifacts discovered through archaeological diggings, most spanning through the Sabi era of the Baekje Dynasty. Over 13,000 items in museum.

Seodong ParkAn interesting park where the grounds are mostly covered by pond water in lotus shape. One can walk on stone paths, or one of the numerous pathways around the pond with a pavilion in the centre, connected by a long wooden bridge. They claim that this was one of the first man-made parks in Korea. On a site to the east closer to the Hwaji Mountain, there is a monument dedicated to 5,000 militaries.

Baekje Historical Park

address: Hapjeong-ri 575

A historical theme park consisting of a royal palace, temples, historical museums and traditional villages. There is also Baekje Historical Museum onsite.

Baekje Royal Tombs Park

address: Neungsan-ri 16-1

Site with seven tombs of the Baekje Royal families. There is a Baekje Gobun Museum with exhibitions about the tombs.
Muryangsa Temple: located at Mt. Mansusan, this is the largest temple in Buyeo. There are important cultural properties listed on the site, such as Geungnakjeon Hall, Five-storied Pagoda, etc... There are several hiking paths through the mountains around the temple).
Ssalbawi and Suribawi rocks: interesting rock formations near Muryangsa Temple.
Seongheungsanseong Fortress and Daejosa Temple - a 10-metre-high standing Buddha stone, one of the largest single-rock Buddha images that were popular during early Goryeo period.
Seodongyo Theme Park: location of reproduced Baekje town built for a Korean television company, SBS. SBS filmed their "Seodongy," which is a period drama about the Baekje empire. The set has an area of 30,000 sq. metres, and includes periodic village complete with King's Palace, Science institute and Queen's Place.
Three storey stone pagoda in Jangha-ri.
Cheongmasanseong Fortress and hiking trails through the mountains

Donam-seowonConfucian academy, one of nine to make up the world heritage site Seowon, Korean Neo-Confucian Academies.
Do
City tour
There are city tours offered every Sunday, and on second and fourth Saturday of the month, from March to December starting at 10AM. Reservations and inquiries can be made by calling the Chungnam Tourist Information Center at 041-830-2330.
2nd and 4th Saturday tour will explore the Jeongnimsa Temple, Seodong Park, Baekje Historical Museum, hear Korean classical music and finish up at Busosanseong Fortress.
1st, 3rd and 5th Sunday tour will go to Seodongyo Theme Park, Seodong Park, Jeongnimsa Temple, Baekje Historical Museum and Busosanseong Fortress.
2nd and 4th Sunday tour also includes the city of Gongju. Sites visited are: Jeongnimsa Temple, Seodong Park, Busosanseong Fortress, Gongju National Museum, Gongsanseong Fortress and King Muryeong's Tomb.
Hiking
Mt. Busan: located across Baengma River to the northwest. Home to Daejaegak and Cheongnyongsa Temples, as well as Mt. Busan Pavilion closer to the top of the mountain.
Geumseongsan: there are trails leading from the town (just north of the Buyeo National Museum) towards the summit and the Baekje Royal Tombs. Some of the places to see are: Jowangsa Temple, Tagsudae Pavilion and Beacon Mound closer to the top of the mountain.
Temples
Buyeo Hyanggyo: Confucius school, located on the western side of Namyeong Park north of Jeongnimsa Temple.
Euiyeolsa Shrine: located on the eastern side of Namyeong Park north of Jeongnimsa Temple.
Site of Gunsuri Temple: west of the pond at Gungnamji Park.
Statues
Statue to King Seongwang, located inside the traffic rotary close to the Busosanseong Fortress.
Equestrian statue of General Gyebaek, located in the centre of rotary intersection of Sabi-ro and Gyebaek-ro,about 5–10 minutes walk south from the bus terminal.
Monuments
Gratitude Monument for Transmission of Buddhism to Japan, (located to the southwest in Seonhwa Park, near the Buyeo Police Department, Gyebaek-ro, 15 minutes walk west of the Equestrian statue.)
Monument transcribed with poem of Dong-yeop, also in the same area.
Buy
Buyeo Oh-il MarketThis traditional market is open five days a week.
Eat

On the main street, Sabi-ro, there are many chain restaurants like Lotteria, Mister Donut, Paris Baguette Cafe, and Eiffel Bakery. Also of note is the Bomjuk Slow-Food Korean Porridge Restaurant at the traffic circle.
On Gnognam-ro, the next main street to the east, there are many Korean restaurants, some pizza, Japanese sushi, and Dolimites, an ice cream shop.
For a more up-scale dinner, try the street along the foothill of Busosanseong Fortress, Seongwang-ro. There are some noodle places, some steak places, and some fish places here.

Sleep
The area between the bus terminal and Jeongsima Temple has a large number of motels and hotels. Hotels can be identified by the neon signs on the top of the building along with the Korean letters 모텔. Another way to recognize one is a sign that looks like a bowl with steam coming out of it.
phone: +82 10 7470-8507

address: 501-2 Dongnam-ri

Madang is guesthouse for backpacker. This is located very close to the world heritage in Buyeo. You can go to MaDang from Buyeo-Terminal just five minuites.
Samjeong Buyeo Youth Hostel

phone: +82 41 8353102

address: 105-1 Gukyo-ri

This youth hostel is part of a large and aging hotel. The youth hostel rooms are hotel rooms with two bunk beds in each. Each of these rooms has a TV and bathroom. In winter, the hot water might only be lukewarm.

VIP Motel

phone: +82 041-832-3700

address: Seongchung-ro 701

Seukai Motel

phone: +82 041-834-3331

address: Chungcheong-ro 297-1

Swel Motel

phone: +82 041-835-8899

address: Chungcheong-ro 265-1

Brodwe Yeogwan

phone: +82 041-833-9900

address: Chungcheongnam-ro 234

Geobukjang Yeogwan

phone: +82 041-836-5228

address: Chungcheongnam-ro 677-3

Crystal Motel

phone: +82 041-835-1717

New World Park Inn

phone: +82 041-832-1755

Villa Inn

phone: +82 041-834-6432

Tower Hotel

phone: +82 041-835-4340

Star Palace

phone: +82 041-833-3005
Connect
Buyeo isn't a major foreign tourist town, so don't expect people to speak much English.
Tourist Information Office

phone: +82 041 830-2330

address: 77, Gwanbuk-ri

Buyeo Post Office

phone: +82 41-832-2005
Go next