Bwindi Impenetrable National Park
Bwindi Impenetrable National Park
is in
Western Uganda
. The park is listed as a
UNESCO World Heritage site
.
Understand
Bwindi forest is popular for viewing mountain gorillas in the wild. There are two main points from where you can do this:
Buhoma
and
Nkoringo
. Both offer similar opportunities to see the Gorillas. Permits must be obtained from the UWA office in
Kampala
for foreign nationals.
History
Landscape
High altitude, mountainous, with deep valleys. Bwindi Forest is the last remaining piece of primary forest in the area, all the surroundings have been almost completely deforested, and even small pockets of forest are still being cut.
Flora and fauna
Climate
The climate varies - Uganda is wet most of the year, with dry periods from June to August. It can be a scorching 30 °C, or a chilly 9 °C, depending on the weather. If you go gorilla tracking, be sure to bring a sweater, at least 2.5 liters of water, long-sleeved t-shirt/trousers, a hat, rain-clothing and decent hiking boots. The tracking takes you through the dense rainforest, where you go up and down steep hills, often with no visible path. If it rains, it will be extremely muddy; if it's dry and the sun is out, you will need a lot of water. Bring insect repellent for the mosquitoes, and consult your doctor for vaccinations and malaria pills for surrounding regions. There is no risk of malaria in Buhoma, Nkoringo and Bwindi Forest: due to the altitude there are no mosquitoes.
Get in
Getting into Bwindi Impenetrable National Park requires a permit - the best place to get that is from the
Uganda Wildlife Authority
(UWA). They have an office in Kampala, on Kiira Road. Tour operators can also make reservations, but you only pay on arrival. There is no point in going to Bwindi without a permit, as you will be refused entrance.
The best way to get there is to get a bus from Kampala - the daily Post Bus takes about 8 hours from Kampala to Kabale, a nearby city with several hotels and hostels. From there you can arrange private transportation, for which you have to reserve another day of travel - leave early in the morning; you'll need to get transportation to Butogota, and from there to Buhoma, where hotels are available only a short walk from the starting point of the UWA gorilla tracking.
There is also a bus that goes straight from Kampala to Butogota, which is only a short ride from Buhoma. It leaves early in the morning (around 6AM), and may leave earlier than expected if it is full. Bus schedules and prices are not published, and different bus companies compete for your business, so find someone you trust to guide you to the appropriate bus terminal (there are several). For the return trip, there is also a bus from Butogota to Kampala. Some buses depart in the morning, and others are overnight, departing in the evening.
You can also fly from Entebbe.
Aerolink
fly twice daily into Kisoro and Kihihi.
Fees and permits
As of June 2014 all gorilla tracking costs US $600 for a non-resident - though worth it as it is an unbelievable experience. Please note that the UWA accepts only cash for payment. This may require some planning, as the amount is more than you can normally withdraw from an ATM. Barclays Bank in Kampala will do cash advances. Reservations may need to be made long in advance during the peak season, but could be available the day before during the rainy season, or if you're lucky and there was a cancellation.

Get around
The roads in Uganda are bad - you will redefine your idea of what is a 'good road' after a visit. Paved roads are few and far between. If you can rent a car, be prepared for a bumpy ride (and make sure you have a spare). You can hire a ride on a 'bodaboda' - a motorcycle with a passenger seat, but beware that many (fatal) traffic accidents involve bodabodas.
You can also get a 'private hire' - which is often very expensive, or get a ride in the back of a pick-up - which you will have to share with enough people to make standing up the only option. On these roads, that is only fun for so long, but it is cheap and a common method of transportation. If you catch a ride on a bus, beware that because of bad roads, vomiting fellow passengers are more rule than exception: store your luggage safely. Any vehicle can get stuck in the mud, including buses, and your trip may be delayed.

See
Bwindi Impenetrable Forest
Do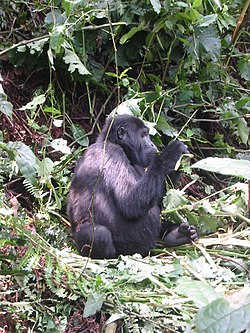 Gorilla tracking
- the main activity here. It is expensive, but it is worth it. There are several different groups of gorilla's, with group H being the largest. Inform yourself which of the groups are normally quite close to the camp and which more far away. For the groups close to the camp is it normally quite easy to get permits; the further away ones are more popular due to the nice walk through the rain forest.
Tracking can take from anywhere between 15 minutes to a full day, depending on where the gorillas are. They move often and far - one group of tourists can be back at the UWA camp within two hours on one day, while the next day, tracking the same group of gorillas can keep you walking until night falls. There is no way to say how easy or difficult it will be - elderly people should carefully consider how fit they are and how long they are willing to hike
and
climb: paths can be so steep you have to hold on to bushes and grass to prevent you from slipping, and climbing a hill can require hands and feet. There are no 'exits' while trekking, no shortcuts back home. Beware that refunds are only given in extraordinary circumstances (no gorillas seen, which is unusual), and are only partially.
Registration for tracking starts at 8:30AM, briefing is at 9. The trackers leave before that, and will communicate with your guides to let them know if and where they have found the gorillas. After getting there, you will have a maximum of 1 hour near the gorillas. You can get within several meters of them, but you can be instructed to move further away should the gorillas get restless. Considering the terrain, it is not always possible to get this close, so bring a camera with a zoom lens, and remember the use of flash is not allowed. While in the rainforest, you are also asked to keep your voices down.
Should you be ill or have a cold, do remember that you may be refused participation. Since gorillas are genetically so close to humans, they are susceptible to many of the same diseases. As there are only about 700 mountain gorillas left in the world, their safety comes first.
Hiking in the area.
Walk from Buhoma to Nkoringo (5 hours walk, through Bwindi forest, guide required, and permits). Walk from Nkoringo to Lake Mutanda (3 hours walk) (one lodge to stay in on the lake) (dug out canoe with boatman needed to cross the lake, 3 hours, gorgeous scenery, check the weather isn't stormy) to Kisoro (one hour from lakeside). No guide required for the walk from Nkoringo to Kisoro, plenty of people around to ask the way, porters available in Nkoringo village. Note: sadly the local trekking company does seem to be running a scam of overcharging customers for services and accommodation, doubling prices (observed November 2010), the guide is a superfluous 'middle man', whereas porter knows the way and offers a genuine service. From Kisoro you can take transport to Mgahing National Park to climb any of the three volcanoes.
Sleep
address: Buhoma, Bwindi Impenetrable National Park

This Intimate exclusive high end safari camp with a breath-taking view of the Bwindi Impenetrable Forest is located at Buhoma - Bwindi Impenetrable Gorilla National Park on a Mountain side. The camp has been constructed and built to the highest standards whilst retaining sympathy with the local surroundings.
phone: +256 (779) 806 583

address: Muko-Ruguburi Road Ruguburi Town Kisoro District, Uganda

close to Rushaga (20 mins drive) and Nkuringo (45 mins drive). 40USD Single, 60USD double, 10USD camping able to assist with permit
Lodging
Stay inside the UGA quarters which offers 2 reasonable accommodation lodges, with hot water, decent breakfast and they prepare a nice lunch pack to take to the gorilla tracking. The whole point is leave the money in the community and preserve the region.
Camping
Backcountry
Stay safe
Though Bwindi is relatively safe, kidnappings are rare but do happen. For an idea of the risk of visiting places in Uganda (piratically by the ""Democratic Republic of Congo"" border), see the documentary about Mark Ross and his struggle against the Interhamwe on the Locked Up Abroad: Uganda episode.