Côtes-d'Armor
Cotes D'Armor Department
is in Brittany
France
.
Cities
Understand
Formerly known as Cotes du Nord this department offers a rich abundance of coastal resorts, fishing ports and interior working. The interior is largely agricultural and dotted with small villages.

Talk

As in the rest of Brittany, the language is French, though many locals may also speak Breton and English.

See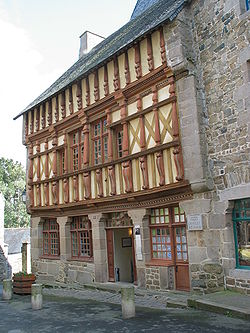 La Roche Derrien - Tregor
Do
Visit the beautiful Pink Granite Coast - Cote de Granit Rose. The coast offers an abundance of beautiful vistas, ranging from amazing pink granite outcrops through to gloriously sandy beaches.

Eat
Brittany offers local specialities such as fresh seafood and fish, especially coquille st jacques, fresh mussels and oysters. For dessert try crepes, with numerous fillings.
Go next