Ca Mau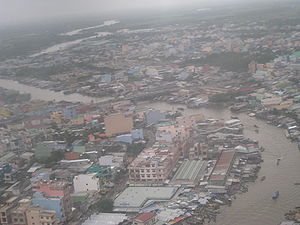 Ca Mau
(Cà Mau) is the capital of Ca Mau Province in the
Mekong Delta
. It is the southernmost city of mainland Vietnam. The population is around 278,000 (2015).
Understand
The city is characterized by its system of transport canals and most goods are transported here by boats and barges. The majority of its residents is ethnic Vietnamese, with 300 Khmer Krom households and 400 Hoa households. Ca Mau is accessible by road (350 km southwest of Ho Chi Minh City) via National Road 1A or by air (Ca Mau Airport).

Get in
By plane
Cà Mau AirportThere is a flight to Ho Chi Minh City (takes off from HCMC at 06:00, takes off from Ca Mau at 07:30, ticket costing from USD60-80.
By bus
Phuong Trang, Mai Linh, and Tuan Hung provide sleeper bus service from Ho Chi Minh City, costing 205,000 dong. You should book the ticket some days before departure day. Phuong Trang pick you up at 328, Le Hong Phong, District 10 or at the Mien Tay Bus Station. Tuan Hung and Mai Linh pick you up if you are in inner urban Ho Chi Minh City.
From Rach Gia there are hydrofoils leaving Rach Gia at 14:00 (110,000 dong, 3 hours) and several buses.
Cà Mau central bus station

address: Phường 6
Get around
It is small enough to walk.

See
There is a bird park (
Lâm Viên
) in the city with thousands of birds nesting there. Nearby destinations include U Minh National Park (about 20 km from the city) and Lower U Minh National Park, about 2½ hours by express boat. Both national parks protect wetlands.
U Minh National park is not primarily for visiting, but to preserve the fauna and flora. Follow the signs to U Minh Ho (26 km from Ca Mau) and you will drive. A motorbike or bicycle is needed, and there is a paved road with banana trees on both sides. You will see some long canals full of mangroves and a lot of colored and big birds, snakes and other animals can be seen. The area is surrounded by small canals, swamps and wetlands and it is not recommended to walk off the road. The road ends more or less in the centre of the park where a 'Ranger station' and small path can be seen. In the north of the park, accessible from the northeast road, there is a jail, and some prisoners can be seen doing useful work for the community.
Dat Mui National park is located 90 km in the south of Ca Mau. Can be reached by boat from Ca Mau (4 hours) or better from Nam Cam (1½ hours), be ready to pay an exagerate amount of money (rate between 2milions and 500,000 dong, it depends on your negotiations skills). A third option is possible and you need at least 2 from Nam Cam: by motoscooteer or dirty bike or mountbike. At the small roundabout of Nam Cam turn right and go straight, you will find a dirty road after that you will cross a new bridge then dirty road again for 1.5 km and then another big new bridge on the left. Just at the end of the bridge turn 180 right and after 100 m left. A dirty road, in a very good shape, and sometimes cemented road stars for about 6-7 km. Then the road ends. A small bridge take you to the last village of Vietnam and turn left and a small paved path is driving south to the peninsula and the national park, at the end turn right and after other 5 km. You are at Dat Mui.
Lâm Viên park

address: đường Ngô Quyền

Nice park with ponds, gardens and birdwatching area.
Buy
Co-op Mart is downtown, on Tran Hung Dao St.

Eat
Lang Toi on Nguyen Trai St.
Pho Xua, Phan Ngoc Hien St, good Vietnamese food.
Thanh Truc, next to Pho Xua, good Vietnamese food.
Drink
Bar New WorldDancing.

Bar NguyenDancing.

Chuong Gio Cafe

Huynh Huong Cafe

Quán cafe Linh Cà Mau (30-30A, Châu Văn Đặng Street, Ward 5)
Sleep
Ánh Nguyệt

phone: +84 780 3567666

address: 207 Phan Ngoc Hien

Best CM

phone: +84 780 3829828

address: 463C Nguyễn Trãi
Go next