Cabo Polonio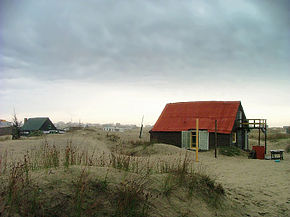 Cabo Polonio
is a village in the
Atlantic Coast
region of
Uruguay
.
Understand
Just a smattering of holiday cottages on the sand dunes, without electricity, water and sewerage. However, nowadays with increased tourist interest, accommodations are getting more and more comfort. Also, the hippie community seems to have moved on further north.

Get in
By bus from Rocha or Castillos, company Rutas del Sol. From the bus stop/information centre at the highway, take a 4WD working truck (U$230 return, plus U$100 for surf boards) to the village. The trucks leave at least every hour, sometimes every 20 min. There is no way to take private vehicles to Cabo Polonio, but you can instead walk the 7 km track, of which half is quite sandy.
Parking at the highway, from where the 4WD trucks leave, costs U$190 per 24 hr.
It is also possible to walk from Barra de Valizas (the next town to the north) through the sand dunes or along the beach to get to Cabo Polonio. The shortest route is 7 km, and 12 km along the coast. It should take about 90 min, but allow 2-3 hr. It's a very nice way to arrive.

Get around
Cabo Polonio itself and the beach can be walked easily.

See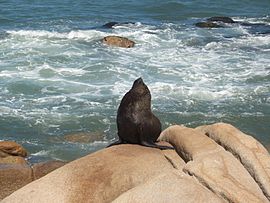 Colony of seals and sea lions
Do
Swim in the sea, sunbathe, talk with locals, and be nice.

Cabo Polonio LighthouseClimb up the lighthouse and enjoy the views of the town and the sea lion colony.
Buy
There is very little to buy. You can get some arts and crafts as well as basic food supplies at one of several small shops.

Eat
Bring your own food and cook in the little cabins which are rented and have simple kitchens. There are several restaurants which are only open in the summer, and a handful that are still open after peak season has ended. There is a minimercado with slightly inflated prices, they also accept foreign money.

Drink
Cabo Polonio has an active nightlive with bars and restaurants.

Sleep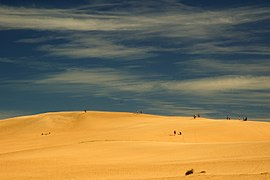 Due to the high (and sometimes a little overdrawn) tourist interest in this small town, prices have sky-rocketed in the recent years, making Cabo Polonio one of the most expensive places with budget accommodation along the Atlantic Coast. Especially during high season, the town's accommodation options often overtake most other places along the coast by 50 %.
Also, most people stay in a rented cabaña on the beach and not in one of the hostels. However, due to the unpredictable occupancy situation, you might risk not finding a place to stay when just turning up and calling the numbers signposted at the cabañas.
Some travellers have complained about things getting "lost" in hostels or their booking was not received due to unreliable Internet connection or electricity, so check the reviews.
phone: +598 99 000 305, +598 99 445 943

Dorms, kitchen use, bar, restaurant, 12 V light.
Plan B Hostel, near 4x4 terminal, dorms US$10. Kitchen use.
Cope
The beach at Cabo Polonio is spotted with dead seal cadavers from the nearby colony, which can be unpleasent.

Go next
Take 3 days and walk to
Punta del Diablo
, stopping off at the tiny villages along the way. Bring money!