Cabo San Lucas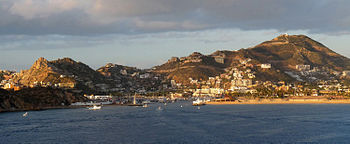 Cabo San Lucas
is a city at the southern tip of
Baja California Sur
,
Mexico
.
Cabo is a varied destination that captures the essence of Baja Peninsula in its many resorts, hotels, golf courses, dining and amazing outdoor activities.
Cabo San Lucas is a bustling hub for sport fishermen, cruise ships, handicraft vendors, water sport aficionados and nightlife seekers. The area is considered the second fastest growing resort destination in all of Mexico and particularly busy with visitors during the winter high season, November to February. With some of the best all-around sport fishing in the world and every water sport imaginable, Cabo is the ultimate destination for travelers looking for outdoor adventure.
There are three districts in "Cabo":
#
San Jose del Cabo
, the "Old Town", which is nearest to the airport. San Jose has old Mexico charm and some shining new resorts.
#
Cabo San Lucas
, the "Main Town", which is 20-some miles from the airport, and the entertainment hub of Cabo. The famous arch is in Cabo San Lucas.
#
The Corridor
, the highway which connects San Jose and Cabo San Lucas, which is now lined with golf courses, condos and resorts situated along the coastline.
By night, Cabo San Lucas is one of the hottest party towns in Mexico with a glittering nightlife and a plethora of dining options that make energetic Cabo San Lucas an all-time favorite. Also called Cabo San "Loco" or just plain "Cabo", the town's reputation as the wild party center of the Baja Peninsula has brought fame and infamy to its many bars and nightclubs.
Get in
By plane
If you'll be staying for more than a day (e.g., not as a passenger on a cruise ship), flying is the preferred means of travel to Cabo. The regional airport,
Los Cabos International Airport
(
SJD
), (624) 146-5111, is located outside of San Jose del Cabo and will take approximately 30–45 minutes to travel to Cabo San Lucas.
For general aviation or private jets, Terminal 2 is used. It has 14 gates: 7-20. Air taxi and air charter companies such as Jetset Charter fly a variety of private charter aircraft and jets, from charter luxury Gulfstreams down to economical piston twins for small groups and individuals.
All the major American airlines fly to the airport, as well as, Aereo Calafia, Aeromexico, Alaska Airlines, Frontier Airlines, Interjet, Volaris and the Canadian Air Transat & WestJet.
If you plan on arriving to Cabo by plane, a transfer bus is the cheapest method to get to your hotel if you do not plan on renting a car. A reservation for a transfer can be made before arrival and is significantly cheaper than a taxi. There are buses at the airport charging per person for a ride to the resorts of Cabo which can be had without prior reservation. Public bus Ruta Del Desierto is the cheapest means to get to Cabo San Lucas, boarding the bus will be from Terminal 1 (domestic). Bus will stop at Puerto Paraiso Plaza (mall) in Cabo San Lucas. It also services the opposite direction. Boarding is at Puerto Paraiso Mall, the difference is that the bus will stop at both Terminal 1 and 2 (domestic and international passengers, respectively). Cost is M$80 (pesos) per person from Puerto Paraiso to the airport.

By boat
Cruise ships call very frequently. All must anchor/moor offshore, so passengers must be ferried to shore. Those who plan to arrange independent tours need to consider the time that ferrying takes for tour start, and for tour end to ensure they can return to ship on time.

By bus
Regional bus service is provided by Autotransportes Aguila with frequent departures from La Paz, San Jose del Cabo and several other nearby cities. is on Carr. Todos Santos, north of the city centre.

Get around

Taxis are readily available and rates are negotiable.
One of the best and most exciting ways to travel around Cabo is to rent a BMW motorcycle. Cabo BMW Rentals rents BMW motorcycles as well as scooters and they will provide helmets. You can ride north out of the tropics to Los Barriles which is a great stop for a bite to eat or walk on the beach. It's called the "Cabo Loop" which consists of a 320-km (200-mile) paved ride, starting in Cabo San Lucas and going through the larger cities of San José del Cabo, Los Barriles, Todos Santos and returns to Cabo San Lucas.
There are many car rental agencies in Los Cabos, most of which have names familiar to travelers in the Americas. If you are staying in a villa or plan on many day-trips that are not covered by a resort or timeshare shuttle, then a rental will likely be the most cost effective.

See
Filled with natural landmarks and a number of prominent monuments, the city of Cabo San Lucas has plenty of character, particularly around its coastline. From January to March, a must see is the whales, they come to Cabo during this period of time and many boats can take you out to sea to watch them. In early March, they are particularly abundant.
Land's End— Known for its exceptional views and photo taking opportunities, this area is comprised of a large cluster of rock formations that were carved into fantastic shapes by wind and sea. During low tide, many visitors like to walk here along Playa del Amor (Lover's Beach) because it allows for a better view of an eroded passageway called the Arch of Poseidon. You can also observe Los Frailes, two rock islets that are frequented by sea lions.

Church of San LucasBoasting many original features, this church, almost 300 years old, has been well maintained.

Cultural CenterFeatures a tall mirador tower and is surrounded by beautiful gardens and overlooks all of Cabo.
Do
Scuba Diving & Watersports
Scuba diving Is especially good in Cabo, because you can watch the sandfalls under the water. It is an amazing spectacle provided by nature. If you are looking for something more relaxed perhaps you want to go to Lover's Beach or to one of the multiple romantic restaurants in Cabo.
Cabo is also a good surfing destination, since many of the beaches on the east cape road pick up the southern swells. The beaches are accessible through the coastal road on the way to cabo pulmo. Particularly, shipwrecks beach is a favorite spot during the summer months.


Fishing
Cabo is known around the world as a top fishing destination. The meeting of the waters of the Pacific ocean and the Sea of Cortez creates a nutrient rich environment where sport fish thrive. Marlin, sailfish, tuna, dorado and wahoo are the most commonly targeted species. Cabo boasts one of the largest sport fishing charter fleets in Mexico. Charters range from pangas, open "semi-dorry" type skiffs, to 18 m (60 foot) or more luxury sport fishing yachts. Prices for a day of fishing start around US$175 for 5-hour panga trips, from US$450 for 8-hour trips on 26-30 footers and into the US$1,000 to $5,000 per day for boats from 34–60 feet.


Cruises
Other activities
Buy
With boutiques as easy to come by in Cabo as restaurants, its a shoppers delight.
The plazas of
Puerto Paraiso Shopping and Entertainment Plaza
and the adjacent
Marina Cabo San Lucas
offer a variety of shops and goods with an affable ambiance.
Shoppes At Palmilla
offer a selection of high-end boutiques. The stores here include day spas, art galleries, fine restaurants, coffee shops, an amazing bakery and homemade crafts.
San Jose del Cabo features traditional Mexican speciality stores which offer furniture, hand blown glass, ceramics, artwork, cigars and local souvenirs.
Die Trying, Plaza Naútica, Loc. # A7, tel 143-5388. For something other than your standard tourist t-shirt, try Die Trying for fun, quirky line of men's, women's and children's t-shirts and casual wear.

phone: +52 624 143-6399

address: Hidalgo street

The Golden Cactus Gallery opened in 1997 as a fine art gallery and artist studio. The gallery showcases hundreds of works of art from artists from Baja, Mexico, USA and Canada. In 2009, the gallery was acquired by long-time resident Marie Celyne Poupart.
Eat
phone: +52 624 143 2022

address: Blvd. Marina s/n

It's hard to miss this lively restaurant that is always packed and upon dining here, you'll understand why it has maintained its popularlity for so long. With the chef combining French-influenced cuisine of Swiss origin with hints of the tropics and Mediterranean, the menu offers something for just about any palate and craving. Be sure to try the shrimp tempura with a Thai coconut-chile sauce, its taste and freshness will satisfy.

phone: +52 624 143-2017

Charming family run Mexican and seafood restaurant.

Peacocks restaurat (grupo Mi Casa)Peacock's Restaurant - a European restaurant in Cabo, the food is just delicious!

Brasil Brazilian Steak houseA buffet style steak house. Good for large groups.

La DolceItalian restaurant and pizzeria serving authentic Italian cuisine in the heart of Cabo. Open for dinner only and contains standard Italian fare. Also located in San Jose del Cabo.

AmaroneWith a variety of Italian apertifs on offer, Amarone offers a traditional Italian vibe, complete with the Italian chef at the helm. All pastas are hand-made as are bread and all desserts. Expect to spend about US$35 per person.

phone: +52 624 143 1933

address: Av. Cabo San Lucas s/n

Popular Mi Casa is well-known for its Mexican dining experience and provides a taste of old Mexico. The atmosphere is friendly and funky and the staff are efficient and quick. The restaurant does allow street vendors to peddle their fares at your table though.

El PatioMexican food located at Presidente Intercontinental in San Jose Cabo.

El CoralMexican and seafood. Oldest restaurant in Cabo. On the west end of the main street. Good prices and good food.

La Casa CountryMexican food. The best fajitas in town. Line dancing show included.

Mariscos de MazatlanVery good seafood with good value pricing. It has an open-air palapa at least in part.

Tacqueria MarissaTasty steak tacos and the best condiments to accompany them, including whole roasted jalapenos, caramelized onions, guacamole, and every color and variety of salsa imaginable. Great to meet the locals as well.

Nikk SanSome of the freshest sushi in the area. Make sure to sit at the sushi bar and ask the sushi chef what is good that night.

phone: +52 624 14-434-19

Butler and Chef Services bring great dining to you in the privacy and luxury of your vacation villa or condo in Los Cabos.

phone: +52 624 143-2891

address: Hidalgo & Emiliano Zapata

Great Mexican/Sea food and the largest collection of Tequilas in the world with over 500 labels.

phone: +52 624 1457800

Poolside dining featuring international cuisine. Live DJs on weekends.
Drink
No Worrys Bar & Grill

phone: +52 624 143-8575

address: Blvd. Marina, E/V. Guerrero and Madero

Located inside the 27-m (90-foot) lighthouse at Cabo San Lucas Marina, it offers a single VIP table at the top of the lighthouse tower. Well known for their relaxed attitude, sizzling sauces, awesome food, outdoor grill and deck seating. The second floor lava lounge provides private window seating and marina views.

Mango Deck Beach ClubIf you're looking for a "Spring Break" type atmosphere with bass-thumping music and bikini clad girls dancing on stage for a bucket of beer, then the Mango Deck is your spot. However, be mindful that the drinking age in Mexico is 18 and most of those girls on stage (especially in the summer) are pre-college high schoolers either on spring break or celebrating graduation. Adults may find The Office more appropriate.

The OfficeLocated right next door to the Mango Deck, The Office is a more adult setting offering big blue umbrellas to shield you from the sun and an assortment of appetizers to accompany your margarita or Modelo Especial. With tables and chairs right in the sand, the office has become a famous watering hole in Cabo. The Office does not allow beach vendors to solicit you at your table.

Slim's Elbo Room

address: Just down the street from the Giggling Marlin. Hole in the wall so it's easy to miss

Size does matter at this bar, which claims to be the world's smallest bar with four seats only and standing room for two. Drinks are served straight up as well as beer. Visitors like to tack a dollar to the wall with a stamp that says 'I was here'.

The Giggling MarlinGotta check it out. They hang you upside down by your ankles and you drink a shot. Great lunch and dinner menu. Try the fish tacos and house-made salsa!

El Squid RoeThe best bar in the town. Loud, obnoxious, but thats why it's fun. Very touristy; people of all ages get up on tables and dance. Cocktail waitresses walk around with a whistle in their mouth to get your attention while they sell jello shots. This bar is multi-level and plays a variety of music. Very popular bar; if others are not hoppin' this one will be!

Cabo WaboOwned by Sammy Hagar, who performs occasionally, Cabo Wabo is famed for consistently providing patrons with a good time. They play the rock loud, and with attitude, but thankfully the staff are friendly and quick to serve.

Pink KittyWay too similar to a metro US city club scene. Go somewhere with more character.

phone: +52 624 143-2891

address: Hidalgo & Emiliano Zapata

Great Mexican and seafood and the largest collection of Tequilas in the world with over 500 labels.

Two For The Road

phone: +52 624 143-7759

address: Hotel Tesoro ~ Cabo San Lucas

A Jazz Night Spot for the over 30 crowd and for those searching for a place to go in Cabo, either before or after dinner to enjoy great cocktails, wine and Jazz Martinis with sophisticated live entertainment and pleasant conversation. Unique ambience and intimate Jazz Night Spot like no other in Cabo San Lucas located on the Marina side of The Hotel Tesoro Monday through Saturday, 8PM to midnight. Live music nightly, 9PM to midnight. It is located between Solomon's Landing & "No Worry's" Lighthouse Restaurant. Validated one hour free parking in Hotel Tesoro parking lot.

phone: +52 624 143-0404

address: Marina Blvd 22

Happy Ending is located on the "50 yard line" in the middle of Cabo's action. Cheap drinks. Three bars, stripper poles, beer pong tables, pool tables, dancing, music, satellite TV for sporting events, delicious food all day and all night, cleanest bathrooms in Mexico, handicap access. ATM on the premises. Opens at 10:00 and closes at 3AM everyday.

phone: +52 624 143 5501

address: Marina Blvd s/n Las Cardenas

International cuisine with global influence. Beautiful ambience and design. Great venue for dinner with family, friends, or dates. Kids under 10 not recommended.

The Usual Suspects

phone: +52 555 102 4500

address: Main Street across Puerto Paraiso Mall

The Usual Suspects is the only bar with a High Definition 100 inch screen in Cabo showing every NFL, NHL game, PPV, etc. Its oval shaped bar invites everybody to meet everybody, friendly and English speaking bartenders, clean bathrooms and a dance floor under the stars will make your Cabo nights unforgettable.

UNOMASThe best margaritias in Cabo. The drinks are US$3.50 each and beers are US$2. The beers are cold and the company is warm and friendly. This place is hard to find but a great place to hang out. Owned by Fernando and Gina, also the bar tenders, these two ensure the success of the bar by tasting, with their own straw of course, every drink prior to serving them. This ensures that their mix is always right.

The SandbarVery nice place to spend a day on the beach drinking cold Pacificos (sold in an ice filled bucket) People are very nice and the service is great.
Sleep
Budget
Cabo Inn, 20 de Noviembre and Leona Vicario, Cabo San Lucas 23410 - A charming, bohemian and clean hotel with communal kitchen, BBQ, and a small rooftop pool. The management are friendly and helpful, and the guests tend to be as well. It is a few blocks from the beach, marina, and many of the drinking establishments. The two "honeymoon suites" are double the price of the average room here but still a bargain. There are large open air palapas, one of which has a private jacuzzi.
Seven Crown Hotel, Blvd. Lazaro Cardenas y 16 de Septiembre | Col. Centro - Nestled in between a gas station, a liquor store, and a strip club. Across the street is the hospital. Has four locations. A great deal, its the closest hotel to all the bars, and you can just walk to the Riu Resort and get free drinks every day.
Mid-Range
Casa Piedra

phone: +52 661-296-1946

Within the Cabo Pulmo Marine Park. An all native stone house with a palm frond (palapa) roof, located with the Cabo Pulmo Marine Park, directly on a white sand beach. It has 2100 sq ft of living space with an equal amount of outdoor patios.
El Nido Hacienda Escondida, Road towards Sunset Beach | Blvd. Miguel Angel Herrera & Callejon el Dorado, Cabo San Lucas 23450 - Located on a quiet cul-de-sac, three blocks away from the original town square and five blocks away from the marina. Six spacious decorated rooms, each with its own bathroom, are located around a central courtyard. Full breakfast, jacuzzi, gardens, roof-top sun deck, barbecue facilities, and a spectacular sunrise-sunset vista. There is also a beauty salon on premises.

phone: +52 624 145 6800

address: Boulevard San Jose Mz. 22 Lote 10, Zona Hotelera, 23400 San José del Cabo, B.C.S.

Blvd San Jose Lote #10 Campo de Golf, Z.H. . 390 rooms Mexican hacienda-style resort a five-story building in a U-shaped enclosing gardens and pools. Unlimited meal and beverages in 5 restaurants. Dinner shows and theme nights. 3 pools with heather system (including relaxes & kids pools). Spa and beauty salon. Beach front and indoor jacuzzi. Fitness center. Tennis and basketball courts, also beach volleyball court. Scuba diving demo at the diving pool. Kids club & Mini Water park. Weekly activities program for all ages.

Marina Sol

phone: +52 624 143-3231

One block from Medano Beach and the Marina and just two blocks from Downtown Cabo. Marina Sol offers one to five bedroom condos with partial ocean, pool &courtyard, and town & sunset views. Family oriented condominium resort.
RIU Palace Cabo San Lucas, Camino Viejo a San Jose, Cabo San Lucas 23410 - Has impressive architecture and 642 deluxe rooms are set in a spectacular enclave facing one of Los Cabo's famous landmarks. Amenities include mini-bar and liquor dispenser, while some suites boast hydro-massage bathtubs and a jacuzzi on the terrace. This resort includes all-inclusive holidays, with facilities and a full range of sports and leisure alternatives, and on-site dining. The hotel was just certified an AAA Four-diamond hotel.
Tesoro Resorts Los Cabos, Marina Lotes 9Y10, Col Centro, Telephone: US/Canada: 1 866 998 3767 or Mexico:1 800 837 6767. All inclusive Mexico resort hotel. Looks onto the marina, lighthouse or the Sea of Cortés from your balcony. No airport shuttle service. Internet, fitness center, spa, activities desk, large pool, parking, air conditioning. All inclusive packages are offered.
High-End
Ultra High-End
address: Camino Del Mar 1

A five-star resort featuring villas with private plunge pools, restaurants, a full-service spa and elegant beachfront space for weddings and meetings. This resort is set on a private beach near the downtown retail district.

phone: +52 624 1442800, +1 888 767-3966 (Res)

address: KM 19.5 Carretera Transpeninsular, San Jose del Cabo

World renowned five-star resort that offers expansive suites, spa, meeting and wedding facilities, horseback riding, sailing, surfing, snorkeling, and scuba diving.

address: Carretera Transpeninsular km 7 Manzana 10, Punta Ballena

Five-star Auberge Baja-style resort featuring 50 oceanview casitas and six luxury suites with large outdoor terraces and Sea of Cortez views. Luxurious touches include fine linens, plush robes and over-sized bathrooms.

One and Only Palmilla

phone: +52 624 146-7000

address: 5 carretera Transpeninsular SJC

This five-star resort is a splurge, but well worth it with exceptional accommodations all with ocean views, and an exceptional golf course.
Stay safe
Do not beach walk at the water's edge on the Pacific side. This area is very treacherous, and huge waves can come ashore with little to no notice. This danger does not end at the "El Arco" point, but extends to all south-facing beaches as well, including the Pueblo Bonito and Riu Palace resorts.
As a general note, avoid back alleyways, especially at nighttime. Watch for pick pockets in the nightlife areas. Only accept rides from licensed taxi drivers.

Go next
The main beach of Cabo San Lucas, called "El Medano" (Medano Beach) is located near the marina in the bay. On the beach there are some great places to eat and drink including The Office, along with many others most of the places have outdoor tables on the beach. The beach overlooks Lands End. You can also take a ride to Lands End by boat and also Lover's Beach, one of the best beaches in the world.
Explore small towns surrounding Cabo:
San Jose del Cabo
,
Todos Santos
and
La Paz
are rich with history and make a great excursion. The nearby town of
Todos Santos
is a perfect side trip from Cabo. Todos Santos is a small community with approximately 4000 people. The town is filled with art and culture. The town is a tribute to the Eagles 'Hotel California', with its old colonial architecture and centuries old monastery one is transported back through time to a land of mystery and adventure. Stop at Elias Calles on your way home and pick a basket of organic strawberries.
La Paz
is an old Mexican port with an 'old Baja' feel. It features in John Steinbeck's novel
The Pearl
based on a Mexican folk tale about the areas most valuable natural resource. Its anthropology museum offers insights into the first inhabitants, 10,000 years ago. You can also see rock paintings dating back to these early settlers.