Cabo de Gata-Níjar Natural Park
Cabo de Gata-Níjar Natural Park
is in the
Almería
province in the
Spanish
region of
Andalucia
.
Understand

History
The natural park's arid landscape has long been used for iconic cinema. Major scenes from epics such as David Lean's
Lawrence of Arabia
and Steven Spielberg's
Indiana Jones and the Last Crusade
were filmed in the park and, due to the arid sub-desert landscape, there were a great many 'spaghetti westerns' filmed or partially filmed in the park, the most notable example being Sergio Leone's
The Good, the Bad and the Ugly
.
Landscape
The park is predominantly a landscape of low mountains and cliff-lined coastline. It is one of the driest regions in Europe and as such is extremely arid to the point that it is classed as a sub-desert. Along the coast, there are also sandy beaches and salt flat lagoons.
Flora and fauna
Due to the park's arid climate, all the flora is highly specialised to the conditions. There are few trees and only a little grass but there is an abundance of low-growing scrub bushes and succulents such as cacti and prickly pears.
The most interesting fauna includes flamingos, found in varying numbers throughout the year on the salt flats near Cabo de Gata town, and Bonelli's eagle, usually seen from a distance soaring over hilltops. There is a type of spider called the 'tarantula' (actually the European wolf spider) living in the park, but it is not like the classic 'giant' tarantulas found in tropical regions of the world and is in fact only 2 cm (5 in) across and not dangerous to humans.
Climate
The area has an arid climate with an average annual temperature of about 18 °C (64 °F) and an average annual rainfall of 156 mm (6.1 in).
Get in
By plane
Almería Airport
, at 30 km from San José in the heart of the park, is the closest airport to the Cabo de Gata. It is mostly served by low cost airlines from the UK and northern Europe but there are also some internal flights from other Spanish cities operated by Iberia and Vueling.
Other airports that are at various distances further afield, but can still be used to access the park, are those at
Granada
,
Murcia
,
Málaga
and
Alicante
.
Get around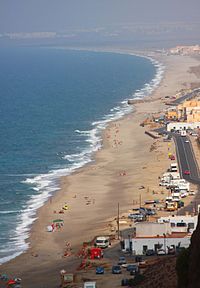 See
The Salinas with their church. The church is comprised within a perimeter rectangle whose center raised a terrace elevation on which the temple was built. The bell tower is attached to the corresponding wall next to the Gospel. The main façade looks southeast, oriented towards the saline neighborhood, the Sierra de Gata and the lighthouse. Curiously, the churches of Cabo de Gata and Las Salinas open their doors in opposite directions, as if ignoring each other. The set consists of several differentiated architectural zones according to their functionality.

Do
See the church, take a bath in the beach and the eat fish in a typical restaurant in the area.

Sleep
Lodging
Camping
Backcountry
Go next