Cabo de la Vela
Cabo de la Vela
is a fishing village in
La Guajira
in northern
Colombia
.
Understand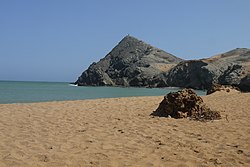 Cabo de la Vela (Spanish for "cape of sails") is a headland in the Guajira Peninsula with an adjacent small fishing village. It is a popular ecotourism destination of the Caribbean Region of Colombia. The cape is surrounded by the La Guajira Desert, several saline lagoons and mudflats visited by large populations of American Flamingos.
Although old electrical lines beckon to a more prosperous past, the town's infrastructure has since fallen into disrepair. All electricity is provided by individual generators and may only be available for a few hours per day. In budget and even mid-range establishments, running water may not be available for washing or toilets.
Get in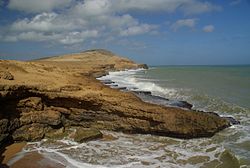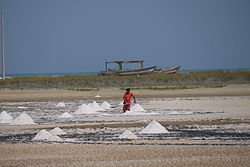 From
Maicao
, get a
Riohacha
bound bus and ask the driver to drop you off at Cuatro Vias (COP$2,000). Then head north to
Uribia
on a shared taxi (COP$5,000 - June 2019). From there catch a 4-wheel drive
collectivo
to Cabo de la Vela (COP$25,000 - June 2019) and the driver will drop you where you need in town or at one of his friends' hostel. Make sure to get to Uribia by the early afternoon to make the connection. Likewise, transportation back to Uribia universally leaves at 04:00 from Cabo (but not on Sundays). The main purpose of these vehicles is taking locals to work in Uribia and elsewhere, hence the early times.
From
Santa Marta
or
Riohacha
there are
tours to la Guajira
which include the visit to Cabo de la Vela, the marvellous beach of Pilon de Azucar, the salt complex of Manaure, and sometimes also Punta Gallinas, which is the most northern point of South America. However, these tours are vastly more expensive than doing the trip on your own. Also, you spend a lot of time in the tour bus.
From
Valledupar
, get a shared taxi to Cuarto Vias (COP$15,000), and then you can follow the instructions above to get to Uribia.
See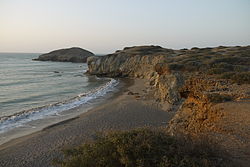 Pilon De AzucarGreat views over the northern coastline can be seen after a 15-minute hike on the Sugar Loaf Mountain. For many visitors of Cabo the attached gold-sand beach is the most beautiful of the area. Cold drinks and snacks are available.

Faro Cabo de la VelaStunning sunsets can be seen at the lighthouse. From town it is an 1 hour walk to the north.

Ojo del AguaA beautiful half-moon shaped beach surrounded by 5-meter-high cliffs. Its name comes from small fresh water pool holy for the Wayuu people.

Manaure salt flatsSee the white salt fields next to the city of Manaure.
Do
KiteboardingTowards the north end of town, about a half dozen shops offer kiteboarding rentals and lessons. The sheltered bay and offshore winds provide ideal conditions for learners and experts alike; on a given day there may be twenty or more kites over the water.
Buy
Wayuu artesanias, it's hard to escape the sellers.

Eat
Seafood is the number one and only option and lots of beach restaurants have fresh langostas and fish on the menu.
Best option if you like langosta is to buy it directly from the fishermen when they arrive on the beach. Prices start at COP$15,000 per kilo and can be bargained down. Ask them to boil them for you and eat them with lemon. You can also find a fantastic fruit stand on the main street that makes amazing juices and fruit salads.

Drink
There aren't really any bars, in Cabo de La Vela, however Beers (Club Colombia & Agullia) can be purchased for around COP$2,000.

Sleep
Numerous and very similar hostels are lined up on the beach where you can sleep in hammocks, dorms or private rooms.
phone: +57 312 630-6637

One of the best choices in Cabo with a few decent cabanas and a great restaurant.

El Caracol

phone: +57 314 569-7037

Four cabins about 3m from the ocean and a great restaurant that serves 500g of lobster for COP$25,000. There are also hammocks at a cheaper rate. Fresh water and a bucket is provided for showers.

Rancheria UttaRun by a Wayuu family - a truly unique and wonderful place to stay.
Connect
WiFi is generally not available, partially due to a lack of reliable electricity. However, the town has basic mobile phone coverage.

Stay safe
In the past Cabo de la Vela was not affected by presence of paramilitary groups and guerrillas as other parts of Guajira close to the Venezuelan border. There is a Police station on the beach, and it is frequented by middle-class families from Bogotá during the Christmas high season. Like any tourist destination use common sense.

Go next
On Sundays, collectivos stop early but you can get a ride out of the peninsula when the tours start heading back to Riohacha.