Cache Creek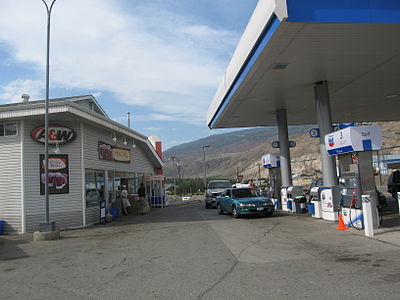 Cache Creek
is a very small town of less than 1,000 people (2016) in
British Columbia
. It is little more than a few gas stations and restaurants at the junction of Highway 1 (east and west) and Highway 97 north to
Prince George
. The closest city is
Kamloops
, about 45 minutes east. Cache Creek is the starting point for exploring the
Cariboo-Chilcotin
region of British Columbia.
Understand

The name is derived, apparently, from a cache or buried and hidden supply and trade goods depot used by the fur traders of either the Hudson's Bay Company or its rival the North West Company. A Cache Creek post office was first established here in 1868.
Although still very active with traffic, Cache Creek was extremely busy for a few decades before the Trans-Canada Highway was superseded by the newer and shorter Coquihalla Highway, which bypasses the Fraser and Thompson Canyons between Hope and Kamloops via Merritt, about southeast.
The nearby fossil locality, the McAbee fossil beds, is noted for the wide diversity of Eocene plants and animals preserved in the shale, including the extinct plants Dillhoffia and Trochodendron drachukii.

Get in
Get around
The town is very small. You can see everything wandering around on foot.

See
phone: +1 250-457-9722

address: 99 Hwy 97 Hwy

Historic Hat Creek is on one of the few sections of the original Cariboo Wagon Roads still accessible to the public. The ranch includes almost 130 hectares (320 acres) of fields and hills. The buildings stand as they did in 1901; some were built as early as 1860. Between 1885 and 1905 they witnessed the busiest era of transportation along the road, serving the needs of freight wagons and passengers of the BC Express lin. Explore this era through the exhibits and special interpretive activities presented by the staff.
Do
phone: +1 250-457-6794

address: Highway 1

This 260-ha park protects a representative desert landscape which contains sagebrush, prickly pear cactus and juniper. Part of the landscape includes deep post-glacial deposits and large scale erosion features. It is a convenient overnight camping spot for travellers on Hwy #1 and provides access to the Thompson River. The CNR and CPR railway tracks run by the park and provide an attraction to train-buffs. This park is also a popular base camp for visitors enjoying boating, fishing, photography and touring historic Hat Creek Ranch and Ashcroft Manor, both nearby. Vehicle-accessible camping is available May-Sep, $23 per party per night. It can booked online. Only one pit toilet is wheelchair accessible. Roads and campsites are gravel.

phone: +1 250-378-5334

A small, quiet campground, set between two small lakes. This 355-ha park is popular with fishermen and birders. Nestled in the rugged Pavilion Mountain Range, the white, chalk-faced slopes of its limestone canyon is a rather rare geological formation in British Columbia. The weathered peaks, surmounted by Chimney Rock, have the appearance of a crumbling castle wall. This canyon was once part of a Pacific island chain, another section of which lies in the northwest corner of the province. The campground is accessible but may not offer full services such as water, security) year-round. Full services and fees apply May–Sep. There are 30 high-density vehicle/tent accessible campsites on a first-come, first-served basis – campsite reservations are not accepted. Vehicle-accessible camping fee: $18.00 per party per night. During the camping season, overnight visitors can pay at the campground by depositing cash in the envelope and place in the vault provided at the water pump. Staff will be at the campground at least once a day during the camping season.
Buy
phone: +1 250-457-6546

address: 2540 Cariboo Highway 97

Home-made bread, pies, soups, sandwiches, farm-fresh produce, canning.

phone: +1 250-457-9566

address: 1093 Todd Rd

Wide selection of jade jewellery, carvings, other semi-precious stone items, gifts, souvenirs, moccasins, greeting cards, and local books.
Eat
Heartland Restaurant

phone: +1 250-457-9330

address: 987 Trans-Canada Hwy

Greek and Mediterranean.

Star House Restaurant

phone: +1 250-457-9328

address: 854 Trans Canada Highway

Chinese.
Sleep
phone: +1 778-403-5554

address: 987 Hwy 1 South

Pet-friendly suites, free high-speed Internet access, on-site restaurant, smoke-free hotel, wheelchair accessible.

Canada's Best Value Inn & Suites-Desert Motel

phone: +1 250-457-6226

address: 1069 South Trans Canada Hwy

Pet-friendly, guest laundromat. All guest rooms are equipped with free wireless high-speed Internet access, microwave, mini-fridge, coffeemaker, cable TV. ​​​​​​Non-smoking rooms.

Sage Hills Motel

address: 1390 Cariboo Hwy 97

Free Wi-Fi and a refrigerator in rooms. A seasonal outdoor heated pool and a garden with BBQ facilities are offered. Free in-room coffee and tea are provided. All air-conditioned rooms offer ground-level access. Guests can make food in the morning by using the public kitchen with provided ingredients such as eggs, waffle mix, bacon, loaf of bread, and yogurt. Laundry facilities and non-smoking rooms are available.