Cachora
Cachora
is located in the department of Apurimac just off the road between
Abancay
and
Cusco
. It is the most popular starting point for travelers who want to see the amazing newly rediscovered Inca site
Choquequirao
.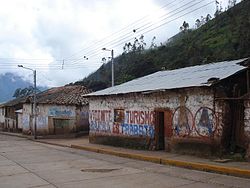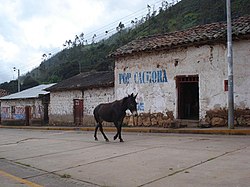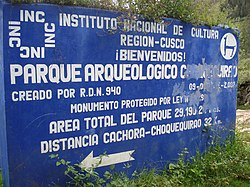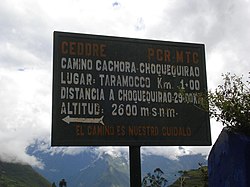 Get in
Buses leave for Abancay from Cusco at 05:00, ask the driver to stop at the turn off for Cachora, just past Saywite. You need to take a taxi from the main road to the town. Taxis often wait for the people from the bus, except on Sunday when you might have to wait an hour.

See
SaywiteA small archealogical site, its most significant feature being a monolith with many different creatures carved into it. From coastal regions the stone features creatures such as the pelican and crab, from the mountains, the condor and llama and from the jungle, the monkey, jaguar, iguana and birds.
Do
Hike to Choquequirao (two days each way with the option of continuing to
Machu Picchu
).
Buy
There are some small stores where you can buy basic food and drinks. Biscuits, eggs, vegetables, bread, water, Inka Cola.

Go next