Caen
Caen
is the capital of the Calvados department in northern
France
. With a population of 115,000, it is the largest city in
Lower Normandy
.
Understand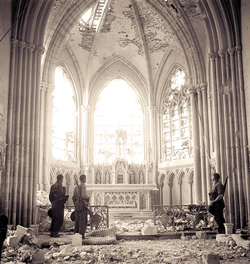 Caen is a college city and thus very active. It is a modern city; four-fifths of it was demolished in 1944 and rebuilt in the 1950s and 1960s. However, some old buildings remain, especially churches.
In summer, tourists (mainly British and German) gather in Normandy for Second World War memorials and the Memorial for Peace. Caen is an excellent base for visits to the
D-Day beaches
.
Caen itself and the surrounding area saw
intense fighting
starting shortly after the landings on June 6, 1944. The village of Carpiquet, which is a bit west of Caen near the ring road and the E46 highway, has the Caen airport so it was strategically important and also saw heavy fighting.
Get in
By car
From
Paris
, by A13 (toll).
From
Cherbourg
by N13.
From
Rouen
, by A13 or N175 (toll).
From
Rennes
, by A84.
From
Tours
and
Le Mans
, by N138, via N158, at Sées.
By train
Trains leave about every 2 hr from
Paris
Saint-Lazare station to Caen and Cherbourg. The trip takes about 2 hr and costs €33.30. If you book early, you can get tickets as cheap as €15. Out of rush hours, tickets cost €22.40 for people under 25.
The train posting in Paris St-Lazare can be confusing to the first-time traveller. The train line number ("la voie") is not posted unil 15-20 min before the departure, so do not panic if you arrive earlier than that (notice that the train will be at a line number near the office "Grandes Lignes"). Look for the train heading to Cherbourg. Caen will not be the listed destination, as it is a stop along the way. Do not forget to punch ("composter") your ticket in one of the yellow machines before boarding to validate your ticket.
Caen's train station is a 15-20 minute walk from the centre of the city, and is served by public transport frequently.
By ferry
Ferries cross the Channel from
Portsmouth
(UK) to
Ouistreham
, 15 km north of Caen with buses from the ferry terminal to Caen train station.
By plane
Get around
The
bus verts
will get you around Normandy easily. Within Caen and its close suburbs, use the bus and tramway network, called
twisto
. The tourist information centre in central Caen provides timetables and excellent maps of the city's public transport network.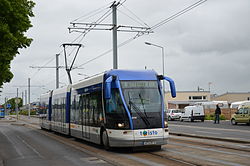 See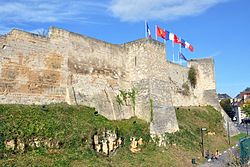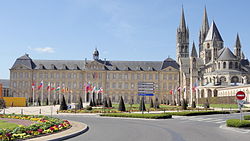 Memorial for peaceA modern museum focusing on Second World War and the Cold War.

Abbey of Saint-ÉtienneA wonderful example of Romanesque architecture.

Abbey of Sainte-TrinitéA wonderful example of Romanesque architecture.

Musée des Beaux-Arts de CaenFine arts museum.

Caen CastleWilliam the Conqueror's castle, one of the largest medieval castles in Europe.

Saint-Nicolas church and cemetery

Escoville mansion

Saint-Jean church

Vaugueux district

La rue Froide and Saint-Sauveur church
Do
D-Day Landing Beaches. Caen is close enough to the D-Day sites to act as a base from which to explore the D-Day sites. It is a short train ride from Caen to Bayeux. From Bayeux train station, you can catch a bus to some of the D-Day beaches but services are infrequent; if you want to see more than one of the beaches you should rent a car or join a guided tour. On the bus website there is a map of the bus route to the D-Day beaches. Bus No. 70 takes you to Omaha beach, the American cemetery, and to Pointe Du Hoc. Bus No. 74 takes you to Arromanches beach, the location of the Mulberry harbors. Buses are few and far between. Also, buses do not run when there is heavy snow, so check the bus website beforehand during the snow season. Many companies offer guided tours to the battle sites from Caen or Bayeux, and the Memorial for Peace runs half-day tours of the landing beaches.

address: Carpiquet

Theme park.
Buy
Sunday morning market. The market in Caen on a Sunday morning, around the Port de Plaisance is the 5th largest in France and is a great place to wander and buy some fantastic local produce.
Eat
Caen's local delicacy is called
tripes à la mode de Caen
- tripe and vegetables stewed in cider - and is nicer than it sounds. The official recipe, closely guarded by a guild of tripe butchers, is written in the form of a poem.
The
Vaugueux
is full of restaurants.
phone: +33 2 31 44 26 26

address: 12 Rue Graindorge

phone: +33 2 31 94 54 20

address: 21 Rue du Vaugueux
Drink
The
Rue Ecuyère
, near to the
Rue Saint Pierre
is famous for its bars. If you are looking for a pub, you will find some at the harbour located
Quai Vendeuve
.
Le Vertigo

phone: +33 2 31 85 43 12

address: 14 Rue Ecuyère

L'Orient Express

phone: +33 2 31 72 81 64

address: 24 Rue du 11 Novembre
Sleep
phone: +33 6 07 86 65 25

address: 1 Route de Verson

High quality B&B with two rooms. En suite bathrooms, free Wi-Fi, access to garden, delicious breakfast. 18th century estate.
Go next
The little 17th-century harbor of Honfleur (65 km north-east)
The Pays d'Auge, typical landscapes and villages, horse farms (Le Haras du Pin is the most famous one), cheeses, cider, roman churches and half-timbered houses
Deauville, the century-old-sea resort for the upper-class
The world-famous Mont-Saint-Michel, at the frontier between Normandy and Brittany
The little sea resort of Granville
The fabulous landscapes of the Cotentin area
Caen is away from the D-Day beaches