Cagayan de Oro
Cagayan de Oro
, often abbreviated
CDO
or
CdeO
and sometimes just called "Cagayan", is known as the "City of Golden Friendship." It is the capital of the Province of
Misamis Oriental
and the "Gateway of Northern Mindanao."
Understand
The city is on the northern coastline of
Mindanao
in the southern part of the
Philippines
, with Macajalar Bay to the north, the municipality of Tagoloan to the east,
Lanao del Norte
to the south, and the municipality of Opol to the west. The Cagayan River splits the city into two, the
Poblacion
(downtown area) being on the eastern side of the river. CDO serves as the regional center of
Northern Mindanao
(Region X), and is the region's most populous highly-urbanized city. According to the 2015 Census, the city has a population of 675,950.
Climate
Cagayan de Oro has a tropical climate, with the average temperature the whole year round being 28°C (82°F). The highest recorded temperature in the city was 39°C (102°F) in June 1998. Cagayan de Oro receives a relatively even amount of rain throughout the year. The driest month is April, while July is the wettest. The wet season in the city starts in June and ends in November, while the dry season starts in December and ends in May. However, the difference in seasons is not very noticeable in the city; there are sunny and rainy days throughout the year and the rain is usually strong but brief (you will notice the season if hiking or driving on dirt roads in the highlands inland from Cagayan de Oro as it gets muddier). Although the city is also outside the typhoon belt, it has been hit by a few tropical systems, most notably Tropical Storm
Sendong
(international name Washi) in December 2011.
Religion
Roman Catholicism is the city's dominant religion, with almost 80% of the population being Roman Catholics. There are also a large number of Seventh Day Adventists, Iglesia ni Cristo, Protestants and Muslims in the city.
Talk
Cebuano (Bisayan), Tagalog and English are the city's main languages. Other ethnic dialects in the city include Hiligaynon, Ilonggo, Maranao, and Waray. It is very easy to travel, shop and meet locals using English, especially in shopping malls where there are many other foreigners. English is used for the majority of street and road signs, so you shouldn't have any trouble getting around if you don't understand any Bisaya. However, you might have difficulty conversing with people in the local markets or on public transport in English.
Get in
By plane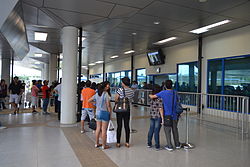 Philippine Airlines has daily flights to Manila, Cebu and Davao, and three times weekly flights to Clark.
Cebu Pacific has daily flights to Manila, Cebu, and Davao, as well as weekly flights to Boracay, Dumaguete, Iloilo, Tagbilaran, Zamboanga City and Bacolod.
Philippines AirAsia has daily flights to Manila and Cebu, four times weekly flights to Clark, and three times weekly flights to Iloilo.
When departing, enter the terminal via the entrance located on the ground floor on the right-hand side. Take note that there's a ticket inspection with a security guard, baggage scan a metal detector before you even get inside, so be sure to prepare your printed tickets beforehand. Once you're done checking-in, head upstairs either via the escalators or the elevator and head to the second baggage scan and metal detector. After this, you'll find the departures area and a small number of eating places. There are three gates at the airport numbered 1-3 from right to left when you're facing the runway. The airbridge at Gate 1 is not in use, so you'd have to walk on the apron and use the airstairs instead. Fortunately, courtesy umbrellas are handed out.
When arriving and after disembarking the aircraft, either head downstairs or enter the terminal through the double doors found on the right side facing the apron. After entering, you'll see the baggage carousels and eventually the exits leading to the meeters and greeters area.
The airport has an observation deck, but sadly this is closed to the general public.
Although it is sometimes referred to as an "international" airport, as of May 2018 there are no scheduled international flights to Laguindingan. Since its opening, there have been plans for flights to Seoul or Busan in South Korea, but these have not yet come to fruition. There is only one two-storey terminal at the airport which easily gets crowded because of its small size.
Magnum Express
,
LAX Shuttle
,
Donsal's Express
,
Odyssey Airport Express
,
CAGATRANSCO
,
CDOTRANSCO
, and
Glorymer Transport
operate airport shuttles between Laguindingan Airport to shopping malls (Centrio, Limketkai, Gaisano City, and SM CDO Downtown Premier), Eastbound Bus Terminal, or Divisoria. These usually cost .
You can catch a bus to CDO instead. Public Utility Vehicles (PUV) operated by CDOTRANSCO go from the airport to the National Highway for . Afterwards, get a
Rural Transit
or
Super 5 Transport
bus traveling along the highway. Rural Transit air-conditioned buses cost and for non-air conditioned buses. Super 5 Transport can also take you from the airport to the city - first by an airport shuttle to the highway, then on one of their Super 5 buses - for , including the airport shuttle. Rural Transit and Super 5 buses terminate at the Westbound Bus Terminal.
It's strongly recommended to take accredited airport shuttles with the company's name displayed prominently on their vehicles, avoiding so-called
colorum
or illegal transport services.
Cagayan de Oro is far from the airport, so allocate more than enough travel time. On an airport shuttle, the journey from the downtown takes between 45 minutes to one hour in good traffic (between the morning and evening rush hours). However if you are travelling during a rush hour or using multiple modes of transportation, be prepared for a longer journey.
By ferry
Ferries arrive at Cagayan de Oro Port in Barangay Macabalan, just north of downtown CDO.
Tickets for some ferry lines are sold at offices to your right as you enter the port compound. Other lines have offices across the street from the compound entrance.
By bus
There are plenty of bus services to Cagayan de Oro from all the major cities in Mindanao, and from Manila via ro-ro ferries.
The city has two integrated bus terminals:
Eastbound Integrated Bus Terminal

address: Agora

The busier and more congested of the two, this is where buses bound for destinations north south or east of CDO depart/arrive. These include buses to Butuan, Surigao, Manila, Bukidnon, Davao, Koronadal, and General Santos. There are also a few (mid/expensive) hotels nearby. You can take jeepneys labelled R2 to Divisoria for .

Westbound Integrated Bus Terminal

address: Bulua

Buses bound for destinations west of CDO, like Iligan, Ozamiz and Zamboanga.
Common routes:
The distance from Davao to Cagayan de Oro is 277 km, with one bus every 30 min-1 hour. The bus journey takes 7-10 hours depending on the weather and traffic conditions, as well as any road constructions along the way. There are multiple stops including lunch and dinner breaks: ; air-con.
A/c bus fare to Butuan is , and the trip takes 5 hours.
To Iligan, 92 km, and 2 hours.
Get around
Jeepneys, multicabs, motorelas, taxis, trisikads and sidecars are the main modes of land transportation in Cagayan de Oro. Like other cities in the Philippines, CDO has its own share of traffic problems. This is especially evident during Fridays, weekends and holidays, along Claro M. Recto Avenue (where several of the malls are located) and in Divisoria.
To catch public transport in the city, look for a loading/unloading zone indicated by a sign and/or a yellow box on the road. If there are no yellow boxes, avoid waiting close to intersections or
No Parking
areas.
Public transport during rainy weather can be unreliable. Jeepneys, multicabs, and taxis are few and far between, and those that do turn up are usually either full or can't be bothered to pick up passengers. In these situations you have a few options: wait for an empty jeepney, multicab or taxi with sufficient empty seats available, wait for the rain to stop, or if worse comes to worse, walk to your intended destination.
By jeepney or multicab
Jeepney
and multicabs are usually safe during the day and cost only a tenth of a taxi ride. Fares are usually for the first 4 km and for students and senior citizens, however this does vary depending on the length of the route. It's a common sight to see conductors riding at the rear, not only collecting the fares of the passengers, but also shouting at passersby the destination and/or intermediate stops.
Riding on a jeepney or multicab can be very uncomfortable, especially if you're tall. Not only are the passenger compartments small and claustrophobic, but the drivers would usually want the vehicle to be completely filled with passengers before departing a terminal. To make matters worse, there might even be sacks of rice and farm animals on jeepneys and multicabs that go through the markets.
If they don't take you where you wanted to go, then you can take one to a large hub, where you can continue with another one. Jeepney and multicab routes are displayed at the front, windshield and sides of the vehicles, which makes knowing where to go a lot easier. Try to find a full or nearly-full jeepney, since the driver of an empty one will tend to wait for more passengers. Also, avoid catching one if you're in a rush as it'll take you a long time to reach your intended destination. Catch a taxi - it'll be safer and you'll get to where you want quicker.
At night you may have to be careful with drunks, since robberies do happen. Keep your cellphone and camera in your bag and your bag in your lap. It's best to avoid riding on jeepneys with sound systems; not only might the jeepney driver be playing deafening techno "music," but he might be speeding as well.
By motorela
Motorelas are essentially motorcycles with a passenger compartment attached at the rear. Like jeepneys, motorelas have a longitudinal seating arrangement, making it more difficult to see where you are going. It was invented in Cagayan de Oro, making them one of the icons of the city. Motorelas are similar to Thailand's tuk-tuks and India's rickshaws, though they can seat seven passengers. They are slow but you don't have to wait long for them to fill with passengers. Motorelas usually travel set routes around Agora, Carmen, and Macasandig, as well as along several streets downtown. The regular fares are usually (slightly less for students and senior citizens). However, motorela drivers will give you a custom service for a negotiated price, such as later in the evening when there are very few jeepneys taking commuters home.
By taxi
Air-conditioned taxis with meters installed can be found all over the city, and many of them can be hailed using either
Grab
or
Hirna
. Grab taxis can be easily identified by the green and white
Grab
stickers on the rear passenger windows. As of June 2018, the taxi flag down rate is , per kilometer, and an additional every minute. Grab taxis may also include a booking fee on top of the final taxi fare. Taxis have two color codes: white and yellow. White taxis are the most common ones, while yellow taxis, operated by Alphat Airport Taxi, usually transport passengers to and from Laguindingan Airport. However, there are some yellow taxis that aren't airport taxis (Royale Taxi), and some airport taxis pick up passengers in the city. Be careful as these airport taxis charge a flag down rate of , rather than the regular rate of .
Do not agree to a flat-rate taxi fare unless you want to pay triple the meter rate: insist on meter only ("meter-plus 50" for an airport or late-night pick up).
By motorcycle
If you're feeling adventurous, you can use the
Angkas
motorcycle-hailing service, similar to GrabBike in Indonesia and Vietnam. Motorbike drivers are professionally-trained and passengers are given their own helmet to wear for the journey.
Aside from Angkas, there are also motorcycles for hire that pick up passengers from major intersections in the city late at night and early in the morning, when hardly any other public transport vehicles are going around.
By trisikad or sidecar
Trisikads, which are pedal-powered tricycles that typically seat between two-four passengers, and sidecars are used in less urban and outlying areas of CDO. Be cautious when travelling on a trisikad or sidecar at night and always ask for the correct change, as the drivers might forget to give you the change (intentionally or unintentionally) upon arrival at your destination.
By bicycle
Cagayan de Oro is definitely not a bicycle-friendly city. Aside from two short, protected bike lanes along Our Lady of Perpetual Help Avenue in Barangay Patag (outside the Philippine National Police camp) and
bike lane
signs along the National Highway in Gusa, (although vehicles can regularly be seen parking over it), CDO is pretty much devoid of any real bike lanes. To make matters worse, not many drivers respect cyclists, so you have to constantly watch out for drivers (particularly in SUVs and pick-ups) zigzagging when overtaking slower vehicles, opening their doors to spit or throw garbage, or simply being distracted behind the wheel. And it's not uncommon to see dogs, both strays and with owners, taking over the streets in the evening and early in the morning before sunrise. Some of these dogs have a tendency to bark at or chase cyclists.
The city doesn't have any bike-sharing initiatives, which isn't too surprising seeing how dangerous the roads are. Bicycle racks are very hard to come by, however, you can find two at Centrio Mall - one located next to the Corrales Avenue entrance, with the other one near the LAX Shuttle terminal on Vicente Roa Street.
If you're still keen on cycling, the best time is between sunrise and before the morning rush hour when there aren't many drivers on the road. Try to avoid the main thoroughfares, though secondary roads can also become quite busy. Needless to say, a helmet, lights and reflectors on your bicycle are an absolute must.
By foot
Like cycling, walking around most parts of the city is not for the faint of heart. Because of the usually hot and humid climate throughout the year, even traveling a short distance by foot is difficult, and is one of the reasons why locals usually prefer to catch public transport instead. Extra precaution should be taken when crossing roads in Cagayan de Oro, as many drivers fail to give way to pedestrians, even if they're crossing at a designated pedestrian crossing.
Exploring the city by foot is also risky due to the lack of decent sidewalks, the presence of vendors occupying them (especially in the markets), not to mention the danger of being sideswiped by reckless drivers. That being said, Don Apolinar Velez St. is one of the walkable roads with adequate sidewalks on both sides, plus it can take you from Vicente de Lara Park to Rodelsa Circle, two popular spots for exercising in the morning. Walking along the city's bridges is also risky because many motorcyclists tend to use the sidewalks as an extra lane during rush hour. This often happens on the four-lane Maharlika Bridge as the footpaths here are lower than on the other bridges. Many streets are poorly-lit, including downtown. Take extra precautions when walking in these areas, especially by yourself.
Navigating one's way through the city can be challenging at times due to the lack of clear and legible street signs. Case in point Barangays Nazareth and Macasandig, where the layout of the streets make the problem even worse.
If you do walk around, having lots of water handy, a good hat and excellent situational awareness are a must. Pedestrian overpasses are very few and far between, although Limketkai Center does have a skywalk which you can use to access almost any point of the complex. Jaywalking is a definite no-no, especially in Divisoria as offenders can be fined . However in the rest of CDO, it is very to common to see people crossing anywhere and everywhere, without even checking for any oncoming traffic.
See
Religious sites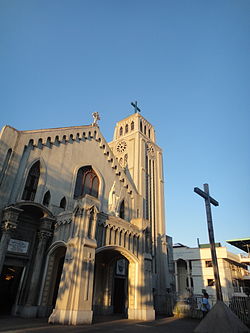 Saint Augustine Metropolitan CathedralA Gothic-inspired cathedral and is the seat of the Roman Catholic Archdiocese of Cagayan de Oro, since it houses the cathedra (seat) of the Archbishop of Cagayan de Oro. The present-day cathedral was constructed in 1946, after being destroyed during World War II. Inside the cathedral are centuries-old stained glass windows, while outside its main entrance is a wooden cross from 1888, erected by Augustinian Recollect missionaries.

Archdiocesan Shrine of the Black Nazarene

address: Claro M. Recto Avenue

A shrine dedicated to the Black Nazarene located in the heart of the city. The Minor Basilica of the Black Nazarene in Quiapo Church decided to move the replica statue of the Black Nazarene to Nazareno Parish Church, so that Nazarene devotees from Mindanao do not have to travel to Manila for their annual pilgrimage.

phone: +63 88 880 2969

address: R.N. Pelaez Boulevard, Kauswagan

Formerly the Archdiocesan Shrine of the Holy Eucharist, Santuario Eucaristico is a shrine dedicated to St. Peter Julian Eymard, Apostle of the Eucharist. Along the rear, semi-circular wall of the shrine are intricately-designed Mosaic Stations of the Cross, while above the secondary entrances/exits are stained glass windows depicting the Stations of the Eucharist. These stained glass windows are based on the Stations of the Holy Eucharist at the Shrine of the Most Blessed Sacrament in Hanceville, Alabama. They are the only one of their kind in the Philippines.

Carmelite Church

address: Seminary Hill, Camaman-an

The area surrounding the monastery is also the residence of several religious orders, including the Discalced Carmelites, as well as the St. John Vianney Theological Seminary. Carmelite Church contains an image of the Santo Niño, or Holy Child which is said to be miraculous.
Parks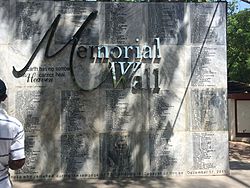 Sadly Cagayan de Oro doesn't have any large parks like those found in other countries. However, the parks CDO does have to offer are still worth visiting nonetheless, especially for those wanting to take a break from the noise and chaos of the rest of the city.
Gaston ParkA circular park named after Segundo Gaston, a former pre-war Municipal Mayor of Cagayan de Oro, and is a favorite place to unwind for many Kagay-anons, especially during Sundays. This was the site of the first Spanish settlement established in 1622 and was the main plaza during the era, even becoming an execution ground for Spanish criminals. During the Philippine-American War, Gaston Park was a training ground for local soldiers, and on April 7, 1900, became the site of the Battle of Cagayan de Misamis. After World War II, cherry blossoms were planted in the park as a gift from the Japanese Government. In 2000, a National Historial Institute marker, now commonly referred to as the Siete de Abril marker commemorating the battle in 1900, was placed at the park, and this can now be found at its northwest section facing City Hall. There is also another marker donated by the Cagayanons of America, Southern California Chapter, located in front of the Archbishop's Palace. At the southwest corner of Gaston Park across from St. Augustine Metropolitan Cathedral is the Sendong Memorial, dedicated to the victims of Tropical Storm Sendong. The park was renovated in 2015, its worn-out grass being replaced by concrete and pavers. A musical fountain that lights up with different colors was also installed at the park's center.

Du-aw Kagay-an ParkThe park was proposed by Mayor Pablo Magtajas after 120 Kagay-anons returned home from the United States and Canada in August 1987, a year following the end of Martial Law. It is also the place where the Birhen sa Kota sa Cagayan de Oro (Our Blessed Lady of the Holy Rosary) was said to have appeared, saving the early settlement from invaders. Every August during the City Fiesta, the park serves as the endpoint of the fluvial parade, which begins from Macabalan Pier.

Plaza DivisoriaIt was built in the early 1900s as a town divider (hence the name Divisoria) or fire breaker after a great fire that almost burned down the entire town. The park is dedicated to local and national heroes.

Vicente de Lara ParkSituated in front of the Provincial Capitol of Misamis Oriental with age-old mahogany trees that provide a therapeutic canopy for the promenades. The park is a popular jogging area during the morning. This is also the site of the Press Freedom Monument and a Sculpture of the Province of Misamis Oriental.
Museums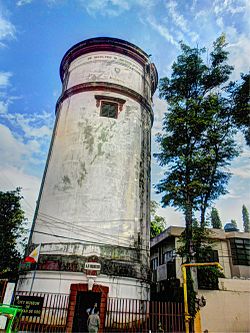 Museo de Oro

address: Xavier University-Ateneo de Cagayan, Corrales Avenue

Exhibits artifacts dug from Huluga Cave, and a repertoire of Bukidnon and Maranao cultures that have survived the ravages of time.

Museum of Three Cultures

address: Capitol University

It houses a gallery of Maranao antiquities from Tugaya, Lanao del Sur; a gallery of ethnohistory which shall display Cagayan de Oro history, Butuan archaeological artifacts, lumad arts and crafts from the Hiligaynon and Manobo cultures, and a treasure of Christian lowland artefacts of Northern Mindanao; and an art gallery and coffee shop promoting the local visual arts of Mindanao.

City Museum of Cagayan de Oro

address: Fernandez Street

The museum was opened in 2008, but the water tower was completed in 1922, and survived World War II. It houses photos of people who contributed to Cagayan de Oro over the years, and life and events from yesteryear.

La Castilla

address: Liceo de Cagayan University, R.N. Pelaez Boulevard

A museum of Philippine household heirlooms and antiques. This is the Rodolfo and Elsa Pelaez family memorabilia administered by Liceo de Cagayan University.
Other sights
Cagayan de Oro Tourism ShowhouseShowcases the products from Cagayan de Oro and the province.

MacArthur Memorial Marker

address: Barangay Macabalan

The monument commemorates two historical events.

Plaza de Los Heroes

address: Masterson Avenue, Upper Carmen

A memorial park dedicated to the heroes of the Three Battles of Cagayan de Oro during the Philippine-American War.

Gardens of Malasag Eco-Tourism Village

address: Malasag Hill

This is in a reforested area in Malasag Hill. This 7-hectare village has replicas of tribal houses in the region and a panoramic view of Macajalar Bay. It is owned by the government and managed by the Philippine Tourism Authority. The views are well worth the short drive up the hill.

Macahambus Hill, Cave and GorgeAn underground cave with a circular gorge. The ravine is thick with various species of plants and huge trees. It is the site of the historical battle between Kagay-anons and American soldiers during the Philippine-American War (1900).

Catanico Falls

address: Barangay F.S. Catanico

The falls contain huge boulders, rapids, cascading falls and a natural pool.

Kagay-an Resort

address: Barangay Taguanao

Previously called Lawndale Spring, it is usually packed with families and groups on weekends lounging in the cold springs.

High Ridge

address: Aluba

It is open to the public for outdoor picnics, and known for its commanding view of downtown Cagayan de Oro.

Monigue Cave

address: Barangay Mambuaya

The cave entrance is flowing water from an underground stream.

Macahambus Adventure Park

address: Barangay Lumbia
Do
Events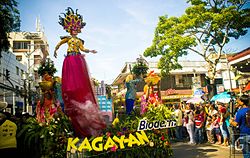 June
Himugso
(Cebuano for
birth
) is a week-long event in June commemorating Philippine Independence Day on June 12, Cagayan de Oro's Charter Day on June 15, and the birth of national hero Jose Rizal on June 19. The celebration, which started in 2015, is a time when Kagay-anons show civic and national pride, with a number of activities being held such as a Freedom Run, Flag Raising Ceremony on the three aforementioned dates, and a tour of the city.
August
The
Higalaay Festival
(formerly the Kagay-an Festival) is held every August in honor of Cagayan de Oro's patron saint, Saint Augustine of Hippo. The highlights of the festival include the Agro-Trade Fair, Miss Cagayan de Oro, Higaonon Street Dancing, Civic-Military Parade, Fluvial Parade along the Cagayan River and Halad sa Lambagohan. There are also cultural shows, competitions, celebrity concerts, and sales in the city's malls.
Whitewater Rafting a 14 rapids along Cagayan de Oro River. The rainy months of September and October are good for intermediate and professional levels (rapids range from class 3 to 4). The rest of the year especially during the dry season is good for novice or amateur rafters.
Macahambus Adventure Park rappel and zip-line across trees a hundred feet above ground.
Mapawa Nature Park ideal for horseback riding, biking, zipline and nature trekking.
Cock-Fighting look for the arena along the National Highway in Gusa. The steep-walled concrete arena thunders with hundreds of shouting fans placing bets, as carefully bred and trained roosters in beautiful fighting form do what they're born to do. Warning: seeing these magnificent and spirited creatures transformed into a limp piece of chicken by the flash of a steel blade may make you become a vegetarian. If not, the losing birds are for sale by the kilo and are rumored to have a distinctive flavor.
Videoke coin-operated video karaoke machines found in virtually every roadside bar in and around the city. Don't even come to the Philippines unless you know the words to at least one song you're willing to get up and sing like it's your one big shot at fame. The playlist is extensive (from Beatles to Nirvana with plenty of Bon Jovi and Gloria Gaynor in between) so no excuses.
Buy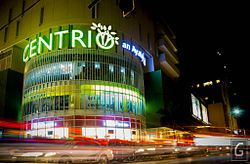 Shopping malls & supermarkets
Cagayan de Oro has a plethora of shopping malls and supermarkets catering to all types of shoppers, from cheap and cheerful to upscale. They are a hive of activity during Friday nights, weekends and holidays as family and friends spend quality time together at restaurants or just
malling
(window shopping and wondering around aimlessly in malls). Most of the malls are along Claro M. Recto Avenue.
address: Claro M. Recto Avenue at Corrales Avenue

From early November to early January, Centrio holds the Magical Nights of Lights, a music and light show located in the garden where thousands of strobe lights are synchronized to well-known Christmas songs.

Gaisano City Mall

address: Claro M. Recto Avenue at Corrales Extension

address: Limketkai Drive

SM Cagayan de Oro Downtown Premier

address: Claro M. Recto Avenue at Osmeña Street

Has a large-screen format theater, a wide variety of restaurants, shops, an SM Supermarket, and a Sky Garden on the 5th floor.

SM City Cagayan de Oro

address: Masterson Avenue at Gran Via Street

Every August and December, SM City Cagayan de Oro holds two Pyro Musical Fireworks shows.

address: Rosario Crescent at Florentino Street, Limketkai Center
Savemore Market Kauswagan

address: Butuan-Cagayan-Iligan Road

Savemore Market Capistrano

address: Capistrano Street
address: 2nd Level New Expansion Wing, East Concourse, Limketkai Center
address: Claro M. Recto Avenue
Ororama Supercenter

phone: +63 88-8574481

address: Mayor J.R. Borja Street at Mortola Street

Ororama Carmen

address: Ipil Street, Carmen
Markets
If you're looking to buy fruits, vegetables, meat and fish at prices cheaper than those in the supermarkets, check out CDO's public markets. Although they're noisy, crowded and chaotic, you do get a real taste, literally and figuratively, of everyday life in a Philippine marketplace.
Cogon Public MarketThe largest of the city's markets covering a number of blocks. Cogon Market is also the terminal for jeepneys going to far-flung barangays to the south of the city, and those going to Bukidnon.

Carmen Public Market
Laundry
Mrs Labada Laundry station.

phone: +63 8822 71-2969

address: 68 Toribio Chave-Pabayo streets

Minimum 2 kg of washing.

YouLaba Coin-Op Laundry Station

phone: +63925-700-5842

address: Chaves St. corner Pabayo St.

"Do it yourself" coin-operated laundry station.
What to buy
Cagayan De Oro's native delicacies:
Jamon Cagayan de Oro (Pork ham) sold by Slers, Oroham and Pines.
Chicharon (Pork rind or skin) sold by Slers.
Fely's Homemade Cheese Sticks
Fely's Homemade Assorted Flavored Peanuts
Cashew Nuts from Lumbia district.
Lechon Manok a rotisserie chicken sold roadside, salty but delicious. They're everywhere, quality varies, buy from the one with the most customers in line.
Lechon Baboy a whole pig roasted over coals on a bamboo spit, stuffed with lemongrass. Ask a local friend how to arrange one day in advance. Much cheaper in Cagayan de Oro than in Manila.
Malunggay Pastel Bread.
Turrones de Mani
Eat
Bigby's Café & RestaurantA restaurant chain that has its roots in Cagayan de Oro, Bigby's specializes in international cuisines, with each of its branches displaying memorabilia from around the world.
phone: +63 88 880-0822

address: G/F Centrio Mall

phone: +63 88 859-1204

address: 4/F SM CDO Downtown Premier

phone: +63 88 859-1358

address: G/F SM City Cagayan de Oro
Café Laguna- Robinsons Cagayan de Oro. Fine dining and Filipino cuisine.
Country Side Steakhouse, Limketkai Center. Grilled beef or steak.
Dadang's Seafoods Restaurant

phone: +63 88 858-6670

address: 3 National Highway

Km. Kauswagan. Filipino seafood cuisine.
Kagay-anon Restaurant

address: Limketkai Center

Filipino cuisine and ostrich meat.
La Tegola, Archbishop Hayes St. Italian restaurant, quiet and comfortable. A favorite of foreign visitors wanting a great Italian meal and a good bottle of wine.
Vienna Kaffehaus Don A. Velez St. European and western-style dishes.
Sentro 1850

phone: +63 8822 731-850

address: Don Apolinar Velez Street

Great foods ranging from Asian to Western-style dishes.
99 Ranch Eat all you can

phone: +63 88-856-1356

address: Tomas Saco 8th Street

For you get pork hamonada, roast beef kilawin, sisig, chop suey, chicken nuggets, tapioca, chocolate cake, soup and iced tea.
Lugawan Bulaluhan Restaurant

address: Capistrano Street

Batchoy, Gato, Lugaw, Zeki, soft drinks.
Yakimix

phone: +63 88 859-1159

address: G/F Cagayan Town Center, Captain Vicente Roa Street at Antonio Luna Street

A Japanese, Korean and Chinese buffet restaurant with all you can eat promos.
Drink
Coffee
Brewberry Café

address: Don Apolinar Velez Street at Toribio Chavez Street

Bo's Coffee - Don A. Velez St. A Cebu-based coffee shop.
Taza - Limketkai Center. Locally owned coffee shop.

address: Yacapin-Velez Sts

A coffee shop, and Pinoy and Indian cuisine (Wi-Fi zone).
Bars
The Site - Rosario Strip, Limketkai Center. Popular among yuppies.
Loreto's Grill and Restaurant - Tomas Saco St., Nazareth.
Pulse Formerly Xcite, it is in front of the Dynasty Court Hotel.
The Beat Club Adjacent to Pulse, it has several billiard pools.
Club Mojo Disco bar back at Ralps.
Backyard - Chaves St.
Karumata - Dolores and Pabayo Sts. When you're sick of the DJs and the bands playing cover tunes, there are serious artists and original musicians in Cagayan de Oro, and you might share them a beer that you won't see at the shopping malls and beach resorts.
Zaks Retro Bar - Velez St.
Sleep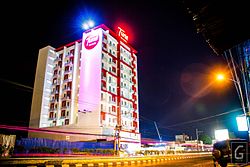 Budget
D'Morvie Suites - Cnr of Capistrano and Yacapin St. also have a 2nd Branch at Lapasan highway and a 3rd/4th Branch at Yacapin street. - from for 12 hr for 24 hours.
Mass Spec Hostel -Tiano Bros. St, Dorm Beds from a night.
Y.M.C.A. Hostel - Julio Pacana St, from a night

Hotel Ramon

address: Tirso Neri, Burgos st

Aircon, wifi, laundry service.

Park view Hotel.

phone: +63 8822-726656 or +63 88-8571197

address: Tiro neri street

Fan double rooms with outside bathrooms. A/C double rooms with outside bathrooms. All rooms have cable TV, phone, free wifi. Can pay with Master Card or Visa Card.

Willshire inn

phone: +63 8822-720531, +63 8822-720762, +63 9176320635

address: Yacapin street corner Aguinaldo street

Economy A/C single room with own bathroom and cable TV. Economy A/C double rooms with own bathroom and cable TV. Standard A/C double rooms. deluxe A/C double room.

Plaza Star Business hotel

phone: +63 88-852-0148

address: R N Abejuela street

A/C single/double rooms with own hot water bathrooms and cable TV. Free wifi

Wills Place Business Hotel

phone: +63 8822-745-888

address: Mabini don apolinar Velez street

Economy A/C single/double rooms with own hot water bathrooms and Cable TV. Free wifi.

CDO tourist inn

phone: +63 9-353629638

address: Tiano bros street

Fan rooms or A/C rooms 12 hours. A/C rooms 24 hours. Common bathrooms, free wifi.

D Santes place Business hotel

phone: +63 88-323-1164

address: Pres osmena corner luna streets

A/C single room with own hot water bathroom and cable TV. A/C economy double room with own hot water bathroom and cable TV.

King Lawrence's Inn

phone: +63 88-857-3728

address: Mabini-capistrano street

A/C rooms with own bathroom 12/24 hours.

phone: +63 88-323-1547

address: Corrales ext

A/C single and double rooms with own bathrooms and cable TV. 102 rooms.

Jerggys Appartelle Inn

phone: +63 88 323-1033, +63 9351842333 (cell)

address: 31st Street Nazareth.

A/C double rooms with own bathrooms and cable TV. 7 hours, 12 hours, 24 hours.

Beatrice Inn

phone: +63 9177930706

address: Capistrano street.

A/C single rooms with own bathroom and cable TV. A/C double rooms with own hot water bathroom and cable TV. All rooms have free Wi-Fi.

Rosario's Place Business Hotel.

phone: +63 9177950116

address: Biacel bldg Corrales aveune

Single room, economy double, standard double, de luxe good for 3 persons. All rooms have A/C, LCD TV, hot water.

King William Inn

phone: +63 8822-712888

address: Cruz Taal street cor Burgos street

A/C rooms with own bathrooms and cable TV.

Mardale Pension House

phone: +63 88-856-1990

address: Pabayo corner Gaerlan streets

A/C single/double rooms, with own hot water bathroom, cable TV, Wi-Fi zone, standby generator. telephone in room.

Budgetel Cagayan de Oro

phone: +63-88-856-4200

address: corrales extension

16/18 bed dorm with A/C.

Dian Stay Inn

phone: +63 9176320618

address: Yacapin Street

A/C economy double with own bathroom and cable TV. A/C standard double with own bathroom and cable TV.

Olive Suites

phone: +63 9431303008

address: Mabini-Velez street

A/C single/double rooms with own hot water bathroom. cable TV. and free wifi. 41 rooms

Three Sisters Dorm and Transient

phone: +63 88 8562612

address: Yacapin Street

Dorm beds and A/C double rooms with own bathroom cable TV and free wifi.

Princeton Inn

address: Capistrano Street

A/C double rooms with own bathroom and cable TV. Free WiFi in all rooms.
Mid-range
address: Claro M. Recto Avenue

Free WiFi is available in all 159 rooms, as well as a computer station near the hotel's lobby. Circa 1850, a restaurant specializing in international cuisine, is located on the ground floor next to the main entrance.

phone: +63 88 8587946

address: Xavier Estates, Fr. Masterson Ave., Upper Balulang

Located within the Xavier Estates complex, every room has air conditioning, pocket refrigerator, mini bar, cable TV, and high-speed Internet access. Some of its amenities are fitness room, game room, restaurant/café/bar lounge, and an outdoor swimming pool.

Miami InnVamenta Blvd., Carmen.

Mountain Suite Business - Kimwa Compound, Tablon.
Middleton Aparttelle - Lirio Ext., Carmen.
Country Village Hotel - Villarin St., Carmen.

Kingston LodgeMastersons Ave., Upper Carmen. 5 minutes from Lumbia Airport, it sits adjacent to Pueblo de Oro Golf Course and lies opposite Xavier Estates Sports and Country Club. Phone number: +63 88 858-5696.

The Malasag HouseEuropean style Bed & Breakfast, relaxing with stunning view.
Splurge
phone: +63 88 880 0000

address: Limketkai Avenue, Limketkai Center

One of the tallest and most-recognizable buildings in Cagayan de Oro with its golden facade, the Limketkai Luxe Hotel is at the northern end of the Limketkai Center complex. At the hotel's ground floor is the KaVe Restaurant and Bar, while an outdoor pool, sauna and fitness center are also available. All guests have free breakfast, along with free WiFi that can be accessed anywhere (although wired high-speed internet is /hour).

phone: +63 88 323-8888

address: Corrales Avenue

All rooms have executive work desk, mini-bar, coffee and tea making facilities, in-room safe. Restaurant, lounge, meeting rooms, gym, adult/children pool, in-room massage, currency exchange, parking, safety deposit boxes, airport and city transfers, laundry and dry cleaning.

Dynasty Court Hotel

address: Archbishop Hayes at Tiano Brothers Streets

VIP Hotel

address: Don Apolinar Velez at P. Pacana Streets

Marco Hotel - Alwana Business Park, Cugman.
Chali Beach Resort and Conference Center - Zone 3, Cugman.
Connect
Mobile
Cellular service in urban areas of Cagayan de Oro is generally fine by Philippine standards, as long as you have a 4G LTE smartphone/tablet or pocket WiFi that can take advantage of faster speeds. However the further you are from a cell tower, the weaker the signal will be, especially in mountainous areas. Globe, Smart and TM (Touch Mobile, an MVNO owned by Globe) prepaid LTE SIM cards can be purchased at carrier stores in shopping malls, 7-Eleven outlets, cellphone stores found throughout the city, and even in local neighborhood sari-sari stores. The Globe and Smart prepaid LTE SIMs cost , while the TM ones are . More Kagay-anons use either Globe or TM over Smart, and Globe has noticeably faster LTE speeds than Smart. It's another advantage if you have a device compatible with the 700MHz LTE band (which both Globe and Smart support), as it has a longer range and better indoor coverage compared to higher-band frequencies. Phone calls can also get choppy or drop out at times and text messages sometimes take a while to send because of the lack of towers to cope with the large number of subscribers.
Globe and Smart switch off cellular signals - sometimes without prior notice - near areas where events are held for security reasons. These include the Nazareno procession in January and various events as part of the city fiesta in August. However, areas that aren't close to these events regularly don't have cell signals as well. On numerous occasions, the signals only come back hours after the events have ended.

Internet
Many public places in Cagayan de Oro offer free Wi-Fi connectivity, including shopping malls, cafes, restaurants, as well as parks and government offices. For example, Centrio Mall offers free Wi-Fi access for one hour, while Gaston Park has unlimited Wi-Fi. Wi-Fi speeds are slower during peak times and weekends. There are also some establishments that charge you for using their Wi-Fi, although at a reasonable rate.

Stay safe
Flooding
Sudden downpours are a regular occurrence; in the wet season, it rains almost every afternoon and evening. Most of CDO is low-lying and flood-prone, even in the uptown areas, and the city lacks an adequate drainage system. Limketkai Center and Claro M. Recto Avenue between the University of Science and Technology of Southern Philippines (USTP) and SM CDO Downtown Premier are particularly vulnerable to flooding.
Before going around during the wet season, pay close attention to the weather forecasts on the internet and television, as even a localized thunderstorm can grind the city to a halt.
Pollution
Air pollution is a worsening problem in Cagayan de Oro. On most days, a thick layer of smog can be seen hanging over the city. Some of the contributing factors include the increasing number of private vehicles on the roads (especially diesel-powered SUVs and pickups), the continuing use of black-belching jeepneys, open burning of garbage such as plastics and tyres, and the use of charcoal or wood for cooking. If you have asthma or other respiratory problems, wearing a good facial mask (preferably an N95 mask) when outdoors is highly recommended.
Power outages
Blackouts (or brownouts as they're more commonly referred to in the Philippines) are an all-too-common occurrence in Cagayan de Oro, especially between March-June. Sometimes these may last just a few minutes; other times these can last for more than half a day. It always pays to have some flashlights and a powerbank handy to charge your devices in case the lights go out. Reliable flashlights can be purchased at hardware stores like ACE Hardware or Handyman, while powerbanks can be found at gadget shops in the malls. Check the website of the
Cagayan Electric Power & Light Company (CEPALCO)
for blackout schedules.
Tap water
According to the Cagayan de Oro City Water District (COWD), tap water in the city is "safe to drink." Most locals, however, rely on either bottled water or water filtration systems for their drinking needs, as brown sediment can occasionally be seen in the tap water. Many areas in the city experience low water pressure, especially in the mornings, and water supply can be turned off, sometimes without prior notice, due to repairs or other incidents. It's a good idea to check
COWD's website
regularly for any water interruption announcements, and to stock up on water just in case.
Emergency
In the event of an emergency, dial
911
. 911 calls are not free and are only available to Globe subscribers with at least worth of credits.
Stay healthy
Hospitals
Northern Mindanao Medical Center

address: Capitol Road

JR Borja General Hospital

address: Carmen

Polymedic General Hospital

address: Don Apolinar Velez Street

Polymedic Medical Plaza

address: National Highway, Kauswagan

Capitol University Medical City

address: National Highway, Gusa

Maria Reyna–Xavier University Hospital

address: Hayes Street

Madonna and Child Hospital

address: JV Serina Street, Carmen

Sabal Hospital

address: Don Apolinar Velez Street

Maternity-Children's Hospital and Puericulture Center

address: Gaerlan Street
Clinics
Cagayan de Oro Social Hygiene clinic City Health street. Phone +63-8822 721189 M-F 08:00-16:00 (free STD and HIV testing).
Pharmacies
Generika Drug Store Pabayo-Chaves Street.
Cope
Immigration
Bureau Of Immigration Cagayan de Oro office.Ground floor. Ymca Building. Julio Pacana Street.
Newspapers
Cagayan de Oro has two local English language newspapers:
Sun.Star Cagayan de Oro
and the
Mindanao Gold Star Daily
. National newspapers such as
The Philippine Daily Inquirer
,
The Philippine Star'
,
Manila Bulletin
and
Manila Times
are also sold in the city. Newspapers can be purchased at convenience stores like 7-Eleven and Cham's, and from newspaper sellers along the roads and sidewalks. However, the price of the newspapers can vary from one newspaper seller to another.
Go next