Cairngorms National Park
Cairngorms National Park
is a national park in Scotland. It spans the mountains between
Highlands region
and
Aberdeenshire
, plus smaller areas of
Angus
,
Perth and Kinross
, and
Moray
. The park takes its name from the
Cairn Gorm
or "Blue Mountain" and surrounding peaks and plateaux, but it also includes the Monadhliath & Grampian ranges to the east, the Angus Glens, and the upper valleys of the Spey, Dee and Tay.
The park has no entry fees or gates. Permits may be required for activities such as fishing, and there are various commercially-run activities such as skiing and pony-trekking. But most of what the park has to offer is free, not least the scenery.
Most accommodation, eating and similar facilities are in the small towns listed below, especially Aviemore. This page describes facilities that range across the park, or that aren't close to any settlement.
Understand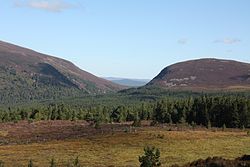 The Cairngorms are essentially a huge block of granite. During the Ice Age, the ice sat on top but didn't move. Elsewhere in Britain (e.g. in the English Lake District) it carved out U-shaped valleys and other distinctive glacial features; here, with the exception of a few narrow valleys such as
Lairig Ghru
, it just polished the block into a series of rounded tops of similar height. So what was left behind was a plateau at 1000-1200 m altitude, with the peaks of Ben Macdui (1309 m), Braeriach (1296 m), Cairn Toul (1291 m) and Cairn Gorm (1244 m).
This creates a habitat for hardy plants and animals that are common in sub-arctic countries but rare in Britain. It's too cold, stony and steep for agriculture, and the Caledonian forests in the valleys represent the last stand of the primeval forest that once cloaked Scotland. Modern times have seen encroachment by sheep-farming, game hunting and forestry, and climate change has become appreciated as a threat. The area was therefore protected in 2003 by designation as a national park. It's a remarkable wilderness, interspersed by lochs, rivers, woodland and moors. Wildlife includes crossbills, ospreys, capercaillie, golden eagles, red deer, red squirrels, otters, and mountain hare. Highlights include:
the Eurasian beaver (Castor fiber), with some 500 now inhabiting the Tay valley; likeliest sightings are May-Aug at Loch of the Lowes above Dunkeld.
a free-roaming herd of reindeer (Rangifer tarandus), about 150 between Cairngorm and Glenlivet; usually just a distant smudge on the moor, but they may come snuffling up for hand-outs.
you will be very lucky to spot the Scottish wildcat (Felis silvestris silvestris), or be sure that it's not just a burly domestic cat - they interbreed enthusiastically and there may be only a few dozen "pure" wildcats out there.
Room for any more? As the UK's largest park, with an area of 4,528 km 2 (1,748 sq mi), the Cairngorms may be suitable for re-introduction of long-extinct species such as lynx, wolves, and even bears. But this has to be balanced against its IUCN designation as a "Category 5" area, where farming and commercial activity are permitted, and tourism is encouraged, within sustainable limits. The family picnic remains safe for now.
Towns
The main service town and access point for the western, larger side of the park is , which straggles into Coylumbridge.
Other small settlements along or near the main road A9 are , Dalwhinnie, Laggan, Newtonmore, and .
Going down the Spey Valley east from Aviemore are Boat of Garten,
Dulnain Bridge
and .
The east side of the park, mostly in
Aberdeenshire
, is smaller and has fewer facilities, and most visitors come on day-trips.
Small places along the Dee valley are Ballater and .
Get in
By plane
Inverness
and
Aberdeen
are the closest airports, with connections across Europe and the UK.
Edinburgh
is a longer drive but has more flights, and is west of the city so you drive straight out onto M90 then A9.
By train
The railway line on the west (Tay & Spey) side of the park has trains between Edinburgh & Glasgow via Perth to Inverness every hour or two, plus the Highland Sleeper running overnight from London Euston to Inverness. Stations along the way (with not all trains stopping) are Dunkeld & Birnam, Pitlochry, Blair Atholl, Dalwhinnie, Newtonmore,
Kingussie
,
Aviemore
and
Carrbridge
.
The railway to the east hugs the coast from Dundee to
Aberdeen
, and is always at least 30 miles from the park boundaries. Trains also run from Aberdeen to Elgin, Nairn and Inverness, but it's even less convenient to access the park from that direction.
By bus
The Edinburgh-Inverness route operated by
Scottish CityLink
goes through the park along the A9.
By car
The A9 from
Perth
to Inverness enters the park in the south and follows along the western side of it to the north east of the park.
Follow the A93 from Aberdeen to enter the park from the east.
Get around
See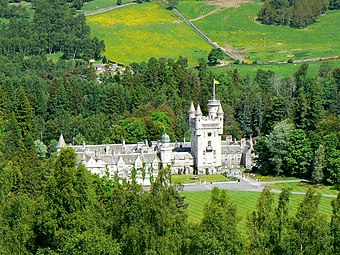 address: Balmoral Estates, Ballater AB35 5T

Prince Albert, Queen Victoria's husband, bought this land and built a grandiloquent pile of a castle, the prototype of the "Scottish Baronial" style, all mock-turrets and stags heads looming over the stairways. Completed in 1856, it remains the Royal Family's summer holiday home. You can only visit one room within the castle, the ballroom, plus an exhibition in the stables, and the gardens. The queen is usually resident in Aug & Sept, so there is no access then. See website for dates of guided tours in winter.

Dalwhinnie DistilleryThe highest whisky distillery in Scotland. You can visit the distillery by tour.

phone: +44 1540 651270

Safari park and zoo.
Do
Mountain biking, canoeing, climbing, walking, horse-riding, sailing, skiing, snowboarding, golf, clay pigeon shooting, canyoning, gorge walking, orienteering, yoga, shinty, wildlife and birdwatching, tennis, swimming, white water rafting, river tubing, archery, fishing.
Cateran Trailcircular hiking route.

Abernethy ForestA large forest (4,000 hectares) originating from the ancient Caledonian Forest. The forest is part of a larger National Nature Reserve and is great for wildlife spotting. The main entrance points are near Loch Garten in the west and near Nethy Bridge in the north.

phone: +44 1479 861220

A network of purpose-built mountain bike trails, with a café, shop and bike hire.
Skiing: there are three downhill skiing facilities within the park:

phone: +44 1479 861261

address: PH22 1RB

The funicular, has been closed since Oct 2018 because of damage to the track supports, and the managing company went bankrupt. Future plans for the resort are unclear.

phone: +44 13397 41320

address: Cairnwell, Braemar, Aberdeenshire, AB35 5XU

phone: +44 1975 651440

address: Strathdon, Aberdeenshire, AB36 8YP
Eat
And see individual towns listed above.
Drink
phone: +44 1975 651433

address: Corgarff, Strathdon
Sleep
And see individual towns listed above.
There are plenty of guest houses, self-catering cottages and hotels throughout the park, and a couple of Caravan & Camping parks.
phone: +44 1575 550350

address: Glenclova

Offers dog-friendly hotel rooms, lodges, and shared sleeping spaces (bunkhouses). The bunkhouse has washrooms and a full kitchen; bring your own towels and soap. Some accommodation packages include breakfast, use the website's check availability feature to see what packages are available. Also has a restaurant and bar that has a pet friendly section. You can get a packed lunch here.
Camping
Backcountry
You can camp out in the wilderness if you are in a small group for a couple of nights, although you must stay away from houses and not disturb any livestock.
Stay safe
Go next