Cairns
Cairns
is touted as the "gateway to the
Great Barrier Reef
" and other destinations such as
Kuranda
and the
Daintree
rainforest in
Far North Queensland
,
Australia
, although the city has little to offer to travellers besides tour agencies, a handful of restaurants, cafes, and backpacker bars, and a long walk along the esplanade looking out at the swampy shoreline. Its 150,000 residents are regularly outnumbered by domestic and international visitors.
Understand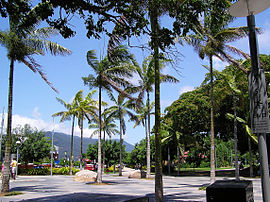 The Cairns area was historically inhabited by the indigenous Walubarra Yidinji people. Mapped by James Cook and named Trinity Bay in 1770, it was officially founded in 1876 as an export port for gold and renamed after the then-Governor of Queensland. The city's name is pronounced "Canz" by locals; use of the accepted pronunciation of the governor's surname, the Scottish town, and piles of stones is obsolete.
The main industry for the city is tourism, with focus on the European, Japanese and increasingly Chinese markets. There is a plethora of clubs and coffee shops, all overflowing with international tourists. Cairns is also supported by agricultural businesses which include sugar cane, bananas, coffee, tea and the world's first tropical fruit wine region.
Peak season in Cairns is during the more comfortable winter months of June–August, especially compared to the hotter and stickier summer months. A particularly busy time occurs in the first two weeks of July during school holidays.
There is no swimming beach to speak of in central Cairns, although there are many choices just north and south of the city. A large outdoor, lagoon-style pool is in the centre of the Cairns City area, which is very popular throughout the year with tourists and locals alike. For a beach side resort holiday, there are several resorts a short drive north of Cairns.
Cairns Tourism Office

phone: +61 7 4051-3588

address: 51 The Esplanade

Official Cairns and tropical Northern Queensland tourism office at the Esplanade.
Get in
By plane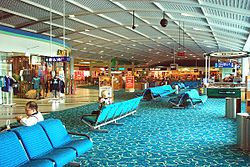 The international airlines serving Cairns are:
Cairns airport has a paid Wi-Fi service.
Shuttle bus and taxi
Shuttle bus transfers are available from the Cairns Airport, prices range between $15 to $17 (one passenger one way) and $25.00 to $35.00 (one passenger return) to Cairns city. The Cairns Airport shuttle buses typically depart the airport hourly. Cairns taxi' depart from the Cairns Airport and the trip will range between $25 to $35 to Cairns City (possibly a small wait). If you don't book a shuttle transfer before arriving in Cairns there is only one company you can travel with. Google the different shuttle bus companies as to get the cheaper price you have to book prior to arriving in Cairns. The shuttle buses offering transfers from Cairns Airport are:
By train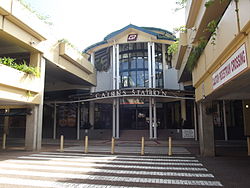 Cairns Station is right in the city centre, easily within walking distance of the waterfront and most hotels.
The
Queensland Railways
Spirit of Queensland
services connect Cairns to Brisbane (via Townsville and
Rockhampton
), taking 25 hr for the full journey. A trip between Townsville and Cairns takes nearly 7 hours by train (compared to only 4 hours by car).
The train departs from Brisbane M Tu W F and Sa at 3:45PM, and returns from Cairns M W Th F and Su at 9AM.
The
Kuranda Scenic Railway
, also operated by Queensland Rail, runs from Cairns to
Kuranda
, stopping over the majestic Barron Gorge to allow passengers to leave the train and enjoy the beautiful view over the water. Trains depart Cairns at 8:30AM and 9:30AM daily arriving at Kuranda at 10:15AM and 11:15AM.
The
Savannahlander
travels from Cairns to Kuranda but then continues on to the outback town of Forsayth. It leaves Cairns at 6:30AM every Wednesday with a compulsory overnight stop at Almaden (with transfers available to
Chillagoe
), before arriving at Forsayth Station at 5:45PM on Thursday. The Savannahlander does not run between December and March.
By car
The 1,700 km Bruce Highway running south along the coast connects Cairns to the state capital of
Brisbane
. It takes 22 hr to drive without stopping, and you should allow at least 2–3 days of solid driving, or longer for a more relaxed pace of drive up the coast. There are regular towns along the coast which make good stopping off and sightseeing points.
Get around
The centre of Cairns is small enough to be covered on foot, but a car is needed to see the surrounding attractions if you are not taking a tour. Expect morning and evening congestion in the city centre, as day trippers flock in and out of the town. Numerous car rental agencies are available from the airport or in the city centre. During peak season, make sure to book the car in advance.
Sunbus
operates the public bus network and offer eight routes through the city. The terminal of all routes is at the corner of Lake and Shield Street in the centre. You can buy a bus ticket starting from $2.30 for a single adult in one zone.
There are also a number of car rental companies available from Cairns airport.
See
Cairns serves as the gateway to the region and is rather short of cultural sights. Besides some historic buildings from the colonial era, the Esplanade and the bars/pubs are the main attraction of Cairns.
phone: +61 7 4046 4800

address: 40 Abbott St

Located in a heritage building in the city centre, the Cairns Regional Gallery is the region's premier destination for exhibitions featuring historical and contemporary art by leading regional, national and international artists.

phone: +61 7 4051 5582

address: Cairns School of Arts Building, corner Lake and Shields Streets

The Cairns Museum showcases the Cairns Historical Society's collection of objects, photographs and archival records. This collection holds the memories of the people, places, events and changing environment of Cairns and Far North Queensland.

phone: +61 7 4032 6650

address: 78-96 Collins Ave, Edge Hill

The Cairns Botanic Gardens are about 4 km from the city centre, and a number of bus routes pass by the various entrances. The Gardens are divided into 5 distinct zones, including a Formal Gardens, Rainforrest Boardwalk and Mangroves Boardwalk.
Events
Catch an amateur rugby game in town if you can, the locals play a mean game, and it's a great way to meet local folks.
International cricket is sometimes played in Cairns at Cazaly's Stadium. Time your visit right and you could catch a great game for just a couple of dollars.
Cairns is home to one of Australia's best basketball teams, the Cairns Taipans, as well as Australian basketball's most famous mascot, Joe Blake the Snake.
Natural attractions
Cairns attractions is an excellent entry point to see, dive, snorkel on the Great Barrier Reef and to visit the Daintree Rainforest which is at least a day trip. Copperlode Dam and Atherton Tablelands are other options.
Cairns is the hotspot for wildlife diversity in Australia and is an ideal place to see a huge variety of birds, mammals, and reptiles. Places such as Mount Lewis, Lamb Range, or Mount Hypipamee are ideal locations to see anything from a Cassowary to Tree Kangaroos.

phone: +61 7 4031 7250

address: 35-41 Wharf Street

A spectacular all-weather wildlife exhibit enclosed by a 20-m-high glass dome on top of the iconic Reef Hotel Casino, visitors walk through a replicated rainforest environment whilst birds such as parrots, cockatoos and lorikeets fly freely around you. See other animals such as koalas, frogmouths, kookaburras, rainforest wallabies, crocodiles, turtles and pythons. Complimentary guided tours and animal presentations take place throughout the day.
Do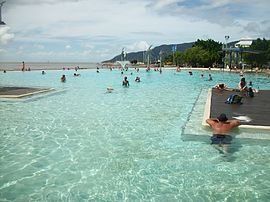 Cairns is an adventure sports enthusiast's paradise: every second shop is a tourist information centre with signs blaring "dive dive" or "tandem skydiving". Its location close to the ocean, the mountains and the rainforest gives travellers lots of choices of activities.
Standby rates are ubiquitous: many of the more expensive activities, including scuba diving and skydiving, are up to $150 cheaper if you are prepared to go on standby for a cancellation.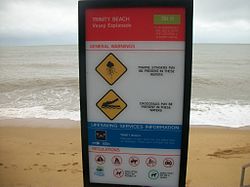 Swim in the artificial "lagoon" (a public swimming pool with some sand on one side) on the promenade near the pier. The lagoon is unfenced and free to use. A shallow depth (max depth 1.5 m) makes it ideal for families with children. The lagoon is a good place to cool off especially during "stinger season" between October and May (cf. Dangerous creatures in Australia) when swimming at local beaches should be avoided except inside the stinger net enclosures, which are no bigger than the lagoon itself. Note that there are also no beaches in central Cairns itself - one can catch a bus to the northern beaches, and there are swimming net enclosures at Holloways, Yorkey's Knob, Trinity, Kewarra, Palm Cove and Ellis Beaches but the sand there is rather rough.
Sun-bake or people watch on the grassy part of the promenade near the lagoon. On a sunny day, even in the middle of Cairns's tropical "winter", there will sometimes be more sun-bakers than there is visible grass.
Have a barbecue on the promenade. Cairns has free barbecues scattered generously among the picnic tables on the grass.
Go walking - Cairns is surrounded by rainforest clad mountains, and there are nearly 200 walking tracks in this World Heritage Area. Keen walkers should keep an eye out for Tropical Walking Tracks, found at local bookshops and adventure shops. It lists all of the tracks around Cairns as well as those between Townsville and Cooktown and has maps of them and 'how-to-get-there' directions as well.
Diving and snorkelling
A number of Cairns operators run day and liveaboard
scuba diving
trips from both Cairns and Port Douglas, and almost all include complimentary day-transfers for their passengers between the two. For seeing the
Great Barrier Reef
, the smaller dive boats provide the most intimate experience, both for diving and for snorkelling and are excellent for the confident or experienced. The larger operations have more amenities - better food, larger and faster boats, more activities, and often easier access to the water and are great for beginners, but sometimes provide a poorer underwater experience, as the underwater areas that the larger boats visit are heavily used.
For some serious airtime
If you are sick of the sea, head up in the air for
skydiving
, hang gliding or hot air ballooning. The Cairns region has some of the best weather for
ballooning
in the world and so trips go year round and are rarely cancelled. It's also one of the cheapest places to go flying, anywhere. The trips go inland to the Atherton Tablelands and take off at first light at Mareeba, finishing around 10AM and can connect directly to a Great Barrier Reef tour or drop you in Kuranda.
Hang gliders
fly off Rex Point Lookout, halfway between Cairns and
Port Douglas
on the Captain Cook Highway. On weekends, it's common to see multiple gliders soaring the sky above the scenic lookout, and the winter season provides consistent flight conditions.
White water rafting
Rafting in North Queensland has the advantage of departures all year round, tropical water temperatures and ease of access to compliment breath-taking scenery and rapids. The region's white water rafting adventures are suitable for all levels of fitness and enthusiasm. Ride through the planet's oldest continuously growing tropical rainforests on rivers that still run totally wild.
phone: +61 7 4041 9444

address: PO Box 2945

Operating since 1984. The Tully River is Australia's best and most famous 1-day white water rafting experience, with up to 5 hr of rafting over more than 45 grade 4 rapids through World Heritage Rainforest. The Barron River option is a great half-day tour, with up to 2 hr of rafting on grade 3 rapids. For something longer, the North Johnstone 4-day expedition is a once-in-a-lifetime experience. Helicopter in, 4 days of grade 5 rapids and camping 3 nights under the stars in riverside rainforest clearings.
Coach tours
Many coach tours depart Cairns daily, with a couple of hundred to choose from. There are rainforest tours to
Mossman Gorge
, the
Daintree River
,
Cape Tribulation
, and the Cairns Highlands (
Atherton Tablelands
), specialised 4WD tours, city sights tours, tours to wildlife parks, outback tours.
phone: +61 7 4041 9400

address: PO 1230 Cairns

One of the largest and longest established coach touring companies in Cairns, operating since 1981. Operate full- and half-day tours to Kuranda including Kuranda Scenic Railway, Skyrail, Rainforestation Nature Park and Australian Butterfly Sanctuary, Cape Tribulation and the Daintree, Port Douglas, Atherton Tablelands and the 'Outback' .Extended tours available to Cape Tribulation and the Daintree.

phone: +61 7 4041 9440

address: PO Box 2945

Day and extended tours to the World Heritage areas of Cape Tribulation and the Daintree - where the oldest rainforest in the world meets the Great Barrier Reef. Small groups travel with their informative guides on air-conditioned buses. Tours can include Port Douglas, The Rainforest Habitat Wildlife Sanctuary, cruising on the Daintree River searching for crocodiles and wildlife, swimming in the Mossman Gorge and exploring Cape Tribulation Beach. On extended tours, various levels of accommodation are offered, from backpacker dorms to deluxe resorts, with plenty of options to party and play. Activities vary from reef trips with Rum Runner, to horseriding, jungle surfing, and sea kayaking.

phone: +61 7 4058 0268

address: Stratford

Visits the waterfalls, Lake Barrine Cater lake, the Curtain Fig tree, Famous Milla Milla falls, 2-course hot lunch and cheese/yogurt tasting at the Mungalli organic bio-dynamic dairy, rainforest of the Southern Cairns Highlands, plus the historic Spanish castle ruins and gardens of Paronella Park and Mena Creek falls, near Innisfail, and the Babinda boulders for a swim in clear mountain spring waters. Back to Cairns via Bruce Highway, sugar cane fields and Walsh's Pyramid. Many photo opportunities. Small groups, max 20 passengers.
Buy
Shops selling
pearls
are fairly widespread in Cairns, with a huge price range. You can find real A-grade pearls from the Torres Strait - not cheap, but at the end more than fair in comparison to the European or US prices for the same quality level.
phone: +61 7 4044 3715

address: The Esplanade @ The Lagoon

Esplanade Markets have home made products, rare stones, clothes, all types of art, massage, local music, local rainforest timbers/carvings/wooden copping boards and you will be buying from the maker/artist of the products. Heaps of budget priced stuff, but some very refined high art/design/ideas that could easily become a feature piece of a house/garden. Great place to find a special gift. And best of all it has a 'locals feel' about it. Make sure go take a hat and sunscreen as it's an outdoor market. Have fun and meet some locals.

phone: +61 7 4051-7666

address: 71-75 The Esplanade

The markets are a collection of stalls catering mainly to tourists: you can buy lots of clothes, games and Australiana.
Eat
As with much of Cairns, you can divide the city into the Esplanade and the places within a block of it, and the rest of the city. The Esplanade is littered with bar and grill places supplying red meat and beer all in the one place, and with seafood restaurants. It's relatively difficult to find anything open before 11AM, since they expect the clientele to be sleeping in. The rest of the city has small cafes and milkbars catering to locals. The number of Japanese tourists here makes Japanese food a fairly reliable option, although prices can be steep.
A number of the more expensive restaurants on the Esplanade, particularly towards the north end, offer discounts of 20-30% for early birds: usually you will need to order by 6:30PM and pay and leave no later than 7:30PM to get a discounted meal.
La Pizza Trattoria

phone: +61 7 4031-2646

93 The Esplanade. La Pizza Trattoria has good pizza. It lures most patrons in by letting them wander past the pizza chef kneading the dough as they smell the baking pizzas. Medium sized pizzas $17. Open 7 days 7AM until late.

phone: +61 7 4051-9000

address: Aplin Street (cnr The Esplanade)

Italian meals with some good seafood options and overworked wait staff. 25% discount if you order before 6:30PM.

Hide's Coffee Cafe

phone: +61 7 4041-1899

address: Shop 7, 87 Lake Street

A couple of streets back from the Esplanade, this cafe is a good place for an under $10 breakfast or lunch. Order at the counter and remember to keep an eye on the collapsing umbrellas at the outside tables. They have free Wi-Fi for guests.

Sushi Express

phone: +61 7 4041-4388

address: Shop 28 Orchid Plaza, 79 Abbott Street

A sushi train made up to look like the Kuranda Railway, this place is popular but not wildly busy. The tempura seems to get more attention than the sushi or sashimi.

phone: +61 7 4031-5899

address: 38 Abbott Street

If you want to escape from several evenings touring the bar and grill places, Perotta's is just off the Esplanade and does more sophisticated Western food. Try the French toast with roast pear for breakfast.

Donnini's Ciao Italia

address: Pier Marketplace

Indoor and outdoor dining with an ocean backdrop.
Drink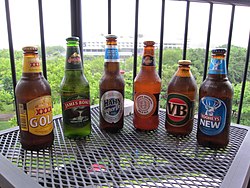 Cairns has pubs and bars to cater to travellers, students, and locals.
Blue Sky Brewery Bar & Restaurant

phone: +61 7 4057-0500

address: 34-42 Lake Street

Situated in the heart of Cairns CBD. Its bar, restaurant and function rooms attract locals and visitors. It has a wide selection of boutique beers brewed onsite, a comprehensive wine cellar, a diverse modern cuisine, and dynamic, yet relaxed Tropical North Queensland atmosphere. All of Blue Sky's handcrafted beers are unpasteurised and brewed naturally, giving a distinct depth of flavour and fresh taste

phone: +61 7 4031-3011

address: 65-67 The Esplanade

The Rattle 'n Hum is a bar and grill in the midst of one of the busiest parts of The Esplanade. It's quite large and getting a seat is seldom a problem: sit out back once they light torches in the evenings. Competition for the pool table is not formidable so you should be able to get several games in. They do a number of main meals, including wood-fired pizza for around $20. The staff are highly variable in quality, ordering a cocktail can be risky, but they're certainly able to pull a beer.

The Woolshed Chargrill & Saloon Bar

phone: +61 7 4031-6304

address: 24 Shields Street

If you are looking for a place to find all the travelers, go to the Woolshed in downtown Cairns.
Sleep
Cairns has seemingly endless places to stay, but during high season (June - September) most hotels are well booked.
Budget
There are over 20 hostels, with bunks in the $16–30 range. Many of the hostels are not particularly clean or well-maintained.
Mid-range
Mid-range Cairns hotels, resorts, and inns are listed here alphabetically.
Splurge
Stay safe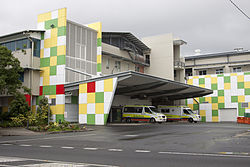 Cairns is in general a safe city with all the annoyances (e.g. pickpockets and touts) that a city full of tourists experiences. The most notable threats are nature and the weather. Cairns is hit by tropical cyclones during the wet season (December until March) that cause damage to the infrastructure and stops public activities.
phone: +61 7 4226 0000

address: 165 The Esplanade

Emergency services and all standard medical departments
Go next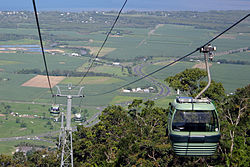 This small town nestled in the rainforest-covered mountains just north of Cairns draws thousands of tourists each week and is perhaps the most popular daytrip from the city. Kuranda (elevation 330 m) is 25 km from Cairns via the Kennedy Highway, which snakes its way over the Macalister Range. However, most visitors reach the town by taking the Skyrail Rainforest Cableway or Kuranda Railroad, both of which offer transfers to Cairns and package deals with Kuranda attractions. Skyrail travels above the rainforest with stations along the route to explore the rainforest environment and view the Barron River Falls. The Kuranda Railway makes a scenic trip through Barron Gorge National Park. The town itself offers plenty of shopping and is home to several wildlife parks.
Further out
Mareeba, the edge of the outback, where the sun shines 300 days a year, and they produce the majority of Australia's coffee crop. Tours from Cairns available.
Mossman Gorge 70 minutes north of Cairns is a good place to cool off. Avoid arriving at the same time as the tour coaches, and take great care swimming as the currents are very strong.
The Daintree rain forest which is officially the world's oldest rainforest is located an hour and a half north. Here you can see Australia's largest variety of flora and fauna as well as ride one of the top tourist attractions - Jungle Surfing.
Green Island and Fitzroy Island, both resort islands that welcome day trips, are within 45 minutes of Cairns by ferry.
The Savannahlander is a four day train journey that departs from Cairns to the outback town of Forsayth. It's a unique way to see the Chillagoe caves and Undara lava tubes.
Cooktown is around 3 hours north along the coast from Cairns, and has history, national parks and beaches to explore.
Mission Beach a lovely tropical beach is about an hour and a half drive south. It is the gateway to Dunk and Bedarra Islands. Mission Beach is one of the few places you might see the very rare and endangered Cassowary bird.
Port Douglas a seaside resort town and another gateway to the Great Barrier Reef and Daintree Rainforest is an hour north along one of the nicest drives in Australia.
Lake Tinaroo is on the Atherton Tablelands about an hour south west of Cairns. Lake Tinaroo is great for swimming, water sports, bush walking, fishing and camping.
Ayers Rock has direct flights from Cairns (in addition to Sydney). If you are doing an Australian tour, then Cairns is a good hopping off point to the red centre.