Cairo/Garden City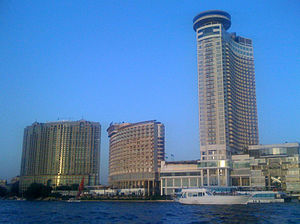 Garden City
is a well-planned and leafy district of central
Cairo
, immediately south of the very centre of the modern city at
Midan Tahrir
. In 1905 the agricultural architect Jose Lamba was asked by the owners of the Nile Land and Agricultural Company to design a new city. His vision was of a leafy suburb with a layout drawn up more using a compass than a ruler, unlike the rectilinear grid system used in other suburbs like Ma'adi and Zamalek. Lambas preferred an Art Nouveau style with smaller roads and uneven lines, interspersed with triangles often leading the walker back to where they started.
Garden City is the location of several large hotels and embassies, including the British and American missions. There's not much to do here, but it's a reasonable place to stay, close to downtown, but in a quiet and high security area. This was the elite neighbourhood of Cairo in the 1930s and 1940s, and it's still considered posh. Its biggest landowner is the Vatican with 12 of the original 273 plots, and it hosts the De La Mere de Dieu College for Girls.
Get in
By taxi
If you want to take the taxi to Garden City most taxi drivers will know Qasr al-Aini street. This street runs from the south of the district to Tahrir Square and through the heart of Garden City. The international hotels are located at the well-known Corniche el-Nil, though if you state your destination to the taxi driver as the Four Seasons, other ritzy hotel, the driver expects you to pay more. Same goes for taking a taxi from Garden City to elsewhere. It is best to catch a taxi at some spot other than a hotel.

Local bus or micro bus

From the terminus at Abdel Mon'em Riyad behind the Egyptian Museum on Tahrir Sq you can take a bus or a micro bus with the destination Qasr El Aini to Garden City.

By Metro
The best metro station for this area is Sadat Station at Tahrir Square downtown since Lines 1 and 2 intersect there, and by following the Corniche you won't get lost. Sayida Zeinab Station and Saad Zaghloul Station on Line 1 may be closer to your hotel, but those curvy streets will impede direct progress and may get you lost altogether.

See
Beit El-Sennari

phone: +20 2 23909471

address: Harat Monge

Built in 1794 by Ibrahim Katkhuda El-Sennari, a Sudanese occultist, Beit al-Sennari housed French artists and scholars after Napoleon arrived. The house was restored in 1995, and opened to the public in 2000. The house is home to the Institute for Applied Arts, which has glassware, pottery, and other works on display. You can also see the courtyard and open gardens, and the various sections of the house.

Egyptian Parliament and Museum

phone: +20 2 429-1920

address: 128 Qasr el-Ainy

Home to the People's Assembly. There are tours offered and a museum chronicling the Egyptian government. Unclear if the tours and museum are operating since the revolution.

Ethnological Museum

phone: +20 2 794 5450

address: 109 Qasr el Aini St

Part of the Geographical Society created by Khedive Ismail in 1895, this rather neglected museum displays more modern Egyptian cultural artifacts, and examples of daily life.
Do
Fellucca tourSail over the Nile in an original Egyptian ship. Felluccas are waiting in front of the Four Seasons Hotel. No reservation needed. In the summer it is recommended to sail a Fellucca late in the evening or at night because of the heat during the day. The view at night is also very spectacular. As with most things in Egypt negotiating about the price is needed. LE50 for an hour is a reasonable price.

CornicheAn evening stroll along the Corniche is always a good idea. Take a stroll up to the Qasr el-Nil Bridge, where you can see the lion statues at the foot of the bridge. Qasr el-Nil Bridge is a popular spot for young Egyptian couples to have an inexpensive date. Many couples stay out for hours on the bridge, where you can often find vendors renting plastic chairs by the hour, and selling roasted lib (peanuts, pumpkin seeds) in small paper cones, and hot sweet tea served in glasses. Occasionally you will see amateur fishermen landing Nile perch from the bridge. A great place to see the lights over Cairo city at night.

Scarabee

phone: +20 2 794 3444

address: Corniche el-Nil

Enjoy a romantic evening cruising the Sofitel owned M/S Scarabee on the Nile. Scarabee offers belly dancing, live music, and international cuisine, grilled meats, and vegetable platters served buffet style.

Marquis Cruise

address: Grande Hyatt Hotel Garden City

Enjoy a drink and cruise up the Nile in the evening on deck in the Moonlight Cafe, or enjoy lunch or dinner downstairs in the Baccarat Restaurant aboard the Grande Hyatt's private yacht the Marquis. Lunch is served 2:30PM-4:30PM. Dinner served 8PM-10PM. Reserve seats at Hyatt reception.

Walking TourGarden City is a great place to wander around admiring architecture. Its streets are filled with what once were beautiful palaces and villas, homes to the elite of Cairo, and places of negotiation, intrigue, and brutal realpolitik. The British Embassy (Bayt al Lourd) on Ahmed Ragab Street, built in 1894, saw delicate garden conversations on the engagement of Princess Elizabeth (later Queen Elizabeth II of Britain) to Prince Philip; and in 1942 saw the British Envoy storm forth in a military convoy to force King Faroukh to appoint a pro-British cabinet. The Grey Towers Building at 10 Itihad el Mohamyeen el Arab St was also known as 10 Downing Street as it was the British Army's GHQ during World War II, and here the independence of Syria and Lebanon were constructed.
Eat
The international hotels have several restaurants offering different cuisines from around the world. Local
koshary
(pasta, rice, lentil, chick peas, onions, garlic and tomato-chili sauce) is sold widely in small shops for a few Egyptian pounds. These koshary shops might not look very inviting but the food is usually good and addictive.
Beware of the red chilli sauce which is served in a small plastic bag with your koshari. It is akin to Tabasco sauce and very hot. Always eat from busy fast food outlets to ensure a quick turn around of food which can easily 'go off' in the extreme heat of summer. Buy food that is 'piping hot'. Most of these shops can be found on Kasr-El-Ainy street.
Inexpensive
Foul Mahous

address: across from the Canadian Embassy

The best foul in Cairo, don't let the looks of what is basically a stand with tables in the road fool you.

Pyramids

address: 75 Qasr al-Aini

A local fast food joint with the standard Middle Eastern fare, delivery.
Splurge
phone: +20 2 531 6111

address: 69 Qasr el Ainy St

Abou Shakra is a chain restaurant with an Middle Eastern/ Northern African menu and the occasional french fry.

Bird Cage

address: Corniche el-Nil

Thai cuisine, located on the second floor of the Semiramsis InterContinental Hotel.

El Cinzano

address: 1 Latin America Street

Italian restaurant, near the embassies, featuring homemade pasta and other dishes.

Revolving Restaurant

phone: +20 2 2365 1234

address: Corniche el-Nil

Located on the 41st floor, the Revolving Restaurant offers cocktails and French cuisine, with splendid views of the Nile. Reservations required and dress code (no jeans).

Spice

address: 1089 Corniche el-Nil

Cantonese cuisine served in an elegant setting, with dim sum buffet on Friday afternoons 1PM-4PM. Dress smart casual.

Tabouleh

phone: +20 2 792 5261

address: 1 Latin America Street

Reservations are essential at this very popular Lebanese restaurant. A very wide range of Lebanese mezzeh is offered.
Drink
Qasr el-Ainy Street is dotted with several coffee shops serving shisha, coffee, tea and refreshments. Otherwise, the five-star hotels are your best bet, all the big ones have at least one bar.

Sleep
Budget
Garden City House Hotel

phone: +20 2 2794 8400

address: 23 Kamal El -Din Salah

Used to be a well-run hotel owned by Italians, now just an average, grimy but functional hotel. The staff isn't particularly the best but the bedding is clean and the rooms are big. A variety of rooms from those with air conditioning and bathroom to those with no air conditioning and a shared bathroom.

Juliana Hotel

phone: +20 0124249896

address: 8 Ibrahim Nagib

Located on the third floor of an office building, this hotel offers free WiFi, breakfast, modest rooms with budget design, small double beds, and towels daily. You will have to ride an elevator up to the hotel and meander to the lobby.
Mid-range
Garden City is short of mid-range options
Splurge
Four Seasons Hotel Cairo at Nile Plaza

phone: +20 2 2791 7000

address: Corniche el-Nil

Everything you would expect from this chain of hotels, with many rooms overlooking the Nile.

Grand Nile Tower

phone: +20 2 3651 234

address: Corniche el-Nil

Formerly the Hyatt, situated on the North tip of Rhoda Island.

Kempinski Nile Hotel

phone: +20 2 2798 0000

address: 12 Ahmed Raghab Street

High quality accommodation on the Corniche, 10 mins walk from Midan Tahrir. Contains Osmanli Turkish restaurant and rooftop poolside bar / cafe with great Nile views.
Semiramis Intercontinental Hotel is on the Corniche on the boundary between Garden City and Downtown, see Downtown for listing.