Cairo (Illinois)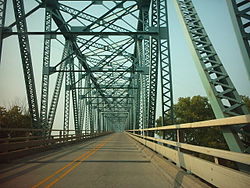 Cairo
is in
Illinois
on a small strip of land in between
Missouri
and
Kentucky
as well as the confluence of the Ohio and
Mississippi River
, made famous in Mark Twain's "Huckleberry Finn".
Understand
The town was in former times a major port, but is now a semi-ghost town as a result of the decline of the river trade. During the
American Civil War
, it was used by U.S. Grant as a supply hub, but his military occupation of the town diverted much trade towards Chicago and Cairo could never quite get it back.
Get in
By car
US 51. Head south on US Highway 51 from Interstate 57.
By plane
See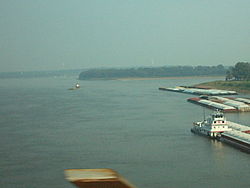 Cairo Custom House Museum

phone: +1 618 734-9632

14th and Washington Ave. An American Civil War and local history museum. M-F 10AM-12PM, 1PM-3PM.

Fort Defiance State ParkThis once neglected state park has come back into better days thanks to local efforts. It looks out over the Ohio and Mississippi rivers as the two powerful water flows attempt to combine.

Safford Memorial Library

address: 1609 Washington Ave

Home to Civil War documents, antiques, and paintings.

phone: +1 618 734-0201

address: 2700 Washington Ave.
Do
Levee Footrace

phone: +1 618 734-4400

A 5000 and 10,000 meter run held on the Mississippi River Levee is held the second Saturday of November.

St Mary's ParkThis city park once played host to Theodore Roosevelt, but now hosts the city's residents with recreation facilities.
Eat
Andy's Drive-In

phone: +1 618 734-4361

Cairo Truck Stop

phone: +1 618 734-9161

Chris's Cafe

phone: +1 618 734-9880

Dairy Hut

phone: +1 618 734-1266

Mack's Barbecue

phone: +1 618 734-9847

Nonny's

phone: +1 618 734-1883

2203 Sycamore.

Nu Diner

address: 300 Washington Ave
Sleep
Belvedere Motel

address: 3901 Sycamore St

Days Inn

phone: +1 618 734-0215

I-57 and US 51.

Garden Inn Motel

phone: +1 618 734-9554

US 51.

Relax Inn

address: 214 Washington Ave
Go next