Calcata
Calcata
is a small hill town in
Lazio
near Rome in central Italy.
Understand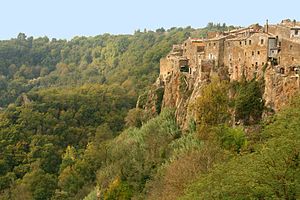 Originally a sacred ritual site used by the Faliscans, who came before the Romans, and claimed until recently to be the location of the foreskin of Jesus, this is, perhaps, the most unusual village in Italy. In the 1930s, the government condemned it for fear that the 50m high cliffs it sits on were crumbling and the whole village was in danger of collapsing. Most of Calcata's inhabitants moved to the nearby newly built town, Calcata Nuova (New Calcata), leaving the old village more or less deserted. But the old town survived and in the late 1960s and early 1970s, artists and "hippies" began moving in. They occupied the abandoned houses before eventually buying them from the original owners. They patched up narrow alleys and converted caves in the rocks into homes. They opened art galleries, inconspicuous shops, restaurants, cafes, and a small B&B and Calcata became a very laid-back tourist site. Finally, they convinced the Government that its earlier assessment was wrong and that Calcata was not going to collapse.
Get in
By car. From Rome, take the Cassia Bis highway (SS2) and exit at Sette Vene. Follow signs for Calcata. Parking is limited and mainly along the side of the road that passes Calcata. In the high season this may involve quite a long walk to get back to the village.
By bus. Hourly Cotral buses leave from the Saxa Rubra bus station to the north of Rome. The journey time is about 45 minutes although this could be much more on sunny weekends.
Get around
On foot. The village can be easily covered in 15 minutes, shopping excluded of course.
See
Attractive views from all around the village.
Three seats carved in stone. Popular place to take photos. Next to the church.
Buy
Works of art. Calcata's web site lists 24 artists who work in Calcata and sell their work there. Things to buy range from hand-made tourist stuff such as fridge magnets, to seriously good art.
Eat
I Tre Monti da Adolfino

phone: +39 0761 587998

address: Piazza Roma 11

Traditional dishes from the area, such as Fettuccine with Porcini Mushrooms and Tagliatelle with Cheese and Pepper. Try the boar stew.

La Latteria del Gatto Nero

phone: +39 0761588015

address: Via della Pieta 13

A restaurant for cat lovers. Photos, paintings and statues of cats are everywhere. Even the toilet brush holder is a cat.

La Piazzetta

phone: +39 0761 588078,+39 335 6682776

address: Via S.Giovanni 47

Homemade pastas and dishes typical of the region.

Pizzeria del Borgo

address: Via San Giovanni

Takeaway pizza for those in a hurry.

The Grail

phone: +39 0761 587666

address: Via Garibaldi 9

Homemade pasta, desserts, and fowl.
Drink
La sala dei 201 théTea rooms in the main village.
Sleep
ApartmentsRemarkably inexpensive apartments can be booked through this official agency of the village.
Connect
Cell phone coverage is not good, particularly inside the thick-walled buildings.

Go next
Civita Castellana. A few km to the north of Calcata as the crow flies, although longer by road, this is an attractive town with a particularly interesting cathedral.
Nemi. Attractive town with an interesting castle.
Sutri. A Roman ampthitheatre carved out of rock and Etruscan remains. On the road to Viterbo.