Calgary/City Centre
Calgary City Centre
refers to the most urban and dense area of
Calgary
. The area is best known as the location of the
Downtown Commercial Core
.
Understand

The following neighbourhoods are a part of Calgary City Centre:
DowntownContains the second largest concentration of head offices in Canada. The region is divided into several neighbourhoods.
Downtown Commercial CoreCalgary's dense business area comprises the bulk of the downtown area. The commercial core is also divided into a number of districts including the Entertainment District (includes Stephen Avenue), Cultural District (includes Olympic Plaza), and the Government District.

ChinatownCanada's third largest Chinatown. It is the heart of Calgary's Asian diaspora, although much of northeast Calgary has a Pacific Rim influence. The area of about a half-dozen blocks is along Centre Street S, from 4 Ave S (on the south) to the Bow River (on the north). Calgary's Chinatown packs in a dense network of Chinese, Vietnamese, Japanese and other Asian restaurants, shops, housing and cultural facilities.

Downtown East VillageThe East Village has seen a great amount of redevelopment since the late 2000s, including several restaurants in the historic Simmons Mattress Factory building, and several new condo towers, with several more under construction. The neighbourhood is host to the National Music Centre of Canada and New Central Library.

Downtown West EndThe West End is a high-rise, high-density residential neighbourhood to the west of the Downtown Commercial Core.

Eau ClaireA mix of riverside condominiums, shopping, restaurants, hotels, a large public plaza and urban parkland make Eau Claire one of Calgary's most popular areas. Contained within Eau Claire is the city's Festival District.
The Beltline and 17th Avenue17th Avenue SW is Calgary's première place to see and be seen. It boasts a large and eclectic variety of restaurants, unique shops, boutiques, and bars. This street is where Calgary parties, most notably becoming the "Red Mile" during the 2004 Stanley Cup ice hockey playoffs, where up to 100,000 cheering fans gathered to celebrate victories by the hometown NHL Calgary Flames. While the Beltline spans from the Stampede Grounds and Victoria Park on the east to Mount Royal on the west, the dense nightlife on 17th Avenue starts at about 2nd Street SW and goes to 15th Street SW.
Mission and 4th StreetThe Mission district was established as a French and Catholic settlement (later called Rouleauville) at the same time that Calgary was founded. Historic displays at Rouleauville Square and the Elbow River Promenade tell the story of the area. In many ways, Mission acts as an extension of 17th Avenue. Like the Beltline, it is packed full of interesting restaurants and shops. It does not share 17th Avenue's late night reputation, however, and it generally lacks the bars and nightclubs. Mission extends from 4th Street SW to 1st Street SE and from 17th Avenue SW in the north to 26th Avenue and the Elbow River in the south.
Mount RoyalMount Royal is a neighbourhood south of the downtown with charming old homes on winding streets. The area houses some of Calgary's elite. It is a nice area to do a quiet stroll through, admiring old residences. Driving around the community can be challenging due to the preponderance of traffic calming measures and street closures to prevent cut-through traffic.
Get in
By CTrain
CTrain LRT lines both run on 7 Avenue S in downtown downtown: the Red Line (Route 201) runs from
Tuscany
station in the
Northwest
to
Somerset/Bridlewood
station in the south (serving both the
Southeast
and
Southwest
), passing attractions the Stampede grounds. The Blue Line (Route 202) runs from
Saddletowne
station in the
Northeast
, to
69th Street
station in the
Southwest
. LRT platforms are labelled with reference to station termini rather than by compass direction, and the trains are well signed. 7 Avenue S is a free-fare zone.
There is no direct access to the Calgary International Airport; however, travelers can take the Blue Line to McKnight-Westwinds station and transfer to bus #100.
By bus
Calgary Transit
operates numerous bus routes into the City Centre. Routes of interest include:
;Express (limited stops)
#300 (BRT): connects to the Calgary International Airport via Centre Street.
#301 (BRT): serves north/central Calgary (both Northeast and Northwest) via Centre Street; terminating at the North Pointe Park & Ride.
#302 (BRT): connects the Southeast Calgary, including the South Health Campus.
#305 (BRT): connects to Kensington and WinSport (Canada Olympic Park) in Northwest Calgary.
MAX Purple (#307): connects to Inglewood, Forest Lawn, and East Hills in Southeast Calgary.
ICE (Intercity Express Service: #901 & #902): operated by Airdrie Transit, connects to the city of Airdrie.
;Regular Service
There are numerous bus routes, see
Calgary Transit
for additional information. Routes of interest include:
#1: Kensington and Bowness in Northwest Calgary to Inglewood and Forest Lawn in Southeast Calgary.
#2: runs down 17 Avenue SW (west of 8 Street SW) and Centre Street.
#3: runs down Elbow Drive, 4 Street SW, and Centre Street.
#6: runs down 17 Avenue SW (east of 17A Street SW) and 1 Street SW.
#90: runs down 11 Avenue SW (westbound) & 12 Avenue SW (eastbound) west of 1 Street SW.
By car
Deerfoot Trail
(Highway 2), is the main north-south freeway, passes east of the City Centre, and can be accessed primarily via
Memorial Drive
(which connects to 4 Avenue S and 5 Avenue S in the downtown core), or alternatively via 17 Avenue SE and 9 Avenue SE.
Crowchild Trail
passes on the western edge of the City Centre, and can accessed primarily via
Bow Trail
(becomes 6 Avenue S and 9 Avenue S in the downtown core), with both Memorial Drive and 17 Avenue SW providing alternate routes.
Macleod Trail
is the main access route from the south, while
14 Street W
,
Centre Street
, and
Edmonton Trail
(becomes 4 Avenue S and 5 Avenue S in the downtown core) provide northern access. Centre Street between the downtown core and 20 Avenue N has lane reversal during peak periods, so be mindful of overhead electronic signs.
Calgary's downtown core is bounded by the Bow River to the north, the railway tracks to the south (between 9 Ave S and 10 Ave S), 11 St W, and 4 St E.
Almost all of the roads in the downtown core are one-way
, so look carefully at your map for the direction of traffic on each road when planning your trip. When driving in downtown, watch for one-way signs. 7 Avenue S in the downtown core is for Calgary Transit buses and C-Trains (trams) only; cars driving on 7th Ave may be ticketed and will definitely draw stares and glares from waiting transit commuters.
For many years,
parking in downtown Calgary
has been the second most expensive in North America, after New York City's. Parking fees of over $25/day are not unusual. Street parking in downtown (and many other parts of the city) is through the city's
ParkPlus system
. You will find a ParkPlus pay station in every block. Before you leave your parking spot, note the 4-digit ParkPlus zone number on a sign near your car. Also note your rental car's licence plate number. Go to the ParkPlus pay station, where you will need to type in that information, and pay for your parking either with a credit card or with coins ($2, $1, $0.25). If you set up a ParkPlus account before your visit, you can pay using your cell phone. The
MyParking app
can help you find available parking more quickly.
On foot
Downtown Calgary is a compact area which is easily accessible on foot. The pathway system, Eau Claire Market area and Stephen Avenue Walk (8th Avenue) are the primary walking destinations of downtown workers in the warmer months. In the wintertime, everyone navigates their way around the downtown core via the
Plus 15 system
, so called because the enclosed walkways joining buildings are approximately 15 feet (5 m) above ground.
By bicycle
Calgary has
cycle tracks
in the downtown core. (A cycle track is a bike lane that is protected from other traffic by physical barriers, such as concrete medians.)
The 7th St SW cycle track goes from the Bow River to 8th Ave SW.
There are cycle tracks along 5th St W, 8th Ave S-Stephen Avenue Walk-9th Ave S, and 12th Ave S.
Check the City of Calgary's
cycle track map
for details.
There are pathways along both the Bow and Elbow rivers. Cycling is not allowed on 7 Avenue S between 1 Street SE and 8 Street SW as it is reserved for Calgary Transit vehicles and emergency vehicles; offenders risk a $350 ticket.
Cyclists must obey the same
rules
of the road as other vehicles. All cyclists must have a working bell on their bike, and cyclists under the age of 18 are required to wear a helmet. Only cyclists under 14 may ride on sidewalks.
See
Landmarks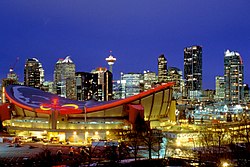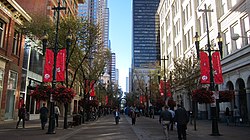 phone: +1 403-266-7171

address: 101 9th Ave SW

The Calgary Tower may not be quite as impressive as the CN Tower in Toronto, but it still commands a great view over the city and the surroundings. On a clear day you can see the Rockies to the west. It features a revolving gourmet restaurant, a bar, and an observation deck. The tower is best approached from 9th Avenue, as the 10th Avenue side is dominated by railway tracks, parking lots, & parkades.

address: 555 Saddledome Rise SE

On the grounds of the Calgary Stampede, Calgary's largest hockey arena plays host to the Calgary Flames (ice hockey), the Calgary Hitmen (junior ice hockey), the Calgary Roughnecks (box lacrosse), and many concerts.

address: 1410 Olympic Way SE

The site of Calgary's world-famous exhibition and rodeo, the Stampede Park is east of the Beltline in Victoria Park. Not only are the grounds the site of the excitement of every July's Calgary Stampede, they also house a conference and exhibition centre (the BMO Centre) and a casino.
Museums & educational attractions
Skyline
Many Calgarians are understandably proud of the city's collection of skyscrapers. What's more impressive are the clear views you can get of downtown from certain spots around the city, sometimes with the mountains in the background.

Some of these listings are in different districts. Their listings are in here because the views are of central and pertain to the article. At the end of the listings that are not in this district there are links to that district.
Crescent Road viewpointThis ridgetop gives a great view of Prince's Island Park and downtown Calgary. Follow the pathway to a staircase going down the hillside for more varied perspectives.

address: Elbow River Pathway

Salisbury Street is in a residential area on the east side of Enmax Park. There are houses on one side of the street and, on the other, a great view of the Saddledome, Stampede Grandstand, Calgary skyline and the Calgary Tower.

Nose Hill viewpointThe views of downtown Calgary from Nose Hill Park can only be accessed on foot or by bicycle. Park your car at one of the parking lots near the top of the hill (opposite Edgemont Blvd NW or Berkely Gate NW) and then head towards the southern edge of the hill.

Scotsman's Hill viewpointThe top of this very high riverbank overlooks the Stampede Grandstand. It is a good place to watch the fireworks which are scheduled every evening during Stampede week after the chuckwagon races and the stage show (11PM). The parking in the neighbourhood is 'permit only' so you must park elsewhere, walk up the hill and watch the fireworks for free.

Tom Campbell's Hill Park viewpoint

address: 25 Saint George's Drive

Views of the confluence of the Bow River and Nose Creek, with the towers of downtown Calgary off to the southwest.

address: 4500 14A St SW

In Calgary's southwest on ridge above Sandy Beach, large designated off-leash area.
Parks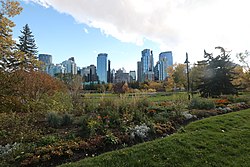 Sports complexes
phone: +1 403-233-8393

address: 2225 Macleod Trail S

Near the Stampede Grounds and just south of downtown, Repsol Sport Centre is a multi-sport centre used by both recreational and Olympic-level athletes. Facilities include two 8-lane 50 m long Olympic-size swimming pools, a dive tank with spring boards and platforms for 3 m, 5 m, 7 m, and 10 m dives, shallow teaching pool, 5 full-size gyms, 2 running tracks, fitness centre for cardio & weight training, basketball and volleyball courts, classes.
Walk & shop
Barclay ParadeBarclay Parade (3 St SW) is a pedestrian-friendly section of downtown street that runs from Eau Claire Market in the north to Stephen Avenue (8 Ave S) in the south. It is home to a number of high end shops.

ChinatownCanada's third largest Chinatown is in the northeast portion of downtown Calgary. It is the heart of Calgary's Asian diaspora, although much of northeast Calgary has a Pacific Rim influence. The area of about a half-dozen blocks is along Centre Street S, from 4 Ave S (on the south) to the Bow River (on the north). Calgary's Chinatown packs in a dense network of Chinese, Vietnamese, Japanese and other Asian restaurants, shops, housing and cultural facilities. The area along Centre Street on the north side of the river almost functions as a loosely organized "second Chinatown" with Chinese-oriented businesses stretching for 20 or more blocks.

Stephen AvenueOne of Calgary's most famous streets, Stephen Avenue was declared a National Historic District by the Canadian government. The street is lined with many attractive older buildings. It is a major venue for boutique shopping, bars, pubs and restaurants. The mall is closed to vehicle traffic from 6AM-6PM daily.
Do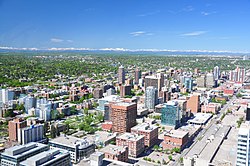 Gamble
phone: +1 403-514-0900

address: 421 12 Avenue SE

phone: +1 403-289-8880

address: 218 18 Avenue SE
Performing arts
phone: +1 403-294-7455

address: 205 8 Avenue SE

Ats Commons hosts the three best-known professional theatre groups; the conservative Theatre Calgary, the more adventurous Alberta Theatre Projects (ATP), and the downright avant-garde One Yellow Rabbit Performance Theatre (OYR). The facility has two additional theatres, so other companies often produce shows here. Of special note is OYR's High Performance Rodeo festival, which runs for January and provides a wildly eclectic mix of performing arts (and performance art). Arts Commons is the venue for many other concerts and events throughout the year.
address: 225 8 Avenue SE

Jack Singer Concert Hall, part of Arts Commons, is a 1,800-seat concert hall and home to the Calgary Philharmonic Orchestra which presents everything from buttoned-down traditional classical music to pops to symphonies for children.
Buy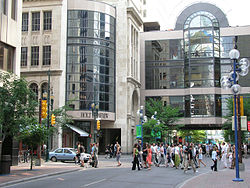 Eat
Budget
Mid-range
Splurge
International
Take-out only restaurants
Drink
phone: +1 403-265-1200

address: 803 8 Ave SW

Three other locations in Calgary: Royal Oak, Southland, & 4th Avenue downtown.

phone: +1 403-247-4663

address: 731 10 Ave SW

One of the most popular nightclubs in the city for the younger (18-mid 20s) crowd. Plays a selection of hip-hop and dance music. Good drink prices on Saturdays, and a very energetic atmosphere.
phone: +1 403-262-9976

address: 613 11 Ave SW

Commonwealth's darker, more lowkey cousin. Plays a variety of genres from rock to punk to hip-hop, but Saturday hip-hop nights tend to bring the biggest crowds. Energetic and varied clientele.
phone: +1 403-237-5556

address: 360 240 8 Avenue SW

phone: +1 403-474-2739

address: 341 10 Avenue SW

phone: +1 403-474-2739

address: 550 17 Avenue SW
Cafés
Starbucks and Tim Horton's are everywhere in Calgary. If you're looking for something different, try one of these.
Sleep
Budget
Hostelling International-Calgary City Centre

phone: +1 403-269-8239

address: 520 7 Ave SE

On the edge of the East Village district, near bars, restaurants, shopping centres and transit. Free breakfast and wifi. Very clean and friendly, lots of space inside and outside. There are no age restrictions, so be prepared for the possibility of sharing a room with a retiree and an 18 year old! Dorm beds and private rooms available.

phone: +1 403-265-8777

address: 1505 MacLeod Tr SE

63 bed independently-owned boutique backpacker/international youth hostel. Free amenities include breakfast, wifi, long-distance calling, parking, golf clubs, and bicycles. Rooms are quite small and crowded; a party atmosphere is prevalent (even encouraged) on weekends. Across from the Calgary Stampede grounds and the Victoria Park/Stampede LRT (tram) station. It is also near the 17th Ave entertainment district.
Mid-range
Splurge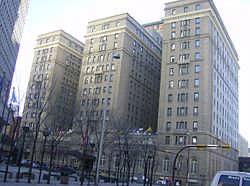 Connect
phone: +1 403-260-2600

Wifi available, free memberships available only to Calgary residents, guest passes available.
Central Library

address: 800 3 Street SE

Memorial Park Library

address: 1221 2 Street SW
Stay safe
Urgent Care Centres
phone: +1 403-955-6200

address: 1213 4 Street SW

Urgent care centres deal with issues which are not life-threatening but require attention within the same day or evening. For serious and life-threatening health concerns always go to your nearest emergency department, or call 911. Problems which urgent care centres typically deal with include broken bones, sprains, asthma, cuts, dehydration, infections, and pain.
Hospitals
There is no hospital in downtown Calgary. There nearest hospital is:
phone: +1 403-944-1110

address: 1403 29 Street NW

For patients aged 15 and older. Patients under 15 years of age should go to Alberta Children's Hospital, which is very close to Foothills Medical Centre.