Calgary Region
Calgary Region
is the region surrounding the city of
Calgary
in
Alberta
,
Canada
. Traditionally an agricultural area, it is a mix of suburban towns and semi-rural areas that are becoming bedroom communities to Calgary.
Cities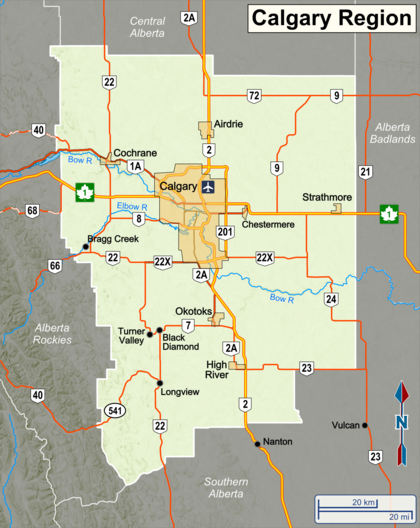 — Home to many of Canada's oil companies, the Calgary Stampede, one-time Olympic host and the largest city in Alberta
— City 25 minutes north of Calgary's city centre.
- Town 25 minutes east of Calgary, next to Chestermere Lake.
- Town 30 minutes northwest of Calgary. Popular destination for short day trips from Calgary, to visit McKay's Cochrane Ice Cream and other shops and restaurants, and Cochrane Ranche Park and Provincial Historic Site. Also home to Studio West Bronze Foundry and Art Gallery.
- Town 50 minutes south of Calgary, best known as the shooting location for the TV series Heartland.
- Town 35 minutes south of Calgary. Visit Big Rock, (also known as Okotoks Erratic), a glacial erratic situated between the towns of Okotoks and Black Diamond, Alberta, Canada (18 kilometres south of Calgary). The 15,000 tonne (16,500 short ton) quartzite boulder is the world's largest known glacial erratic.
- Town 45 minutes east of Calgary.
Other destinations
and — Twin towns 50 minutes south of Calgary's city centre.
- Hamlet in the foothills 40 minutes west of Calgary's city centre. Close to and Wintergreen Golf & Country Club. Popular destination for short day trips from Calgary.
- Village in the foothills 65 minutes southwest of Calgary. Close to the Bar U Ranch, a Canadian National Historic Site.
- day use area northwest of Calgary between Cochrane and Airdrie
Get in
For visitors arriving by air, the most effective way to get in is to fly into Calgary at the Calgary International Airport. For drivers, the highways offer great scenery, especially for motorcyclists. There are no scheduled passenger trains that pass through Calgary or the surrounding area.

Get around
Traveling by car or motorcycle is the best method of transportation around the region.

Stay safe
The Calgary region is often compared to Texas with the hospitality of its people, with most locals being very kind and considerate people. The region is very safe for travel.