California Wine Country
California's Wine Country
is vast, and includes a number of regions throughout the northern and central part of
California
. While the
Napa Valley
is the best known of these, there are several other regions to explore for wine tasting and tours. Go to one or several for a multi-day itinerary. The large number of wineries scattered across several counties means that touring California's wine country can be a long, and enjoyable, project.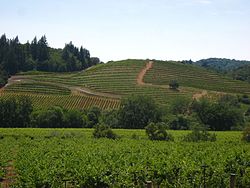 Regions
The core of California wine country includes areas in Napa, Sonoma and Mendocino counties:
Napa Valley — the best-known of California's wine regions, the Napa Valley boasts a huge number of prominent and well-known wineries.
Sonoma County — to the west of Napa, Sonoma is a bit-more laid back, but has a variety of delightful small towns and wineries to explore.
Russian River — meandering through Sonoma County, Russian River wineries are growing in prominence, and specialize in Pinots.
Additional areas of wine production in California include: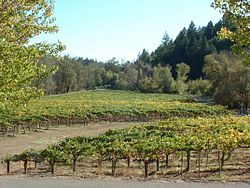 Other destinations
— the major city in the San Francisco Bay Area, this cosmopolitan city offers various attractions and excellent food and shopping.
— the capital of California, Sacramento lies just an hour or so drive east of Napa and Sonoma, and is also close to Amador County. Sacramento offers attractions, excellent food and lodging, and has an easier-to-manage airport than the massive terminals of SFO.
Get in
There are several airports that serve Northern California and that can serve as gateways to the various wine country regions:
Oakland
and
San Jose
tend to offer more discount airline flights, while San Francisco Airport attracts more international flights and can be more convenient for those staying in the city. Private pilots should consider Oakland (
OAK
) rather than SFO, as the separate general aviation field there is more accommodating to light aircraft.

Get around
California's wine country is accessible by driving. There are several services for tours, busses and limousines in Napa and Sonoma in particular; other areas may only be served by private car.
The Capitol Corridor train goes between Sacramento and the San Francisco Bay area, but does not directly stop in wine country.

Stay safe
The most important safety concern when going wine tasting is not to drive while impaired by alcohol. This is especially crucial when you are driving along winding roads you are unfamiliar with. Some parts of wine country also have weak or nonexistent cell phone coverage, making your the sobriety and alertness of the designated driver even more important. So if you are driving and nevertheless choose to drink a bit, know your limits, take advantage of the food offerings of vineyards, drink plenty of water (especially in the summer, when most of wine country is hot and dry) and take the time to sober up before getting behind the wheel if you have one too many.