Camarines Norte
Camarines Norte
is in the
Philippines
.
Cities
Understand
Camarines Norte (central Bikol:
Amihanan na Camarines
; Filipino:
Hilagang Camarines
) is a province located in the
Bicol
region in
Luzon
. Camarines Norte covers an area of 2320 km² occupying the northwestern coast of the Bicol Peninsula in the southeastern section of
Luzon
, and has almost 600,000 people as of the 2015 census.
Coastal Bikol (Central Bikol variant) is the main dialect spoken in the province.
Tagalog
and English are also widely understood and are used in businesses and education.
The province's economy largely depends on agriculture, with grain crops, vegetables, coconuts, rootcrops and fruits as its main products. The four major manufacturing and processing industries in the province are mining (particularly gold and iron ore), jewelry craft, pineapple and coconut industry.
History
It was the location of the Daet Revolt, which took place on April 14–17, 1898. Local members of the Katipunan, led by Ildefonso Moreno and other patriots, staged an uprising against the Spanish authorities here who fortified themselves in the house of Florencio Arana, a Spanish merchant and a long time resident of Daet. Sporadic encounters started on April 14 until April 16 when the rebels occupied Daet and surrounded the Spaniards in the house of Arana. But the Katipuneros failed to repulse the reinforcements which arrived in Barra (now Mercedes) from Nueva Caceres on April 17. The reinforcements broke the siege of Daet. This resulted in the death and/or execution of many patriots. While the Daet revolt collapsed, it signaled the start of a series of rebellions​ throughout the Bicol region.
Get in
Its capital town, Daet, is southeast of
Metro Manila
, an 8- to 10-hour drive by bus, 6 to 7 hour by private car or a 45-minute trip by plane.
Get around
See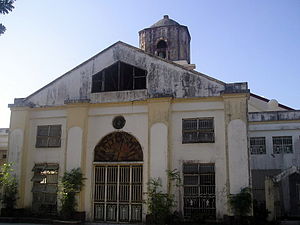 Old Daet CathedralBuilt by the Franciscan friars in 1611, it is one of the oldest churches in Camarines Norte.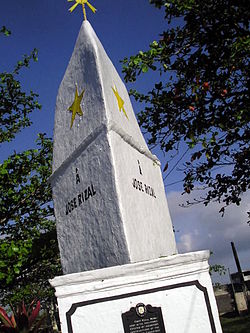 First monument for José RizalThe Rizal Monument in Daet was the first monument built to honor José Rizal, and is the oldest surviving such monument in the Philippines. It was designed by Lt. Colonel Antonio Sanz with the help of Ildefonso Alegre of the Philippine Revolutionary Army and through the financial contributions of the locals of Camarines Norte. The three-tiered stone pylon with its square base supporting a triangle in two stages was the first monument and memorial marker in memory of the Philippines' National Hero.

Provincial Capitol
Old Daet Municipal Building
Daet Elevated Town Plaza
Daet Municipal Building
Pineapple Fountain
Do
Hang out at Bagasbas Beach, Bicol Province's best known surfing and kitesurfing spot.

Pinyasan Formosa FestivalNamed after the delicious sweet Formosa Pineapple, it lasts a week and a half in mid-June with parades, street stalls and nightly entertainment.
Eat
There are lots of fast food stands, and restaurants at the beach.
Sleep
Bagasbas Lighthouse Hotel Resort

phone: +63 54 441 5855

address: Bagasbas Beach, Daet

Catherine Restaurant, poolside bar, skimboarding, outdoor pool, garden.

Hebris Penthaus

phone: +63 54 721 2373

address: Bagasbas Road, Purok 3, Barangay Borabod, Daet

Hebris is 1½ km to the town of Daet and 2½ km to the Bagasbas Beach.

Francesco's Inn and Restaurant

address: Corner Dimasalang and Suzara Streets, Daet

Along residential areas. Quite accessible with trikes and jeepneys. 5 to 10 mins walk to nearest fast food restaurants