Camas (Washington)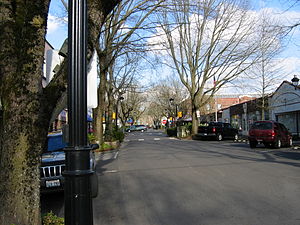 Camas
is in
Southwest Washington
.
Understand
Camas lies along the Washington side of the Columbia River, across from Troutdale, Oregon. At this juncture the Columbia River is nearly a mile wide.
One of the major geographical features of the city is Prune Hill, upon which a great portion of the residential area of the city is located. Prune Hill is an extinct volcanic vent and is part of the Boring Lava Field of northwest Oregon and southwest Washington.[

Get in
vehicular traffic flows across the Columbia via the Interstate Bridge on I-5 and the Glenn Jackson Bridge on I-205. The main road through town is the limited-access SR 14 expressway.

See
250px|thumbnail|Round Lake
| name=Round Lake | alt= | url= | email=
| address= | lat= | long= | directions=
| phone= | tollfree= | fax=
| hours= | price=
| content=
}}
Eat
| name=Roots Restaurant and Bar | url=http://www.rootsrestaurantandbar.com/ | email=
| address=19215 SE 34th St, Ste 110 | lat= | long= | directions=
| phone=+1 360 260-3001 | tollfree= | fax=
| hours=11:30AM-11PM daily | price=
| content=A destination restaurant for foodies from all over the Northwest, Roots specializes in fresh, seasonal cuisine showcasing local farm products such as Puget Sound clams, Ellensberg lamb, and Walla Walla onions prepared simply yet skillfully. The restaurant features an open kitchen, outside patio seating, clubby booths, banquettes and a rich northwest feel. Bon Apetit magazine named it one of the best spots around the country for a romantic winter dinner.
}}
Go next