Cambria (California)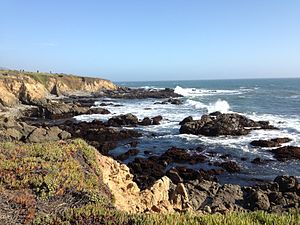 Cambria
(population 6000) is a popular tourist destination in
San Luis Obispo County
in the
Central Coast
region of
California
. The town is perched along a scenic stretch of coastline and offers several inns and hotels.
Get around
See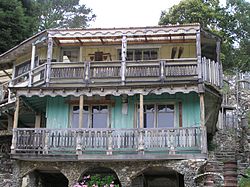 Nitt Witt Ridge

phone: +1 805 927-2690

address: 881 Hillcrest Dr

A house located on a 2.5 acre lot that is built of rocks, abalone shells, wood, beer cans, tile, car parts and other assorted junk. It is a California Historic Landmark as an example of California folk art. A poor's man Hearst Castle, it was built by garbage collector Arthur "Art" Harold Beal, who bought the property in 1928 and then spent decades using a pick and shovel to carve out terraces. Tours must be arranged in advance.
Do
Moonstone Beach BoardwalkWalk along the 1.5 mile (2.4 km) boardwalk that follows the top of the cliffs. It's an easy walk and the views are breathtaking. There are several points that offer beach access and opportunities to explore tide pools. The beach is named for the semi-precious gemstone that occasionally washes ashore.

Hearst San Simeon State ParkThe 3,409-acre park was first established in 1932. A 3.3-mile (5.3 km) trail runs through the park and includes overlooks of the rocky coastline and interpretive panels with information on wildlife and habitat. A portion of the trail along the seasonal wetland is wheelchair accessible.

phone: +1 805 927-6108

address: 2905 Burton Dr

A German-inspired seasonal Christmas market, with decorative lights, live music, and plenty of food and gifts for sale. Open most days between Thanksgiving and Christmas Eve. The main parking area is at the Coast Union High School (2950 Santa Rosa Creek Road) and has a free shuttle service.
Buy
phone: +1 805 900-5140

address: 2531 Village Ln

Cookie aficionados will love this place, dieters will hate it. As the owners state, the things that make a cookie great are "love and butter". All cookies are original recipes made from scratch, with nearly a dozen different varieties ranging from chocolate chip to Snickerdoodle to root beer float. If for some reason you have sought out a cookie store but want something other than cookies, they also have brownies, pumpkin mousse pie, and "Naughty Rods", which are pretzels dipped in caramel, chocolate, and other calories. The store is located in an industrial area and can be a bit tough to find - follow the signs!
Eat
phone: +1 805-927-5007

address: 4095 Burton Dr

Feels like dining in a snuggly bird's nest (hence the name). Food choices are upscale comfort items, with lunch choices like beer battered fish tacos and lamb curry burritos and dinner items like wild prawn enchiladas and jerk spiced duck breast. The food is diverse and delicious, though not inexpensive. For a cheaper, quicker bite, try the Robin's take-out counter.

phone: +1 805-927-0175

address: 2336 Main St

Good Mexican Food.

phone: +1 805-927-4514

address: 6216 Moonstone Beach Dr

This restaurant has great food and is very popular. The line begins forming about 5PM and can by opening time at 5:30PM already have a full seating of people. It serves wonderful fish and looks out on the water.
Sleep
phone: +1 805-927-3300

address: 6470 Moonstone Beach Dr

This 20-room inn offers complimentary warm picnic breakfast delivered to your room as well as afternoon coffee & tea and fresh cookies delivered daily. Every room has a fireplace, 32" flat screen TV, and coffee maker. Slippers and bathrobes are provided for all guests. The property offers wi-fi, free parking, and a limited number of pet-friendly rooms ($25 additional fee).

phone: +1 805 927-4200

address: 2905 Burton Dr

Just up the hill from the Cambria Christmas Market. Offers beautiful gardens, an off-leash dog park, and charging stations for your Tesla or other electrical vehicle. Well-behaved dogs and cats are welcome in designated pet-friendly rooms, but you need to phone the hotel to make the reservations for them. Consider their dinner package as a best-value option.
Go next
San Simeon - Located ten miles north of Cambria, San Simeon is home to Hearst Castle, the impressive residence of the former media tycoon William Randolph Hearst, now managed as a state park with tours available daily. A massive colony of 20,000+ elephant seals can be viewed onshore just north of town every winter.
Morro Bay - Located 20 miles south of Cambria, this coastal town is best known for the massive 581-foot (177 m) volcanic rock that dominates its harbor, but is also a great spot to see marine mammals and is home to one of California's oldest fine art and craft shows.
Paso Robles - Paso Robles is a historical resort town known for its hot springs that is located 31 miles east of Cambria. This city's major industry is wine production, with vineyards located throughout the surrounding area.