Cambridge (Maryland)
Cambridge
is a small town of 10,000 on the
Chesapeake Bay
in
Maryland
's
Eastern Shore
.
Understand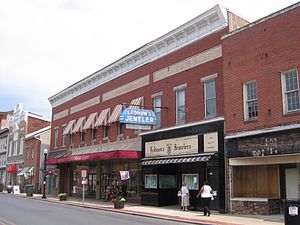 The harbor town of Cambridge was founded in 1684, making it one of the oldest cities in the state. It's seen ups and downs throughout its long history, at times a residence of choice for wealthy colonials, and not long ago a site of conflict and heavy job losses in the 60s during desegregation, racial violence, and the closing of the local cannery. It also has had several very famous residents: Harriet Tubman, Annie Oakley, and even a president of
Liberia
have all known the town as home. Today's Cambridge has seen rising fortunes from tourism (especially following the construction of the huge Hyatt resort) and professionals moving in who like the laid back, charming, maritime atmosphere.
phone: +1 410 228-1000

address: 2 Rose Hill Pl

If you enter Cambridge from the north you will cross the Choptank River on Route 50. Your first stop is the Visitor's Center at Sailwinds Park. The staff here are available to give information about the area's history, and advice on what to see when. They also offer a self-guided walking tour of the town's historic center, or a self-guided 105-mile driving tour of Underground Railroad sites. The Center is on the grounds of Sailwinds park, which has a children's playground, picnic tables a path along the river and spectacular views of the bridge.
Get in
By car
Cambridge is about halfway between the Chesapeake Bay Bridge and
Ocean City
on
US-50
, the Ocean Gateway. Maryland Ave leads right from the highway to the historic town center.
By boat
The town harbor is just up the Choptank River from the bay. The most busy marina belongs to the Hyatt; the city's marina is just north of the historic center:
Cambridge Municipal Yacht Basin

phone: +1 410 228-4031

address: 4 Mill St
By plane
Cambridge-Dorchester Airport (FAA:KCGE) is a small, regional airport with no scheduled commercial flights. Private planes park within walking distance of Kay's restaurant. Courtesy transportation to town may be available.
Get around

The town center is small and easily walked, while getting around surrounding areas will require a car or a bike (the Eastern Shore is good bike riding territory—not a hill in sight).

See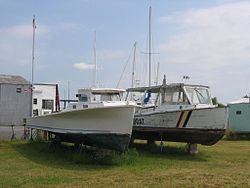 Bill Burton Fishing Pier State Park

phone: +1 410-820-1668

A pedestrian fishing pier parallels Route 50 across the Choptank river on the north side of Cambridge. You can enter the park on either side of the river but the pier is not continuous, so you can't walk all the way across the river. The pier spans 1 mile on the northern side and 1/2 mile on the southern side of the river. Fishing and crabbing are the main attractions, but there are picnic areas and sandy beaches (no swimming.)

Harriet Tubman Museum

phone: +1 410 228-0401

address: 424 Race St

A small museum dedicated to the famous African-American abolitionist and Underground Railroad conductor who lived here. The museum is small—call ahead to make sure it will be open. The staff offer tours within and outside Cambridge, of places where Harriet Tubman lived, worked, prayed, etc.

phone: +1 410 221-1871

address: 401 High St

phone: +1 410 221-8844

address: Maryland Ave & Hayward St

Though affiliated with the Richardson Maritime Museum, this is no museum—it is an active boatworks working exclusively on wooden boats and models. Visitors get to see how it's done, and can participate in model building.

Spokott WindmillWindmill, colonial tenant house, one-room school house and blacksmith shop on display. The Lloyd Country Store Museum is open only on special occasions.
Art galleries
There is a vibrant artist community in Cambridge.
Do
Blackwater National Wildlife Refuge

phone: +1 410 228-2677

address: 2145 Key Wallace Dr

The prime visitor attraction here is the Wildlife Drive, which visitors can drive, walk and cycle on in order to get close to the local wildlife. In addition, the Refuge has four land trails and three paddling trails, as well as hunting/fishing/crabbing opportunities. Finally, the Refuge staff and volunteers also offer a variety of environmental educational opportunities for young people at both the Refuge Visitor Center and also at the Refuge environmental education building, located at the entrance to the Wildlife Drive. If you are in the mood to see a bald eagle soaring over the Chesapeake wetlands, this is the place.

phone: +1 410 228-7141

The wooden skipjack is the traditional sailboat of choice for Chesapeake oystermen, and remains in use to this day in parts of the bay where motorboats are not allowed. The Nathan is moored here only for pleasure, though, and offers several activities for visitors, including sailing cruises and educational programs with Chesapeake watermen.

Harriet Tubman Underground Railroad National Monument

phone: +1 410 221-2290

address: 2145 Key Wallace Drive

National monument to Harriet Tubman, abolitionist, suffragette and the best-known conductor on the Underground Railroad for having led seventy former slaves to freedom. (38 0 26'N, 76 0 07'W)
Buy
There is a good collection of shops and art galleries along High Street, Poplar Street and Race Street in the historic center.
As Time Goes By

address: 400 Race Street

Antiques.

address: 406 Race Street

Fashionable boutique clothing.

A Few of My Favorite Things Gourmet Gifts

address: 414 Race Street

Wine, cheese and chocolate. What is not to like?

address: 510 Poplar Street

Antiques.

Studioworks Artisan's Shop at the Dorchester Center for the Arts

address: 321 High Street

Original artwork for sale by the artists in residence.

address: 500 Poplar Street

Fairly traded and environmentally friendly jewelry, gifts and clothing.
Eat and drink
phone: +1 410 228-4884

address: 535 Poplar St

A pleasant spot for excellent French bistro fare in the center of town.

Canvasback Restaurant and Irish Pub

address: 420 Race Street

Regional, French, Italian and Irish fare. Live music some Saturdays and Open Mic night on Wednesdays.

address: 305 High Street

Fresh seasonal cuisine in a pub atmosphere.

Hot Spot Cool Eats

phone: +1 443-225-5225

address: 3028 Ocean Gateway

Friendly roadside eatery featuring premium hot dogs, real soft serve ice cream, handcut beachin' fries, handmade soft pretzels. Pop shop offers unique, retro bottled sodas and teas, Smith Island cakes and various sauces, etc. Great outdoor & indoor seating. Kid and pet friendly.

Jimmie and Sook's Raw Bar and Grill

address: 527 Poplar Street

Menu features seafood combined with standard American fare. Good for families or groups with varied tastes. Lunch buffets. Live music Th-Sa at 10PM.

phone: +1 410 228-9007

address: 201 Trenton St

This restaurant has a big outdoor wooden deck overlooking the Cambridge Harbor, and serves a crab-heavy menu.

address: 112 Commerce Street

The menu features seafood, southwestern and Jamaican cuisine. Exotic cocktails.
Sleep