Cambridge (Ontario)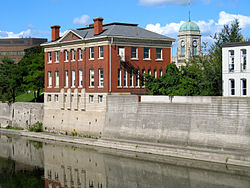 Cambridge
is one of the cities that forms a tightly-integrated metro area, along with
Kitchener
and
Waterloo
, within the larger
Region of Waterloo
in Southwestern
Ontario
.
Understand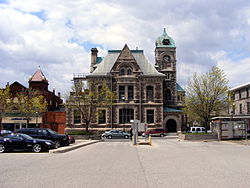 Cambridge was created in 1973 by the merger of four municipalities: Galt, Preston, Hespeler, and Blair. The four communities maintain their individual identities to a certain extent.
The former city of Galt covers the largest portion of Cambridge, making up the southern half of the city. The former town of Preston and village of Blair are on the western side of the city, while the former town Hespeler is in the most northeasterly section of Cambridge. There was considerable resistance among the local population to this "shotgun marriage" arranged by the provincial government and a healthy sense of rivalry had always governed relations among the three communities. Each unique centre has its own history that is well documented in the Cambridge City Archives.
As Cambridge has developed and the open spaces between the original municipalities have been filled in, a fourth commercial core, entirely modern in its construction, has emerged. The Macdonald-Cartier Freeway Highway 401 runs through its midst.
History
Galt:
In the late 1700s, developers began to buy land around the Grand River from the Six Nations Indians. The land was divided and sold particularly to Scottish settlers. The planned community was named in honour of John Galt of the Canada Company which was developing this entire area. Primarily agricultural in early years, Galt had attracted industry by 1840, and was called "Manchester of Canada" because of the extensive industry, powered by the Grand River. The railway reached Galt in 1879, increasing the opportunities of exporting local goods and importing others.
Preston:
Preston was formed on land belonging to the German Company Tract, along the Speed River, which was purchased earlier from the Six Nations Indians. The name Preston is from the hometown of William Scollick, who was surveyor and a native of Preston, Lancashire in England. In the 1800s a group of German-speaking Mennonites from Pennsylvania arrived in the area and purchased land. The population continued to grow primarily because of immigration from Germany. By 1879 there were many industries such as a foundry, carriage manufacturer, potteries and a furniture company. This was also the year that the Cherry Flour Mills started, which would later become the Dover Flour Mills, a Preston company that still operates today.
Hespeler:
The area was purchased in 1798 by Mennonites from Pennsylvania from the Six Nations Indians with the assistance of developer Richard Beasley. Settler Jacob Hespeler arrived in 1845 and bought a 145 acres (0.59 km²) tract on the Speed River. He built an industrial complex that was the beginning of Hespeler's future industrialization which would consist primarily of woollen and textile mills. The arrival of the railway in 1859 helped businesses to develop and prosper. Textile production mills were the primary industry in the early 1900s and continued to be successful until the late 1940s, when this industry began to decline.
Blair:
The land was purchased from the Six Nations, and was settled in 1800 by Mennonites from Pennsylvania. In 1846, a large flour mill called the Bowman Mill, Blair Mill and also the Carlisle Mill opened. In about 1876, a 15-horsepower hydroelectric system, the Sheave Tower, was built on Bowman Creek to help power the flour mill using a series of shafts and gears. The village's honours Adam Johnston Fergusson-Blair, the first judge of Wellington District and a militia colonel in the area.
Get in
By car
Highway 401, Ontario's main east-west highway, runs through Cambridge, and there are five exits in or adjacent to Cambridge:
Exit 275 (Fountain Street), west of Blair
Exit 278 (Shantz Hill Road), northwest of Preston
Exit 282 (Hespeler Road/former Highway 24), south of Hespeler and north of Galt
Exit 284 (Franklin Street), south of Hespeler
Exit 286 (Townline Road), southeast of Hespeler
If arriving from the southeast (
Hamilton
and beyond), take Highway 8, which becomes Dundas Street in Cambridge.
If arriving from the south (
Brantford
), take Highway 24, which becomes Water Street in Cambridge.
By intercity bus
There are three stops serving intercity buses for Cambridge:
Cambridge Smartcentre

address: 44 Pinebush Rd
GO TransitGO Transit provides bus service about once every two hours to Mississauga and Waterloo University. You must have a pre-purchased ticket, Presto card, or cash to buy a ticket from the driver (about $15 one way to Mississauga). Buses have bike racks that can accommodate two bicycles at a time.

GreyhoundGreyhound provides bus service to Cambridge from London and Toronto. As of March 31, 2019, Greyhound no longer stops on 1139 Industrial Road.
Ainslie Street Transit Terminal
address: Ainslie St S, Galt, Cambridge
MegabusMegabus provides bus service between Cambridge and Hamilton (Hamilton GO Centre).

Grand River TransitGrand River Transit, the public transit authority in the Region of Waterloo, offers its ION light rail and bus service for those coming to Cambridge from Kitchener and Waterloo. First take an ION light rail train to ION Fairway station and from there transfer to an ION express bus (route 302) to Cambridge. The ION bus stops at the Cambridge Centre on Hespeler Road before terminating at the Ainslie Street Transit Terminal in Galt.
Kitchener Sportsworld

address: Sportworld Drive, Kitchener

A number of Greyhound buses from Toronto and GO Transit buses from Mississauga Square One stop at this location near the city limits between Kitchener and Cambridge before proceeding to the Charles Street Transit Terminal. ION bus 302 running between ION Fairview Station (Kitchener) and the Ainslie Street Transit Terminal (Cambridge) also stops here.
By train
Cambridge does not have passenger rail service. Nearby cities served by
VIA Rail
are Kitchener,
Guelph
, and
Brantford
.
Kitchener Railway Station
, near Downtown Kitchener, is probably the most convenient as it is near the ION light rail line which connects to the ION bus (route 302) to the
Ainslie Street Transit Terminal
in Cambridge.
Get around
Grand River Transit
is the
transit authority for Waterloo Region
. Its bus system is ideal for getting practically anywhere in Cambridge, with routes extending towards Kitchener and Waterloo.
It is also possible to get to many points of interest by walking. Most hotels are near malls and major shopping centers. There are also several reasonably priced car rental services in the city and in Kitchener nearby. Walking is probably most convenient within one of the three communities; it's a bit of a long walk between Galt and Preston and Hespeler.
See
Cambridge is an essentially residential city. There are several areas of interest on Hespeler Road.
Do
phone: +1 519-623-2620

address: 1386 Cooper Rd, Flamborough

A small zoo with a good selection of animals and a drive-through safari great for families. Guard your cars well against roving bands of outlaw baboons.

Cambridge Arts Theatre

address: 47 Water St. S.

Features Theatre Cambridge, which features live theatre in the summer, as well as the Galt Little Theatre, a volunteer troupe.

The Cambridge to Paris Rail-Trail

address: Highway 24 (Water St.)

The 18-km (11-mile) trail follows the Grand River through lush Carolinian Forest with spectacular river overlooks en route. Posts mark each kilometre from Cambridge. The trail is level, finished with fine gravel, and provides an easy path for cyclists and hikers. Food and washrooms are available in Cambridge, Glen Morris and Paris. Benches are provided in some areas
Buy
Eat
Blackshop Restaurant & Wine Bar

phone: +1 519-621-4180

address: 595 Hespeler Road

Casual European fine dining. Prime Rib Sundays starting at 5PM.

phone: +1 519-624-1828

address: 130 Water Street North

The Cambridge Mill serves earth to table cuisine sourcing impeccable local, seasonal ingredients from near-by farms and food artisans. This results in seasonally changing menus of fresh, local ingredients

Eagle Restaurant

phone: +1 519-650-0013

address: 1390 Eagle St N

Quality food is prepared using fresh ingredients, and the menu choice is extensive.

Fifty's Deli & Family Restaurant

address: 426 Hespeler Road

It's the only restaurant in the city where you can almost guarantee there will be a line-up. People feel comfortable there, and it's a Cambridge classic in so many ways. At Fifty's, when the plate is in front of you, there are no real surprises except the automatic reaction "they're only charging that much for this?". Seating for about 200. Reservations accepted M-Th. Licensed

phone: +1 519-622-0888

address: 61 Main St

Vietnamese cuisine is at last attracting a broad audience it deserves.
Sleep
There are a large number of chain hotels near the 401/Hespeler Road interchange. More unique places to sleep in Cambridge can also be found, however.
Go next
rare Charitable Research Reserve, a 913-acre natural area in North Dumfries Township, abutting Cambridge.

Cambridge to Paris Rail TrailThis 19-km trail follows a former railway between Cambridge and Paris. The scenery is beautiful as the trail runs near the Grand River for much of its length. Makes for a nice bicycle ride.