Cambron-Casteau
Cambron-Casteau
is a French-speaking village located in the
Hainaut
province of
Belgium
, mid-way between
Brussels
and
Lille
. Its most notable attraction, drawing over 1.7 million visitors per year, is animal park
Pairi Daiza
.
Understand
Cambron-Casteau has a history dating back to the 12th century, when a Cistercian abbey was founded, and a town quickly grew around it. The name comes from the Celtic cambrone, meaning curve, and castellum meaning fortified place. The 18th century abbey tower with crypt, the staircase towards the river, and the 19th century castle remain today and can be visited.

Get in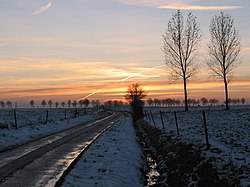 The is the easiest way in an out of town. There is an hourly train connecting Cambron-Casteau to
Ath
in the north and
Jurbise
in the south. From Jurbise, the Brussels Airport Express connects directly to Brussels Airport
BRU
, and the major train stations in Brussels, which can be reached in about 50 minutes.
With a motorized vehicle, Cambron-Casteau can be reached over the N56 between Ath and Jurbise. A large is available for parking near the entrance of Pairi Daiza.
The nearby is for military use only, and closed to civilian aircraft.

Get around

Cambron-Casteau can be easily explored by foot since the distances between tourist attractions are small. Locals frown upon motorized vehicles, which disturb the peaceful quietness of the town. Visiting Pairi Daiza requires considerable walking, so adequate walking shoes are highly recommended.
A leads travelers with a shortcut from the railway station to Pairi Daiza entrance.

See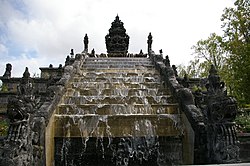 The most important attraction of Cambron-Casteau is the Pairi Daiza park.
phone: + 32 68 250 850

address: Domaine de Cambron

A large animal park and botanical garden located in the domain of the former Cistercian Cambron Abbey. It is home to over 4,000 animals, and member of several European membership programs for the preservation of endangered species. They are famous for their giant pandas, Indian elephants, hippopotamuses, and a large herd of American bisons. A visit to Pairzi Daiza is worth an entire day on its own. If possible, buy tickets in advance on their website, which are cheaper and let you skip the line at the entrance. For the protection of the rhinos, strict security measures are in place and all visitors will be required to pass through a metal detector and have their bags checked. There are no amenities to deposit items like pocket knives in storage at the entrance, so be prepared for a hefty discussion with security and possible denial of entrance if such items are found in your bag.
Railway MuseumA workshop with historic steam trains on display.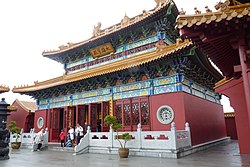 Buddhist TempleA Buddhist temple with a large Buddha statue, decorated with precious gems including lapis lazuli and jade.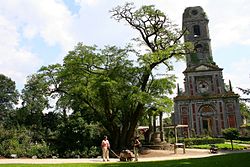 Cisterician Cambron AbbeyRuins of the former abbey church, now only the belfry tower remains. The basement houses numerous species of bats, and is accessible to visitors.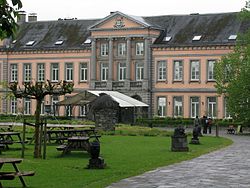 Cambron CastleThe historic castle of Cambron, now home to the aquarium of Pairi Daiza. An excellent location for a picnic.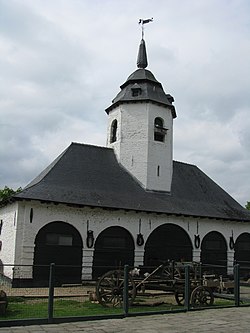 StableFormer stable building, now part of a petting zoo. Several historic horse carts and chariots are on display.
phone: +32 68 28 28 77

address: Place de Keyzer

A church in baroque style, constructed in the local gray limestone.
Do
Steam TrainA narrow gauge steam train traversing the Pairi Daiza park, offering a unique view of the area.
Buy
Miel Cambron

address: Rue du Berceau 29

Organic honey produced by local bee keepers.
Sleep
Au retour de l'Ange

address: Brugelette

A guest house with private room and double bed and private bathroom. Not suitable for families with young kids.
Connect
A can be found on the Place de Keyzer, across of the church.

Go next