Camden (New Jersey)
Camden
is a city in
Camden County
,
New Jersey
. Located just across the Delaware River from
Philadelphia
, Camden is a former industrial boom-town that has fallen onto hard times. Decades of disinvestment and government mismanagement have contributed to Camden's sky-high crime rate, and many of the city's neighborhoods are hotbeds of gang- and drug-related violence. However, the government has begun developing the Delaware River waterfront, which is now a popular and well-traveled tourist destination offering grand views of the Philadelphia skyline and a multitude of activities for adults and children alike. Headlines about violence and crime in Camden may dissuade many tourists to the Philadelphia area from visiting, but a one-day trip to the waterfront may be well worth the trip.
Understand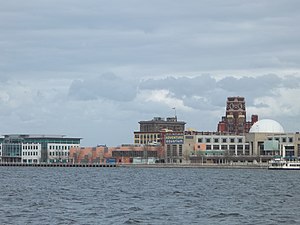 Nearly all attractions in Camden are located along the Camden waterfront, which offers family-friendly activities and scenic views of Philadelphia across the Delaware River. The downtown area contains the Rutgers University-Camden campus and the city's small central business district. The Camden waterfront and downtown areas are considered safe and are patrolled by police. Although the rest of Camden is plagued by urban blight, poverty, and gang-related drug violence, you will be safe as long as you stay in the waterfront and downtown areas and take sensible precautions.
Get in
By bus
New Jersey Transit handles bus routes into the city.
Megabus. Direct service to Camden from Pittsburgh, State College, and Harrisburg. Many more cities have service to Philadelphia just across the river.
By car
From Philadelphia, take the Ben Franklin Bridge or Walt Whitman Bridge to New Jersey. Camden is directly across from Philadelphia.
From New York and Northern New Jersey, take the Turnpike to Route 73 North (Exit 4). Take I-295 South to Exit 26. Follow the signs for I-676 and Camden.
From Delaware, take the Delaware Memorial Bridge to New Jersey. Take I-295 North to Exit 26. Follow the directions from New York and Northern New Jersey.
By plane
The nearest major airport is the Philadelphia International Airport (PHL

), which is about 20 minutes away. From the airport, you may either take a cab (which will be costly), or use public transportation. By train, take the SEPTA Airport Line to the Jefferson Station, then travel five blocks to the 8th and Market PATCO station. From there, take the PATCO Hi-Speed Line into Camden.
By train
The PATCO Hi-Speed Line is a rail line that operates between Center City Philadelphia and Lindenwold, New Jersey. The train operates 24 hours a day, 7 days a week, albeit with very infrequent trips between about 2AM and 6AM. Fares to downtown Camden (City Hall and Broadway stations) are $1.40 from Philadelphia and $1.60 from other stations in South Jersey.
The River Line is a light rail line serving 20 stations between Trenton and Camden, following the Delaware River in New Jersey. Trains run every 15 minutes during rush hour, every half hour at other times. Trains run until 1AM on Saturday and 10PM (very early!) on other days. The line connects with the PATCO Hi-Speed Line at Camden's Walter Rand Transportation Center. One-way fare between Trenton and Camden, NJ is $1.50. There are discounts for senior citizens, children and families. Monthly passes are available.
By boat
phone: +1 215-925-LINK

address: Columbus Blvd and Walnut Street

From May through September, the RiverLink Ferry is the most entertaining way of crossing the Delaware River when visiting the Camden Waterfront and historic Penn's Landing. Enjoy the scenic view atop the open deck of the double-decker Ferry or take cover inside the sheltered cabin. It's also a great location for a private party. The ferry runs between Penn's Landing in Center City Philadelphia and the Camden waterfront. Boats run hourly between the two points. Express service to the Susquehanna Bank Center is available when events are held there, and ferries run until 30 minutes after the event ends.
Get around
By car
This is the easiest way to get around Camden. There is ample parking in the waterfront area, which is where all of the day time attractions are located.
By foot
Most of the worthwhile attractions in Camden are clustered in the Riverfront and Rutgers University areas, so walking is an option, once parked and decided on where you will visit. It is vey nice to walk around the waterfront,especially on a beautiful day.
By taxi
Fortuna Taxi Service, 1435 River Ave, #B, +1 856-757-9590
Fortuna Taxi Service, 2817 Sherman Ave, +1 856-365-8373
Independent Cab, 1437 Haddon Ave, +1 856-966-3233
Gonzalez Cab Incorporated, 792 N 30th St +1 856 338-1743
By public transportation
There are bus lines operated by New Jersey Transit that run throughout Camden. The NJ Transit RiverLine runs near the waterfront. The Walter Rand Transportation Center is a big transit hub, from where you can get the PATCO train to Philadelphia, as well as the RiverLine. The closest PATCO station to the waterfront attractions is at City Hall (at the intersection of 5th and Market Streets), but it is a good 10 minutes' walk down Market from the aquarium and further still from the music hall; if you do not want to walk, a better bet for a visitor from Philadelphia would be to disembark at PATCO's Broadway stop (which is part of the Walter Rand complex) and catch the RiverLine to the Aquarium or Waterfront Entertainment Center stop.
See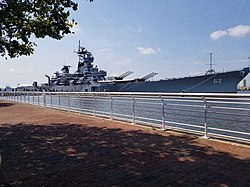 Eat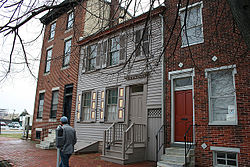 There is food available at the Aquarium and at the BB&T Pavilion. Some other places are the following:
Market Street Pizzeria

phone: +1 856 541-4100

address: 1 Market Street

Family-friendly pizzeria and Italian bistro. On the entrance side of the Victor Lofts. It is such a popular place for Rutgers students, surrounding businesses and aquarium visitors. Their pizzas are made with Grandee cheese. Special pizzas are really special. Not cheap but reasonable.

Market Gourmet

phone: +1 856 361-7006

address: 1 Market Street

At the Victor Lofts. Popular with locals and students, it is rather like a Wawa: a convenience store with good sandwiches and other deli-esque fare. Great grocery selection, with imports from the owners' native Turkey alongside more typical convenience-store fare. Very friendly people. Seating and Wifi available. Their Nescafe cafe hot drinks are worth to try.

Cooper Court

address: Cooper Hospital/University Medical Center, Haddon Ave & Mickle Blvd

The chicken caesar salad is wonderful.

Crossroads Cafe

phone: +1 856 365-1770

address: 2 Riverside Dr.

This is across the street from the Aquarium and has a nice cafeteria style selection.

George's Restaurant

phone: +1 856 757-0015

address: 223 Market St.

This is a nice little place to eat.

Hank's Bar & Grille

phone: +1 856 541-6651

address: 201 Market Street

A friendly place with two bars and a dining room. If you are in town after 7PM Monday through Thursday, check the nightly specials. Call about the free buffet on Fridays. Not really much of a drinking establishment; drinks are overpriced (especially beers, as the place does not seem to have a tap system) and the place closes early for a bar (never later than 11 PM).

Shirley's Brass Rail

phone: +1 856 963-3888

address: 425 Market Street

A diner with almost criminally short hours (as any New Jerseyan would say, what kind of diner isn't open at night or on weekends?) Shirley's is not too far from the Post Office, the Court House, and Rutgers. The cheese steak with onions is great.

Corrine's Place

phone: +1 856 541-4894

address: 1254 Haddon Ave.

Corrine's has great soul food.

Friends Cafe

address: 319 Friends St.

Wonderfully eclectic Korean-American fusion, featuring soups, salads, sandwiches, and burgers with a Korean twist. Popular with Rutgers-Camden students as it's practically on campus.

Black Eyed Susan's

address: 5th and Penn St.

Gourmet soup and sandwich cart. Cards are accepted.

Latin American Restaurant

address: 2 locations: 515 Market Street, and 3125 Federal Street

Don't let the ludicrously simplistic name fool you. If you find yourself in downtown Camden at lunchtime on a weekday eat here. Authentic Dominican cuisine at fantastic prices. The Federal Street location is the original, but as it's in the barrio it isn't really accessible to tourists.

Newtown Kitchen

phone: +1 856-244-1390

address: 315 Market St.

New American cuisine with soul food influences. They have an all-you-can-eat buffet brunch on Sundays 10AM-3PM ($10.95 for adults, $7.95 for children) that is particularly well-reviewed. The aesthetic is jazz. Service is friendly and helpful, although it seems some of the staff are a bit inexperienced. The original location at 516 Martin Luther King Blvd was bought by the state to make way for a new health sciences center, precipitating the present move to a new location on Market Street; any confusion or disorder during 2016 might be attributed to this.
Drink
The Victor's Pub

address: 1 Market Street

The main watering hole in downtown Camden, occupying a good chunk of the first floor of the Victor Lofts. A relaxed community bar; the patrons are a mix of studentsespecially law students and medical students--and assorted others from around the community. Prices for drinks are quite reasonable, although the beer selection is somewhat limited. Drink specials are available some nights and generally quite good. Food is available and ranges from bar snacks to full-price entrees. Try the crab and artichoke dip.
Sleep
There really are not any nice places to stay within the city. Your best bet is to stay in the local area. Camden is close to
Cherry Hill
and Philadelphia and is convenient to NJ Turnpike Exits 3 and 4.
Stay safe
Camden has a national reputation for its violent crime rates, which once ranked as the highest in the country, although there has been a significant drop in violent crime, with 2017 seeing the fewest homicides in three decades. Real estate analytics company NeighborhoodScout has named it within the top 5 "most dangerous" cities in the United States every year since it has compiled the list. In addition, since the FBI began uniformly reporting crime data in the mid 1980s, Camden has never seen its yearly violent crime rate drop below 2 per 100 residents. In comparison, the national rate is about 0.37 per 100 residents.
Don't wander past the riverfront and Rutgers areas along with the block of the Susquehanna Bank Center. During the day, the riverfront and downtown areas are safe, provided that you don't flash your valuables. The Rutgers and Camden police are also highly present. Approach them if you have any concerns. However, do not wander around alone at night. It is dangerous. The downtown area is nearly empty after the Court House, Rutgers University, and other major businesses close down for the evenings. Keep in mind that the drug trade fuels a lot of Camden's crime. Even if you don't experience violent crime at night, the police will be curious about why a tourist is wandering alone on the streets and you may be subjected to questioning.
The city is one of the poorest in the country. In June 2018, the unemployment rate was 9.8%, compared to 4.7% for the state, and in 2015, over 30% of households were living in poverty, compared to 10% for the state.

Go next
The historic, large city of
Philadelphia
is right across the river from Camden. Just take the Ben Franklin bridge or the PATCO high-speed line to get into Philadelphia.