Campbell River
Campbell River
, or
Wiwek̓a̱m
, is a city of about 35,000 people (2016)) on the east coast of
Vancouver Island
. It is renowned as the "Salmon Capital of the World". Campbell River lies along the important coastal Inside Passage shipping route. The town has little to appeal to the average tourist, but is heaven for hikers, kayakers, fishers and naturists. Here you will find a slow, quiet island lifestyle and beautiful scenery.
Understand

Campbell River has a variety of growing industries including aquaculture, agrifoods, clean energy development, construction, creative industries, forestry, health care, international education, mining, technology and tourism. Since Elk Falls Mill, one of the largest employers in the area, shut down in 2009, many people have moved away to other places with higher demands for a similar labour force, particularly Fort McMurray, Alberta.
8.6% of the population is of First Nations (Aboriginal) origin.

History
The first settlers known in the area were members of the Island Comox and related Coast Salish peoples. During the 18th century, a migration of Kwakwaka'wakw (Kwak'wala-speaking) people of the Wakashan cultural and linguistic group migrated south from the area of Fort Rupert and established themselves in the Campbell River area, at first enslaving and then absorbing the Comox. They became infamous as raiders of the Coast Salish peoples farther south, known to history as the Euclataws. Of this group, also known as the Southern Kwakiutl, there are two subdivisions, the Wekayi or Weiwaikai of the Cape Mudge Indian Band on Quadra Island and the Weiwaikum of the Campbell River Band located in and around the city of Campbell River.
Captain George Vancouver reached Campbell River in 1792 aboard the ships HMS Discovery and HMS Chatham. The channel between Quadra Island and Campbell River is named Discovery Passage after HMS Discovery. The captain and his botanist, Mr Archibald Menzies, discovered a small tribe of 350 natives who spoke the Salish language. A Lekwiltok war party, heavily armed with European rifles, paddled south from Johnstone Strait in the middle of the 19th century and were in control of the area when the HMS Plumper came through on a cartography mission under Captain George Henry Richards around 1859. Dr Samuel Campbell was the ship surgeon, and historians believe his name was given to the river by Richards. The community took the name of "Campbell River" when its post office was constructed in 1907. Likewise, the name of HMS Discovery's First Lieutenant Zachary Mudge is preserved in the nearby Cape Mudge.
Sports fishermen travelled to the area as early as the 1880s, especially after the tales from noted anglers such as Sir Richard Musgrave and Sir John Rogers. E.P. Painter, for instance, moved to Campbell River the following year and opened his Painter's Lodge in 1929. Painter's Lodge attracted clientele from Hollywood and regular patrons included Bob Hope and Bing Crosby. Commercial fishing was a large industry for many years. The town's magistrate Roderick Haig-Brown purchased a fishing cabin on Campbell River and wrote a number of books on fly fishing that are influential and well-loved around the world for both sport fishermen and conservationists.
Industrial logging took off in the 1920s with Merrill Ring and Company, Bloedel, Stewart and Welch and Comox Logging. A large forest fire started near Buttle Lake and burned much of the valley in 1938. Rock Bay, Menzies Bay, and Englewood all were big logging camps.
Campbell River prospered after 1912 and it became a supply point for northern Vancouver Island, Quadra Island and Cortes Island. After the Second World War, Campbell River became a boom town and industrial centre with the building of the John Hart Dam, Elk River pulp mill, and nearby mills in Tahsis and Gold River. Logging and mining in the area prospered. There is a lead zinc mine nearby, and coal mines, while a large copper mine operated to the north.

Get in
By plane
Car rentals
are available from the Arrivals area (Budget and National). The
Campbell River Airport Shuttle
(+1 250-914-1010) can take you into town.
Kenmore Air
offers regularly scheduled service to Campbell River from Seattle on seaplanes and land planes from May through September.
By bus
You can get to Campbell River by several bus routes too. Island Coach Lines (Laidlaw) serves
Victoria
to
Port Hardy
, and points in between, including Campbell River. Connect to Island Coach Lines from
Vancouver
aboard Pacific Coach Lines.
By car
Travelling north from
Nanaimo
, there are two options: the
Island Highway (Hwy 19A)
, which is the scenic old road with the beautiful ocean views, or the
Inland Island Highway (Hwy 19)
, which is the faster expressway. The drive on the old Island Highway takes approximately 2 hours (153 km / 95 mi) from Nanaimo or 3.5 hours (264 km / 165 mi) from
Victoria
. The Inland Highway can reduce that time, potentially by up to an hour when driving from Victoria.
Get around

Campbell River does run a limited service local bus route, but a car would be an ideal form of transport to allow you to take advantage of the environment.
The city also boasts a robust cycling infrastructure including paved cycling paths, wooded commuting trails, and bike lanes. There is also an abundance of logging roads and mountain biking trails throughout the area.

See
Campbell River hosts a busy arts and culture scene with museums that cover local history.
address: 705 Island Hwy

Small aquarium that showcases local marine species. There are also touch tanks if you want to get hands-on with things like starfish.

address: 621 Island Hwy

Facility that showcases the restored fishing boat, BCP45, a wooden seiner that plied its trade for roughly 70 years in the Campbell River area and was featured on the $5 Canadian bill in the 1970s and 80s. There are also a number of collections on exhibit, including model ships, outboard motors and ship wheels, and activity centre where you can try your hand at tying knots.

address: 470 Island Highway

Museum that focuses on the history and stories of Campbell River and the surrounding area. Galleries and exhibits include First Nations and the impact of European exploration and colonization, pioneer life, logging, the salmon fishing industry, local sport fishing and the Tyee Club, restored ships and equipment, and a native plant garden. There is also a theatre with footage of events in Campbell River's past.
Do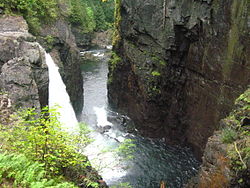 Grizzly Bear Tour

address: Hwy 28

Just outside of Campbell River, this park has wonderful trails for hikers and bikers. The main attraction is the falls, which are surrounded by old growth trees and are 80 ft high. There is a suspension bridge and viewing platform that provide a great view of the falls. The bridge and viewing area are about a 1-km walk from the day-use area parking lot and the last section involves a number of stairs. There is also a popular campground with over 100 spaces.
Guided salmon fishing is also a very popular thing to do.
Buy
Wei Wai Kum House Of Treasures Ltd

address: 1370 Island Highway

This gallery features Northwest Coast First Nations art.

Ridgerider Mens Wear

address: 920 Island Hwy

Also sells Western apparel and gifts.
Eat
Caitlin's Kitchen

address: 2116 e S Island Highway Willow Point

A relaxing cafe serving mostly breakfast and lunch

Baan Thai Restaurant

address: 1090 Shoppers Row

Baan Thai is downtown on Shopper's Row. It serves Thai cuisine and seems to be a local favourite.

Koto Japanese Restaurant

address: 80 10 Avenue

Japanese restaurant, popular with locals and travellers.

Best Wok

address: 936 Alder Street

Chinese restaurant.

San Marcos Steak House

address: 952 Shoppers Row

address: 1920 Island Highway

Steaks, pasta, pizza, Greek, Italian and Indian dishes.

address: 1003B Island Hwy

address: 4329 South Island Hwy

Chinese Smorgasboard, Western dishes also offered. Local favorite.

address: 969 Alder St

Vietnamese restaurant.
Ideal Cafe has seven types of hashbrowns.
Painters Lodge has an amazing array of local food.
Drink
Paramount Music Hall

address: 1140 Ironwood Road

Paramount Music Hall (formerly The Voodoo Lounge) is Campbell River's only nightclub. It features Top 40 music and occasionally live bands. There are daily drink specials. If you get hungry, there's a concession stand called Dat'saLottaPerogeys, right outside the bar selling perogies, hot dogs, and other munchies. Open Tuesday to Saturday and occasionally Sundays. Cover charge varies, but is usually $5.

Royal Coachman Neighbourhood Pub

address: 84 Dogwood Street

Campbell River's only English-style pub.

The Willow's Neighbourhood Pub

address: 521 Rockland Road

Great home made soups and pub food. Friendly atmosphere. Great prices
Sleep
Go next
There are options to move on in every direction from Campbell River.