Campbellton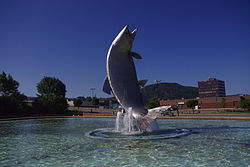 Campbellton
is a city of 6,900 people (2016) on the
Acadian Coast
of
New Brunswick
; it is joined by an interprovincial bridge to
Pointe-à-la-Croix
, Québec.
Understand
The
Acadian Coast
extends eastward from Campbellton/Pointe-à-la-Croix along the south shore of the Baie de Chaleurs, a warm bay which continues past
Caraquet
. This region has a strong francophone heritage, in sharp contrast to the United Empire Loyalist roots of more southern New Brunswick communities such as
Fredericton
.
The area has had numerous names over the centuries: it was called Wisiamkik (muddy spot) by the Mi'kmaq who inhabited the region, it was then named Pointe-des-Sauvages by the French in 1700 and subsequently Pointe-Rochelle, Cavenik's Point, Kavanagh's Point, Quiton's Point and Martin's Point, before settling in 1833 with its current name in honour of Lieutenant-Governor Sir Archibald Campbell.
Forestry and tourism are major industries in the regional economy, while a pulp mill in nearby Atholville is the largest single employer in the area. As part of the tourism industry, wealthy sportfishermen seeking Atlantic salmon flock to the scenic Restigouche Valley every summer. The region sees extensive annual snowfall.
Campbellton is also a retail and service centre for Restigouche County.
Regional Tourist Information Center

phone: +1 506 789-2367

address: 56 Salmon Boulevard
History
The area around the site of the present city was settled by French people circa 1700 with a trading post based upon fishing and fur trading with the Mi'kmaq. More settlers arrived here when the French Ile St. Jean (Prince Edward Island) as the result of the capitulation of Louisbourg in 1758.
It was here that the Battle of the Restigouche, the final naval battle between the English and French for the possession of North America during the Seven Years' War, was waged in 1760. In 1769, Scotsman Hugh Baillie and a partner set up a fur and salted salmon business on the site that would become Campbellton. The business was sold to London merchant John Shoolbred, who in 1773 established the first British settlement on the Restigouche. His agent, William Smith, brought over eight Scottish fishermen from Aberdeen, Scotland, to work for him. In 1794, a Scotsman from Perth named Alexander Ferguson settled in Martin's Point (Campbellton), where his brother Robert joined him two years later.
Considered the founder of Restigouche County, Robert Ferguson established his control over the development of northern New Brunswick during the first half of the 19th century. In 1803, Ferguson inherited his brother's business and quickly became the largest merchant and exporter of fish in Restigouche. Until the 1840s, he shipped between 1,200 and 1,400 barrels of salted salmon per year. He became the most important landowner in the region. He also operated a flour mill and a sawmill and exported hewn wood. He even constructed his own boats in the village that now bears the name of Atholville.
In 1875, the advent of the intercolonial railway, and permanent railway station in 1876, had a strong impact on Campbellton. Its population increased rapidly.
On 11 July 1910, a disastrous fire sparked by a sawmill on the waterfront destroyed a large portion of the town. The fire was spread throughout the town by flaming shingles. Prior to the fire its population was approaching 4,000 citizens and help came from near and far to provide food and supplies in order to come to their aid. Most of the people had to live in tents while plans to rebuild were being prepared. Campbellton was rebuilt in the months and years following the fire. Many of the new (now historic) buildings were constructed of brick as Water Street had been designated a "Fire District" where all new buildings had to be built with fireproof exterior walls.
Climate
Campbellton has a cold, wet and snowy humid continental climate with vast seasonal temperature differences, although summers are somewhat moderated by its proximity to the cold waters of the Gulf of Saint Lawrence. Moderation is nearly non-existent in winter, as prevailing wind from the interior cause temperatures to often plummet below −20 °C (−4 °F).
Get in
You can get to Campbellton from the
Bathurst
airport, the Campbellton VIA Rail station or by car. It takes about an hour from Bathurst Airport. The only airline in Bathurst airport is Air Canada. If you own a private plane or air taxi, you can also reach Campbellton by the Charlo airport nearby Campbellton.
Principal highways into Campbellton/Pointe-à-la-Croix are Québec 132 (a ring road around the entire Gaspé Peninsula, and the main road west from
Rimouski
) and NB 11 (a limited-access road eastward to the Acadian Coast). NB 17 runs southwest through forest to the NB-Maine border (joining the
Trans-Canada Highway
and
US Route 1
near
Van Buren
,
Maine
), but there is one intermediate town and few services on this road.
Get around
Len's Taxi

phone: +1 506 789-0088
See
Restigouche Sam, an 8.5-metre (28-ft) salmon statue made of stainless steel, honours Campbellton's historical connection with the "salmon-rich" Restigouche River.

The Restigouche GalleryA local gallery that functions as a centre in the cultural program of the region. It has been host to major exhibitions from the N.B. Museum on a travelling basis. The gallery displays a tricultural permanent exhibition highlighting the cultural strength of the region bringing to the forefront Campbellton's diverse roots through its heritage Mi'kmaqs, Scottish and the French & Acadian heritage.

Esplanade RestigoucheWalk along the waterfront. Picnic areas.

The Restigouche River Experience Center

address: 1 Riverview Dr.

A Restigouche River Museum and an 86-site RV Park. The centre looks like the region's original fishing camps that you can find along the river. An interpretation centre with its touch tank where you can touch different marine organisms.
Several murals have also been created to beautify the city.
Do
address: 596 Val d' Amour Rd

11.5-km² park. Hiking, and biking in the summer; downhill skiing, cross country skiing, snowboarding, snowmobiling, etc., in the winter. T-Bar Restaurant in the ski lodge.
Sno-Fest3 days in mid-February. Snow sculptures created by local artists. sleigh rides, dogsled rides, tube sliding, ice-skating, family games and on-site entertainment.

Salmon FestivalLate June to early July. Miss and Little Miss Salmon Festival pageants, Canada Day celebrations (July 1) with a giant fireworks display, salmon suppers, road race, live bands, Campbell Amusements Carnival, daily children activities, family activities, and a gigantic parade.

The Bluegrass FestivalThree days in mid-September. Local talent and visiting bands.

Harvest FestivalIn mid-September, a 2-day event tgat is full of activities including a kids' corner, face painting, petting zoo, magician, music, cloggers, dancers, pony rides. On-site crafters sell homemade bread, sweets, preserves, jewellery, and knitted items.

Campbellton Kiosk Entertainment

address: at the Kiosk Park

Free music all summer long. Music every Wednesday and Sunday evenings throughout July and August.
Buy
address: 312 Val-d'Amour Rd

Two dozen shops including a Giant Tiger discount store.
Eat
address: 1 Riverview Drive

Local food, craft beer, beautiful view of the river and mountains.

Chez Kim

phone: +1 506-753-5203

address: 65 Water St

Vietnamese, Chinese.

Al's Pizzeria

phone: +1 506 759-9930

address: 112 Water St

Pizza, donairs, chicken wings.
Drink
phone: +1 506 753-3640

address: 157 Water St

Bar and grill.
Sleep
Restigouche River Experience Centre RV Camping

address: 1 Riverview Drive

Mid-May to Sep. 30A and 50A service and pull-through sites available. Laundry, showers and dumping station. Direct access to Esplanade Restigouche walking and cycling path. Reserve online.

phone: +1 506 753-3133

address: 31 Andrew St

Bed and breakfast. Free parking and Wi-Fi. 1910 house.

Quality Hotel & Conference Centre

address: 157 Water St

Free parking and Wi-Fi. Breakfast included. On-site regards.
Go next
Battle of the Restigouche National Historic Site

phone: +1 418-788-5676

address: 40 Boulvard Perron Ouest, Pointe-a-la-Croix, Quebec

Since 1760, the wreck of the Machault, a 26-gun military sailing vessel charged with protecting merchant vessels from the British, has remained under water. At the Battle of Restigouche National Historic Site, it is now possible to admire the ship's remains and to relive the last naval battle between France and Great Britain for possession of North American territory.