Campbeltown
Campbeltown
(Gaelic:
Ceann Loch Chille Chiarain
) is the town near the south tip of
Kintyre
, the long narrow peninsula of
Argyll
in the west of Scotland. It's only from Glasgow as the crow flies, but by road winding around the many lochs and mountain ranges.
Kintyre has inspired two famous songs: the one that
isn't
by Paul McCartney goes "Campbeltown Loch, I wish you were whisky, I would drink you dry...." Wishful thinking but not for want of industry by the town's distilleries - there used to be 30 in this small place. As with Islay, the isolation was a factor. Barrels of whisky were loaded onto ships for export, duty free; but on dark nights many of them mysteriously found their way back to the mainland cities. By the 21st century only two distilleries remained in Campbeltown, but a change in the law in 2009 encouraged new production.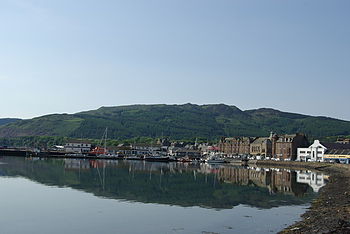 Get in
By car
After all the twists and turns of the main road A83 to reach
Tarbert
, the last section to Campbeltown is a 37-mile straight run along the west coast. Most motorists and all buses follow this route. A scenic route is the B-road along the east coast. This branches off just south of Kennacraig ferry terminal, runs over the moors to Claonaig (for Skipness Castle, and summer ferries to Lochranza on Arran) then south via Carradale, Saddell and Peninver to Campbeltown.
By bus
Scottish Citylink
Bus 926 runs 4 or 5 times daily from
Glasgow
Buchanan Street to Campbeltown, taking 4 hours. The route is via
Dumbarton
,
Tarbet
on Loch Lomond,
Inveraray
, Lochgilphead,
Tarbert (Loch Fyne)
, Kennacraig, Tayinloan and Muasdale. One bus a day runs via Glasgow Airport. Booking is recommended, as this is a busy route connecting with several ferries.
On school days there are a couple of extra runs by West Coast Bus 449 from Lochgilphead via Tarbert and A83 to Campbeltown.
The bus terminus is 200 yards (180 m) north of the ferry pier.
By plane
address: PA28 6NU

Two Loganair flights M-F and one on Sunday from Glasgow GLA, taking about 30 min. The terminal is tiny, check-in here an hour before flight will be plenty. Car hire (pre-booking essential) is available from Kintyre Hire or Campbeltown Motor Company - see "Get around" for these and taxis. There's no bus service to the airport.
By boat
Calmac ferries
sail three days a week Apr-Oct from
Ardrossan
(which has trains from Glasgow Central) to Campbeltown, taking 2 hr 30 min. A day trip is not possible. A quirk of this route is that the Saturday morning ferry from Campbeltown also calls at Brodick on Arran on its way to Ardrossan. There's no ferry Nov-March. The is at the head of the loch, 200 yards south of the bus terminus.
Kintyre Express
is a ferry for foot passengers only between Campbeltown and Ballycastle in County Antrim, Northern Ireland. This runs F-M in April and Sept, daily May-Aug. It sails from Campbeltown at 07:30, taking 90 min and returning at 16:30, so a day trip is possible. Adult fare is £50 single, £90 return. There's no car ferry between Kintyre and Ireland: with a vehicle you have to wind all the way back through Tarbert, Inveraray, Loch Lomond and Glasgow to sail from Cairnryan near Stranraer.
See
Tarbert
for details of ferries:
- from Portavadie on Cowal to Tarbert, which, combined with the
Gourock
-
Dunoon
or
Isle of Bute
ferries, create a short cut from Glasgow or circular itinerary;
- from Kennacraig to
Islay
, thence to Jura and Colonsay;
- from Claonaig to Lochranza on
Arran
.
See
Gigha
for the ferry from .
In bygone years the paddle steamer
Waverley
cruised the Firth Of Clyde, occasionally calling at Campbeltown. Alas in 2019 she's unseaworthy and out of service, and it's not known if repairs will be possible.
Get around
Bus:
West Coast Motors
run local buses around Campbeltown M-Sat; nothing on Sunday or late evening.
Bus 100 / 440 loops around town every half hour, as far south as the hospital and Ralston Rd, and as far north as Calton Ave.
Bus 200 / 442 runs every couple of hours west along B843 to Machrihanish. It doesn't serve the airport further north.
Bus 300 / 445 runs 4 or 5 times up the east coast from Campbeltown via Peninver, Sadell and Torrisdale to Carradale.
Bus 400 / 444 runs 5 or 6 times to Southend, from where it's a 5-mile walk (8-km) to the Mull of Kintyre.
Car hire:
Kintyre Hire
+44 1586 554480 or enquiries@kintyrehire.com; Campbeltown Motor Company +44 1586 552 030 or cmc@peugeotmail.co.uk.
Taxis
(all serving the airport) are Fona Taxis +44 1586 554001 or free phone +44 800 666 666; Roy's Taxis +44 1586 554 625; Tavi's Taxis +44 1586 551122 and Kintyre Connect Minibus +44 7825 091 502 or +44 7984 634 824.
See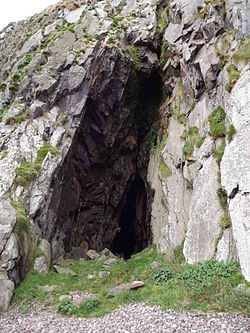 The Heritage Centre is a small museum of local history at 3 Big Kiln St, and open May-Sept M-F 11:00-16:00.
is a tidal island in the bay east of town, reached by the Dhorlin shingle causeway at low tide. There's a Stevenson lighthouse, and several caves: a painting of the crucifixion appeared in one in 1887, causing consternation among locals who took it as a sign from God. When they learned it was by Archibald MacKinnon, they ran him out of town. The painting is occasionally vandalised but has been restored. You can see it without a flashlight, though it's a bit gloomy and damp in there.
is the scenic headland at the tip of the peninsula, with cliffs, a lighthouse, and the coast of Northern Ireland only 12 miles (19 km) away - not much further than is Campbeltown. The mist-wraithed cliffs and ridges have claimed several ships and aircraft; a memorial near the car park commemorates the Chinook helicopter crash of 1994. St Columba (521-597) first landed in Scotland at Southend 5 miles east, before continuing north to Iona. The little island 3 miles south is Sanda, which is uninhabited.
is the ruin of a Cistercian monastery active 1207-1507. It's on B842 eight miles north of Campbeltown. Free, always open. A short walk south gives you a view of Sadell Castle, a 16th-century bastion: this is nowadays self-catering property and you can't tour inside.
is a small village halfway along the east coast. It has accommodation and is an alternative base for touring Kintyre.
Do
Go to the movies at

phone: +44 1586 552101

address: 26 Hall St

Scotland's oldest active cinema, built 1913 in Art Nouveau style. Screen 1 the original has 193 seats, Screen 2 is modern with 52 seats.
Visit a distillery. This town used to have 30 distilleries. It now has three producing single malt Scotch whisky, and further north there's a gin distillery. All can be toured.
phone: +44 1586 551710

address: 85 Longrow PA28 6EX

Founded in 1828, it produces Springbank (double-distilled, medium peaty), Longrow (double-distilled, very peaty) and Hazelburn (triple-distilled, non peaty) Scotch whiskies. Tours are available four times M-Sat Apr-Oct, fewer Nov-Mar.
Glengyle distillery next door re-opened in 2004, producing Kilkerran single malt. It's also run by Springbank, see above for tours.
Glen Scotia distillery on Dalaruan St, founded 1832, is open M-Sa, contact them for tours.
Beinn An Tuirc is a gin distillery opened in 2016. It's next to Torrisdale Castle, 10 miles (16 km) north of Campbeltown, see "Sleep". The shop is open M-Sa 11:00-16:00, Su 12:00-15:00, contact them for tours.
MOKfest is the Mull of Kintyre music festival, held in Campbeltown in late August, with a mixture of traditional, classical and modern styles. The next is probably 19-23 Aug 2020 but to be confirmed.
Buy
Tesco Metro is just north of the bus station. It's open M-Sa 07:00-22:00 and Su 10:00-18:00.

Eat
phone: +44 1586 554326

address: 16 Hall St PA28 6BU

Decent Indian eatery facing the harbour.
Golden Ocean is a Chinese on Longrow, open M-Sa 12:00-14:00 & 17:00-23:00, Su 17:00-23:00.
Drink
Drink the local whisky from Springbank, Glengyle or Glen Scotia. You can try singing "Campbeltown Loch, I wish you were whisky...", but the barman's sick of hearing it.
Black Sheep Pub is within Royal Hotel, see "Sleep"; Fiddlers Inn is on Lochend St, open daily.
Sleep
is five miles west of town on B843. Clean & well-run site open Apr-Oct with caravan hook-ups, camping and wigwams.
is a caravan park and campsite 5 miles north of town on B842, open mid-March to Oct.

phone: +44 800 151 3701

address: Main St PA28 6AG

Traditional Victorian hotel but well renovated, clean & comfortable.
Several small B&Bs, e.g. Earadale at 26 Shore Rd.
Ardshiel Hotel is on Kilkerran Rd PA28 6JL.
Craigard House Hotel is east edge of town at Low Askomil PA28 3EP, along B842.

phone: +44 1586 552465

address: Drumore PA28 6HD

Pleasant friendly hotel.
is a castellated mansion built in 1815. It's not open for tours but you can self-cater within or by the castle. Beinn An Tuirc gin distillery is within the castle grounds.
Go next
Claonaig, near Skipness castle, has summer ferries to Arran, an alternative route back to lowland Scotland.
Tayinloan is the ferry pier for Gigha; you'll have to return the same way.
Tarbert (Loch Fyne) has ferries to Islay and to Cowal, and is the road north.