Campeche
Campeche
is the capital and largest city in
the state of Campeche
,
Mexico
. It has a population around 250,000 people and growing. It sits in the northwestern area of the state. Historically it has long been the second city of the
Yucatán Peninsula
after
Merida
roughly 155 km to the north, the capital of the neighboring state of
Yucatán
. Campeche a port city on the Gulf of Mexico, with relaxed atmosphere and a charming Colonial old town designated a
UNESCO World Heritage Site
. Campeche is one of only two cities in North America (the other being
Quebec City
in
Canada
) to have its city walls still intact.
Understand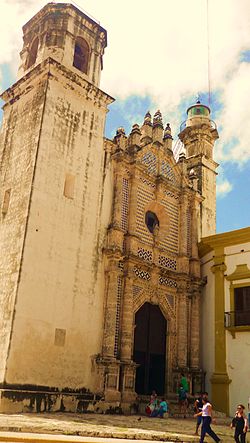 Campeche was founded in 1540 by the Spanish conquistadors as the city of "San Francisco de Campeche" on top of the old Maya town called Ah Can Pech (roughly, "place of snakes and ticks", supposedly for an ancient idol depicting a snake with a tick on its head). Campeche grew into the leading port in the Peninsula in the colonial era. The city's walls and a series of forts were built in the 16th century to guard against frequent pirate attacks. With independence from Spain at the start of the 1800s Campeche was at first part of the state of Yucatán, but separated with the creation of the State of Campeche mid century.
Today Campeche is a fast growing city, but has maintained its history with meticulously preserved walls and historic buildings. Especially outside of the city center, Campeche is a still fairly laid back place and can feel more like a small town. The city is still relatively compact and easy to get around, although as the city grows even bigger, that is slowly changing.
Get in
By plane
Campeche City has an airport. It is possible to fly from Mexico City with low cost carriers such as Viva Aerobus or Interjet.
Ciudad del Carmen
, two hours to the south, has flights to Mexico City as well as to Houston Texas. Neither are cheap. The best bet is to fly into the large international airport at
Mérida, Yucatan
and bus or drive to Campeche. This can also be done from
Cancún
, although it may take an extra day just to get to the state.
By bus
From the Autobuses del Oriente (ADO) station in Mérida, buses leave almost every hour for the two hour drive to Campeche, which costs roughly M$144 (
pesos
). Since it is a short run, second class buses can also be taken, although this offers only small savings (M$10-20).
From Ciudad del Carmen, buses to Campeche are also very frequent and cost roughly M$130. The trip is about 2 hr 45 min, longer by second class bus.
From Cancun, the trip to Campeche takes 6½ hours to complete and costs roughly M$300. There are four buses to Campeche every day.
From Mexico City, Campeche is a lengthy 17-hour drive and this trip costs from M$800-950. A first class bus is recommended.
Get around

Because Campeche is still a small city, it can be easy to navigate on foot, although the oppressive heat and humidity that dominates most of the year may make this impossible. If you are staying in the historic center, this is the best option.
Otherwise or for visiting attractions away from the old town, it is best to get around the city by taxi or bus. Taxi fares are charged by zone; to go from the ADO bus station to downtown, the cost is roughly M$30. The city runs many public buses. They tend to be small, hot, usually cramped and in varying states of disrepair. The fare, however, is cheap at just M$6, so they're convenient for budget travelers or the adventurous. The bus driver will make change, but don't try to offer large bills as they likely won't be accepted.

See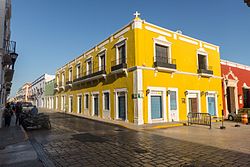 Baluarte de Santiago - It was built in the 18th century. It houses the botanical garden "X'much-haltún".
Baluarate San Francisco - The roof of the bastion offers a panoramic view of the city.
Puerta del Tierra - It is very well preserved. The Land Gate provides the backdrop for a spectacular light and sound show that evoke tales of pirates, sea battles, and other events.
Baluarte de San Juan - It is a unique structure that was part of the big wall.
Baluarte de La Soledad - Built in the 17th century, it houses a museum with archeological, ethnographical and historical pieces.
Puerta del Mar (Sea Door) - It has a simple facade, in the big door there is a galleon carved in stone.
Carvajal Mansión - House built in the 17th century with Moorish decoration.
Municipal Files- Built in the 19th century, first it was a school and then a prison.
La Casa de las Artesanías Tukulná- Antique and beautiful remodeled house where Campeche's varied handicrafts are exhibited and sold.
Pirate ship "Lorencillo"- It is a tour around the bay and you can listen the narrative about the history of Campeche.
Buy

There are tourist oriented shops in the historic center, although their prices are relatively high. The central market is quite small by Mexican standards and it doesn't offer handicrafts like many other do in the country. Outside the market, vendors hawk various items, the most interesting of which are hammocks, a Yucatan specialty.
For travellers looking for a piece of home or just wanting to buy clothing, there are several grocery/department stores located around the city. Super San Fransisco de Assiss has four locations in the city, one of which is on the Gulf of Mexico near the cinema. Another is located by the university, but it's not a central location. The biggest, and cheapest store, is Chedraui, located on Avenida Gobernadores about a 10 minute walk north of the old bus station. It features a full department store, a grocery store and a small restaurant, and has several banks in the vicinity.
Unfortunately, because Campeche is not very tourist oriented, knickknacks and handicrafts are hard to come by.

Eat
Campeche is well known for its seafood, especially shrimp (camarón) and shark (cazón) and both are widely available.
The only North American chains in the city are Burger King and Church's Chicken (located north of the cinema), so visitors have extra incentive to eat local. There are many small restaurants located in the historic center, all ranging in price, but try to watch food preparation before you buy. Outside of the historic centre, Avenida Gobernadores offers a plethora of eating establishments, but again, watch the food preparation and then decide.
For a good vegan/vegetarian option, try Natura2000, on Calle 12 #155, next to the Iglesia de Jesus church.
Called 59 is partly pedestrian between c. 10 & 12 and has a few bar/restaurants with outdoor tables.
For local specialities, Marganzo (calle 8, in front of the sea gate) or Los Abuelos (calle Bravo 8, 3-4 blocks west of the old town proper) probably are the best choices.
At the northern end of the malecon (about 4km) are several coctelerias that will serve the freshest seafood for lunch Competition is fierce enough that they will try to lure you with free drinks and/or a complimentary ride to the old town.
There are a few grocery stores outside the old town. All have a small restaurant, deli, bakery, grocery, meat and produce departments. If you have a sweet tooth, the Chedraui bakery is a must. Donuts, sweet bread, danishes, muffins and cookies are all sold in bulk and baked fresh in store, and the prices are cheap.
Drink
Casa vieja del Rio has the best views over the central plaza and church, excellent for relaxing and people-watching from the balcony. Enter from the stairs in front of the tourist train stop, on the southern side of the plaza.

Sleep
There are a few hotels on the Malecon (Av. Adolfo Ruiz Cortines), which runs the entire length of the city along the Gulf of Mexico. Most are relatively expensive, but offer clean and comfortable accommodations. There are also a few hotels located in the historic center, particularly near the center square, and they are much cheaper in price. Unfortunately, because Campeche has a very small tourist industry, accommodations can be hard to find.
address: Av. 16 de Septiembre No. 128

Built as a luxury hotel in 1960, it's seen better days, but still offers a convenient location and rooms with a good view of the Gulf.

Monkey HostelDescribes itself as "Mexico's Alternative Destination." It is located in the Centro Histórico, in front of the cathedral on the Plaza Principal. It has dormitories and private rooms, and is not affiliated with any international hosteling organizations.

Pirate Hostel, Calle 59, #47 in the Centro Histórico.

Hostal La Parroquia

address: Calle 55, #8 lat=

In the Centro Histórico. Pretty cheap but pretty bad.

address: Calle 10 No. 126 A Colonia Centro C.P.

The hotel i in the historic centre of the city and port of campeche, in front of San Marttins Park, located in the tourist, cultural and commercial area where every activity of the city is performed.

Hotel AmericaLocated one block from the central plaza in the Centro Histórico. Prices range from M$560 for a single to M$683 for a triple, includes continental breakfast and wireless internet
Go next