Campinas Region
Campinas Region
is a region in the state of
São Paulo
. Visiting this region is a step "off the beaten path" of
Brazil
, away from beaches and rainforests, an area of prosperous and developed towns, of beautiful mountain landscapes, and of rodeos and
sertanejo
music.
Regions
Cities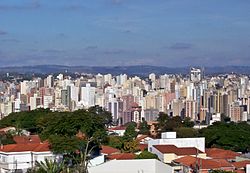 - A major industrial hub, the third largest city in the state
- Popular mineral spring resort town, also with eco-adventure options
- Another popular mineral spring resort town, with one of the highest standards of living of the country
- Containing a remarkable historic center with several constructions from late XIX-early XX centuries
- Dutch settlement dubbed the "City of Flowers", due to it being South America's largest flower producer
- Open fruit farms, the Serra do Japi reserve and vivid memories of the state's railroad history
- City with a charming riverside area and one of the most beautiful universities in the country
- Mineral spring resort town with good views of the Mantiqueira mountain range
- Popular destination for locally made clothes and radical sports, offering also ecoutourism for people with disability
Other destinations
, the premier rafting destination of the state, also offering other radical sports such as ziplining and rapel
Understand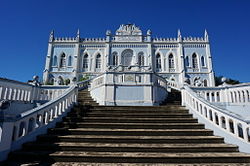 There is hardly a region of the state of São Paulo that represents its prosperity better than the Campinas region. The real development of the region started in the nineteenth century, with coffee plantations based on European immigrant labor. The coffee farming era left, as a legacy, a formidable network of railways, which would be the basis of the region's industrialization and populational growth beginning in the 1940s.
The region's most evident sign of economical strength is the Campinas metro area, a 2.8 million metropolis that streches along the Anhanguera and Bandeirantes motorways. Unlike
Grande São Paulo
, where the metropolis' economical power is highly concentrated in a small number of cities, the various cities that form the Campinas metro area compete evenly in economic development. Yet, the chaotic growth that happened after the 1950s in the state capital also affected the Campinas region, with poverty and criminality becoming a significant problem in some cities of the region.
Get around
By bus
The cities of the Campinas region can typically be reached by intercity buses, provided by various private operators. The cities of the Campinas metro area are also connected by metropolitan buses. A full list of metropolitan bus lines is available in the
EMTU website
.
By car
The Campinas region has a comprehensive network of motorways, maintained by either private operators, the São Paulo state or municipalities. As in the rest of the state, the roads with private operators have higher tolls but generally much better quality. Regardless, the road quality is overall quite higher than the Brazilian average, and non-pavemented roads are rare.
Do