Campione d'Italia
Campione d'Italia
is an
Italian
exclave in
Lombardy
, surrounded by the
Swiss
region of
Ticino
.
Understand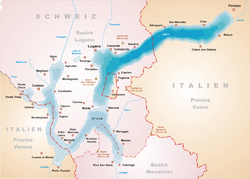 Campione d'Italia was founded by the Romans in the first century BCE as
Campilonum
. Later on in the late 18th century, when Ticino chose to join Switzerland, Campione chose instead to remain in Lombardy - leading to the existence of the exclave. In the 1930s, the "d'Italia" was added to the end of the town's name by Benito Mussolini, along with building an ornate gate at its entrance, to assert its Italian-ness.
Nowadays, even though the town is Italian, it has considerable integration with Switzerland: the Swiss franc is legal tender, the town uses the Swiss phone and mail systems, and firefighters and ambulances are also Swiss.
Get in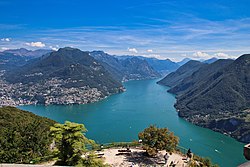 From further afield, you may want to get into
Lugano
, or
Milan
, before heading into Campione, and then travel into the exclave with public transport, as both these cities have their own airports (
LUG
and MXP). From Lugano, see below for how to get there by bus or boat; and from Milan, you can get trains run by the SBB (Schweizerische Bundesbahnen) between Milan and nearby Melide, from where you can get the 439 bus into Campione.

By bus
Bus route NFB 439 (operated by Arcobaleno, tickets from Swiss Federal Railways) runs from nearby Lugano to its terminus at the casino in Campione, the whole journey taking about 20 minutes. One ticket for this journey costs around CHF 3.

By car
The A2 road runs from Basel in the north, down to Chiasso in the south of Switzerland, passing near Campione. This is part of the E35 European road, running from Amsterdam to Rome. To get into Campione, use exit 51 near Melide, then follow signs for Campione.

By train
The nearby Swiss town of Melide has a train station, with trains run by TILO (the train company for Ticino and Lombardy) going in the directions of Bellinzona and Chiasso. From Melide, Campione is only a 10 minute bus ride, or around a 50 minute walk.

By boat
The Società Navigazione del Lago di Lugano runs boats and boat tours around Lake Lugano, and often stops at Campione d'Italia (and nearby Melide, which is a five minute bus journey away with the 439 bus). A simple boat journey takes about 20 minutes from Lugano to Campione.

Get around
Campione is only about 2 km long, and 1 km wide, so walking is probably the best way to get around, especially as the majority of the town itself is located along the shore. However, the slopes of the mountainside that Campione is on raises to about 600 m above sea level at its highest point - although there is little to see apart from trees and mountains at the top of the exclave.

See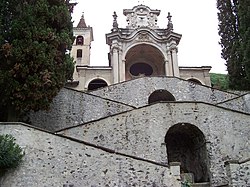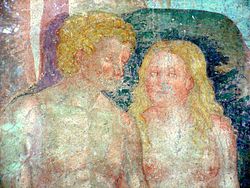 The exclave is located on the edge of Lake Lugano, so seeing the lake is a large attraction of the town. Across the lake, the mountains of San Salvatore and Monte Brè can be seen to the west and north respectively.
As well as the Lake, within Campione itself, there are a few places which are worth seeing.
address: Piazza Roma, 4

An ancient chapel, located in the middle of Campione at the former location of the town gates.

Galleria CivicaThe town's former church (dedicated to Saint Zeno and built around the 8th century), turned into a gallery and exhibition space once the newer church was built in the 1960s. Now, visitors can see the old architecture, and learn more about the history of the exclave.

La chiesa ParrocchialeThe town's current church, built in 1967, and featuring some impressive modern religious art and stained glass windows.

Chiesa di Santa Maria dei GhirliA church dating from at least the 9th century, situated at the top of an impressive double staircase. The church also features old frescoes of religious events and people, which are definitely worth a look.
Do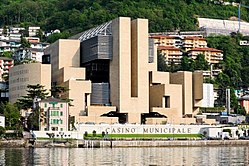 phone: +41 91 640 1111

address: Piazzale Milano 2

Billing itself as the "largest casino in Europe", founded in 1917, the casino is the largest employer in the exclave. Gambling, poker tournaments, restaurants, and business conference rooms are available in the 9-storey building. It was designed by Swiss architect Mario Botta, who also designed the San Francisco Museum of Modern Art, the Bechtler Museum of Modern Art (Charlotte, North Carolina), and the Central Library in Dortmund, among others.

phone: +41 76 471 272 5

address: Viale Marco da Campione 42A

The Yacht Club Campione rents out sailing and motor boats to use on the Lake without a licence. The company also offers sailing courses, and the chance to gain a nautical licence.

phone: +41 91 222 11 11

If you want to see more of the Lake, taking a boat tour around it is a good way of exploring. The Società Navigazione del Lago di Lugano offers boat tours, most of which start at nearby Lugano, with many stopping at Campione. Their website has more details on exact tours and timetables, but with these tours, you could visit nearby Lugano, Monte San Giorgio, and Capolago.

Lido Comunale Di Campione D'Italia

phone: +39 334 303 2348

address: Via Matteo da Campione

Outdoor swimming area on the beach, with friendly staff and beautiful views over Lake Lugano. This place also serves food and drink.
Buy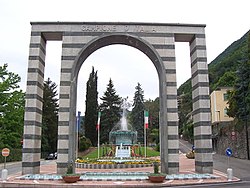 Despite being an Italian exclave, the currency used in Campione is
Swiss francs
- the currency of Switzerland. It would be recommended to travel here with Euros too, however, as they are also accepted in the exclave.
Campione doesn't have a particularly wide range of shopping opportunities, but it does feature some highlights, such as a and several minimarkets.
Eat
Drink
phone: +41 91 630 67 49

address: Piazza Roma 1b

A cosy establishment not far from the exclave's port.

phone: +41 91 649 89 46

address: Piazza Roma 2a

Popular local bar open until late all week.
Sleep
With Campione being quite a small destination, the number of hotels within the exclave itself is limited - however, holiday lets do exist, and some hotels are situated just on the other side of the border. Although, you will get a wider choice of accommodation if you stay in Lugano or Paradiso.
Within Campione
Grand Hotel Campione

phone: +41 91 649 50 60

address: Via Matteo da Campione 2

A modern hotel, with a spa and restaurant. It has comfortable rooms, some with views over the Lake.
Just outside Campione
phone: +41 91 640 16 16

address: Via Campione 62, 6816 Bissone,

CH

Comfy hotel with clean rooms and its own pool. Does have a lakeview, even though it is slightly set back from the coast.

phone: +41 91 923 98 83

address: Via al Lago 6, Pugerna,

CH

A cosy, cheerful hotel with a restaurant, pool, and lake-views from its position just up the mountain.
Connect
Telephone services in Campione are provided by Swisscom, the Swiss telephone operator - so use the +41 Swiss dialling code (although some places use the +39 Italian one).
Post can use both the Swiss postal code (CH-6911) and the Italian code (I-22060).

Go next