Can Tho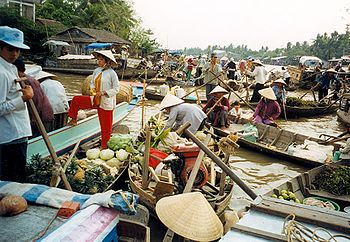 Can Tho
(or Cantho; Vietnamese:
Cần Thơ
) is the biggest city of the Mekong Delta, in
Vietnam
with an estimated population of 1.5 million in 2012. The name comes from "cầm thi giang", river of poems. It is also referred to as "Tay Do" meaning "western capital". The city is famous for its floating markets, Buddhist pagodas, delicious food, fresh fruit, its large student population, and welcoming atmosphere.
Can Tho is on the south bank of the Hậu River, the bigger branch of the Mekong River. It is in the vicinity of Sóc Trăng, 1½ hours from
Long Xuyen
, 3 hours from
Châu Đốc
, and
Rạch Giá
, about 6 hours from Cà Mau, and 169 km (3 hours) from
Ho Chi Minh City
.
The climate is tropical and monsoonal with two seasons: rainy, from May thru Nov; and dry, from Dec-Apr. Average annual humidity is 83%, rainfall 1,635 mm, and temperature 27°C.
Understand
Can Tho is the biggest city in the Mekong Delta. Although developing fast in recent years (about 10% growth in 2004), it retains its charm as the centre of a rural area, as urban development is taking place in a rather orderly manner.
Can Tho has a reputation for being a welcoming place, where everybody is smiling and welcoming. Indeed the Vietnamese in the Mekong Delta have a saying that goes:
"Cần Thơ gạo trắng nước trong
Ai đi tới đó lòng không muốn về"
"Cần Thơ, white rice, clear waters,
All who come wish never to leave."

Get in
As a regional hub, it is easy to get to Can Tho from cities in the Mekong Delta. There are buses from all the big cities and minibuses from the smaller ones. If you arrive from Cambodia, you will probably stop in Chau Duc and catch a bus to Can Tho there. There is also one bus line directly from Phnom Penh once a day. It is difficult, not to say impossible, to get in by car from Cambodia as a tourist. That likely also applies to bicycles and motorbikes.
By plane
Can Tho International AirportHas a large number of international terminal with convenient facilities. Flights are to Hanoi and Phu Quoc on Vietnam Airlines, and Con Dao with flights on Vasco Vietnam Airlines.
By bus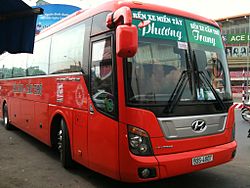 Many operators serve Can Tho from cities in the Mekong Delta up to the centre and north of Vietnam. You may have a short stop in Ho Chi Minh City. Most travellers arrive in Can Tho from Ho Chi Minh City.
From Ho Chi Minh City, buses serving Can Tho leave every 1–2 hours around the clock from the Western Bus Station (
Bến Xe Miền Tây
). Prices are USD4-7. From downtown, travel operators will quote you about double this price, but they will include a transfer to the bus station. Smaller, more local, buses from Saigon to Can Tho leave in the morning.
There are three operators serving routes from Ho Chi Minh City (HCMC) and other destinations: Thanh Buoi, Phuong Trang, and Mai Linh. The big operators also have a departure point in the centre of the city on Le Hong Phong St, from where shuttle buses will take you to
Bến Xe Miền Tây
. You can take a taxi to Le Hong Phong St in District 10. Look for the office of Thanh Buoi (white background logo with a flower), Phuong Trang (red signs) or Mai Linh (all green) or go straight to Mien Tay bus station in District 6. The taxi from District 1 costs around USD12 (May 2012).
With most operators you will get a small bottle of water included in your ticket price. Bigger buses offer air-con, and also Vietnamese films and music shows, usually perceived as too loud for Western ears.
Mai Linh BusesHas a good reputation as an operator of buses and taxis. The service to Can Tho will stop for a food break for half an hour on the way. The ride takes 4 hours. The company provides free water. Mai Linh has stopped providing shuttle services for customers in HCMC but they'll send a mini-van to pick you up if you book through your hotel in Can Tho.

Phuong Trang BusesHas the largest number of services to Can Tho daily. There is a stop for 15 minutes in the huge Phuong Trang service station which has well maintained toilets and a few restaurants. The ride takes 3½-4 hours. The operator provides free water. In Can Tho a shuttle bus will take you to your final destination if you have the address of your hotel ready. This is included in the price of your ticket. To get your free transfer head into the Phoung Trang Building after exiting the bus. There a staff member will help you onto a minibus. Ensure he is a staffer and not a taxi driver.

Thanh Buoi BusesProvides the fastest service to Can Tho as the bus stops for only 10 minutes on the way from Ho Chi Minh City. The ride takes about 3-4 hours. Upon arrival in Can Tho, shuttle buses take you to your final destination inside the city. Have the address of your hotel ready. The shuttle buses are paid for as part of your ticket.
By motorbike, car, or taxi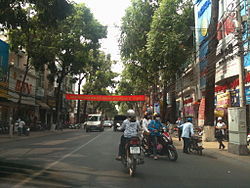 By
chauffeured car
, allow about 1½ hours from Sóc Trăng, about 3 hours from
Châu Đốc
, about 3½ hours from
Rạch Giá
(85,000 dong, Apr 2012), less than 4 hours from
Ho Chi Minh City
(169 km, 100,000 dong), about 6 hours from Cà Mau and about 1½ hours from
Long Xuyen
. It is possible to rent a car for USD70-150 for a one-way trip (or return trip on the same day) for 2-3 passengers from Ho Chi Minh City to Can Tho. A driver is included in the price. If you want to drive yourself, you should check terms well in advance.
You might be slightly faster by
motorbike
than by car depending on your driving. It is quite easy to rent a motorbike in the tourist areas of Ho Chi Minh City, District 1. Most rental shops will rent a motorbike to you if you can show a driving license from any country. They may not ask for a license at all. You are only covered by accident insurance if your driving license is valid in Vietnam. Most European licenses are not automatically accepted. You might need to take an additional test with Vietnamese authorities in order to comply with the local rules.
It's also possible to rent a
taxi
for about almost the same price as a car for a 1-way trip from Ho Chi Minh City to Can Tho. Try hiring a Vinasun or Mai Linh taxi.
By boat
Apart from overnight boat cruises for tourists, there are no scheduled boat services to Can Tho. This is because driving time to Can Tho has been reduced to less than 4 hours with the opening of the Can Tho Bridge in 2011 and the completion of the motorway around HCMC.
Get around
It is easy to get around in Can Tho by motorbike or bicycle. Mai Linh and Happy Taxi are the two main taxi operators of the city. If you want to travel on the river, you can easily rent a boat service at Ninh Kieu Pier. There are also ferries to surrounding areas here. Can Tho is a big city, but the centre can be easily explored on foot (đi bộ). Most hotels will offer you a map.

See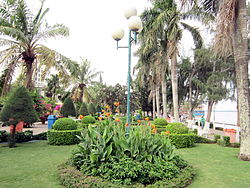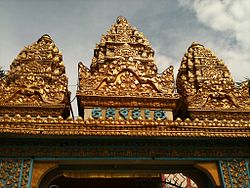 Ninh Kieu Park & RiverfrontNinh Kieu Park is a city park situated along the Can Tho River, stretching from the ferry terminal at Nguyen An Ninh Rd to the Ninh Kieu Hotel at the end of Hai Ba Trung Rd. Although the park sports some greenery, one of its most noticeable features is a public square surrounding a large statue of Ho Chi Minh. The other big attraction is Ninh Kieu Tourist Market, which houses souvenir vendors, cafes and restaurants. Just outside the market, you'll also find a ticket booth, selling boat trips up the river to places like Cai Rang Floating Market. The park is a busy place in the evenings, when locals gather to hang out, play badminton, breakdance, or sit and eat sweet bean chè. The Night Market on Nguyen An Ninh and Chau Van Liem streets is a good place to look for bargains, trà sữa milk tea, and a variety of street food. Plenty of restaurants dot Hai Ba Trung Street near the park, too, so you'll invariably find what you need if you look around.

Xuan Khanh QuarterIn the 18th century the quarter was named Tham Tướng after General Tham Tướng who fought the Siamese troops who were advancing from Ha Tien in 1772. The name of the place was changed after the Vietnam War to reflect the ideology of the new regime in power.
Mau Than St is the central street of Xuan Khan and famous as the longest street in the Mekong Delta stretching for over 30 km. The street is named after the Tet Offensive, launched on Vietnamese New Year, 30 Jan 1968. In Vietnamese, the offensive is called Tết Mậu Thân (hence the name "Mau Than", meaning "year of the monkey"). Xuan Khanh Market at the start of the street is a daily stop for many citizens. Mau Than is also centre for the local community as there are two churches and the Quang Duc Pagoda just a few hundred metres distance. Depending on the day of your visit you may see traditionally dressed monks or a celebration service at one of the churches that often reach into the street in the evening.
Xuan Khanh Student Quarter: Many students from nearby Can Tho University live in Xuan Khanh or do their daily shopping here. There are small eateries in the street and alleys as well as cafes catering to the student population. As this quarter is less frequented by tourists, visiting Xuan Khanh you will find more local colour than in the upmarket Ninh Kieu Pier. The best time to visit is in the afternoon and early evening.}}
Pagodas and churches
Munirensay Temple

address: 36 Hoà Bình St

A beautiful Khmer pagoda that gives Can Tho a touch of Cambodia, recalling the region's heritage as part of the Khmer Empire.

Chùa Ông (Ong Pagoda)

address: 32 Hai Ba Trung Rd

Just across from Ho Chi Minh's statue in Ninh Kieu Park is a little pagoda, constructed in the 1890s. Apparently a secret hideout for communist revolutionaries during the Vietnam War, the pagoda is now considered a national monument. It's worth seeing if only for its artistic value, with its intricate altars featuring carved wooden bas-reliefs.

Quang Duc PagodaOne of the biggest and most active Buddhist temples with monks living in the premises. Visitors are welcome at any time of the day. There are fewer people during the afternoon, when it is rather hot, but it gets very lively often in the evenings.

Tham Tướng ChurchNice little church built by the French.

Tin Lanh Baptist ChurchAround 8% of Vietnamese are Catholics, but as this church demonstrates, Protestant denominations are also present.
Do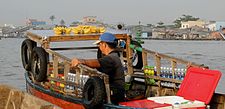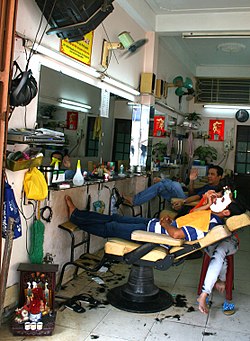 CanalsThe canal system around Can Tho is a fascinating travel network, much more relaxed than the bustling roads. Hire a small rowboat (probably with a small motor as well) that can take you through the small canals that the larger tour boats cannot navigate. Tours from 06:00-14:00, including two floating markets and various sites along the canals, can be found for less than 250,000 dong per person. Ask around at the riverfront and make sure to negotiate the price. Some boat operators will ask for more money to visit the canals. The price should already include them.

Floating MarketsFloating markets make for a lively scene, where many goods are exchanged, and can be easily visited by small boats for about USD3/hour per boat. You can take a tour from Ninh Kiều Pier, where the "boat ladies" are charmingly eager to welcome you aboard. Starting prices (Sep 2011) are about USD10-20 for a 3 or 7h tour with either one market plus canals, or several markets plus canals. It can be bargained down to USD7 and USD15. Pay attention as there is a pushy old lady selling boat tours pestering tourists at the riverside. Best to get your tour directly from a boat owner.
Cai Rang (Cái Răng) floating market is the main wholesale floating market near Can Tho. Go there early in the morning (as early as 05:30), and come back through the small tributaries to Can Tho River, about 3-4 hours. The Mystic Sampans offer higher-end breakfast cruises to the Cai Rang floating market.
Phong Dien (Phong Điền) is further up the Can Tho River, and worth seeing as it is a retail market. It is very active at dawn, but slows down early too, so you may want to go there by land. The canals back to Can Tho are also very much worth the ride in a small boat.
Phung Hiep (Phụng Hiệp) is much farther away, in the neighbouring Hậu Giang Province, but deserves a trip if you are going to stay more than a few days, as it is always bustling with activity.
Tra On (Trà Ôn), in Vinh Long Province, is just over an hour downstream the Bassac (the lower Mekong branch, also called Hậu Giang or Sông Hậu). It is a small floating village's market anchored near Clouds Island (Cù Lao Mây).
phone: +84 962621119

You want to escape from a busy city, get out off the noise and enjoy natural air. The tour is totally designed for you. This trip provides a general view of countryside life style and packed full of fun with a lot to see, do, experience and totally worth to see. You have a chance to visit orchard islet, enjoy tropical fruits, natural wind, know how people make their living from farming and ranching, specially cooking.
" Banh Xeo" with a local family, take a boat go to some small canals and see how the local people living and trading fruits in the local market. This is truly interesting adventure on
motorbike
.
Play a game of pool or billiards with the locals during the day, when it is too hot to walk around. Billiards is extremely popular in Vietnam and billiard halls are frequented throughout the day. There is billiard place on Mau Than St next to the petrol station.
Enjoy a head massage at a hairdresser and get a haircut if you dare. There are some salons close to Xuan Khan Market and the Quang Duc Pagoda. Depending on the hairdresser, from very stylish and air conditioned to very rustic you may pay between USD5-10 or 100,000-200,000 dong (May 2012). Ask how much it will cost and how long the massage will take. A good head massage should be around 30 minutes. If they do not understand English, agree at least on the price.
Start the evening with a manicure in one of the manicure shops. Several shops are in Nguyen Viet Hong St (nice tree-lined street connecting Mau Than St and Ly Tu Trong St at Luu Huu Phuoc Park)
Visit the Luu Huu Phuoc entertainment park in the evening. Vietnamese enjoy extremely loud music and do not mind distorting speakers. It might be very loud, but it is definitely a cultural experience.
If you are with kids, be creative and paint small ceramic figures in one of the bigger bookstores, usually on the upper floor. The fee is very small. You can take them home afterwards as a souvenir.
Work
If English is your mother tongue and you have a teaching background, then teaching English is a possibility. German, Chinese, Korean, and Japanese are also possibilities. If you have IT skills, there is always a chance you might get hired by an international company, though the challenge is to find out about vacancies. In Can Tho, MBM Vietnam provides information on opportunities and job offers for expats with technical backgrounds, freelancers, translators and hospitality industry professionals. There are also meet ups from time to time in the city, where you might meet others who can give you tips about hiring companies.

Buy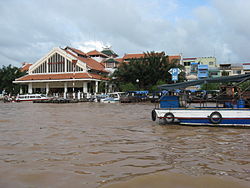 Cái Khế MarketA big market catering to businesses, including restaurants and hotels, as well as end users. The market stretches over two sides of the street, with the area facing the river selling perishable foodstuffs. On the other side of the market, you will find wholesalers of textiles and home products.

Ninh Kieu Pier Tourist MarketThe main market of Can Tho used to be the open market on Ninh Kiều Pier. Today, the only original building left is the beautiful old market hall, now surrounded with a garden along the river. Now the Cái Khế markets further up the Can Tho River and the Xuan Khanh Market are the chief marketplaces.

Xuan Khanh MarketA market predominantly for fresh food, fish, vegetables, and fruits. Other products for all daily needs are also available.

SupermarketsThere are many supermarkets in Can Tho such as Coop Mart (Hoa Binh St), Metro Hung Loi (91B) (membership required), Maximark (opposite the bus station), and Vinatex Plaza in Xuan Khanh.
Shopping malls
Sense City Co-opmart Mall

phone: +84-710-36688988

address: Dai Lo Hoa Binh Tanan Can Tho Tanan Ninh Kieu

Big C Super center

phone: +84-710-3737575

address: KDC Hung Phul Hung Thanh Cai Rang

phone: +84 710-3696888

address: 84 Mau Than An
Eat
The night food market across from the main covered market on Phan Boi Chau offers a selection of mostly local hot food including bánh xèo.
Budget
Get a "banh mi" sandwich in the morning at Saigon Bakery on Mau Than St.
Buy and eat local fruit at Xuan Khanh Market. Depending on the season there are different fruits. Mangos from sour to very sweet grow in the Mekong Delta and pineapples are available most of the year. A nice speciality are the bon bon fruits.
Phương Nam Restaurant, 48 Hai Ba Trung St. Caters to tourists. Specials includ snake, crocodile and lamb with satay, good food and service.

Nam Bo Restaurant

address: 50 Hai Ba Trung St

Beautiful restaurant set in a French style villa with Hau River view from second floor, good food and so is the service.

Nem Nuong Thanh Van

address: 17 Hoa Binh St

Famous for its "nem" or spring roll, grilled pork rolled in rice sheet with vegetable, herbs and served with dipping sauce.

Burger King

phone: +84 710 3819 624

address: Sense City Mall, 1 Hòa Bình, Tân An, Ninh Kiều, Cần Thơ, Việt Nam
Mid-range
Gony Spa Cafe LoungeOffers a variety of foods including pizza, pasta, and beefsteak as well as local food. It also offers shakes, smoothies, coffee, and ice cream.

Hot Pot AlleyHot Pot Alley is home to about a dozen restaurants all offering the same specialty, Can Tho hot pot. Hot pots are prepared DIY on a small cooker on your table. As the soup gets cooking you add different vegetables, leaves, egg or rice noodles, tofu, and eggs. You only pay for the side dishes you use and you can order more of any dish you wish. You get free refills of the hot pot soup. Ask for "them nuoc" meaning more water. It might seem unusual to put in some of the leaves into the hot pot, but try and you will love it.
The dishes you will find in most places are:
* Vit Nau Chao (duck hot pot)
* Lau Hai San (seafood hot pot)
* Lau Ca Keo (fish hot pot, small fish that looks similar to eel)
* Lau Chua (sweet- sour hot pot with river fish)
As the menu is Vietnamese-only, look around at other tables when you enter the restaurant and point to indicate what you want.
Some places are thronged with diners. These are the best. Do not be afraid to enter a place that looks like there are no more tables available, just take your time, look for the server and indicate the number in your party (e.g., show two fingers and say "hai nguoi" meaning "two people"). They will find a table for you or clean up some space.
phone: +84 71 382 3908

address: 1 Ngô Quyền

In a classic building facing the river, serves very tasty Vietnamese as well as some Western foods such as pizza and spaghetti. The service is nice and efficient, and a surprising variety of languages is spoken there, from English to French to Dutch and even some Japanese.
phone: +84 71 381 5616

Serves a large palette of Vietnamese foods, and some Western food, too. The ambiance at night is special.
Drink
Vietnamese typically enjoy a coffee (strong, with lots of condensed milk, and ice), fresh coconut juice, and fruit drinks (lemonade, orange juice, etc.) in one of the many small stalls along the streets or in the markets. Sugarcane with ice is also very popular. There are sugarcane presses along the roads everywhere in the city. If you want to spend a couple of hours like a Vietnamese, some nice cafes are located on Mau Than St or at Ninh Kieu Pier.
The nightlife in Can Tho is not as vibrant as Ho Chi Minh City, but it is not as "bottle service"-centric as HCMC either. Can Tho clubs often hire famous Vietnamese singers to perform live in their venues and feature go dancers on regular nights. Prices of drinks are around 80,000 dong for a bottle of beer (May 2012), around 1,500,000 dong for a bottle of locally-produced vodka and more for cognac and imported whisky.
Bars
Cafe Bar Eden

address: Le Loi St.

Good for couples.

phone: +84 93 987 1001

address: 93 Mau Than St, Xuan Ward, Ninh Kieu

Beautiful view over the city. The place is run by a young Vietnamese-German couple who moved to Can Tho from Singapore. They love music from around the world. A cosy place to relax.
Clubs
Golf ClubUpscale club with many businessmen preferring this place to chill out on the weekend.

XK club

address: 108B Tran Van Kheo St, Ninh Kieu District

Nice red-black decor with banging sound system, but quite small, therefore more secure and chill than other clubs. Pretty and friendly go-go dancers.

Xe Loi Club

address: Hau Riverside Park, Bai Cat Zone, Cai Khe Ward, Ninh Kieu District

The place to be on weekends. Spacious club, good lighting/sound system with laser to boot. Most fun happens from 23:00-02:00. Youthful and energetic, but can be quite a sketchy crowd.
Sleep
There is a wide range of hotels available in Can Tho, from the very local
Kach San Tây Hồ
, to the state-owned (and state-like) hotels like the
International Hotel
and
Kim Tho Hotel
or to the recent and more elaborate
Hotel Xoai
geared towards International business travellers.
The standard design of many buildings in Vietnam is about 4m wide and 25m deep. Buildings are very "thin". This means buildings next to each other often have rooms without windows. When you book a hotel, check that there is a window in your room as some cheaper hotels, ones that often cater to 2 hour "transit guests", offer rooms without windows.
Beware the giant, neon, Chinese-style riverside hotels. They come with pounding karaoke and dodgy staff. In particular, avoid the Golf Hotel. The spa staff demand inflated tips then block your exit as you try to leave.
Budget
Hello 2 Hotel

phone: +84 91 3764994

address: 31 Chau Van Liem St, Ninh Kieu

Friendly and comfortable. Massage and spa in-house.

phone: +84 90 7652927

address: 93 Mau Than St, Xuan Khanh, Ninh Kieu

Young and friendly atmosphere. 23 compact rooms with double or single beds, private bathroom with shower, toilet, fan, air-con, phone. All rooms with windows. Fast free Wi-Fi throughout the hotel. Guests can relax on the roof terrace. Helpful and trustworthy staff, moderate prices for tours, no additional charge on bus bookings.

phone: +84 71 06250866

address: C233/4 Nguyen Van Linh St

Quiet, clean and friendly. 24 hour front desk staff give you access to all that Can Tho and the surrounding destinations has to offer. Organises its own in-house tours such as the floating market tours, city/countryside tours by bicycle, inter-province tours. Mountain bike, car and motorbike rental.

phone: +84 71 3839723

address: 22 Khu Dan Cu So 9 Duong 30/4

Very clean and friendly place. Rooms maintained and bed sheets changed daily. Enjoy meals any time you want at the nice sitting area by the big windows on each floor. The downside is distance from the centre and river (40 min on foot), but free bikes to ride around as well as motorbike rental. Staff are nice. Free Wi-Fi.

31 Restaurant

phone: +84 71 382 5287

address: 31 Ngo Duc Ke

One of several cheap and very simple places on this road. Rooms can be a bit smelly as the kitchen aromas waft upstairs. If you have an allergy beware of the dust from fans. Wi-Fi works at reception, but not in the rooms (most notably the back ones). Avoid booking bus and tours here as it seems a lot more expensive.

Xuan Mai Hotel

address: Nguyen An Ninh 60

Location is good. Relatively clean, but some rooms with older beds are said to have bed bugs. Rooms have LCD TV with Vietnamese channels. Air-con available with top up charge. Bath with bathtub. Hot water might not work at night because of their water system. Check for rooms with windows. No English speaking staff.

Mekong Delta Inn Backpackers Hostel

phone: +84-1234561758

address: 175 a Nguyen Van Cu An Hoa Ward Ninh Kieu Dist.

dorms with 4 or 10 beds. air.con. hot water. free breakfast free wifi.

Thanh Ha Guest House

phone: +84 71 8183522

address: 118/14 Pham Dinh Phung Street

double room with own bathroom

Hotel 31

phone: +84 71 3825287

address: 31 Ngo Duc Ke Street

double room with own bathroom.

Hien Guest House

phone: +84 71 3812718

address: 106/3 Phan Dinh Phung Street

double room with own bathroom.
Mid-range
phone: +84 710 3817079, +84 710 3817415

address: 138 Nguyen An Ninh St

Friendly, welcoming staff, some of whom speak fairly good English. Well-situated, with much of downtown area (including bus station, jetty and markets) within walking distance. Rooms are comfortable and well-furnished: private bathroom with shower & toilet, fan, air-con, phone. Some rooms do not have windows; front rooms face the street and can be noisy. Free Wi-Fi throughout the hotel. Breakfast is offered on top floor with a view over the city. They offer some daily tours to the floating markets and in the countryside (USD25-50) with a good guide.

Kim ThơClean, with Wi-Fi and wired LAN in the rooms.
Splurge
phone: +84 71 381 9139

address: 1 Ngô Quyền, Ninh Kiều

The Nam Bộ Boutique Hotel has one of the finest restaurants, l'Escale, in town. Quiet and overlooking the river.

phone: +84 71 810 111

Luxury resort on Cái Khế Island, including a swimming pool, a spa, a ballroom, and a rice barge for a scenic breakfast, lunch, or dinner.

phone: +84-978-581-143

address: 02 Nhon Loc 1, Phong Dien town

Surrounded by Vam Xang lush orchards.
Go next
From Can Tho you can easily reach other cities of the Mekong Delta such as:
If you are heading to the north from the main bus station be careful about what ticket you buy. If you are going by minibus and your destination is not directly on the route to
Ho Chi Minh City
they might just drop you off somewhere you have no intention of going. You will have to buy another ticket and end up paying way too much.
Cambodia
Phnom Penh - There is a direct bus operator leaving at the petrol station close to the bus station (Can Tho Ben Xe) early in the morning. Alternatively, take a local bus to Chau Doc. From here you can take a bus or one of the Express Boats.