Canandaigua
One of the oldest cities in the
Finger Lakes
region of
New York
,
Canandaigua
has a long history as a major crossroads. Its name derives from a Seneca word meaning "The Chosen Spot", and its position at the northern end of Canandaigua Lake certainly justifies the moniker. With a well-preserved historic downtown, a magnificent 19th-century mansion with gardens, a modern and very trendy wine and culinary center, and (of course) the always-excellent boating on the lake, Canandaigua today has just as much to offer a visitor as it did in its heyday... if not more.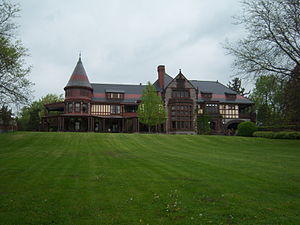 Understand
Before European settlement, the principal village of the Senecas was located on a hill just north of Canandaigua Lake. It was called, in various transliterations, "Ga-nun-da-gwa", "Ganondagan", or "Kanandarque".
By the time the Treaty of Canandaigua was signed in 1794, the area had begun to be settled by white men. Canandaigua became the county seat of Ontario County, which at the time encompassed the entirety of New York west of Seneca Lake. From then until the
Erie Canal
opened in 1823, Canandaigua was the largest and most important community in Western New York.
Once the Canal opened, Canandaigua was surpassed in prominence by
Buffalo
and
Rochester
. But it continued to grow and in 1913 incorporated as a city.
Get in
Canandaigua Airport
() is just northwest of the city limits, off Brickyard Road. It's small, with no commercial flights, but there are some services available, including a
Hertz
car rental counter. If you need commercial airline service, fly into
Rochester
. The same goes for
Amtrak
train service.
As befits a town that was once the center of activity in Western New York, there are a number of highway routes that intersect in Canandaigua. Long distance travelers will likely use the New York State Thruway (Interstate 90), which runs east-west about six miles north of the city. From the east, take Exit 43 for State Route 21; from the west, use Exit 44 and take State Route 332. Route 21 also comes in from the south, west of the Lake, connecting to
Naples
. State Route 5 and U.S. Route 20 (or just "5 and 20" to locals) run concurrently along the western and southern edge of the city, providing a more scenic east-west connection than the Thruway.
Get around
Canandaigua is a remarkably simple city to get around. The street grid is angled off north-south a bit, with the main drag, Route 332, heading NNW from the lake shore toward
Farmington
. The city's historic downtown retail strip is along the very wide 332, with secondary roads branching off. There's plenty of parking right on Main Street. Routes 5 and 20 intersect 332 a short distance north of the lake, leading to a more modern commercial strip to the east; that's where the major big-box retailers and strip malls are. Running right along the lake shore (and where you end up if you take Main Street past 5 and 20) is, appropriately enough, Lake Shore Drive; it's a scenic boulevard that provides access to lakefront attractions. Almost everything you need, as a traveler, will be within a short distance of these three roads.
If you need to rent a car, Enterprise (on Route 332) and Hertz (at the Airport) have locations just outside the city.
See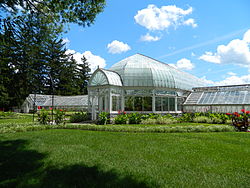 Granger Homestead and Carriage Museum

phone: +1 585 394-1472

address: 295 N Main St

A classic example of Federal-style architecture, the Granger Homestead housed four generations of the family starting in 1816. Now the 13,000-square-foot mansion (and its several outbuildings, as well as the estate grounds) are open for touring. The antique carriages are the centerpiece of the collection, but the entire estate provides a window into 19th-century life in Western New York. In the winter time, enjoy rides in an authentic one-horse open sleigh, so long as the snow is deep enough!

Sonnenberg Gardens and Mansion State Historic Park

phone: +1 585 394-4922

address: 151 Charlotte St

Sonnenberg Gardens is a can't-miss attraction for Canandaigua visitors. The main building is an 1887 mansion built by Mary Clark and Frederick Farris Thompson as a summer retreat. The gardens were originally designed in the early 20th century; all nine have been restored to their former glory. The mansion is open for touring (check to see if guided tours are available), and the gardens are a great place for a relaxing afternoon stroll. Also on the grounds (with no admission required) are the Finger Lakes Wine Center (see listing below), the High Noon Café, and a lovely gift shop.
Do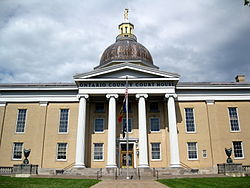 phone: +1 585 396-7350

address: 205 Lakeshore Dr

This authentic paddlewheel steamboat is popular for banquets and other charter excursions, but it also offers public rides during the boating season. Due to the shape of the Finger lakes, the east and west shores are always in sight, which makes it a great way to ogle the many expensive lakeside cottages lining the water. It can get a bit breezy on the lake, so consider bringing a jacket even in the summer.

Constellation Brands - Marvin Sands Performing Arts Center

phone: +1 585 394-4400

address: 3355 Marvin Sands Dr

The biggest performing arts venue in the Finger Lakes region, the CMAC hosts both national touring acts and local performing groups throughout the summer. It's a semi-enclosed amphitheater with lots of seating under the roof and even more seating on the lawn behind it.

New York Wine and Culinary Center

phone: +1 585 394-7070

address: 800 S Main St

Folks from out of state may not think of New York as a hub for agriculture and food production, but the non-profit Wine and Culinary Center is out to change that. Food and beverages from throughout the state are featured here in a variety of settings. The tasting room, gift boutique, and the Upstairs Bistro are open daily, while the hands-on kitchen, educational theater and private dining room host frequent special events. All of them feature the best New York has to offer; in fact, the Tasting Room is the only one in the state allowed to serve wine, beer, and spirits in the same place! The Center is rapidly becoming a major destination for anyone interested in cooking, dining, or drinking, drawing visitors from hundreds of miles away.

phone: +1 585 393-WAKE

address: 250 Eastern Blvd

Sharing Muar Lake with Roseland Waterpark, the Wake Park is run by the same owners but has a completely separate admission. It's the first cable wake park in the Northeast. What does that mean? Instead of wakeboarding behind a speedboat, they've got a cable system that pulls riders on a giant loop around the lake, up to nine at a time! It's best if you've wakeboarded before; for first-timers, they have a learn-to-ride program every weekend day that guarantees you get up and running in two hours ($49).

phone: +1 585 396-2000

address: 250 Eastern Blvd

Named after a long-lost lake-shore amusement park, the largest waterpark in the Finger Lakes has six slides, a lazy river, a water playground, and a giant wave pool. If those don't strike your fancy, buy a bucket of water balloons and have a battle, or rent a paddleboat from the marina.

Onanda Park

address: 4965 County Road 16

An 87-acre park in the southern part of the Town of Canandaigua, this former YMCA camp still features the old-fashioned amenities your parents might remember. Swimming, fishing, hiking, boating—everything summer is made of.
Events
Pageant of SteamThe Pageant of Steam is an amazing display of old and antique farm equipment, most of it in working condition with lots of demonstrations. There is also a big flea market..
Buy
Downtown Canandaigua has dozens of independent retail shops that continue to thrive even with the big-box strip malls just around the corner on 5 and 20. Just about everything from furniture to fashions, from bicycles to baked goods, can be found along Main Street or nearby side streets.
phone: +1 585 394-9016

The Wine Center has an extensive selection of Finger Lakes wines for purchase—and a rotating subset of that selection available for tastings!

phone: +1 585 394-8250

address: 92 S Main St

Owned and operated by a true comic fan (and occasional creator), this comic shop also runs an annual comic convention at the Inn on the Lake. Look for it at the end of each October.
Eat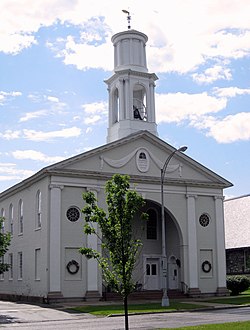 address: 224 S. Main Street

Awesome German restaurant. Great Beer Garden type outdoor seating available! All import and German style beers. Good wine selection. Amazing food!

phone: +1 585 394-0780

address: 101 E Lake Rd

Where locals eat. Homemade chips.

Upstairs Bistro

address: 800 S Main St

For fine dining, it's hard to beat the Upstairs Bistro, with their great view of Canandaigua Lake. 90% of the ingredients in the menu are grown or produced in New York State, so the menu changes frequently to match what's available. But the selections are always innovative and impeccably assembled. You can also take a snack ($18 per two people) or a light meal ($20 per two people) on the road, with picnic baskets and coolers perfect for taking out to the beach.
Sleep
Finger Lakes Premier Properties - Canandaigua/Honeoye

address: 22 Lakeshore Drive, Canandaigua, NY 14424

Finger Lakes Vacation Rentals (mini-weeks, full weeks, extended stays) and real estate. Specializing in lake front properties.

address: 4508 Route 64 South, Bristol Center

AAA Four-Diamond Award bed and breakfast in the Bristol Valley surrounded by gardens and forest. Four guest rooms and one suite, all with private baths. Outdoor Jacuzzi.
Go next
Bristol Mountain, less than an hour south along Route 21, is the local destination for skiing come wintertime.