Canary Islands
The
Canary Islands
(Spanish:
Islas Canarias
) are an Atlantic territory of
Spain
off the coast of
Morocco
and
Western Sahara
.
Islands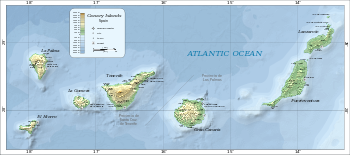 The Canary archipelago consists of 8 inhabited islands, and a few smaller uninhabited ones.
All islands use the same time zone - Western European Time (
WET
). This means the time is synchronized e.g. with
Portugal
and
United Kingdom
.
Cities
Las Palmas — the largest city, situated on Gran Canaria and one of the capitals of the Canary Islands
— another capital of the Canary Islands, situated on Tenerife
— third most populous city of the Canary Islands with a well preserved historic centre, a
Understand
Pico del Teide
(on Tenerife) at 3718 metres above sea level is the highest point in both the Canary Islands and Spanish territory.
Demographics
The islands have a population of 2 million. Since the Canary Islands are a major European tourist destination, all the major islands have well-developed communication systems, airports, and ports.
Ethnically the population is mostly a mix of Spanish, European (German and British), South American, and especially Cuban and Venezuelan as well as Northern and Sub-Sahara African. There are also historical minorities such as Indians, Koreans and lately Russians.
Each island speaks with a slightly different accent and there is a strong rivalry between the main islands of Tenerife and Gran Canaria. Most of the accents in the Canary Islands are closer to Latin American Spanish than to Castilian Spanish spoken in continental Spain.
The Canary Islands are very modern, very European, and extremely liberal.
History
Ancient legend claims the Canary Islands are the 'lost islands' of Atlantis. They have also been referred to as the lands without sorrow, holding on to the edge of the world. The first settlers were known as Guanches, thought to have arrived in the 10th century B.C. The main economic system was built around agriculture and animal farming. During the 14th century, the Islands were continuously invaded by different European countries. Sugar cane became the dominant crop, and since the early 20th century, bananas have been widely farmed.
During the Age of Sail, the islands were an important waypoint on the
Cape Route
.
In contrast to
Spanish North Africa
and other Spanish overseas territories, the Canary Islands have been an integrated part of Spain for centuries.
Get in
Just like mainland
Spain
, the Canary Islands are part of the
European Union
and the
Schengen area
. Arrivals from other Schengen territories usually don't need to clear immigration.
By plane
The Canaries is a popular destination with Europeans, and swarms of charter and discount flights descend on the island year round. The North & South airports on Tenerife and the Gran Canaria Airport are the busiest, but it's also possible to fly to many of the other islands, although it's often more expensive.
Santa Cruz de La Palma Airport (SPC

)
By ferry
The Spanish company
Naviera Armas
has weekly connections between
Huelva
in Spain and
Arrecife
(Lanzarote),
Las Palmas
(Gran Canaria) and
Tenerife
.
Portuguese
ferry company
Empresa de Navegação Madeirense
also operates a service between
Madeira
and the Canary Islands, connecting the two archipelagos with the
Algarve
in Portugal. A single journey from
Tenerife
to
Funchal
takes 24 hours. There is also a return service from Funchal to
Gran Canaria
. A one way ticket from the Canary Islands to Funchal costs . If you're travelling by car, you can take it along for an additional . It costs to transport a car between the Canary Islands and Portugal.
Get around
By car
To rent a car is the best option for discovering the remote wilderness regions.
By train
A tram on Tenerife linking Santa Cruz bus station and La Laguna opened in 2007 costing return in about 40 minutes.
There are also tentative plans for a train linking Santa Cruz and Los Cristianos.
By bus
Buses are the most common method of public transportation around the islands. Mile per mile they are expensive when compared to mainland Spain, but you are not going to travel really far anyway. Most buses in touristic routes are adequate. Do not expect the drivers to know more than a couple of sentences in English or German, though they would try to be helpful.
By taxi
Taxis can be expensive, and inside a city they are not worth the money unless you are in a real hurry or cannot balance yourself after a shopping day.
By ship
If you want to travel between the islands a good option might be to take a ship if you are in any particular hurry, specially between close by islands. Most ferries are now quite modern and cheap. The most important companies are
Fred Olsen
,
Transmediterránea
and
Armas
.
By plane
If you are afraid of the sea, or get sick just by staring at a ship, then a plane is what you need, and that usually means a turboprop ATR-72 or ATR-42 by one of the airlines like Binter or Canaryfly. They are perfectly safe and adequately fast as you are likely to spend more time at the airport than in the plane itself.
See
The Canary Islands are home to 4 s:
Volcanoes and volcanic landscapes.
Cueva de los Verdes, a volcanic cave on Lanzarote
Historical architecture in the old town of Las Palmas
==Do==
Lanzarote
: There is a bustling nightlife in four main resorts... Arrecife, Costa Teguise, Puerto del Carmen and Playa Blanca.
Gran Canaria
: The main resorts on the Island are Las Palmas, Maspalomas,Puerto Rico and Playa del Ingles.
Fuerteventura
: The main resorts of Fuerteventura are Corralejo, Caleta de Fuste and Morro Jable.
Tenerife
:
The Tenerife Auditorium is an incredible building designed by the famous Spanish architect Santiago Calatrava. It is highly recommended to tourists to visit this incredible structure and even to enjoy any of the concerts and events held in it.
The amazing Loro Parque (Parrot Park) will surely fascinate you no matter your age. A visit to the park can take you nearly a whole day, so reserve some time for it. The park which was originally devoted to parrots shows has now grown into Tenerife's second biggest attraction after mount Teide.
The Loro parque is home to the world's most important Parrot collection with over 300 species, an amazing seal show, Dolphin Show, Parrot Show, Aquarium with Shark tunnel, Gorillas, Chimpanzees, Tigers, Jaguars, Flamingos, Alligators, Tortoises, Orchid House, Gambian Market, a 'NaturaVision' Cinema and the worlds largest Penguinarium with a reproduction Antarctic climate within which 12 tons of snow falls a day.
Puerto de la Cruz is one of the top resorts in the Canary Islands. It is also the longest established most complete of all resorts on Tenerife. The old part of the town keeps beautiful spots, one of the few places where the locals still work, eat and drink. Much of the area around the old fishing port is full of narrow cobbled streets packed with colonial architecture. Further resorts are for example Santa Cruz, and Playa de las Americas.
British tourism arrived here over a century ago and today 'el Puerto' has a wide span of magnificent hotels to suit all tastes and budgets. In addition to its old world charms it offers some of the best visitor attractions in the islands.
The volcanic nature of the island of Tenerife meant that the land has few natural beaches. Those that exist are characterised by black sand created from the island's volcanic rocks. The demand for tourist sun-bathing space, however, has led to the creation of resorts and man-made beaches, with golden sand having been imported in some cases.
Some of the best beaches of Tenerife are Los Gigantes and San Juan in the west and Fañabe, in the South with its golden sand, showers and excellent facilities. Also popular are Torviscas with its marina, Playa las Americas for its grey sandy stretches and los Cristianos' beach. Candelaria in the east has a small black shingle beach. Up north Puerto de la Cruz has a beach with fine black sand, and at Santa Cruz golden sand has been imported for its Terasitas beach.
A large number of companies offer boat trips for tourists, varying from a 'booze cruise' on a cruiser offering lunch, drinks and watersports to a trip around the island on a sailing boat or catamaran. One of the main attractions is the chance to see whales and dolphins in the wild. Visitors on most trips spot whales; dolphins are not so much of a certainty but can be seen generally - often very close to the boat. Trips go from either Puerto Colon in Playa de las Americas, or from the port at Los Cristianos and most operators offer a free bus service from the larger hotels in the main resorts.
Diving: the islands are diveable year round, Lanzarote and Tenerife being the best developed.
The Canary Islands are one of the best spots in the world for big game fishing and a number of companies offer fishing trips in Tenerife. While blue marlin are the most highly prized trophy fish there are plenty of other species including white marlin, wahoo, dorado, yellowfin tuna, and mako and hammerhead sharks. Regular catches of blue marlin range from with last year's record standing at . Trips cost around including all equipment, but excluding lunch.
Buy
Money

The euro (€) is the currency of the Canaries. The islands are outside the EU VAT area and have a separate sales tax from the VAT levied in mainland Spain.

Eat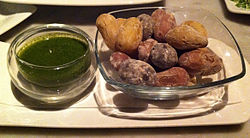 Canarian cuisine is a mix between Spanish, Latin and African cultures. Most of Canarian cuisine is a variety of fresh vegetables, fruit and fish, generally light meals, more easy to digest in a warm climate. Meat is usually consumed as a part of stews or as steaks.
The local fish is quite good. You will find a wide variety of international recipes of fish and seafood, too. Two popular fish dishes from Tenerife are Caldereta, a meal with tomatoes, goat meat and potatoes and the Sancocho Canario, a salted fish, usually white, in a "mojo" sauce.
The Tapas concept is one of the most delicious Spanish contributions to international gastronomy. A Tapa is a light and small piece of food that Spaniards have either before lunch or dinner, usually with a glass of wine or beer. The Tapa can be presented in several ways. It can be made as a pincho (with a stick), as a mini-dish of a traditional recipe, as a canapé, etc...
The Canary Islands are Europe's only exporter of plantain bananas. They are famously delicious here. These bananas are usually fried and are also commonly found in the West Indies.
Papas Arrugadas or papa sancochada - Potatoes boiled in very salty water until they are "wrinkly" hence the name -- and served with mojo picón, a spicy cold red sauce made with chili and garlic. These are often served as a tapa.
Gofio - Grain flour used especially at breakfast or to accompany potaje, a local stew.
Conejo en salmorejo
Miel de Palma - Palm honey.
Arepas - tortas made from fine corn flour filled with minced meat, cheese, or sweet mango.
Mousse de gofio or gofío amasado - a dessert made from gofio, miel de palma, and plantains.
Drink
Wines. There are several brands of wines in the islands. North of Tenerife, La Geria in Lanzarote or La Palma have very appreciated vineyards.
Rum. There are also well known rum factories, specially in Gran Canaria (Artemi and Arehucas). The 'ron miel' is a sweet liquor made from rum and honey.
Barraquito, also called barraco, is a coffee speciality from the Canary Islands and particularly popular on Tenerife but also on La Palma.
Beer. There are three locals beer factories (Dorada, Tropical and Reina).
Stay safe

112 is the common emergency number.

Go next