Canberra
Canberra
is the purpose built capital city of
Australia
, located in the
Australian Capital Territory
in the south-east of New South Wales. A planned city with national monuments, museums, and galleries all built around large man-made lakes. The bush capital - Canberra is also a great place to enjoy the outdoors, with excellent cycling, gardens, parks, bushwalking and nature reserves.
Understand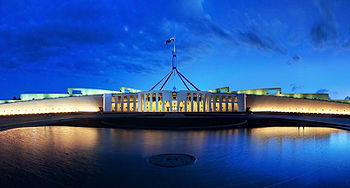 History
The requirement for an Australian capital city to be built was specified in the Australian constitution at federation in 1901, and seven years later the site for what would become Canberra was established. A design competition was held for the city in 1911, and the name Canberra given to the place in 1913.
This Australian Capital Territory was created from land inside
New South Wales
. Originally governed by the Federal Government, it now is a self-governing territory of Australia - much on a par with any of the states.
Canberra is a highly planned city, its primary design conceived by the American architect Walter Burley Griffin, built on the shores of an man-made lake (Lake Burley Griffin). Populated at first largely by politicians and public servants, it has taken time to develop its own identity and culture. Extensive building of national facilities and museums has made it a unique destination.
The planned creation of this new city was not without critics - cynics having said it was a "waste of a good sheep pasture".
Geography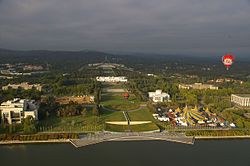 Lake Burley Griffin divides central Canberra. The central shopping and commercial area, known as "Civic", on the north side and the parliamentary triangle and embassy area is on the south side. National institutions are likewise divided, examples being the National Museum of Australia and the Australian War Memorial on the north side and the National Library and National Gallery of Australia on the south side.
There are suburbs surrounding central Canberra, and also suburbs surrounding several outlying town centres. These town centres are Belconnen and Gungahlin to the north, and Molonglo Valley, Tuggeranong and Woden to the south. The ACT also has surrounding towns, such as
Murrumbateman
, which boasts a strong cool climate wine selection. The historic villages of Hall and Tharwa are also on the outskirts of Canberra.
People
Many people who live in Canberra have moved there to study or take up employment with the Australian Government. A common pattern is that people from other parts of Australia move to Canberra, study or work for a few years and then return to their place of origin or move on to elsewhere. As this means a constant influx of new arrivals to Canberra, you should not be reluctant to ask for directions and the like from locals - they are more than used to it and usually only too happy to help. Today there is a population of 350,000 people within the city.
Climate
While Canberra has a reputation as a cold city, it can get just as hot as anywhere else in Australia during the summer months, with temperatures above 30°C a frequent occurrence from December through to March. Winter days can be bitterly cold (June–August) owing to the city's altitude and proximity to the
Snowy Mountains
. Overnight temperatures in winter frequently drop below zero and tend to hover slightly above 10°C during the day. However, it is usually a clear, brisk cold, and rarely a dull, damp cold. It almost never snows in Canberra, because the below freezing temperatures (at night) usually coincide with clear skies. Most Canberrans believe that late Autumn (mid-April to May) has the city's best weather. Spring weather can be highly changeable.
Canberra is less humid than Australian coastal cities. The hottest days are often mitigated by welcome, cooling, mountain breezes, particularly towards the end of the day, and the temperature drops overnight. Bring a light pullover or jacket when visiting in Summer as the nights can be surprisingly cool. Layered clothing, which can be adjusted to fit the changing temperature during the day, is particularly effective.
Visitors Centre
Canberra and Region Visitors Centre

phone: +61 2 6205-0044

address: Regatta Point, Barrine Drive, Parkes ACT 2600

The ACT Government operates a comprehensive visitors centre co-located with the National Capital Exhibition at Regatta Point on Lake Burley Griffin. It provides information on attractions in Canberra, and staff can book accommodation as well as tickets to local events.
Get in
By plane
Foggy mornings at Canberra Airport
Canberra Airport is sometimes affected by morning fog from around May to September, causing delays or cancellations. Many Canberrans avoid morning flights if they can at this time of year, and travellers will probably want to do the same. Aircraft parked at the airport overnight can generally fly out through fog, so early departures are normally unaffected. However, arrivals and subsequent departures can be delayed even after the fog lifts, typically by about 10am.
Canberra AirportNot only serves Australia's capital city, but also many nearby towns across the border in New South Wales.
Airlines serving the airport are
Qantas
,
Virgin Australia
,
Tiger Air
,
Fly Pelican
,
Singapore Airlines
and
Qatar Airways
with flights between:
Canberra Airport is developing international connections, with Singapore Airlines connecting the city with
Singapore
and Qatar Airways flying to Doha via Sydney. Otherwise
Sydney Airport
is the closest gateway airport with connections to most worldwide destinations, but also consider
Melbourne
as an alternative with easier terminal transfers.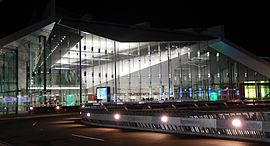 The current terminal building, completed in 2013, is fitted with all the trimmings of a small modern airport, including aerobridges for jet flights and enclosed terminal areas. There are only a handful of food outlets and a single newsagent inside the terminal, with the meal options being expensive and low quality even by airport standards. ATMs and payphones are located on both sides of security. Additionally, Qantas and Virgin both have their own airport lounges within the terminal and the waiting area for international flights offers fairly basic lounge-style services for all passengers. To keep yourself entertained you could venture around the terminal and its grounds to try and locate six public art sculptures that are on display.
As Canberra Airport is both fairly new and small, the process of passing through security at the start of a flight and collecting your luggage on arrival is usually very fast in comparison to the other capital city airports. Completing immigration and customs checks for international departures and arrivals is also much faster than at major airports.
Ground transportation
Taxis are available from the indoor taxi queue on the ground floor and cost $25 to Civic. Fares to Canberra's suburbs can be much higher, for instance at least $50 to Tuggeranong or Belconnen.
Ridesharing service Uber operates in Canberra and is usually cheaper than taxis. Canberra Airport has a dedicated passenger waiting lounge located 20 metres from the ground floor exit of the arrivals hall.
Canberra Airport is connected to Civic by public bus
route R3
. Services arrive and depart from outside the baggage claim area on the ground floor of the airport every 15 minutes or less during weekdays, and 30 minutes on weekends. The route is serviced by standard ACTION buses, which do not include luggage racks for large suitcases, however most have space for medium-sized suitcases near the driver, and the buses are rarely crowded. A Single adult fare between Civic and the airport is $4.90 each way, or less if using a MyWay card.
The Royale Group also runs a
shuttle
which costs $10 one way to/from Civic. Frequency is 30–60 minutes, the ride takes 20–30 minutes and it operates daily 07:00-18:00 (reduced frequency on weekends).
Several car rental services have kiosks in the Arrival Hall. Internationally known and reputable companies like
Budget Car Hire
, Thrifty, Hertz, RedSpot, Avis, and Europcar are available. When returning car rentals, there is a Caltex petrol station adjacent to the terminal.
It is possible to use Canberra's off-road cycleway network to reach the airport. Follow the cycleway along the north side of the lake. A section of cycleway runs along the Molonglo River underneath the Monaro Highway Bridge; it veers left and passes underneath the Pialligo Avenue bridges. Turn right, cross the creek (beware of the gravel surface at this point), cross over Fairbairn Avenue, use the airport service road through the airport precinct, and make your way to the terminal. The ACTION public bus also carries bicycles on the front racks.
There are ample-sized covered and uncovered car parks within walking distance of the terminal. The uncovered car park is cheaper. Expect to pay $20–25 per day, with special weekend rates.
For arriving passengers expecting a pick up, the pick up area is in the closest uncovered car park 100 m from the terminal exit. Private cars have a 10-minute grace period to enter and leave that area. Close by, there is a Caltex station/Subway Restaurant with limited parking spaces where cars can wait.
By train
Sydney to Canberra on a budget
Thanks to an expansive NSW TrainLink network and capped pricing, you can travel from
Sydney
to Canberra, via
Goulburn
(a terminus of the Sydney suburban train system), on the cheap. First you must take an unbooked Sydney Trains train service from Sydney to Goulburn, costing $8.60, and a subsequent booked TrainLink Xplorer service to Canberra, ranging between $11-17 depending on your travel period. This can equate to a saving of $20-30 compared to the direct Xplorer option. Unless you do want to spend time in Goulburn, refer to the timetables to minimise your layover.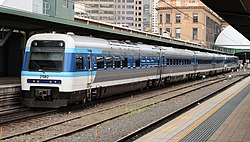 NSW TrainLink
runs Xplorer train services from
Sydney
to Canberra three times daily, taking around 4 hours 20 minutes from Sydney's Central Station. Despite being slower than a bus or driving, the train journey takes a very scenic route through the
Southern Highlands
and the Molongolo Gorge, compared to an unexciting freeway journey by road. Economy train fares cost $56 in peak season (Christmas and New Year period or school holidays) and $40 in off-peak, with discounts sometimes available on last minute or advance bookings. If you do take a Bicycle on board they must be boxed and checked-in as luggage on NSW TrainLink services. There is a fee of $12.10 per bicycle and there is room for only three on any train. On some days it is possible to do a day trip by train from Sydney and get 5–6 hours to spend in Canberra.
The train terminates at in Kingston, a suburb located south-east of the main centre of Canberra (Civic). If you are light on luggage, the cheapest option is to take one of the local ACTION buses which service the station, costing $4.80 to Civic (less if you use a MyWay card). On weekdays, bus route R2 run every 15 minutes to Civic, with route R2 operating on weekends every 30 minutes. You can also get a taxi from the rank, or book an Uber. You may even be able to walk from the station to your accommodation if you are staying on the southern side of Lake Burley Griffin, taking up to 25-30 minutes depending when you stay.
NSW TrainLink also runs a once-daily train/bus between
Melbourne
and Canberra: the bus runs from the centre of Canberra (City Bus Interchange) via the Barton Highway, Burley Griffin Way and the Olympic Highway to the town of
Cootamundra
, where travellers switch to the XPT (NSW TrainLink) to Melbourne's Southern Cross Station; tickets cost $91 in off-peak and $107 in peak season.
V/Line
runs a competing train/bus service (Canberra Link) between
Melbourne
and Canberra daily. Coaches depart from the Jolimont Centre coach terminal (across the road from the City Bus Interchange). Services run relatively directly via the Barton and Hume Highways and change for the train at
Albury
. Tickets cost $46.
V/Line also run a Canberra service to connect with their Melbourne train at
Bairnsdale
. This service is called Capital Link. Services run twice a week (three times a week during Victorian school holidays). At Bairnsdale a road coach will take you via Orbost, Cann River and Cooma to Canberra, with stops at Canberra Railway Station (Kingston) and the Jolimont Centre (across the road from the City Bus Interchange). Tickets on this service also cost $46.
By bus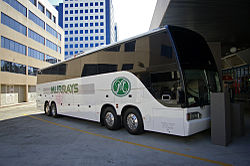 is the sole coach terminal servicing Canberra, with all coaches stopping here even if they are just passing through Canberra. Located in Civic, the centre itself has limited amenities, including showers, internet access, a few eateries and phones to call the tourist centre and accommodation. Due to its location, it is only a short walk to many hotels or shops and is near the City Bus Station, where all local ACTION busses will pass through.
Murrays
, tel +61 132251, Murrays operate up to 10 daily express services between Sydney (Central Station) and Canberra with extra services on peak days. They are the main operator on this route. Service takes around 3 1/2 hours. They always have $15 fares available on the web, for the early or late services and $18 for some others. Popular services or last-minute booking is around $35. The service is non-stop (with some services via Sydney International Airport). Murrays also run a daily service from Canberra to Wollongong and Canberra to Narooma. The coaches are more cramped than the trains. Seats are unassigned, so it helps to be there early and not to have luggage to go under the bus, as that lets you get on first and secure your window seat. Buses often fill to capacity, and can experience delays due to peak traffic into and out of Sydney, although the non-stop nature means that they have been known to arrive 10–15 minutes early on a good run.
Greyhound Pioneer
, tel +61 131499, operate a bus service competing with Murray's. Fares seem to be either $15 or $36, so you might get lucky and get a cheap ride. It may not be possible to get the $15 fares when booking a return journey; if so, you probably need to book each leg separately. They also offer a direct service to
Melbourne
. Greyhound's coach services sometimes include video entertainment. Some Greyhound buses on the Canberra/Sydney route have on-board wifi at no additional cost, but it is very slow and occasionally drops out. The Greyhound services may stop (at passenger request) at Goulburn and at Sydney airport; if this happens, it can introduce significant additional travel time. At busy times, Greyhound sometimes run two services between Canberra and Sydney, one which stops at Sydney airport and another which does not.
NSW Trainlink
also run daily buses to and from
Eden
on the South Coast, via
Bega
and
Cooma
.
V/Line
, tel +61 13 61 96. V/Line have two services which connect Canberra to Melbourne. The fastest option is a bus from Canberra to
Albury
with a connecting train to Melbourne. This takes around 8 hours. The more scenic option is to travel to Melbourne via
Cooma
, Sale and
Bairnsdale
. Likewise, this service connects with a train at Bairnsdale allowing you to continue your journey southwest towards Melbourne.
By car
The drive from
Sydney
to Canberra is 290 km and takes around three and a half hours from the Sydney CBD, less from outer suburbs in Sydney. The road is dual-carriageway, freeway-like conditions from Sydney all the way to Canberra, mostly with a 110 km/h speed limit, via the M5 Motorway, Hume and Federal Highways. There are three sets of on-road services located on the Hume Highway between Sydney and the turn-off to the Federal Highway to Canberra, as well as many well-maintained and often scenic rest stops with toilets and picnic tables ideal for a picnic. Take drinks, as the rest areas have no water, or tank water which is not recommended for drinking. A third option which will enable you to see more of the countryside is to stop at one of the small towns in the
Southern Highlands
on the way, all of which boast many cafes and restaurants open for breakfast, lunch and dinner (but not 24 hour).
It is rare to make the entire trip between Canberra and Sydney without at least one police speed trap. The city of Goulburn, on the way to Canberra, is the training centre for New South Wales police officers who often send new recruits to run speed checks on the freeway. There are also several fixed speed traps, all of which are signposted in advance.
The drive from
Melbourne
to Canberra is 650 km and takes roughly eight hours on the Hume and Barton Highways, again mostly on dual-carriageway roads. A great alternate driving route uses the
Monaro Highway
and travels through interesting terrain in the
Snowy Mountains
.
Get around
Canberra is a car-centric city with excellent roads, and tourists who want to travel away from Civic and the main tourist attractions are generally better off hiring a car than relying on the infrequent, though generally reliable, bus services.
By bus
ACTION Buses
ACTION buses
cover the majority of Canberra, with reduced services on weekends/public holidays. While Canberreans whinge about it, ACTION's services are generally reliable and it has a useful range of routes for tourists. If you're staying in or near Civic and intend to only visit the main tourist sites, there's little need to rent a car.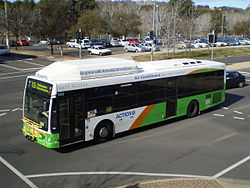 Fares are $5 for adults and $2.50 for concessions (have your student or concession card ready to show the driver. For international students, it's always good to have an ISIC Card because many drivers—although not strictly supposed to—will accept these). An all day ticket costs $9.60 for adults and $4.80 for concessions.
If spending more than $20 on tickets, consider purchasing a
MyWay
stored value card, which is more convenient, and offers discounts on travel. Value can be added onto the card, but there are no refunds. It can take up to 48 hours for value added to a MyWay card to be usable on the card. Apply for concession fares at a MyWay agent e.g. ANU students need to do so at the ANU Union annually.
The cross-city routes (e.g.,
R4
) are frequent, reliable, have fewer stops and travel quickly between interchanges. They also can be crowded during peak times. The R4 is sometimes referred to as the
Blue Rapid
or
Intertown
. On weekends, these route run at a reduced frequency. These services are not of much use to tourists, however, as they do not pass many attractions except routes R2 and R6 which travel in the Parliamentary Triangle. ACTION maintains a useful list of the services to the main tourist attractions on
its website
.
Other services are less frequent, even less-so during off-peak and weekends. Some meander slowly through suburbs. Check routes and timetables carefully on the ACTION website. It's generally a good idea to arrive at suburban bus stops 5–10 minutes before the bus is due during the middle of the day and in the evening as they often run fast.
Confusingly, ACTION buses are painted several different colours. Most are white and green (like that in the photograph in this section), but smaller numbers are either blue or orange.
During weekends, there is easy parking at Woden, Belconnen and Tuggeranong car parks, which makes the Blue Rapid a good alternative to parking in Civic. During weekdays, a
Park and Ride permit
is required. ACTION often provides free one-off services from city centres to major events e.g. between Belconnen/Woden etc. to show days, Skyfire, sporting events, Floriade or the Arboretum. These are announced on the ACTION website and through social media.
Bicycle cages along the cross-city routes can be used without additional charge. However, they are only available to registered MyWay card users, who have further applied for access to
individual cages
.
Users can plan ACTION bus trips on Google Maps. Transport Canberra's
NXTBUS
website provides live updates.
Tips for riding the buses:
Board the bus through the front doors. Boarding through the rear doors is allowed at bus stations for MyWay card users.
If you need to change buses to get somewhere, ask for a transfer ticket; it'll let you on to as many buses as you need within 90 minutes of getting on the first bus.
Tell the driver where you need to get to (and how quickly if that's important) and ask them what your options are. Some buses snake through the suburbs and can take a while to cover a relatively short distance while others may be more direct or express services.
Most buses do not operate after 9:30 PM on Sundays and public holidays. They do not operate overnight, after midnight or before 5AM. There is however a 'flexibus' or 'nightrider' system with certain routes running at these times—for a flat fare of $10—that operates on weekends in early summer, but not throughout the year.
As of October 2018, 84% of the fleet is wheelchair accessible. Buses that are wheelchair accessible have a wheelchair ramp at the front door.
Most buses have a bicycle rack attached in front. Bicycles racks can only carry 2 bicycles at a time.
If using a MyWay card, remember to tag off before alighting.
Culture Loop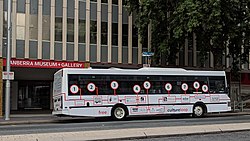 Culture Loop shuttle busThis free bus service links most of Canberra's main cultural institutions. It only involves one bus though, which conducts hourly services. A combination of this route and ACTION services or taxis would be more convenient than needing to schedule your trip to the bus' timetable.
By bike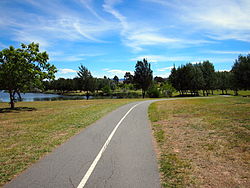 Bicycles are a practical way to get around Canberra while visiting, and will get you to most attractions using a well developed network of off-road cycle paths. Visitors can rent bicycles from several businesses, including
Cycle Canberra
. A single dockless bicycle sharing company,
Airbike
, operates in the area around Civic and the Parliamentary Triangle. There are also several bicycle shops along Lonsdale Street just north of Civic.
Canberra also has generally well developed on-road cycle facilities but the on-road cycle lanes sometimes end and start in utterly inexplicable places.
Due to the popularity of cycling in Canberra, most road users are aware of cyclists and considerate of them.
The attractions around the lake are accessible on fairly flat paths, and hilly segments are short. Attractions which involve "mountains" e.g. Mount Ainslie, Black Mountain, the Arboretum or the Stromlo Observatory will obviously have steep access. However, travel from the Civic towards Belconnen or Canberra University is mainly uphill.
Pedal Power
has a list of commuter and other routes. Bicycles are permitted on footpaths in the ACT (except when passing shops during trading hours).
There are bike racks to lock your bike up at most shopping centres and points of interest. Bike helmets are compulsory.
Most ACTION buses have front bike racks which can carry 2 bicycles at no additional cost. The bike racks have clips, so no additional equipment is necessary. Only 20" tyres or larger bikes are carried. Kids must be accompanied by adults, and child seats and other accessories must be removed from the bike. You can take your bike on board Canberra's trams, or lock it at a tram station.
Openstreetmap shows cycle paths and water fountains
. Some books which feature local rides are
Cycling Around Canberra
by Bruce Ashley, and
Where To Ride Canberra
by Bicycling Australia.
By tram
Canberra's new tram line stretches from the Northbourne Plaza in Civic to Gungahlin. Primarily a commuter route to the Canberra suburbs, It gives you a pleasant enough ride up Canberra's main avenue, and past the showground and exhibition centre and on to Gungahlin town centre in Canberra's north.
Use your MyWay card to ride. Transfers work seamlessly to buses. Tag-on and off at the platform before and after boarding.
By car
Town Centre?
Drivers are often confused by the many signs around Canberra that direct you to the "Town Centre". The unanswered question that the sign poses, is "Which Town?". The city centre, also known as "Civic", is its own centre, but the other Canberra "towns" are Belconnen and Gungahlin (to the north of the lake), and Woden, Weston Creek, Molonglo and Tuggeranong (to the south). Each of these towns has its own suburbs. You will see signs directing you to each of these towns, but once you get closer the sign will simply direct you to the "town centre". You need to know which town you are in for the sign to make sense.
The major car rental agencies have offices in Civic and at the airport.
Canberra roads are generally of excellent quality and relatively uncongested.
Most of the major attractions provide free parking. During working hours high demand, from both visitors and employees, can see parking spaces very limited in the Parliamentary Triangle (which contains the National Library, Questacon, Old Parliament House, National Gallery, Commonwealth Place etc.).
The default speed limit on all roads in the ACT is 50 km/h, unless signposted otherwise. Major roads in the ACT have speed limits between 60 and 100 km/h. Occasionally, the same road has a different speed limit for traffic heading in opposite directions. The ACT also has the highest number of speed cameras per capita in Australia. Fixed speed cameras have warning signs in advance via overt signage; red light/speed cameras have much smaller warning signs, usually not coupled with a sign reminding of the speed limit. Mobile speed camera vans operate in the ACT (typically, but not always, on major roads); these may be overtly or covertly parked, and are identified by a large white sign on the roof.
40 km/h school zones are active throughout the school day (unlike surrounding New South Wales where they only operate for an hour or two at the beginning and end of the school day). School zones are rigorously policed.
The main shopping and commercial area of Canberra is known as Civic, but you will never see a signpost to Civic. It is signposted as "City".
Take change for parking meters in Civic if you want to park on the streets, or in the government parking lots. Parking in the town centres is difficult on weekdays. It is also difficult to park at night in Civic. There are several multi-level carparks near the Canberra Centre with ticket pay-stations and pay-booths. All day parking in the Canberra Centre is cheaper on the rooftop level. You will need to collect a parking entry ticket from the first boom gate and then feed the ticket into the second boom gate as you enter the rooftop level.
Petrol/fuel
. There are few fuel stations on the main roads; instead they tend to be located near local shops, off the main roads. Look for the small blue fuel pump signs pointing off the main roads. Start looking well before you run too low. There are several petrol stations just east of Northbourne Avenue at Civic. Petrol is also more expensive in Canberra than Sydney.
See
Museums and other institutions
City area - North of Lake Burley Griffin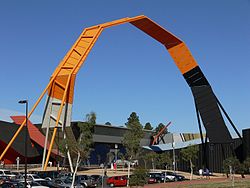 Parliamentary triangle - South of Lake Burley Griffin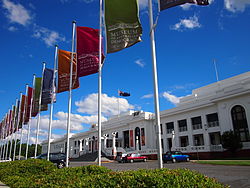 Parliament sittingsOn sitting days, you are allowed to view proceedings in the public gallery from 2PM onwards. Your belongings, including electronic items will be cloaked, and a secondary security check is required. No further arrangement is needed to sit in the Senate chamber public gallery. To view Question Time from the House of Representatives galleries, preferably book your free seat by calling the Serjeant-at-arms on 62774889 before 12:30PM. Expect queues to collect tickets, during the secondary checks, and then while waiting for sessions to begin. Consider bringing a small book to read during the wait. Members of the public can also observe hearings conducted by the parliament's various committees. Allow 2–3 hours. On-site parking can be limited when parliament is sitting.

Gardens. Back outside, the Formal Gardens are east of the main building. This is a small, tranquil green space, with flowers in warmer seasons, artwork, and the Bali Memorial. Here, or Queens Terrace, or the Parliament House roof, the lower slopes up the sides of Parliament House, or Federation Mall are nice places to take a breather. To explore the grounds further, feel free to walk (or ride) along tracks (within Capital Circle) both east and west of Parliament House in cool shade. Find the entrances along the corners of Parliament Drive. Another shady track runs along the base of Capital Hill (between Capital Circle and State Circle). Find this track midway down the access road to Kings Avenue, on the right side, and proceed clockwise. You can exit the track at any point along the length, and the other end is close to Surveyors Park. If in Canberra when Floriade is held, there are additional tours of the Parliament House gardens.
phone: +61 2 6270-2800

address: King Edward Terrace, Parkes

Questacon is an interactive museum of science with exhibits illustrating scientific ideas from the principles of physics to the motion of an earthquake. Great for kids and excellent science books can be picked up here. Allow at least half a day.
In the suburbs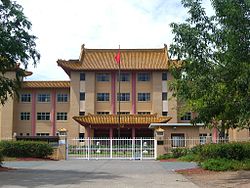 phone: +61 2 6214-1111

address: Leverrier Crescent, Bruce

The AIS runs tours a couple of times a day. The tours are usually run by in-residence athletes. See the training areas and find out about the development and strategy of the facility. At the end of the tour there are interactive exhibits to try various sports. The pool here is open for public access during certain hours.

phone: +61 2 6230 2273

address: 11 Gold Creek Road, Gold Creek Village, Nicholls

One of Canberra's most well-known attractions, a miniature display village featuring a traditional English village and international display. Train rides and tea room also available.
Embassies. As the national capital, Canberra hosts the embassies of most countries, listed below in Embassies. Many of the embassies are built in an architectural style typical of their country. In Yarralumla (the closest embassy district to the city), the Embassy of China, Embassy of Papua New Guinea, The Royal Thai Embassy and the building which hosts the Estonian and Finnish embassies are particularly worth a look. The Embassy of the United States of America is also worth a drive past, being the oldest embassy in Canberra. It is best to have a car or bicycle for touring so you can stop and have a look around. Most of the embassies in the suburb of O'Malley are converted houses, and none feature interesting architecture. Several of the embassies hold annual open days on weekends in Spring and Autumn which usually include stalls serving their native food.

address: viewing platform off Lady Denman Drive, Yarralumla

The main official residence of the Governor-General of Australia, representative of Queen Elizabeth II in Australia. Closed to the public except for open days, which take place approximately twice a year. There is a viewing platform off the Lady Denman Drive, or glimpses can be seen from the main gate at Dunrossil Drive, Yarralumla, or Weston Park, Yarralumla. Often kangaroos are to be spotted munching grass on the lawns, so be careful driving along the ride that gets to the viewpoint, especially at dusk.

The Lodge

address: Adelaide Avenue, Deakin

The Prime Minister's official residence. Generally closed to the public and one can only see part of the garden from behind the wall. There are open days about once a year and if you are lucky to be in Canberra then, it shouldn't be missed.

phone: +61 2 6230-2655

address: Cnr Gold Creek Road and Barton Highway, Gold Creek Village, Nicholls

The largest collection of dinosaur and prehistoric fossil material in Australia.

phone: +61 2 6202-6999

Take a tour of the mint and see how coins are made. You will even get the chance to mint your own souvenir coin. Look for the pudding coins as a souvenir (not always available). Allow 1–2 hours.

address: Lady Denman Drive

This small dam across the Molonglo River was completed in 1963 in order to create Lake Burley Griffin. A viewing platform is located off Lady Denman Drive near the eastern edge of the dam.
Nature and scenery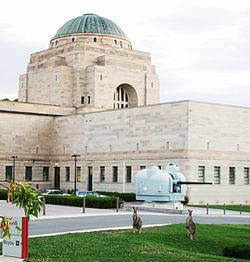 With Canberra unofficially crowned a bush capital, it is no surprise there is plenty to see when it comes to exploring its natural scenery. There are many hiking paths to explore around Canberra along with plenty of great vantage points to view the city, with many being accessible by car or by foot. Wildlife are commonly found in the surrounding nature reverses, but on lucky occasions you may spot wildlife that venture into the suburbs. Kangaroos occasionally penetrate into Civic, and hop down Northbourne Avenue from time to time. If ever you encounter wildlife on your visit be sure to admire from a distance.
Black Mountain Tower

phone: +61 2 6219-6111

address: Black Mountain Drive

This functional communications tower rises 195 m above the summit of Black Mountain, providing 360 degree views of Canberra and the countryside around it from a viewing platform 60m up the tower. While the interior may seem a little outdated, the view from the tower is quite impressive, although the viewing platform is only another 60m above the mountain. Within the tower is also a revolving restaurant and a telecommunications history display.

Mount Ainslie

address: Mount Ainslie Drive

Many argue that the view from Mount Ainslie rivals those offered from the more popular Black Mountain. Vehicular access is available off Fairbairn Ave, or if you are up for a trek you can walk up the mountain, starting from the eastern side of the Australian War Memorial.

Mount Pleasant

address: General Bridges Drive

A good site to visit after Mount Ainslie. A short drive from either Mount Ainslie peak, or the War Memorial. Drive will take you through a military academy. And the view will include Russell Offices, the Australian-American Memorial, and also a wonderful view along the length of the lake.

Mount MajuraLocated to the north of Mount Ainslie, access to the peak is by walking tracks only despite there being a service road, it is not available for use by the public. One of the popular walking trails starts near Antill St, Watson.

Mount Taylor

address: Waldock St

Partial vehicle access is available as you will need to walk to reach the peak of Mt Taylor.

Red Hill

address: Red Hill Drive

Offers two lookouts of the greater Canberra area. Vehicular access is available and a casual cafe style restaurant is at the peak.
Historic buildings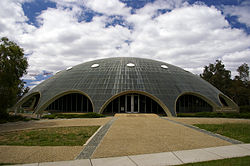 As the development of Canberra didn't take off until the 1950s, the city has few noteworthy historic buildings. In addition to those which host major national institutions described elsewhere, the following buildings are considered historically significant:
Country ACT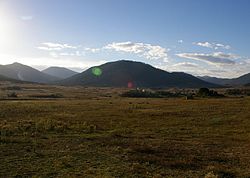 The majority of the Australian Capital Territory is actually not Canberra city and there is a large area of national park encompassing the northern part of the Australian Alps. While most people don't spend any time outside of the city there
is
plenty to do if you want to get away from the museums and attractions for a while.
Canberra Deep Space Communication Complex

phone: +61 2 6201 7880

address: 421 Discovery Drive, Tidbinbilla

The Canberra Deep Space Communication Complex (often called the "Tidbinbilla Tracking Station") is part of a network of three NASA facilities worldwide used to maintain contacts with probes launched from Earth. The facility is visually impressive, and claims to have "the largest antenna complex in the southern hemisphere". It also has an interesting visitors centre. The complex is about a 45 minute drive from Civic.

address: Lanyon Drive

Historic homestead of early Canberra settlers, guided tours, walks and a maintained garden. Cafe for lunch, coffee and cake. A three-house pass for $15/10/30 covers Lanyon, Calthorpe's House and Mugga Mugga house in Symanston.

Namadgi National ParkThe National Park making up most of the ACT and the most northerly of the Australian Alps national parks. Lots of walking tracks, including scenic views over the Brindabella Ranges, mountain bike trails and scenic drives (on unsealed roads), rock climbing at Booroomba Rocks. Inside the park are Honeysuckle Creek and Orroral Valley, the former sites of tracking sites for the Apollo Moon Landings. Enquire at the visitors centre on Naas Road or see the website for further details. In winter roads in the park may be closed because of snowfall.

Tharwa VillageA small village, one of the original settlements in the ACT area. See the old bridge over the Murumbidgee River, visit Lanyon Homestead (see below) and Cuppacumbalong Pottery. Tharwa is also the gateway to Namadgi National Park and Tidbinbilla Nature Reserve.
Do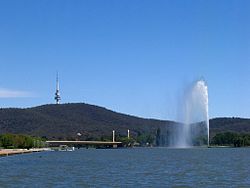 Explore Lake Burley Griffin - on or off the water. You can:
Take a scenic cruise on the lake with Lake Burley Griffin Cruises. Phone +61 419 418 846.
Rent a boat to sail the lake yourself through Goboat
If you're up for some exercise, you can walk, run, cycle or skate around Lake Burley Griffin. A shared path runs along the edge (the eastern edge at Kingston is interrupted), and the 2 bridges intersect it into 3 "loops". The Western Loop is 16 km, the Central Loop ("bridge to bridge") is 3.7 km, and the Eastern Loop is 9 km; visitors can travel along each, or combine them as fitness or time permits. Each segment has its own highlights. The entire circumference is approximately 25 km. Hire is available from:
*

Share a BikeRent high quality mountain bikes and tour around Canberra's extensive bicycle path network and off-road trail system.

*

SegwaysCan be rented close to the lake at Parkes Place.
Ride Canberra's Mountain Bike Trails: There are several locations around Canberra to ride mountain bicycles, many of which are considered some of the best in Australia. See Canberra Off Road Cyclists (CORC) for locations. Canberra is also home to the largest 24 hour Mountain Bike Race in the world (Scott 24hr), held in early October each year.
Go bush walking: Befitting the term "Bush Capital", the "bush" is frequently very close to housing areas. e.g. in non-winter months, it's not uncommon to see families walk through the local nature parks after dinner time. Or for locals to climb up a hill after work before heading home. One of the most popular with visitors is the walk to the lookout atop Mount Ainslie. Others include Cooleman Ridge, Mount Taylor, Oakey Hill, The Pinnacle, Red Hill etc. CANwalk and ACT Walking for Pleasure have maps, and schedules each week.
Helpfully between Civic and the War Memorial, walk through the Heritage-listed suburb of Reid. Observe the houses with leafy surrounds, the wide roads, little walking paths and recreation areas, in one of the oldest untouched Canberran suburbs. As (some) locals would say: "as Burley Griffin intended".
GeocachingCanberra has an incredibly active Geocaching community.
Explore Tidbinbilla Nature Reserve, which is about a 40 minute drive south of Canberra via Tuggeranong Parkway and Tharwa Drive. There are a large number of walks which offer stunning views of the Brindabella Mountains. You can also take Ranger-guided walks or have fun with the hands on displays such as the interactive computer program on Tidbinbilla's bird species and look at the live animal displays. The gift shop sells an interesting range of clothes, toys, books, cards and souvenirs. Coffee and light refreshments are also available.
Go tobogganing in

phone: +61 2 6235-7333

address: Tourist Drive 5

This alpine recreation facility features a bobsled ride in summer, and snowplay and tobogganing in winter. It is high enough to receive natural snowfalls. Check the website or call before heading up that the road is open, and that there is snow.
See the stars and planets at Mount Stromlo Observatory, Cotter road, Weston Creek. ph +61 2 6125-0230. Mount Stromlo is Australia's premier astronomical observatory. Badly damaged in 2003 bushfires, the partially rebuilt observatory reopened in October 2004. They run a Saturday night star gazing event for the public, call +61 2 6125-0232. The site's damaged buildings and equipment remain and may be fascinating for tourists.
Go wine tasting in the Wineries around Canberra (most are outside of the ACT but all very close to Canberra). They are described as cool climate wines and some are very well known and regarded. Try Jeir Creek, Gallagher, Clonakilla or Lark Hill. There are '33 wineries within 35 minutes of Canberra'. Visit the Canberra Wineries website for more information.
Take a scenic drive into the southern ACT - recommended by locals:
Head south to Tharwa, and then take the road to Adaminaby. Take the signed road to Honey Suckle Creek. Very important historical site, this is where the signals from the Apollo 11 space landing were received, and then beamed around the world. Also a nice drive, and a very good camp ground.
On the same road, not far off the Adaminaby Road is a walking (Fire ranger) trail to the top of Mount Tennant. About a 5-hour round hike, but worth every step. Go back onto the Adaminaby road, and head south. Another site of a space centre on the right down the road, worth a look, but not as interesting
Remaining on the road for another ten kilometers, entering the Namadgi National park, and two hundred meters after a single-lane bridge is a signed turn off to Yankee's Hat. This is a 4-km drive, any car can take it, and look for Kangaroos. Hundreds either side of the road. The walk to Yankee's hat will take you to see aboriginal art.
Road to Adaminaby. If you have a robust vehicle, take the road south. The country is magnificent. It takes about an hour from Yankee's hat.
Molonglo Gorge Recreation Reserve

address: Sutton Road Queenbeyan East

Scenic walks, picnics, camping, swimming
Events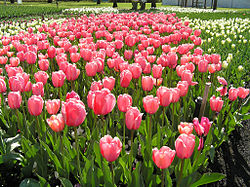 FloriadeFestival of flowers, a yearly event held in spring (September–October), not to be missed. Tulips are the main feature but many other colourful flowers and floral displays are featured. There are also sculptures, garden stalls, makeshift restaurants, activities, live music by local performers and sometimes there is even a gnome or scarecrow festival where children (and some adults) paint gnomes or make scarecrows and enter a competition to choose the best. Great for a photo opportunity!

SummernatsA festival of modified cars, car cruising, burnouts, etc., which takes place first thing in the new year. If you are not into this culture, this is a good time not to be in Canberra, as even the most civilised hotels are overtaken by drunken 'nats'.

The Multicultural FestivalA must to visit, has many events, such as concerts, performances and an International Food Fair with over 200 stalls selling food of different countries. Happens every year in February.

Thai Food & Cultural FestivalAnnual festival held in September at The Royal Thai Embassy in Yarralumla. The Festival is a bonus for floriade visitors and Canberrans alike and it's the Embassy's biggest free event of the year. Exotic event hall and beautiful court yard with 2 outdoor stages for live performances plus Thai food & beer, "made-in-Thailand" quality products, and fun & games for children. Do not miss this! The Philippines, Sri Lanka and some other embassies do similar events sometimes.

The National Folk Festival - held every Easter over 5 days, featuring local, national and international folk musicians, dancers and craftspeople.

phone: +61 2 6241 2478

address: Exhibition Park

Held in February featuring shows, amusement park rides and agricultural competitions. Has most of the features of the Sydney Royal Easter Show, but on a smaller scale with less crowds.

Canberra Balloon SpectacularClaimed to be "one of the top three hot air ballooning events in the world", hot air balloons fly over Canberra on most mornings in March. The balloons typically take off from the Parliamentary Triangle, and fly over the lake and centre of the city. The numbers of balloons flying tends to be greatest during early March and on weekends.

Check out the Canberra Times newspaper on Saturday for upcoming events.

Canberra Truffle FestivalHeld June - August, an eight week celebration of the local Black Perigord Truffle harvest
Learn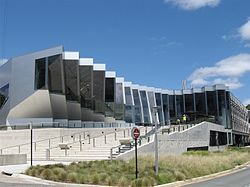 As the national capital, Canberra is also home to a number of research-oriented facilities. The National Archives of Australia, Australian War Memorial and National Library of Australia are important research centres, including for people researching their family history. Readers cards are available for free to Australian residents, though the institutions charge for photocopying. The National Museum of Australia, ANU and several government departments also maintain specialised archives and facilities which are available to researchers. The
ACT Heritage Library
serves as Canberra's state library and administers a collection of items related to the history of the territory.
Buy
Markets
phone: +61 2 61623737

address: 37 Townsville Street, Fyshwick

Over a dozen professional dealers, both local and interstate, offer a top variety of antique and retro furniture, funky vintage clothing, vintage fabrics, militaria, numismatics, pottery, vintage needlework tools & accessories, electricals, silver, art glass, quality bric-à-brac and designer items. Well presented with great music playing and a nice vibe throughout.
Jamison market - every Sunday near Jamison centre, in Belconnen. Fresh produce stalls and flea market. Come and get your bargain. Vinyl records, second hand clothing, furniture, bric-à-brac.

phone: +61 2 6295-3331

address: 21 Wentworth Ave

As the name would suggest, the markets are in an rundown bus depot that is no longer in use. Most of the stalls sell a wide variety quality arts and crafts, with a few food and produce stalls in the mix. There is often live music being played and occasionally they run theme days to keep the markets interesting.
Gorman House market - every Saturday in Braddon, just north of the city (easy walk). Crafts, second-hand items, antiques, international food in a lovely, grassy setting.
Tuggeranong Market - First Sunday of every month in the lovely Tuggeranong Homestead opposite the Calwell Shops. Lots of stalls, selling amazing stuff.
Trash and Treasure Market in Woden is hosted by Rotary and held every Sunday morning. Expect a mixed bag of books, plants, and assorted household junk.

phone: +61 2 6295-0606

address: 12 Dalby St

Fresh produce, including fruit, vegetables, meat and fish. Sunday afternoons are a good time to pick up some bargains.

phone: +61 2 6251-1680

address: Lathlain St, Belconnen (off Benjamin Way)

The Markets are open from 8AM-6PM Wednesday to Sunday. Some stores now open 7 days a week. Thursday's is senior's day with 10% discounts.

address: Old Wells Station Rd

An exceptional fresh food market with products being sold direct from the producer. Stalls sell fruit, vegetables, meat, seafood, honey, preserves, cakes, wine and plenty more. Be sure to come early for the freshest produce and grab a coffee or something to eat from one of the pop up stalls. It is a fair distance from Civic, but the trip is well worth it if you can make it.

phone: +61 427 807 801

address: Launceston St

Sellers are the producers. Stalls are all food related.

Gold Creek Village

address: Barton Highway, Gungahlin

This is a 'village' of specialty shops, attractions, hotels (for drinks), coffee shops, a native reptile 'museum', a butterfly enclosure, and garden supplies, in a group of separate buildings in a strip about 1 km long. Locals and visitors alike use the area, especially on weekends.

phone: +61 2 6282-4411

address: Hall Village Showground, Hall ACT 2618

The historic village of Hall (which pre-dates Canberra's founding) hosts a monthly market that raises money for local charity Hartley Lifecare. There are hundreds of stalls selling gifts, art, craft, baked goods, plants, furniture, clothing, pottery and children's toys.
Shopping centres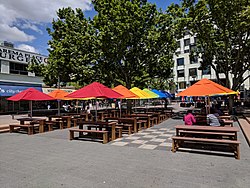 phone: +61 2 6247-5611

address: Bunda St

A large shopping mall in Civic, covering a large section of the central Canberra shopping district. It has department stores, food hall and eateries, specialty shops for adults and kids fashion both upmarket and basic. There are also electronics, books, CDs, souvenirs and Australian made products.

City WalkAn outdoor pedestrian mall located in Civic that is home to a large range of shopping outlets, alfresco dining and a few bars. The mall is also home to the Canberra Merry-Go-Round and the Canberra Times fountain.

Belconnen Mall is an enclosed shopping centre owned by Westfield in the Belconnen Town Centre to the north. Although it does not have as many clothes stores, it features a Myer department store and a K-mart, as well as two supermarkets and a food court. It has three levels.
Woden Westfield and Tuggeranong Hyperdome are the two major enclosed shopping centres to the south, in the Woden and Tuggeranong town centres respectively. Woden Plaza features a David Jones department store, a BIG W, two supermarkets, as well as approximately 200 speciality stores and a food court. The Tuggeranong Hyperdome (further south) features a K-mart and a Target, as well as supermarkets and a food court plus speciality clothing stores.
Fyshwick is the suburb to shop for appliances and technical stuff, along with furniture and homewares. It is also Canberra's 'red-light' district. Most of Canberra's antique shops and several second hand bookshops can also be found here. The large Canberra Outlet Centre is also located in Fyshwick.
Boutique
Lonsdale Sreet in Braddon (close to Civic) houses a growing number of boutiques which specialise in independent clothing labels and other designer objects as well as many, many, coffee shops and casual restaurants. The southern end of Lonsdale Street is also the home to many of Canberra's outdoor clothing and camping stores as well as several bicycle shops.
Manuka is another area that has boutiques and restaurants. Millers of Manuka boutique sells leading women's fashion brands like Max Mara and others. For less expensive women's clothing try Witchery. Booklovers would do well to check out Paperchain bookstore.
Kingston is yet another shopping and restaurant area not far from Manuka.
Specialty
Many of the most interesting shopping experiences are at the national institutions, almost all of which have specialist shops inside. The National Gallery has a superb range of art books, both overseas and indigenous. Likewise the National Library, the Questacon Science Museum, the War Memorial, the National Museum at Acton, the Film and Sound Archive, and so on - if you're looking for unique Australian items, these are the places to go.
Bookshops
While Canberra is a bookish city, it lacks a stand-out bookshop. However, there are several good options:
address: Shop 10, Mawson House, Southlands Shopping Centre, Mawson

Second hand bookshop which specialises in military history.

phone: +61 2 6251 5191

address: 1-3 Lawry Place, Macquarie,

Specialises in new and second hand books on Asia, including rare books and academic works.

address: Shop 1 Bailey's Corner East Row

This unusual bookshop stocks a wide range of discounted books on specialist topics, many of which are rather eccentric (The Complete Chicken Encyclopedia and a large supply of English-Albanian dictionaries, for instance). It also has a warehouse in the industrial suburb of Fyshwick which is open to the public.

Dymocks Canberra

address: Shop CL17 Canberra Centre, Bunda Street, Civic

While part of a fairly unexciting national chain, this branch of Dymocks has a unusually well-chosen stock. Other, and less interesting, Dymocks branches are located in Belconnen Mall and the Tuggeranong Hyperdome.

phone: +61 2 6232 5832

address: Ground floor, Westfield Woden

An independent bookshop with a good range, though focused mainly on fiction

phone: +61 2 6178 0024

address: East Hotel, Corner Canberra Avenue and Giles Street. Kingston

This combined bookshop and cafe runs a busy program of literary events, often featuring high-profile authors.

National Library of Australia Bookshop

address: Parkes Place, Parkes

Not surprisingly given the venue, this store stocks an excellent range of Australian books.

address: 34 Franklin Street Manuka

A medium-sized independent bookstore with a good range. Popular with journalists and politicians.

phone: +61 2 6102 7170

address: King Edward Terrace, Parkes

The National Portrait Gallery's store stocks a large range of recently-released art and non-fiction books and is very popular with Canberrans.
Eat
Canberra has many fine eateries, but beware - many will be closed on Sundays. There are large clusters of restaurants in Civic, Braddon, Dickson, Kingston and Manuka. An unusual feature of the Canberra dining scene is that some of the city's best restaurants are hidden away in small suburban shopping centres - locals often nominate these as their favourites.
All public buildings in Canberra are smoke free.
Budget
Civic Asian Noodle House

address: Sydney Building, 34 Northbourne Avenue

Good laksa at reasonable prices ($15). Relaxed atmosphere.

CBD Dumpling House

phone: +61 2 6262 8855

address: Canberra Centre, Civic

Large and very popular Asian restaurant. Specialises in dumplings, but has a good mix of other Asian dishes.

Dumpling Inn

phone: +61 2 6253 2268

address: 1/1 Lawry Place, Jamison Group Centre, Macquarie

Excellent Chinese food with Yum Cha lunch on Saturday and Sunday. Very popular with locals and booking might be required.

Griffith Vietnamese Restaurant

address: Griffith Shops

Cheap, no frills place with little/no décor and ordinary 'Australianised' Vietnamese food.

Hansel & Gretel

address: 42 Townsend St., Philip

Great European style shop and cafe.

Kenny's

phone: +61 2 6248 9899

address: 19 Woolley Street, Dickson

Chinese Style Restaurant for fast dine in, BYO & Take away. 11:30AM-11PM (7 days).

Kismet

address: Flinders Way Manuka

Another wonderful Turkish eatery at easy on the pocket prices, Kabak and Falafel are easily one of the best in Canberra if not Australia.

phone: +61 2 6251-3325 (Jamison), +61 2 6260-3016 (Woden)

address: 2 Lawry Place, Jamison Group Centre, Macquarie (near Belconnen T/C) and Woden Plaza, Corinna Street, Woden

Nice, inexpensive Turkish food in a proper restaurant (not a takeaway outlet). The Woden location is open all day (one of the very few in Canberra).

phone: +61 2 6248 8802

address: 1/14 Lonsdale St, Braddon

Great quality Thai food.

The Front Gallery and Cafe

address: Lyneham Shops, Wattle Street, Lyneham.

Enjoy a coffee and explore an art exhibition. Comfy couches.

Yarralumla Halal Pide House

address: 45 Novar St., Yarralumla

High quality Turkish at a reasonable price, no alcohol allowed on premises. Absolutely delicious and very generous kebab rolls - local favourite. Take away available.
Mid-range
Belluci's Restaurant

phone: +61 2 6257-7788

address: Cape St (cnr Woolley St), Dickson

Popular Italian restaurant.

Blue Olive Cafe

phone: +61 2 6230 4600

address: 56 Alinga St, Canberra

Famous for their delicious New York style sandwiches. Great coffee and breakfast menu, wonderful service.

Bruno's Truffels

phone: +61 2 6286-6377

address: Unit 2, 106 Mawson Place, Mawson

Nice cafe and shop for locally made chocolates and pastries.

Cafe D'Lish

phone: +61 2 6281-3533

address: Shop 3, Duff Place, Deakin

Swiss owner, nice pastries made on premises.

Dickson shopsThis is the Canberra equivalent of Chinatown. Lots of great Asian food and a few pubs/clubs to have a beer at. This shopping centre is located a 10 minute bus ride north of Civic, just off Northbourne Avenue, and has a fantastic eat street, with everything from Thai to Turkish to Vietnamese at reasonable prices. Turk Oz has a delicious spinach and feta pide. Dickson Noodle House makes a terrific Laksa and is quite cheap. Au Lac is an excellent vegetarian Vietnamese place with delicious soy-based versions of everything.

Four Rivers Sichuan Chinese Restaurant

phone: +61 2 6162-0666

address: Unit 66, The Coventry Apartments, 12 Challis Street, Dickson

Very tasty, authentic Sichuan cuisine. Yum-cha lunches.

Thirst Winebar and Eatery

phone: +61 2 6257 0700

address: 20 West Row

Civic. Tasty Thai food in modern styled restaurant. Two-for-one mains on Monday and Tuesday make this a top option! Otherwise expect to pay around $25.

Ginseng

phone: +61 2 6260 8346 or +61 2 6260 8347

address: 15 Flinders Way, Manuka

Try either the traditional or vegetarian Singapore noodle and the Laksa. Book in advance and ask for a table on the second floor, you will get the best view of the Manuka tree tops!!

Italo-Australian Club

address: Franlin St, Forrest

You can obtain a temporary 28 day membership for $1 upon entry. You can get a hearty Italian pasta dish for around $15, with drinks both alcoholic and non-alcoholic reasonably priced.

Koko Black

address: Bunda St Canberra Centre North Quarter

Warm and tasty Chocolate shop with a second to none chocolate selection as well as an innovative and interesting Hot Chocolate and Drink Menu. Nice, welcoming decor.

Maestral Seafood Restaurant

phone: +61 2 6287 3930

address: 13 Trenerry Street, Weston Creek

Mediterranean/Croatian, lots of fresh seafood and steak.

New Asia Chinese Restaurant

phone: +61 2 6262-8860

address: Unit 75, The Coventry Apartments, 2 Cape Street, Dickson

Offer authentic Shanghai, Sichuan, Cantonese, and some Malaysian cuisines. Some of the signature dishes include: Crispy Fragrant Duck, Yu Xiang Pork and Egg Plant Hot Pot, Shantung Lamb and Shantung Chicken. The food is fresh and the service is friendly. Very popular with Chinese oversea students and local communities. Open 7 days a week (except Saturday and Sunday lunches). Fully licenced. BYO for bottled wines only. Setting capacity: 34 people.

Rama's

phone: +61 2 6286 1964 or +61 2 6286 9437

address: Shop 6, Pearce Shopping Centre, Hodgson Crescent, Pearce

Fijian/Indian, best (and hottest - no joke) curries in town. Can be very noisy.
Red Belly Black, located near the ACT law courts in Hobart Place. Excellent coffee, good breakfast menu, mid priced lunch menu, great cakes. Only open Mon - Fri from 7:30AM-4PM. A good way to start the weekday morning.
Sammy's Kitchen Bunda St Canberra Centre North Quarter. This Canberra institution serves a menu inspired mainly by Malaysian but also Cantonese flavours. It is hugely popular with locals, and the staff sometimes hurry slow eaters along to free up their table - it's not a place to linger over a meal.

phone: +61 2 6260-6060

address: 36 Giles St., Kingston

Good breakfast, however almost always very crowded - expect 'attitude' instead of service. They also have a dedicated cheese room.

Sukothai

address: 27 Bentham Street, Yarralumla

Inexpensive non-authentic Thai food. Eat in and takeaway.

Tu Do

address: 7 Sargood St., O'Connor

Cheap and tasty Vietnamese, very popular with the local Vietnamese community. Good bar nearby too.
Splurge
Aubergine Restaurant

phone: +61 2 6260-8666

address: 18 Barker St., Griffith

Food is very good, but beware the cancellations policy when changing a booking - you could be charged for the meals your party did not eat.

Courgette Restaurant

phone: +61 2 6247-4042

address: 54 Marcus Clarke St., Acton

Sister restaurant to Aubergine Restaurant, fine dining.

Ottoman Cuisine Restaurant

phone: +61 2 6273-6111

address: Cnr Broughton & Blackall St Barton

Consistently awarded best Turkish in Australia, great atmosphere.

Rubicon

address: 6A Barker St, Griffith

Consistently excellent food, extensive winelist and BYO (bring your own) are accepted. Great atmosphere, romantic rear indoor courtyard.

phone: +61 2 6162 1220

address: 1 Burbury Cl, Barton

East/West fusion of great repute.
The Promenade Cafe at the Hyatt Hotel, Commonwealth Ave, offers daily buffet dinners in its restaurant from 6PM and high teas from 3 to 5PM.
Drink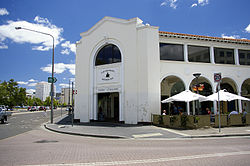 Canberra's many bars and clubs will be closed on Sunday nights and early into the week. Civic can appear to be a ghost town but there are areas such as Bunda Street where you will always find some happening funky bars.
In the city:
The Phoenix

phone: +61 2 6247 1606

address: 21 East Row, Canberra City

About as rustic and dingy as a Canberra establishment is likely to get, this pub attracts a varied crowd, with more than its fair share of bohemian types.
PJ O'Reilly's (West Row - City, and Tuggeranong Town Centre). Another Irish themed bar like King O'Malley's.

MooseheadsA bar with local history. It burnt down and was restored, Mooseheads is famous as an Australian Defence Force Academy (ADFA) hangout.

White Rabbit Cocktail Room (Northbourne Ave - City). Cocktail and tapas venue with polished floors and patterned wallpaper, hosting DJ nights
Shooters (East Row - City). Rough and tumble reputation.
King O'Malleys in Civic (inside City Walk Hotel building, Ground floor). Large Irish pub with a relaxed atmosphere, does pub-style meals lunch and dinner and a home for all types.

phone: +61 2 6248 0171

address: Llewellyn Hall, William Herbert Pl

Serves a wide range of award winning beers brewed on the premises, as well as a selection of other boutique and independent brews.
Hippo Lounge (Upstairs, Garema Place, Civic). Cocktail bar with an intimate setting amidst Baroque-meets-student-digs decor. There's also live Jazz on Wednesday nights.
Old Parliament House. Every Friday afternoon (5PM-7PM), the courtyards of Old Parliament House have DJs and reasonably priced cocktails. It is very popular with graduates after work, before heading off to other places.

phone: +61 2 6257-1110

address: 33 Petrie Plaza, Civic

Canberra's only gay nightclub with a variety of theme nights. Fridays and Saturdays are busiest.

Parlour Wine Room

address: (Civic)

Very intimate comfortable lounge bar, great selection of wines.
In the other suburbs:
Kingston Hotel (Off Canberra Avenue, near Manuka Oval). One of Canberra's longest running pubs, offering a 'cook your own' style open grill bistro, comprehensive restaurant, several pool halls, a drive-through bottle shop and bare bones backpackers accommodation (though usually occupied by long-term tenants). Once notorious for being rough, it is now a safe and friendly pub. Same ownership as Civic Pub and Uni Pub.
Trinity Bar (Just behind the Turkish Pide House in Dickson). This is a great lounge bar with impressive cocktail menu and jazz/DJs playing each evening Thurs-Saturday. Sunday afternoons/evenings are also busy during Summer.
Tilley's Devine Cafe Gallery (Lyneham Shops). Originally a "female only" establishment, it now opens its doors to everyone and is a fantastic venue for acoustic and jazz local and international acts. Food and coffee available, along with a large bar selection.
Duxton (O'Connor Shops). Bar in a suburban shop setting. Great for pre-dinner drinks before moving on to one of the small restaurants in the area.
Das Kapital (Narrabundah Shops). Intimate lounge bar, $5 Homemade Pizza and $10 jugs of Beer Wednesday-Thursday. DJ's and Bands most weekends.

Durham Pub

address: (Kingston)

Good selection of beers on tap, warm atmosphere, Trivia on Tuesdays and Karaoke on Wednesday

address: 1/34 Mort Street, Braddon

Great DJ and lovely selection of cocktails. Good crowd, lots of dancing. Often a line after 10PM.
Canberra has a significant craft beer brewing scene, with Bent Spoke and Capital Brewing both having national prominence. They both have venues in Canberra where you can try their favourites and some seasonals. Bentspoke in Braddon near Civic, and Capital Brewing in a spacious outdoor setting in Fyshwick with plenty of room for the kids to play in an afternoon while the adults enjoy a brew.
address: 38 Mort St, Braddon ACT 2612

Bicycle-themed bar serving a range of beers brewed on site. Owner and master brewer occasionally runs free tours.

Capital BrewingExpansive grounds, with lots of outdoor seating and areas for kids to play on a summer afternoon or evening. In winter, they have a large central fireplace. World class micro-brews, and a taste burgers from a burger food truck that's always indoors.
Sleep
Most of Canberra's hotels are in or around Civic or the suburbs which are adjacent to the Parliamentary Triangle. A few hotels have opened in the Belconnen, Gungahlin, Tuggeranong and Woden town centres. The availability of accommodation can be tight during periods in which Parliament is sitting - the schedule for parliamentary sittings is available
here
.
Budget
phone: +61 2 6248-9155

address: 7 Akuna Street, Canberra City

Beds in a shared dormitory from $26 per night. Double or twin rooms from $76 per night. Family rooms $96 per night.

phone: +61 2 6295-7777

address: 29 Dawes St, Kingston

Reception 7:30AM-9PM. Kitchen is only open from 11AM-9PM but breakfast is provided and included in the rates. Free parking. Shops, cafes and grocery store are nearby.
Mid-range
phone: +61 2 6253 3633

address: 110 Benjamin Way, Belconnen

Premier Hotel & Apartments is one of the few accommodation options if you want to stay in the Belconnen area. The motel has standard rooms, deluxe rooms and two bedroom apartments, and is situated within walking distance of Belconnen Town Centre - useful if you need to visit one of the offices situated there (e.g. Department of Immigration and Citizenship, Australian Bureau of Statistics, etc.)

Best Western PLUS Garden City Hotel

phone: +61 2 6295 3322

address: 55 Jerrabomberra Avenue, Narrabundah

This motel is situated in Narrabundah which is located away from Canberra's main attractions so having access to a car is highly recommended if staying here. Rooms are small but provided you have a car, accommodation tends to be substantially cheaper than accommodation options in Civic. Full Rates range from $150-220 for a standard room.

ibis Styles Canberra Eaglehawk

phone: +61 2 6241-6033

address: Federal Highway

A large resort, a few kilometers from the outskirts of Canberra, with motel-style accommodation. It is on the Federal Highway just across the border. Rooms include small kitchenettes, and it is possible to get two interconnecting rooms for families or groups (at less than the price of two rooms). The resort has a large pool, a breakfast room and restaurant, and a small spa and sauna area.

phone: +61 2 6245-5000

address: 65 Northbourne Avenue

Novotel Canberra accommodates business and convention visitors, and families travelling with children. Directly above the Canberra Coach Terminal.

QT CanberraLondon Circuit, Rydges Lakeside Canberra is on the shores of Lake Burley Griffin, walking distance to Civic.

address: Cnr Canberra Avenue & National Circuit Forest

Located across the lake from Civic, close to Parliament House.

phone: +61 2 6125 5276

address: 1 Balmain Crescent Acton

This hotel is located on the campus of the Australian National University about halfway between Civic and the National Museum of Australia. Accommodation options range from single rooms with shared bathrooms ($95 per night) to two bedroom apartments ($185 per night). Several of the ANU's residential colleges also offer tourist accommodation over the summer months.
Splurge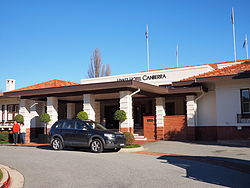 phone: +61 2 6270-1234

address: Commonwealth Avenue, Yarralumla

tel 13 1234 (local call within Australia).

phone: +61 2 6234-4444

address: National Circuit, Barton

Each of the Kurrajong's 26 rooms have King size beds, mini bar, tea and coffee making facilities, in-room safe, free in-house movies.

phone: +61 2 6163 1800

address: 18 National Cct, Barton

Canberra's newest 5 star hotel, in the Parliamentary triangle close to Parliament House and other attractions.
Bed and Breakfast
There are a number of Bed and Breakfast places just off Northbourne Avenue, in Canberra's inner north. These tend to be mid-range, cost-wise, but are comfortable and refreshing if you are looking for a 'home away from home'.
Serviced apartments
Serviced, short-term apartments are widely available throughout Canberra and are available for stays as short as one night. Amenities typically include kitchen, washer and dryer, and separate bedrooms. A full range of properties exist from budget to 5 star.
address: 11 Ovens St, Kingston

More apartments in Kingston. If you don't mind staying in serviced apartments that obviously started out as an apartment complex built in the 1970s, this place is not too bad. Certainly good for families or large groups as you can get 3 bedroom units.
Stay safe
Canberra is a very safe city and enjoys one of the lowest crime rates in all of Australia. Take the usual precautions against opportunistic crime, however. Valuables should not be left in sight within unattended cars, especially overnight.
Despite its apparent affluence, Canberra has people who live 'rough'. Particularly around Civic, it is not unusual to be asked for money. This is a well-organised activity targeting both visitors and locals: if you simply say that you don't have any money, the beggar (real or fake) will usually move on.
Once you leave Civic, Canberra is fairly spread out. For much of the year, evenings can become cold and windy fairly quickly. Don't count on adequate lighting even in otherwise popular or marked footways/cycleways. Similarly, when traveling on such routes in between city centres, or when in the bush, it is possible not to see any one else for an entire journey. Have a map and appropriate clothing. On hot days, carry water. For bicycle riders, having the means to fix a puncture, and having proper lights is necessary in Canberra.
If you go bushwalking, don't count on mobile phone reception. This is especially the case for tracks in the parks located outside the Canberra urban area. If you're walking in those areas, carry an alternate form of communication such as a personal locator beacon in case you or a member of your party needs assistance.
Do not swim in the lakes (including Lake Burley Griffin) until you
check online
, as low water quality can make doing so unsafe. Few Canberrans ever swim in the lakes due to algal blooms in summer, but water quality is now higher than it used to be.
Death cap mushrooms (
Amanita phalloides
) are common in many Canberra suburbs, and ingestion of a
single one can cause death
Being the 'bush capital', you might encounter wildlife, even in the city areas. An Eastern Grey Kangaroo can grow over 2m tall, taller than a very tall man, and can seriously injure you. Do not get too close, especially to a mother with a joey, and appreciate them from a distance. Keep an eye out for kangaroos when driving, especially at night.
Connect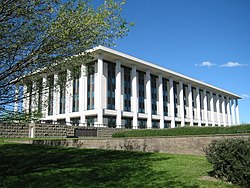 Free wifi is available in Civic, the town centres and some other areas of Canberra through the
CBRfree
service provided by the ACT Government.
The National Library of Australia provides free Wi-Fi and free internet access on 40 computer terminals (webmail is blocked on some computers, so ask the staff to show you which ones you can access webmail from).
All the
ACT public library
branches have free Wi-Fi and computers. Membership or proof that you are not a resident of the ACT is required to use the computers, and you may have to book a few hours in advance due to high demand.
McDonald's restaurants in Australia offer free Wi-Fi, no purchase required. The restaurants in Civic are at: corner East Row & Alinga St, and corner Cooyong Street & Northbourne Avenue.
The Pancake Parlour at Civic (in the Sydney Building, near bus bay 4) offers free Wi-Fi to customers, along with power points at several tables.
Cope
Embassies and High Commissions
A large number of countries maintain missions in Canberra. Note however that some do not offer consular services, with these being provided through consulates located in other Australian cities. Several countries have their mission to Australia located elsewhere, typically Sydney or Melbourne. The Department of Foreign Affairs maintains a
complete list
of foreign missions in Australia and their contact details on its website.
Several of the embassies located in Yarralumla are tourist attractions in their own right due to their architecture.

Go next