Canela
Canela
is a city in the Region of Serra Gaúcha, no
Rio Grande do Sul
,
Brazil
.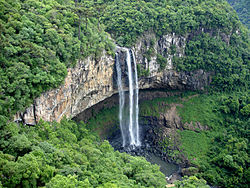 Get in
There are two different routes to reach Canela from Porto Alegre, Rio Grande do Sul´s capital.
The shortest one, not the best one: take the freeway and get the RS 115 going towards Gravataí. Short after going through the Police Station take the first right, the RS 020. This road will lead you to the city of Taquara. Then you can choose two different ways, trough São Francisco de Paula or Gramado.
The longest one, yet the most enjoyable: take the BR 116 until reaching the city of Novo Hamburgo. Then take the right and go towards Taquara. On Taquaras entrance there's a traffic light. Take the left there and Canela would be only 55 km ahead, shortly after the city of Gramado.
Get around
Buses connect Canela to Gramado every 20min. If you're so cheap as to not want to pay the taxi/uber ride to the Caracol State Park, know there is a bus connecting it to the Canela bus station 3 times a day.

See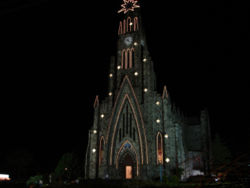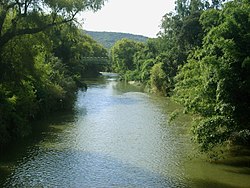 Stone Cathedral

phone: +55 54 3282-1132

address: Praça Matriz

Stone church constructed in the English Gothic style, with a 65-meter tower, consecrated to Our Lady of Lourdes. Considered since 2010 as one of the 7 architectural wonders of Brazil.

Castelinho CaracolWooden "castle" built in 1913 without a single nail. Today it holds a small museum which recounts local history and the arrival of the railroad to Canela. Try the apfelstrudel in the teahouse.

Mundo à VaporThematic museum

Jolimont Vineyard

address: Estrada Morro Calçado

Founded by three Frenchmen in 1948.

phone: +55 54 3282-9752

address: Rodovia Arnaldo Oppitz, 901

Amusement park located a few minutes drive from downtown Canela. Offers rollercoaster, bobsled, 4D movie theater, ziplines and some other attractions.
Do
Caracol State ParkWaterfall park: rockclimbing and trekking. As of March 2018, the stairs that lead to the bottom of Caracol waterfall were closed for renovation. Not to be confounded with the Cablecar attraction (40 BRL), which is a private property disconnected from the park, with no trekking opportunities.

Parque da FerraduraPark - rockclimbing, trekking, and sightseeing

Rio Paranhana (Paranhana River)River rafting
Eat
phone: +55 54 3282-6954

address: Estrada Morro Calçado, 2830

Cachaça distillery and restaurant.
Sleep
phone: +55 54 3282-9229

address: Rua Adolfo Seibt, 61 - São José

phone: +55 54 3282-6929

address: Theobaldo Fleck, 461

phone: +55 54 3282-5600

address: Rua José Pedro Piva, 220 Centro

172 suites divided into 5 categories: Luxury, Special Luxury, Super Luxury, Executive and Master Suite. All have air conditioning and central heating, cable TV, minibar, free wireless internet, bathroom with hot shower, hair dryer and digital safe.
Go next