Canoa Quebrada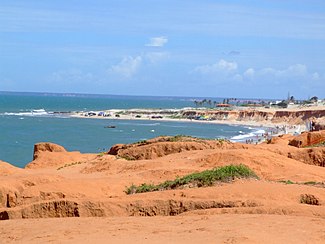 Canoa Quebrada
is a beach village in
Ceará
.
160 km southeast of
Fortaleza
, in the municipality of
Aracati
,
Canoa
, as it is mostly referred to, is a village installed on red sandstone cliffs.
Understand
Canoa is still holding on to its fame as a hippie paradise, although it is slowly growing into another resort destination. Despite all, many locals still work as traditional
jangada
fishermen. The climate is dry and sunny most of the year, with average daytime temperatures around 30 C. Some daytime rain between March and May, although substantially less than in
Fortaleza
.
Get in
By bus
Buses to(6, 9:30, 11AM, 12:30, 2:30, 5:30PM)and from (6, 8:30 11AM, 1:30 4:30 5:30PM) Fortaleza 6 times daily by São Benedito tel +55 85 3444 9999, about 3,5 hours, R$18,50. An alternative is to jump off any bus that passes Aracati, and switch to frequent minibuses for the last bit to Canoa.
Take one of the minibuses with daytrippers from Fortaleza, but they will charge you return price, R$40. Departure Fortaleza 7:30AM, Canoa (bus station) 4PM. 2,5 hours.
By car
From Fortaleza, take the road CE-040.
Get around
Canoa Quebrada is all walkable. Go barefoot if you like.

See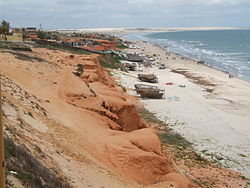 The sunset from the dunes backing the town. The time to go is when the beach gets shady.
Do
Walk along the beach in either direction. Note that certain stretches become partly flooded on high tide. Your knees will get wet.
Dune-buggy along the coast. Standard 2,5 hour trip for up to 4 people with a driver/guide is R$200.
Jangada (traditional fishing rafts with sail). R$10 per person for about 30 minutes.
Kitesurfing: Canoa kite school
Tandem paragliding on the cliff top. R$50 for 15–20 minutes.
A cruise on the river Jaguaribe with a buggy tour before and after and lunch (not included) in Fortim sets you back R$80. Departure 10AM, return 4PM.
Buy
Due to its small size, many goods are scarce and/or overpriced.
Aracati
has what you need!
Get any souvenir with Canoa's trademark: The star embraced by the crescent moon.
Eat
Food from the beach shacks is mostly inferior to that from the village restaurants. Many Broadway restaurants have special offers for lunch.
Biroska Brasil

address: Broadway

Panela Cearense

address: Broadway

Costa Brava

address: Broadway

Good steaks and sauces

Café Havana

address: Broadway

Top quality meats and attentive service.

El ArgentinoMostly grilled meats, the buffet is a bit sparse.
Most people working in restaurants and bars in Canoa works for minimum wages and often without a proper contracts. In a lot of cases the menu states that the restaurant adds 10% tip. This is a tip for the owner, the workers never see this money. You can give tips directly to the waiter in her/his hand. Even a few R$ will be welcomed.
Drink
Weekdays are rather dead, apart from January. Fridays and Saturdays have people pouring in from the whole eastern part of the state, and also some crowds from
Rio Grande do Norte
. Broadway turns into one big party. If there is something big on in
Aracati
the crowds might never arrive.
Caverna

address: Broadway

Live music on Thursdays. Shoulder rubbing on the street benches. Pool tables.

Todo Mundo

address: Broadway

Slightly loud rock hits
Daytime drinking is on the beach:
Jegue's Bar

address: On the beach

Probably the only donkey-driven bar around.

Freedom Bar

address: On the beach

Reggea in a dozen languages, bonfire in the sand. Lack of toilets and ilumination takes its toll. As of January 2010 several muggings have been reported. DO NOT WALK HOME ALONE!
Sleep
Dozens and dozens of small inns, the cheapest of which often have no telephone for reservations. Also many private rooms for rent, from 20 reais and up.
Budget
Casas Flor de Lys4 free-standing units with small kitchens and a double and a single bed. Some have sea view. No breakfast.

Pousada Europa

phone: +55 88 3421-7004

address: Rua Nataniel Pereira

Pool and rooms with their own stairs, sea view balconies and hammock spaces. Hotel got Lonely Planet plug, but it's clearly seen better days and needs a serious cleaning.

Pousada Castelo

phone: +55 88 8823-4976, +55 88 8809-3054

address: Rua Nataniel Pereira

Posada da Didi

address: Broadway

Very basic, but prime location for party-goers. No breakfast.
Mid-range
phone: +55 88 3421-7183

address: Caminho do Mar

Basic rooms with fan and minibar. Virtually on the beach. Breakfast in the sand.

Pousada Mundial

phone: +55 88 8804-5825

address: Rua Beira Mar 93

Totally refurbished 2011. Comfy beds, fridge, parking space, air con

phone: +55 88 3421-7094

Breakfast served until 4PM!!! Nice views from rooftop terrace with pool.

phone: +55 88 6272-7289

American owned.
Splurge
Connect
Area code 88
Cyber cafés are now plentiful, although still somewhat slower than the cities. R$3 / hours is fair.
The cell phone networks could jam at peak hours of high season.
Stay safe
Canoa used to be famous for its lack of crime and dangers. While still not comparable to any large Brazilian city, muggings are ever more frequent, particularly targeting lone party-goers on their way home from the beach in the wee hours.

Go next