Canterbury (England)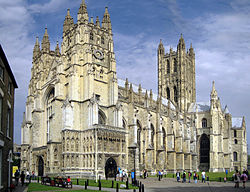 Canterbury
is a cathedral and university city in
Kent
, in the
South East
of
England
. Canterbury Cathedral is the seat of the Archbishop of Canterbury, Primate of All England and hence the Primus inter pares of the primates of each national church in the Anglican Communion and spiritual leader and senior clergyman of the Church of England.
Understand
Canterbury is a major tourist centre in the county of
Kent
. Even though it was bombed relentlessly during the Second World War (The Blitz), it still contains many ancient buildings, and modern building development within the medieval town centre is strictly regulated by officials at Canterbury.
As a result of the murder of Thomas Becket in 1170, Canterbury became a major centre of pilgrimage, the backdrop of Geoffrey Chaucer's
Canterbury Tales
, written in 1387 about pilgrims passing the time by sharing stories. There is a museum in Canterbury about the Tales.
Canterbury was founded as the Romano-Celtic town of
Durovernum Cantiacorum
. In the early Middle Ages, the city became known by the Anglo-Saxon name of
Cantwarebyrig
, meaning "fortress of the men of Kent".
Get in
By car
Canterbury is easily accessible from
London
by following the M2 south and east until it merges with the A2, linking Canterbury with
Chatham
,
Gillingham
and
Sittingbourne
to the north, and the port of
Dover
to the south. Another regional arterial road, the A28, travels eastwards to
Margate
,
Broadstairs
and
Ramsgate
and westwards to
Ashford
, site of the Eurostar station for rail links to
France
,
Belgium
and the continent.
Excellent
park and ride
facilities allow you to park inexpensively outside the city and take a bus into town. The parking fee is £3.50 per vehicle per day, or £1 if you arrive after 4PM, and entitles the driver and up to six car passengers to a round trip on the bus to and from the city centre.
There are three park and ride sites: Wincheap (to the west of the city centre), New Dover Road (to the south) and Sturry Road (to the east). The buses stop at a number of intermediate stops between the park and ride car parks and the city centre. Park and ride buses run into the city centre every eight minutes between 7AM and 7:30PM Monday to Saturday. On Sundays, buses run every 15 minutes from New Dover Road and Sturry Road between 10AM and 6PM, but don't serve Wincheap at all.
By train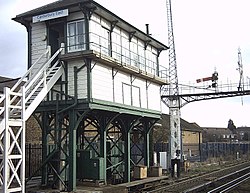 Canterbury is served by two railway stations:
Canterbury East
and . They are respectively 8 minute and 4 minute walks from the city centre by foot. Fare and timetable information is available from
Southeastern
, +44 8457 484950. The journey time to Canterbury West from
London St Pancras
is just under one hour, due to
high-speed rail
. Journey times from
Ashford
International (the closest
Eurostar
station to the Channel Tunnel) on this service are typically around 17 minutes. It is therefore possible to reach Canterbury from
Calais
in as little as 45 mins, from
Lille
in 1 hr 20 mins, from
Brussels
in around 1 hr 50 mins, and from
Paris
in around 2 hrs 20 mins.
Alternatively, the service from
London Victoria
to Canterbury East is between 90 minutes and two hours. The advantage of this is that it's about £5 cheaper than the high-speed line, but arguably the price difference is not great enough to justify the longer journey. The non-high-speed service goes via
Tonbridge
. At the weekend, non-high-speed services stop running at about 9PM: if you need to get back to western Kent, you may have to make a lengthy and expensive diversion via London.
By bus
National Express
operate coaches to Canterbury from
London
Victoria Coach Station and also from
Dover
.
Stagecoach Express
operate an express coach service from North Greenwich in London, with tickets available online or on board the coach. This offers a cheaper option to the train, albeit with somewhat longer journey times. It may also be convenient to visitors staying in the area or wanting to combine a visit to Canterbury with a trip to the O2 or over the river on the Emirates Airline.
By plane
Canterbury does not have its own airport. The nearest major international airports to Canterbury are
London Gatwick
(
LGW
) about away and London Heathrow (LHR), about away.

Get around
On foot
It is recommended to walk as the town centre is quite compact; it takes only 10 min to walk down the semi-pedestrianised high street.
By bicycle
Cyclists are welcome in Canterbury; the first stage of the 2007 Tour de France finished in the city. However, dedicated cycle paths are relatively few. Local bike shop Downland Cycles (www.downlandcycles.co.uk) is located on the London-bound platform of Canterbury West train station. It offers bike rentals and sales. It also gives advice on how best to see the city by bike, having put together several good guides to local rides, including on road, off road, and dedicated path routes.
By bus
Canterbury is well-served by buses which terminate at the main bus station at the end of the high street. Buses serve most destinations in East Kent. Stagecoach Coaches can be picked up from the bus station to
London
, Whitstable, Herne Bay, Greenhill, Swalecliffe and Chestfield, Margate and Sturry (these are all small towns close to Canterbury). Buses run regularly during the day however services are less frequent in the evenings. Bus timetables can be found on the
Stagecoach Buses
website.
By taxi
Taxis in Canterbury are regulated by the city council. Charges are imposed uniformly by this regulation. Thus, £2.50 is the minimum charge for all taxis operating under the City Council of Canterbury.
For hiring between midnight and 7AM, an additional 50% is levied.
Taxis can be picked up at the train stations, outside the bus station, at the southern end of the high street and by the Westgate Towers in the evenings.
See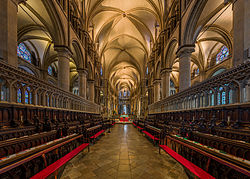 Canterbury has an interesting mix of architectural styles, from genuine Tudor buildings to 1960s style office buildings. However there are architectural gems around every corner. There is no coherent style to the buildings as much of the city was demolished during bombing raids in World War II, but much has survived. The Canterbury Cathedral, St Augustine's Abbey, and St Martin's Church are inscribed on the
UNESCO World Heritage List
.
The Dane John Gardens (by the city walls and around the corner from the Whitefriars development) are full of surprises, hosting events almost every weekend during the summer months. Examples include French and farmers markets with all types of cuisine.
The subways on the east end of the main street have many paintings related to the Canterbury Tales.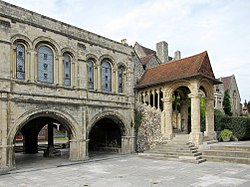 Landmarks
phone: +44 1227 762862

11 The Precincts. The burial place of King Henry IV and Edward the Black Prince, but most famous as the scene of the murder of Thomas Becket in 1170. The mostly Gothic-style cathedral is the seat of the Archbishop of Canterbury, Chief Primate of the Church of England and spiritual leader of the Anglican Communion.

Cathedral CloseAn area surrounding the Cathedral around Green Court, including:
Norman staircase12th-century roofed steps.
phone: +44 1227 768072

address: North Holmes Road

it is a part of the World Heritage site (Roman Shrine). It is the oldest parish church in England still in constant use. If you look at the flint walls, you can still see the red brick that was used by the Romans. Worth seeing.
phone: +44 1227 767345

address: Longport, CT1 1PF

World Heritage remains preserved by English Heritage.
Canterbury CastleThe ruins of a Norman castle built in the 11th century.
Museums and tourist attractions
phone: +44 1227 479227

address: St Margaret's Street

One of Kent's most popular attractions, a stunning reconstruction of 14th century England inside the historic building of St Margaret's Church, based on the tales and characters of Chaucer's Canterbury Tales

West Gate Towersa small but fascinating collection of material about the tower and the history of Canterbury. The view from the open roof top is also excellent, allowing you to see up the high street all the way to the Cathedral.

phone: +44 1227 785575

address: Butchery Lane

A remarkable museum of Roman period Canterbury.
Canterbury Computer Gallery of Art, on the high street, is one of the few art galleries offering a (albeit very very small) selection of digital art.

The Beaney House of Art & Knowledge

phone: +44 1227 452747

With Buffs Regimental Museum, High Street. A splendid Victorian building housing decorative arts and picture collections, including a gallery for T.S. Cooper, England's finest cattle painter. The art gallery is the major space in the Canterbury area for the visual arts, with a wide-ranging annual program and exhibitions of both contemporary and historical work. The Buffs Museum - a branch of the National Army Museum in Chelsea, London - tells the story of one of England's oldest infantry regiments and its worldwide service. There is an extensive collection of medals with Victoria Crosses and other gallantry awards.
Sidney Cooper Gallery - A Christ Church linked University building, on the high street. Free entry. Combined music and art events often happen. Local art and merit gallery.
People who have proof that they live nearby can get into some museums/cathedrals for free (check with the venue first).
Do
Take a historic river boat tour along the Stour, leaving from the Weavers Restaurant on the High Street. Or take a calmer boat trip, without the history, leaving from Westgate Gardens.
Canterbury Historic River Tours

phone: +44 7790534744

address: Kings Bridge

Guided river tour providing a light hearted commentary discovering some of Canterbury's finest architecture set against outstanding views of natural scenery.
Watch cricket at

address: Old Dover Rd CT1 3NZ

Kent CCC play in the First Division of the County Championship.
Buy
Canterbury has many shops and stores, many of which are found in towns and cities across the UK.
The Whitefriars development
has brought many new outlets into Canterbury making it a great shopping destination. Shops in the city include Gap, Tesco, Top Man, Next and two independent department stores:
Fenwicks
and
Nasons
. There are also a plethora of smaller shops offering a unique experience.
Canterbury is a popular destination at Christmas where the festive lights and medieval streets provide a great backdrop for retail therapy. Given Canterbury's proximity to Dover and the ferries to France, expect to hear many French voices in the streets (and hordes of - sometimes unsupervised - French schoolchildren!)
Eat
Canterbury city centre is a veritable trove of low to mid range restaurants and cafés. Many different styles of cuisine are available at prices to suit most pockets.
Old Weavers Restaurant

address: 1 St Peters Street

A small restaurant located in an area that is sometimes referred to as "Little Italy". The Old Weavers is delightfully situated by one of the spurs of the River Stour and has patio area seating. The menu concentrates on minor variants of traditional English and Italian food. Main courses start from £4.95.

Goods Shed

address: Station Road West

Housed in an airy converted engine shed, the adjoining farmers' market reassuring the visitor that the traditional cuisine will be of the best quality. Joint Winner of the Soil Association 2004 Award for Local Food Initiative of the Year . Typical meals are the roast organic chicken with sorrel, chard and potatoes, or the vegetable platter, with mushrooms, black lentils, chard, hard-boiled egg, swede, tomato relish and salad leaves. Home-made desserts available also. Mains £8-16.

Thomas Becket

address: 21 Best Lane

A small traditional pub in the city centre, offering excellent traditional British food. Be warned, they don't take credit/debit cards, only cash (Euros as well as Sterling) and cheques.
Boho Cafe Bar, located towards the Westgate end of the highstreet. Bohemian cafe serving great food. Often packed with locals, both young and old.

address: 95 St Dunstan's Street, CT2 8AD

A brilliant Mexican restaurant (with a French manager). A variety of fantastic tex mex meals and very good frozen cocktails. Meals are not too cheap (starting at £8.95 for one course (or ~£5.95 for breakfast/lunch), but are very much worth it. Most locals will agree this is one of the best restaurants in Canterbury

address: 26 North Lane, CT2 7EE

A very nice curry house, with excellent, friendly staff housed in a converted tudor building. They have a live musician on Saturday nights. Note that the curries are very tasty, but not too hot (unless you ask for them hot!). A very nice curry and rice generally costs ~£10 (£9 take away/£9.50 delivered)

address: 13-15 Church St St. Pauls, CT1 1NH

Good Thai fare, tasty, but fairly expensive!

address: 61 Dover Street, CT1 3HD

The Forge is a delightful bistro specialising in European cuisine, serving nibbles, grazing platters and a blackboard lunch menu.
Drink
There are a large selection of pubs inside the city walls. Canterbury offers many chain pubs (such as JD Wetherspoons) but also many smaller venues. Due to the layout of the city, it is possible to walk down its numerous small streets and find a great place for a drink. Canterbury is also very close to
Faversham
, a town closely associated with
Shepherd Neame brewery
(Britain's oldest brewers) and has many pubs which offer many locally brewed real-ales.
The New Inn

address: 19 Havelock Street

A small pub, in a converted terraced house, so there is a 'living room feel'. During term time, due to proximity of the Christ Church music department, it is frequented by many music students (and their lecturers).

The Parrot

address: 1-9 Church Lane

Often has live jazz music and a cozy bohemian atmosphere. One of the oldest pubs in the country. Previously known as Simple Simons.

Club Chemistry

address: 15 East Station Road

Canterbury's biggest nightclub, spanning three floors each with their own theme of music. Regular student night on Mondays. Saturdays are more of a locals' affair, higher prices reflect this.

The Loft

address: 5-6 St. Margarets St

Serves good (but expensive) cocktails in a trendy environment. Attracts a young professional crowd.

address: 1-3 North Lane

Large but not too noisy, well-suited for a casual drink and chat rather than partying. A Wetherspoon pub.

The Canterbury Tales

address: 12 The Friars

Small pub opposite Canterbury's theatre (The Marlowe). The Canterbury Tales is tucked away down many of the city's streets and regularly has live music. Often full of theatre-goers.

Caseys

address: 5 Butchery Lane.

A very small Irish pub down one of the small side-streets off the high street.

The Cuban

address: 43 High Street

A South American-themed bar and restaurant conviniently located on the high street. Food is reasonably priced and a wide variety of drinks are available from the bar, including a good range of cocktails and bottled beers. Operates as a nightclub in the evening.

Alberry's

address: St. Margarets St.

One of Canterbury's oldest and most established bars, located opposite The Loft. Food is served during the day.

The Old Butter Market

address: Burgate.

A classic example of one of the many "traditional" pubs that Canterbury is famous for. Some good ales on tap along with the obligatory range of lagers. Prone to get very crowded.

Bramley's

address: Orange Street

Next to the Orange Street music club, this bar is very popular but enforces a entrance policy to keep numbers down so it is reliably a quiet place to have a drink and a chat.

The Cherry Tree

address: 10 White Horse Lane, Canterbury, CT1 2RU

A wild, packed pub, full of a mix of locals, students and weirdos. Always busy and spilling out onto the streets. Everyone is welcome. They have a selection of real ales, continental beers and local cider. Try a pint of the Biddenden's cider (or two if you dare/want to fall over!) The place is a dive, but the regulars and staff are friendly, and the drinks are all well kept.

The Dolphin

address: 17 St. Radigunds Street, CT1 2AA

A quiet pub, with a few real ales and a selection of fruit wines. Friendly staff and great pub food. Has a selection of games to play, and also a pub garden, which has draconian rules!

phone: +44 1227 450793

address: St. Margaret's St

Canterbury's finest and most traditional tea room serving authentic cream teas, afternoon teas, cakes, scones and lunches.

Beer Cart Arms

address: Beer Cart Lane

Fairly large pub that caters the rock/metal community, but has a conventional mainstream DJ night Friday and Saturday nights, of which drinks are often more expensive. Mon-Thurs cheap drinks. First Tuesday of every month (not always the case), there is a rock/metal DJ night, and every Thursday they have gigs, representing rock and metal bands from all over Kent and the Southeast, many bands coming from London to play.

Lady Luck

address: St Peters Street

Rock pub, expensive, around £3 a pint of standard beer, but makes up for it with its atmosphere. Popular with students and locals alike, doesn't have a lot to cater for the more mainstream crowd though, busier at weekends. Has a wide range of lagers, and a few real ales and three ciders of differing strengths. Pool table and beer garden, the former reserved for the pool team on Wednesday evenings, and the latter usually closed early in Winter, so everyone has to smoke out front, after a certain time only plastic glasses allowed, and after midnight no drinks whatsoever.
Sleep
address: 24 London Road, CT2 8LN

Converted fire-station just outside of the city.

address: The Precincts, CT1 2EH

Views of the cathedral and a full included English breakfast.

Ebury Hotel and Serviced Apartments

address: 65/67 New Dover Road, CT1 3DX

Family owned hotel with indoor pool and serviced apartments, parking, gardens and restaurant.
Hostel
phone: +44 870 770 5744

address: Ellerslie, 54 New Dover Road, CT1 3DT

69 bed hostel about a mile from the city centre.
Go next
Visit Sarre Windmill which is about 15 minutes drive out of the city. One of the few working windmills in the area, which still grinds corn.
Walk or cycle to Whitstable along the Crab and Winkle Way. The walk takes you up through the University and then along a disused railway track which was previously used to carry goods from Whitstable to the North into Canterbury. It is not for the fainthearted (being around 6 miles long) however after a stop in Whitstable it is possible to get a bus back to Canterbury (costing around £3). Crab and Winkle Way is also a cycle path.