Canyon Country
Canyon Country
is a region in the state of
Utah
in the
United States of America
. It is a wild, sparsely populated area along the southern boundary of the state, with an extraordinary concentration of
national parks
and
monuments
offering scenic opportunities galore and an inexhaustible array of hiking trails and canyoneering routes. It includes the counties of Kane, Garfield, San Juan, Wayne, and Grand.
Cities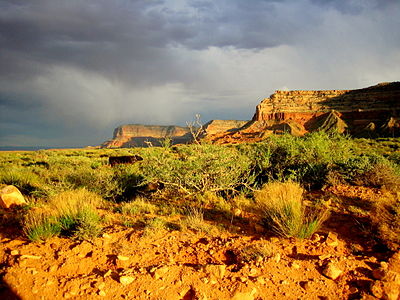 — a middle of nowhere hamlet with a Libertarian and polygamist history, by the southwest end of Glen Canyon
— a pretty cowboy town west of Capitol Reef National Park that is right by some of the most spectacularly beautiful stretches of highway in the world
— a small gateway town to Glen Canyon National Recreation Area
— the only real desert town for miles in the Vermilion cliffs and the only piece of civilization south of Grand Staircase-Escalante National Monument; on the way south to the North Rim of the Grand Canyon, east to wild canyoneering opportunities, or northwest to Zion National Park
— a small town on the northern border of in Grand Staircase with some good eatin', located near beautiful canyons
— you know you're nowhere when you arrive to Hanksville, far to the east of Capitol Reef, where you can refuel, eat, sleep, and get on your desert way
— a desert tourist hub for visitors to Arches National Park and Canyonlands National Park and a good place to buy gear or rent an ATV, also a mountain bike "cult spot"
— a very small town north of Blanding which boasts the region's sole Mormon Temple
— an often overlooked junction town east of Zion, near some very beautiful wilderness lands
— a small town that is the largest in Garfield County and is surrounded by spectacular, mountainous National Forests
— a small town that is home to the Sego Canyon Pictographs and Petroglyphs
— a small tourist town at the entrance to Capitol Reef National Park
— Also known as Colorado City, Hildale is the largest and best known polygamist community in the United States. This city straddles the Utah/Arizona border.
Other destinations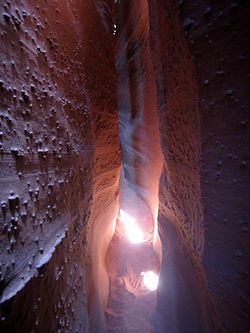 Get in
By plane
The nearest major airports are in
Las Vegas
and
Salt Lake City
.
By car
Interstate highways 15 (connecting Salt Lake and
St. George
and 70 (intersecting with I-15 on the west and leading into
Colorado
on the east) flank the region on the west and north, respectively. Few highways actually lead
into
this region because of its rugged topography, and most of the ones that do (e.g. US 191 and state roads 24, 95, 72 and 12) are reached from I-70 or from similarly minor highways on the east side. Access from the south is very limited owing to the impassable
Grand Canyon
just across the
Arizona
state line.
Get around

Drive. If there was ever an area that justifies having a 4-wheel-drive, high-clearance vehicle, this is it, but don't make the mistake of believing that an "urban" 4WD will suffice to get you everywhere you want to go. Many of the "roads" in this area, particularly in Canyonlands and Grand Staircase-Escalante, are almost unimaginably rough. Know your limits as a driver, and those of your vehicle, before venturing into the boonies here.

Go next
Four Corners, where Arizona, Colorado, New Mexico, and Utah meet. Visitors can twist their bodies so that they are in four states at once.
If you're looking for still more canyoneering, just cross the state line into Arizona, Colorado or New Mexico, as the canyon-and-mesa terrain continues into all three.
Navajo Nation is primarily in Arizona, and a number of interesting sites there are fairly near the state line.